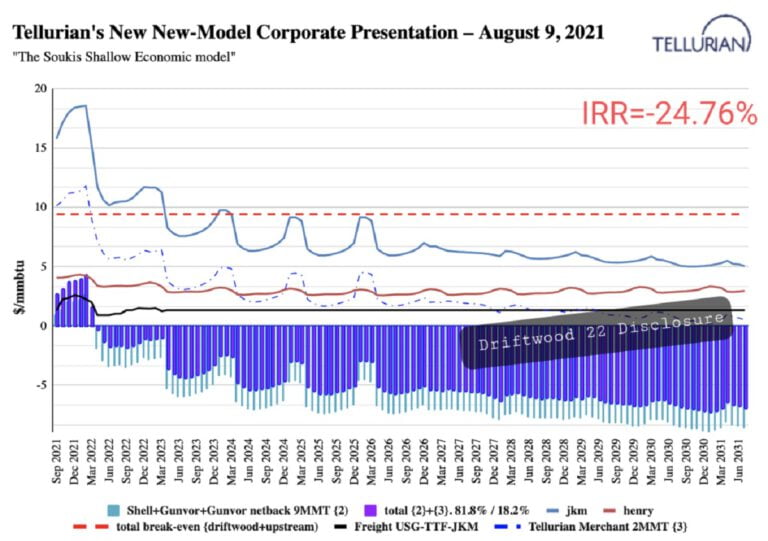 Recap
Tellurian Inc (NASDAQ:TELL) excludes its haynesville upstream investment from the model break even and misrepresents its true $/mmbtu break-even to the investors.
Q2 2021 hedge fund letters, conferences and more
Gates Capital Management Reduces Risk After Rare Down Year [Exclusive]
Gates Capital Management's ECF Value Funds have a fantastic track record. The funds (full-name Excess Cash Flow Value Funds), which invest in an event-driven equity and credit strategy, have produced a 12.6% annualised return over the past 26 years. The funds added 7.7% overall in the second half of 2022, outperforming the 3.4% return for Read More
Tellurian signs 10-year LNG contracts but to value these sales is using a 1 year JKM forward curve presenting the illusion of +$5B annual cash-flows.
Tellurian inc. inflates its Driftwood project profitability by a factor of 17X.
Based on the contracts signed by Octavio Simoes the company stands to lose $820K per day over the next 10 years.
Tellurian has already upstream assets located in the Haynesville but is marketing the production at a loss in 2021, despite overwhelmingly supportive drilling economics.
---
Tellurian owns commercial contracts/ working interests in the Haynesville Shale gas. Tellurian inc. plays the romance that they have a sort of edge in the production and marketing of natural gas but among the O&G companies Tellurian is an exceptionalism: it doesn't give any production breakouts and keeps a veil of its marketing segment real performance.
At the current nymex strip we estimate that a well fully hedged for transportation + firm basis to Henry yields $0.77 per mmbtu in 22′. The economics of dry gas drilling alone won't get you very far. It seems that you need the timing & the marketing skills or the market will send you right to the canvas. The 1.50bcf/day requirement of 11 LNG MPTA comes at a $4.727B investment price tag. This already compounds at $429.73 / lng mtpa breakeven cost for Driftwood LNG.
Tellurian states $7.8B total cost for a 11mtpa terminal but excludes the upstream cost from its total development costs -They understate their true mmbtu unit cost. "Our existing natural gas assets consist of 9,704 net acres and interests in 72 producing wells located in the Haynesville Shale trend of northern Louisiana."
While Tellurian is in a perennial equity raising mode, the company holds existing natural gas production interest in the State of Louisiana but is incapable of providing an accurate representation of their performance to the equity holders.
The question is: What's Tellurian worth pound-for-pound?
Unlike every O&G producing company Tellurian doesn't give nymex/production/ or metric numbers such the realized sales per $/mmbtu…
Based on the most recent acreage deal in the Haynesville & natural gas wells economics the production cost is ~2.75 $/mmbtu.
During 2021H1 Tellurian made $14.28M in natural gas sales.
During the same period Tellurian has produced a -$6M Loss.
The company didn't disclose these natural gas sales contracts with the related parties involved in this series of transactions.
Tellurian has classified this realized loss not into the operations… but in the " Cash-flows from investment activities"…
The same company wants to raise billions to drill wells on a large-scale. However the performance is a testimony that Tellurian's current drilling/marketing is not a success in the U.S natural gas market despite positive economics.
These results contradict the idea that Tellurian possesses a comparative advantage in the production & marketing of natural gas.
If the gas marketing accounting is smoke and mirrors, on the LNG contracts-side, their cash-flows apportionment is more or less the same:
We were the first group of analysts to note that the LNG contracts with Gunvor, Vitol and Shell were sold by Tellurian inc at a loss and now it seems that the empire of obscurantism and personality cult built around Souki is crippling.
Tellurian really gives you a hard time to follow, making detours and complicated turns. It's like if they either had no clue when they started the Driftwood project or was it just to trick the equity holders making them responsible monetary wise ? Corporate Presentation August 9th.  *12-month JKM strip price of $13.28 as of 7/30/21 less $1.75 for transportation
In its latest Corporate presentation Tellurian presents $9 margin and $5B annual cash flows for an "integrated model" but their valuation is very shallow:
Tellurian uses a*12-month JKM strip price to present the future performance of Driftwood LNG SP&As on 10 year duration contracts.
Tellurian has also said that the future project phases will be funded by retained cash-flow. –Which cash-flows ?
Based on on the visibility that Tellurian offers and on the contract terms signed by Octavio Simoes we've performed the reconstruction of these cash flows incorporating the appropriate 10 year curve;
Using a WACC of 9.2% better reflecting the 90/10 debt equity model with the recent equity raising at a -30% discount, we use the previous $12.06B capex estimate for 9mtpa capacity sold under a netback formula at a loss.
We add $2.68B for the Tellurian "Merchant" 2mtpa proposed volumes.
plus $4.72B for the upstream acquisition and first year of capex/production cost prorated for 1.50BCF of daily production.
What we can say is that this project has a big gap: Tellurian's new new-model has a negative annual investment rate of return of -24.76%. We think this project is entirely equity risk or at best a naive bet on $30-45 mmbtu. ($174/brent oil barrel equivalent). It's no longer a fun talk. Souki has attached an anvil to his leg and is sinking to the bottom of the channel with the closed guard surrounding him (people in the league of);
Octavio Simoes,
Jean P Abiteboul,
Siddharth Roy,
Martin Houston and Diana Derycz-Kessler.
Driftwood LNG, the +$5-7B of annual cashflow is a solid lie and the acrobatic math behind the integrated model was rubbish. The corporate suite blinks.
Baby Tarek for his curiosity should ask Houses BP/Macquarie what happens if they mark a 10-year contract with 1 yr curve.
Tellurian is a small Enron.
Based on its assets/contracts Driftwood has a negative project valuation of -2.9 billion dollars.
***
How much is worth Tellurian stock depends on its dilution capacity. In other words Tellurian is a LNG-stocks selling operation. It is a very interesting concept: the Tellurian has no current worth other than the cash it raises from the stocks that it sells to the investors.
Tellurian has been able to raise 35,000,000 new share at a net price of $2.88 but at the cost of a market capitalization dropping from 1.966B to 1.33B.
It is not true that the equity offering has allowed institutionals to join the retail shareholders in the Driftwood project… Evidences suggest to the contrary that Souki's equity raising partners have executed a short on the existing Tellurian shareholders and then have liquidated their equity risk in the open market. The last equity raising has netted only $100.80M for a market cap. drop of more than $633M.
By its current money raising/dilution ability Tellurian is worth an estimate of only $150M while the company requires 83 to 100 times more capital.
In its last investor presentation Tellurian inc has inflated its contract profitability by a factor of 17X and based on the contracts signed by Octavio the company stands to lose $820K per day on the next 10 years.
Tellurian-Souki is a model of its own kind; BY marking these contracts with a 1-Year forward curve, cash-flows become positive !
Tellurian was the speculative vehicle of one man's pet project but with the absence of qualities as an investment.
Incidentally, the investors who have trust and have put thousand of their life savings in Tellurian will get hurt financially
Article by The Driftwood 22 DISCLOSURE Project
---
Disclaimer
The author may have short position in stock.