Artificial intelligence (AI) is now capable of predicting stock price movements with unprecedented accuracy. This will appeal to investors who don't have the time or analytical experience to research the stock market themselves.
In this guide, we compare the most accurate stock predictor services in the market today. Read on to discover which AI prediction tools are producing the best returns in 2023.
The 12 Best Stock Predictors Compared
Listed below are the 12 best stock predictors using AI to outperform the market:
AltIndex: Market leader in alternative data sets, with a strong focus on social sentiment analysis and consumer trends. AltIndex offers a fully-fledged AI prediction service with a 75% accuracy rate since inception. 1-25 stock picks are distributed each month based on the chosen pricing plan. AltIndex also offers AI-driven price predictions, not to mention stock alerts and technical ratings.
Stocklytics: Extracts technical and fundamental data from over 5,700 stocks and 2,400 ETFs. Stocklytics leverages AI to generate technical ratings from 1 to 100. Stocks with a high score represent solid investments, as per the Stocklytics algorithm. AI is also used by Stocklytics to predict stock prices over the coming 7 and 30 days. This can then be compared with sell-side analyst ratings.
Danelfin: This top-performing AI stock predictor has outperformed the S&P 500 since its inception in 2017 – with growth of 191%. Danelfin tracks and analyzes all stocks on US exchanges, plus the STOXX Europe 600. It leverages AI to generate an investability score of 1-10. Danelfin claims that the higher the score, the higher the likelihood of strong performance in the next 3 months.
StockInsights: Innovative and free-to-use dashboard that offers AI-backed financial advice. Simply ask the StockInsights chatbox for specific recommendations, such as the best small-cap stocks revolutionizing drone technology. Backed by large language models, StockInsights can analyze an unprecedented amount of data in real-time, including hundreds of earning call transcripts every second.
Candlestick.ai: Receive AI stock predictions via the Candlestick.ai app. Supported by iOS and Android, members receive 3 stock recommendations every week. Each recommendation tells you which stock to buy and the reasoning behind the prediction. Candlestick.ai charges $9.99 per month, which can be canceled at any time.
TenViz: Aimed at investors with large capital balances, TenViz leverages AI and machines to maximize cross-asset rotation strategies. It helps investors move money into and out of markets based on macroeconomic events. TenViz claims to improve portfolio returns by up to 25%.
Free AI Stock Picker: One of the only free-to-use AI stock pickers in the market. Offers daily stock recommendations based on reinforced learning – a subset of AI. Analyzes 12 million data points each day and focuses exclusively on the Russell 1000 index. Free AI Stock Picker doesn't offer alerts, so you'll need to visit its website to retrieve its picks.
QuantumStreet AI: Aimed at institutional clients, QuantumStreet AI has developed a proprietary dashboard that's powered by IBM Watson. It tracks more than 50,000 financial markets, analyzing over 1 million data points daily. This includes technical, fundamental, social, and macroeconomic metrics.
Kavout: Founded in 2016, Kavout offers portfolio management services with a difference – stock selections are made by AI and machine learning. It launched two portfolios in early 2020 with notable returns. Its conservative and aggressive portfolios have averaged annual returns of 11.6% and 20.8%, respectively.
Tickeron: Remove the guesswork when trading stocks through Tickeron's AI robots. It has developed dozens of strategies, covering day trading, swing trading, and scalping. Once activated, your chosen AI robot will buy and sell stocks on your behalf. Some AI strategies have produced consistent returns for over 2,000 trading days.
TAAi: Swing traders will like TAAi, which averages 16 AI stock predictions every week. Each recommendation remains in place for 10-30 days on average. Three markets are covered, which determines pricing. This includes the S&P 500, S&P 1500, and US-listed small-caps. Prices start from $69 per month.
StockHero: Has developed dozens of trading strategies that are executed by AI robots. StockHero offers a passive trading experience; its robots connect to popular brokerage platforms. This includes Robinhood and TD Ameritrade, among others. Prices are competitive, starting at just $4.99 per month.
Comprehensive Reviews of the Best Stock Predictor Services
Not all AI stock predictions are worth paying for, so you'll need to do some research before proceeding. We'll now clear the mist by reviewing the leading AI predictor services for 2023.
1. AltIndex: Leveraging AI and Alternative Data to Generate Accurate Stock Predictions
At its core, AltIndex is an alternative data provider. It helps investors secure a time advantage with information that isn't considered public knowledge. This is because alternative data sets are extracted from non-traditional sources. AltIndex then uses machine learning to analyze its data findings and AI to generate stock ratings.
Let's look at a quick example, as alternative data is new to many investors. AltIndex analyzes data from Facebook, Twitter, and other leading social platforms. It looks at likes, followers, subscribers, comments, and shares across millions of consumers. It can determine whether overall sentiment on stocks, industries, or sectors is positive, neutral, or negative.
It will also compare this data with other alternative sources, such as SEC and patent filings, website analytics, job postings, app downloads, and Google trends. AI utilizes these research findings to rate stocks from 1 to 100. According to AltIndex, highly-rated stocks have the potential to outperform the market. Investment time frames are usually at least 6 months.
Although the AltIndex dashboard is home to a significant amount of valuable data, many investors simply rely on its AI stock predictor service. AltIndex sends an email when a new stock recommendation is ready. Therefore, very little input is needed from investors. AltIndex plans cost $0, $29, or $99 per month, which gets 1, 10, or 25 monthly recommendations.
Now for the important part; AltIndex has a 75% accuracy rate. Over a 6-month period, it averages growth of 22%. Therefore, we rate AltIndex as the most accurate stock predictor for 2023. Finally, in addition to thousands of stocks, AltIndex also tracks the best cryptocurrencies to buy.
| | |
| --- | --- |
| Key Features | Alternative data provider offering AI-driven stock recommendations. Simply wait for an email with the latest recommendation and place the respective order. End-to-end service, meaning investors are also told when to close the position |
| Subscription Fees | $0, $29, or $99 per month gets you 1, 10, or 25 monthly AI stock predictions |
| Past Performance | Over a 6-month period, average gains of 22% |
Pros
In our view, the overall best stock predictor service for AI recommendations
No manual input is required – just buy the recommendation stocks
Past performance is solid – average gains of 22% over a 6-month period
Recommendations are based on alternative data sources
Also offers one of the best stock portfolio trackers for real-time insights
Cons
To replicate AltIndex returns, you'll need the $99/month plan
Freemium users are limited to 20 dashboard visits
2. Stocklytics: Fundamental Rating Scores Based on Advanced AI Algorithms
Stocklytics is the go-to platform for AI-driven fundamental research. It has developed a native analysis method known as 'Score'. Here's how it works; Stocklytics aggregates fundamental data from reliable sources such as earnings reports, real-time stock prices, and industry benchmarks.
It then uses AI to extract key metrics surrounding growth, performance, cash flow, and market efficiency. The result is an AI-generated score from 1 to 100. Stocks with a high score are considered undervalued and hence, Stocklytics categorizes them as solid investments. To leverage its findings, investors can diversify across the highest-rated stocks.
In addition, investors might consider offloading stocks with a very low score, as they're considered a 'Sell' by Stocklytics. To complement its Score feature, check out Stocklytics' price predictions. These are also generated by AI, so you'll have a clear idea of what to expect in the coming weeks. In terms of pricing, Stocklytics is free to use.
| | |
| --- | --- |
| Key Features | Thousands of stocks and ETFs are given an AI score of between 1 and 100. Stocklytics aggregates fundamental data and extracts key metrics, including profitability, growth, and dividends. AI is also used to predict stock price movements |
| Subscription Fees | No fees are charged |
| Past Performance | Doesn't distribute recommendations; Users need to purchase stocks with the highest AI scores |
Pros
Free-to-use data analytics platform specializing in fundamental research
Extracts financial insights and generates AI scores on thousands of stocks
Highly-scored stocks are considered undervalued
Other features include AI price predictions, alerts, and a stock screener
Cons
Won't appeal to investors who want actionable stock recommendations
Suggests using other research methods to validate its findings
3. Danelfin: AI Investability Scores Suggesting Strong Performance in the Next 3 Months
Danelfin is one of the best stock predictors for short-term investment strategies. It has developed an investability score that ranges from 1 to 10. The higher the score, the higher the probability of the stock outperforming the market in the next three months. Conversely, those with a low score are at risk of a market decline.
Investability scores are updated every day and cover thousands of stocks. In fact, not only does Danelfin track all US-listed companies, but also the STOXX Europe 600. There are several different ways to approach Danelfin. Some investors will purchase stocks with a 10/10 rating, as these represent the strongest buys.
Alternatively, Danelfin also offers trading ideas. These come with three investment horizons; 1, 3, or 6 months. Danelfin's trade ideas are not only based on their investability score. But also stock price momentum, market capitalization, and the industry. In terms of performance, Danelfin's portfolio has increased by 191% since early 2017. This beats the S&P 500 by 73%.
| | |
| --- | --- |
| Key Features | Investability AI score ranks stocks from 1 to 10. Highly rated stocks have a strong chance of outperforming market benchmarks in the next 3 months. Also provides trading ideas across a 1-3 month time horizon |
| Subscription Fees | $0 per month for 20 stocks and 10 ETFs with the highest ratings. $12 per month for unlimited ratings and 25 trade ideas. $35 per month for unlimited trade ideas and CSV exports |
| Past Performance | 191% returns since 2017, beating the S&P 500 by 73% |
Pros
Has beaten the S&P 500 by 73% since 2017
Uses an advanced form of AI called 'explainable' artificial intelligence
Trading ideas cover 1, 3, and 6-month time horizons
Freemium plan gets you 20 stocks and 10 ETFs with the highest scores
Cons
Monthly fees double after the first quarter
Free trial only lasts for 14 days
4. StockInsights: Use AI and Large Language Models to Discover the Next Stock to Explode
StockInsights is a newly launched stock prediction software that combines AI with large language models. Rather than send AI stock predictions, it enables users to find their own investments. This is because StockInsights has created a chatbox that can analyze vast data sets in real-time, and make suggestions accordingly.
For example, we asked StockInsights for the best energy stock to buy for maximum gains in the next 10 years. Within seconds, StockInsights extracted data from hundreds of earnings call transcripts, financial reports, news articles, and other fundamental sources. It suggested NextEra Energy as the best option.
StockInsights provided many reasons for its suggestion, including adjusted EPS projections of 10% over the next decade and expanding market share in the clean energy sector. StockInsights can also be used to find small-cap companies operating in specific niches, such as robotics, drone technology, and biometrics.
| | |
| --- | --- |
| Key Features | Chatbox backed by AI that helps investors find the best stocks to buy. It analyzes data in real-time, including earning call transcripts. StockInsights can also suggest suitable stocks if you're interested in niche markets. |
| Subscription Fees | Free to use, but registration is required |
| Past Performance | N/A: Recommendations are unique to the user |
Pros
AI-integrated chat box helping investors make smart decisions
Can analyze hundreds of earnings call transactions in real-time
Discover small-cap gems from niche industries
Completely free to use
Cons
Doesn't offer stock price predictions or recommendations
ETFs and other asset classes are not supported
5. Candlestick.ai: Receive 3 Weekly AI Stock Predictions via an Android or iOS App
Candlestick.ai is worth considering if you're looking to receive AI stock predictions on your phone. It has developed a user-friendly app for Android and iOS, with subscribers receiving 3 stock recommendations each week. This is a passive option, as no research or analysis is required.
On the contrary, Candlestick.ai tells you which companies to invest in and at what entry price. It also sends a push notification when the investment should be closed. Candlestick.ai claims that its predictions have produced 23% returns since 2022. It doesn't provide information about its accuracy rate or what month the service launched.
This makes it challenging to assess the actual return on investment. Nonetheless, we like that each stock prediction is accompanied by an analysis. This explains why the stock could increase, alongside the risks to consider. Candlestick.ai is competitively priced, charging members just $9.99 per month.
| | |
| --- | --- |
| Key Features | AI-backed stock predictions are sent via mobile push notifications. Native app for iOS and Android which comes with 3 stock recommendations per week. Each prediction comes with an analysis, covering the stock's upside potential and risks |
| Subscription Fees | $9.99 per month |
| Past Performance | 23% since 2022, but the specific inception month isn't provided |
Pros
Receive 3 AI-backed stock predictions every week
Recommendations are sent via mobile push notifications
Charges just $9.99 per month
Easy-to-navigate app for Android and iOS
Cons
23% returns since 2022 are modest when compared to other services
Limited data on its research methodology
6. TenViz: AI Investment Management Software Specializing in Cross-Asset Rotation
TenViz offers AI-driven solutions for investors looking to maximize their portfolio returns while containing risk. It specializes in cross-asset rotation, a strategy that enters and exits new markets based on broader macroeconomic trends. For example, the TenViz AI protocol might suggest moving capital into US Treasuries when economic factors are uncertain.
And then back into large-cap index funds during times of bullishness. Crucially, TenViz helps investors make the right moves at the right time. It claims to improve portfolio portfolio by 20-25%. Moreover, it claims that its AI and machine learning algorithms predict stock movements before the wider market catches up 65% of the time.
However, we should note that TenViz is aimed at investors with a large capital balance. Its cheapest plan costs $14,990 per year and covers 300 stocks and 20 index funds. For additional markets and features, such as investment themes, leading indicators, and bespoke alerts, prices increase to $47,990 per year.
There are also monthly plans but this increases the fees further. TenViz has developed its own proprietary dashboard, which is available in demo mode. That said, you'll need to complete a call with TenViz to gain access.
| | |
| --- | --- |
| Key Features | AI and machine learning tools help investors predict broader market conditions. It specializes in cross-asset rotation, allowing investors to move into and out of markets efficiently. |
| Subscription Fees | Annual fees start from $14,990 |
| Past Performance | Claims to help investors improve portfolio results by 20-25% |
Pros
One of the best investment tools for AI cross-asset rotation strategies
Helps investors improve portfolio growth by up to 25%
Claims to predict stock movements before the broader markets 65% of the time
Depending on the plan – covers up to 9,000 stocks and 400 index funds
Cons
The minimum annual fee is $14,990
Need to do a telephone call before accessing its demo platform
7. Free AI Stock Picker: Free AI Stock Predictions From the Russel 1000
If you're looking to take AI predictions for a test drive, check out Free AI Stock Picker. This service is completely free to use and it distributes stock recommendations every day. You simply need to visit the Free AI Stock Picker website to see which picks are suggested before the markets open.
Free AI Stock Picker specializes in reinforcement learning, which is a subset of AI. It focuses exclusively on stocks listed on the Russell 1000 index. The technology assigns color codes to each stock, which is updated daily and based on over 12 million data points. 'Red Zone' stocks should be avoided, as the AI believes they are in a prolonged downtrend.
Conversely, 'Green Zone' stocks are considered 'Strong Buys'. You can also manually search for stocks on the Russell 1000 to see their assigned color codes. Alternatively, you can simply follow the Free AI Stock Picker portfolio like-for-like. This free-to-use platform does not offer alerts, so you'll need to check back each day.
| | |
| --- | --- |
| Key Features | AI predictor tool offering free stock recommendations each day. Its methodology is based on reinforcement learning and covers 12 million data points. Focuses on Russell 1000 stocks only |
| Subscription Fees | No fees are charged |
| Past Performance | Not provided |
Pros
Free AI stock recommendation service
Uses a subset of AI called reinforced learning
Analyzes 12 million data points every day
Focuses on stocks listed on the Russell 1000 index
Cons
Does not offer alerts – you'll need to manually see which stocks it recommends each day
No information on past performance or accuracy
8. QuantumStreet AI – AI Solutions Backed by IBM Watson Aimed at Professional Investors
QuantumStreet AI offers 360-degree solutions for professional investors. It has developed a proprietary platform that's powered by IBM Watson. It helps investors strike the perfect balance between risk mitigation and profit maximization. QuantumStreet AI extracts and analyzes more than 1 million data points daily.
It covers over 50,000 assets, including US and international stocks. It covers many research subsections to build an overall prediction of future asset prices. This includes social media metrics, financial news articles, and technical data.
QuantumStreet AI also evaluates macroeconomic signals, such as interest rates and employment figures. Prices aren't published on the QuantumStreet AI website – so you'll need to get a custom quote. That said, QuantumStreet AI is used by wealth managers and other institutional investors, so likely won't be suitable for retail clients.
| | |
| --- | --- |
| Key Features | Professional-grade AI research platform aimed at wealth managers and other financial institutions. Analyzes over 1 million data points daily, including social, macroeconomic, technical, and fundamental metrics. |
| Subscription Fees | Not provided – custom quotes only |
| Past Performance | Not provided |
Pros
AI solutions for institutional clients – backed by IBM Watson
Extracts and analyzes over 1 million data points daily
Tracks more than 50,000 financial instruments
Cons
Not suitable for retail clients
Prices and past performance are not published
9. Kavout – Stock Portfolio Management Services Fueled by AI and Machine Learning
Kavout is another stock predictor service aimed at professional investors. Founded in 2016 and based in Seattle, Kavout offers portfolio management services. Investors need to inject at least $100,000 into one of its funds, which are passively managed.
This will appeal to investors who want to take a hands-off approach, while still gaining exposure to AI research processes. There are two portfolios offered by Kavout, and all stock investments are chosen by AI and machine learning. First, there's the conservative portfolio, which has gained 11.6% annually since early 2020.
The more aggressive portfolio has generated average annual returns of 20.8% over the same period. Both options extract and analyze over 1,000 data categories, including fundamental and technical metrics. Contact Kavout for more information about eligibility requirements and fees.
| | |
| --- | --- |
| Key Features | Aimed at investors with at least $100,000 to invest. Offers professional portfolio management services and stocks are selected by AI and machine learning. Covers over 1,000 data categories, including fundamental and technical metrics |
| Subscription Fees | Not provided – contact Kavout for more information |
| Past Performance | The conservative and aggressive portfolios have produced average annual returns of 11.6% and 20.8% since 2020, respectively |
Pros
Stock selections are made by AI and machine learning technologies
Passively managed investment portfolios
2 portfolios to choose from – both outperforming the S&P 500 since inception
Cons
Minimum investment of $100,000
Portfolio returns based on less than 4 years' worth of data
10. Tickeron – AI Stock Predictions Automatically Traded on Your Behalf via Trading Robots
Tickeron is another top-rated option for investors who want to take a hands-off approach to AI investing. It offers dozens of automated strategies that are powered by trading robots. Your chosen robot will automatically place buy and sell orders on your behalf. Therefore, once you've set up your trading parameters, you can sit back and allow your money to work for you.
One of the most popular AI stock robots on Tickeron is the 'Swing Trader: Sector Rotation Strategy'.This swing trading robot has been active for 673 days and has produced average annualized returns of 44%. It trades US stocks from 22 sub-sectors, including real estate, finance, and consumer services.
Another popular AI robot is the 'Day Trader: Medium Volatility Stocks for Active Trading'. This day trading robot has a risk-reward ratio of 2:4. This means it risks 2% on each trade to make a 4% profit. In terms of pricing, Tickeron offers two options. First, you can pay $90 per month for 1 active robot. Or, for $145 per month, you'll have unlimited access to all 60+ robots.
| | |
| --- | --- |
| Key Features | Offers more than 60 AI stock robots that place orders on your behalf. More than 60 strategies are covered, including scalping, day trading, and swing trading. No prior experience is required – sit back and allow the AI robot to trade |
| Subscription Fees | $90 per month for 1 robot. $145 per month for unlimited robot access |
| Past Performance | Each AI robot has its own past performance |
Pros
Automatically trade stocks via AI trading robots
Multiple strategies to choose from – including scalping and day trading
Some robots have been active for over 2,000 trading days
No prior investment experience is required
Cons
1 active robot costs $90 per month
11. TAAi – Swing Trading AI Stock Predictor Averaging 16 Recommendations per Week
TAAi is one of the best stock predictors for swing traders. It distributes 16 stock recommendations every week, each with an average trade duration of 10-30 days. What's more, TAAi covers both long and short-term positions, allowing members to profit from rising and falling markets.
Each stock pick comes with an entry, stop-loss, and take-profit suggestion. As such, TAAi is suitable for all experience levels. There are three core plans to choose from, depending on which market you want to target. First, the cheapest option – costing $69 per month or $699 annually, targets S&P 500 large-caps.
Second, for $79 per month or $799 annually, you'll get stock picks on small, medium, and large-caps from the S&P 1500. Third, you can focus on small-caps exclusively from the NYSE and NASDAQ. This plan costs $89 per month or $899 annually. TAAi also offers an all-in-one package that covers all three plans. This costs $149 per month or $1,499 for the year.
| | |
| --- | --- |
| Key Features | AI stock picking service specializing in swing trading strategies. Receive an average of 16 picks per week. The average trade duration is 10-30 days. Markets include the S&P 500, S&P 1500, and small-caps from both the NYSE and NASDAQ |
| Subscription Fees | Prices vary depending on which markets you want to target. Minimum monthly fee of $69 per month or $699 annually |
| Past Performance | Only provides returns from January 4, 2023 – which is a red flag |
Pros
AI stock predictor aimed at swing traders
Averages 16 stock recommendations per week
Covers long and short positions
14-day trial available on all plans
Cons
Past performance figures date back to January 2023
You'll need to actively place buy and sell orders
12. StockHero: AI Bot Trading Strategy Connecting to Popular Online Brokers
Last up is StockHero, an established marketplace for AI stock predictor bots. Its most popular AI bot is called Market Neutral and it trades exclusively on technical data. What's more, Market Neutral is a swing trading bot that rarely keeps positions open for more than a few days. Every month, StockHero provides an overview of the bot's results.
In October 2023, the bot placed 8 trades and all returned a profit. Trade returns ranged from 1.06% to 6.88%. Long and short positions are considered by the bot for maximum returns. StockHero is also popular for its brokerage integrations. You can connect bots to Robinhood, TradeStation, TD Ameritrade, and other popular platforms.
Thereon, the bot trades autonomously on your behalf. In addition, StockHero bots can trade other asset classes. This includes forex and some of the best new cryptocurrencies to buy. Now for pricing; The lite plan costs $4.99 per month and permits 1 active bot. The premium and professional plans – costing $49.99 and $99.99 per month, allow 15 and 30 bots, respectively.
| | |
| --- | --- |
| Key Features | AI stock predictor bots connecting to online brokers, such as Robinhood, TradeStation, and TD Ameritrade. Swing trades stocks automatically, covering long and short positions. 8 trades were placed in October 2023 |
| Subscription Fees | Monthly prices depend on how many active bots you want: 1 ($4.99), 15 ($49.99), 30 ($99.99) |
| Past Performance | Each bot has its own past performance |
Pros
Automated your stock trading processes through AI robots
Choose from over 30 different trading strategies
Prices start from just $4.99 per month
Connects to many popular online brokers
Cons
You'll need a margin account to facilitate short-selling trades
The $99.99 monthly plan is required for custom backtesting periods
How We Ranked the Best Stock Market Predictions Services
The best stock predictors ranked above represent just a small share of the overall AI prediction market. Here's how we made our impartial selections:
Type of AI Predictor Service: No two investor preferences are the same, so we selected a broad range of AI predictor services. This includes AI prediction pure-plays that inform investors of what stocks to buy and when. We also included AI services that offer research assistance, allowing hands-on investors to find suitable opportunities. In addition, some services are aimed at long-term portfolios, while others target much shorter trades.
Time Requirements: Most AI stock predictors streamline the research process, meaning investors aren't required to dedicate much time to their portfolios. This includes AltIndex, which sends real-time stock tips directly to your inbox. That said, some AI predictors simply provide a foundation for your own research; you're then required to use other data sources before making an investment decision. 
Historical Track Record: We spent countless hours researching AI stock predictors with the best historical track records. Not only in terms of average annualized returns but also longevity. This is because many AI services are new to the market, meaning their results are based on a short period of time. Ultimately, it's wise to focus on prediction models that have outperformed market benchmarks for several years.
Supported Markets: AI has no limitations when it comes to data aggregation and market analysis. After all, the technology far exceeds what the human mind can achieve. However, not all AI predictor services cover the same stock exchanges. Some focus on large-cap US stocks, while others also analyze international exchanges. Therefore, consider what markets you want exposure to when choosing an AI predictor.
Pricing: Even the best stock predictor services charge fees. Prices can vary widely depending on many factors, such as past performance, time in the market, and the features you have access to. Discounts are usually available when purchasing an annual plan, but this isn't advised if you're new to the platform. Regardless, evaluate whether the subscription fee is suitable for your investment budget.
How Does AI Stock Predictor Software Work?
It's important to understand how AI stock predictors work before purchasing a subscription.
Here's an overview of the basics:
Data Collection
It goes without saying that AI requires a significant amount of data to make accurate stock predictions. As such, the first part of the process is to collect data from relevant sources.
The specific data sets required by AI depend on the underlying strategy.
For example, some AI stock predictors focus on fundamental data. This means it will extract data from financial reports, quarterly earnings transcripts, and news articles. It might also collect data from regulatory and government websites, such as the SEC, FINRA, or FDA.
Alternatively, the AI predictor might focus on technical data. This includes current and historical stock prices, so it must ensure reliable sources are used. Market capitalizations, volume, volatility, and market depth will also be of interest.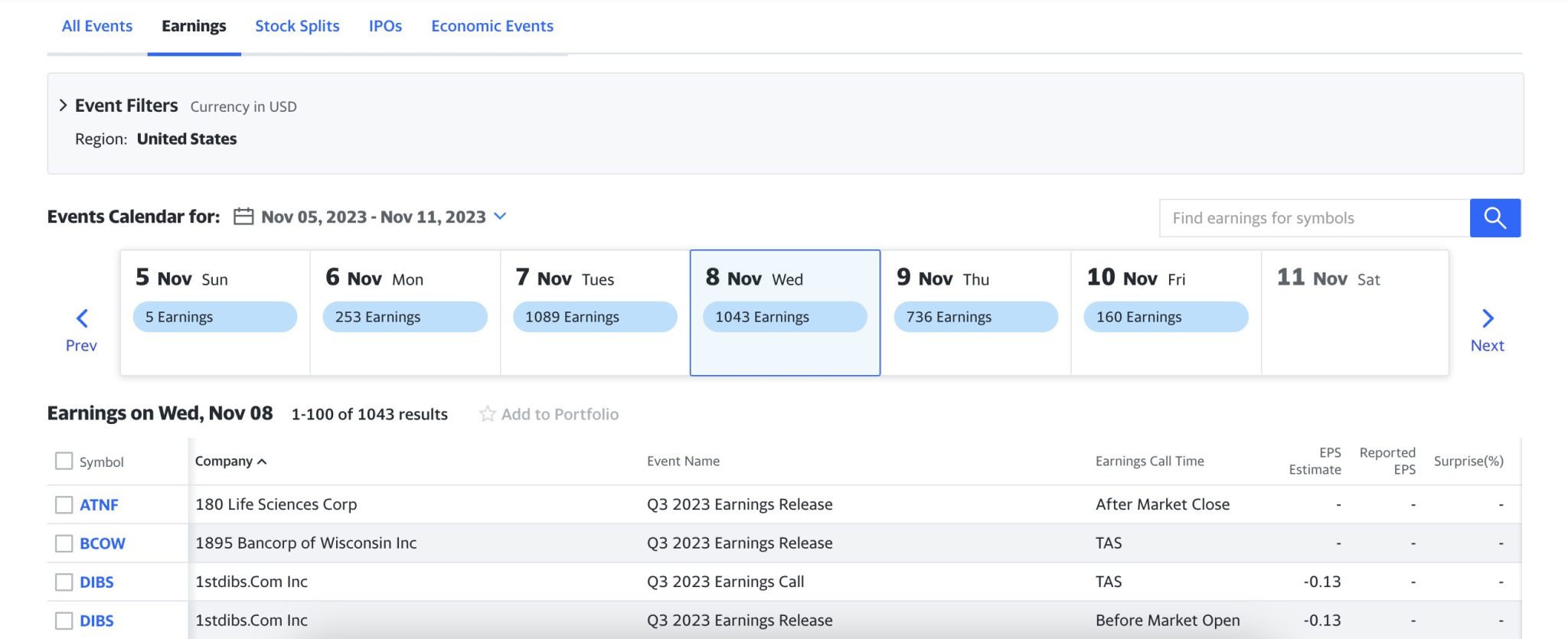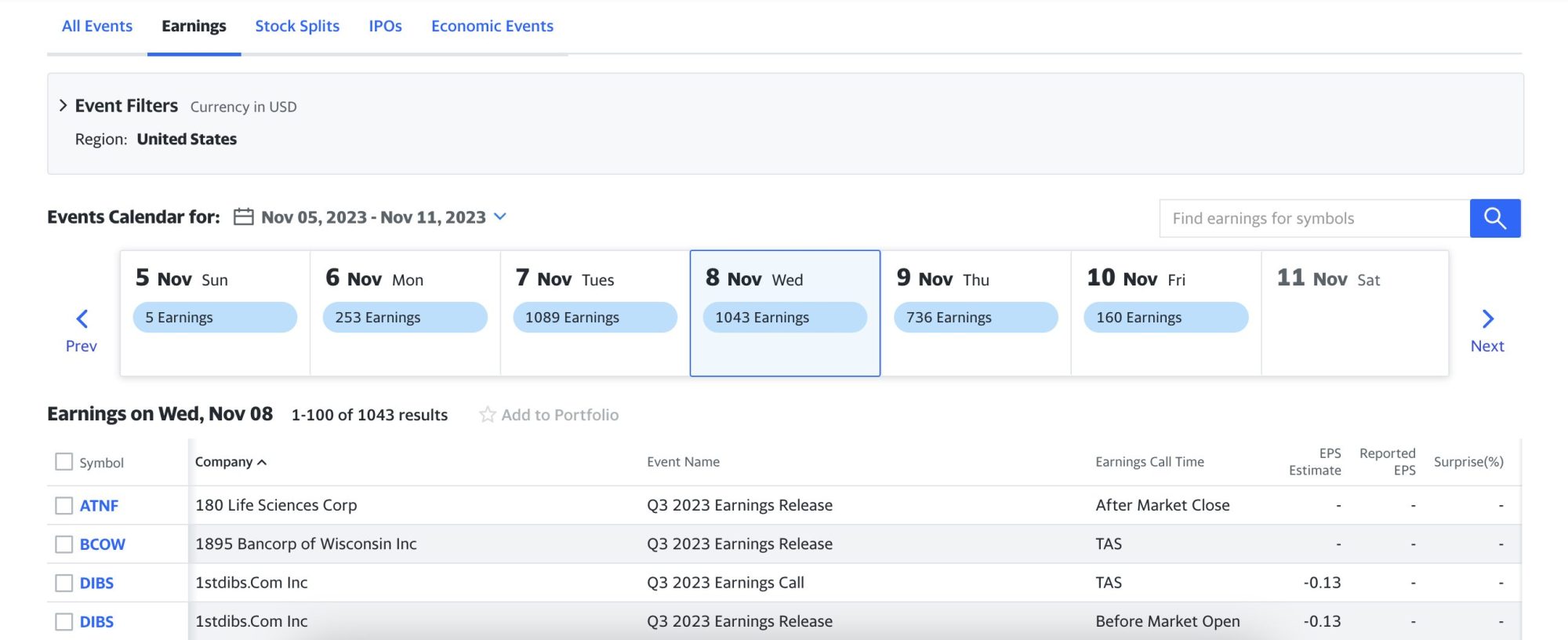 In addition, an increasing number of AI stock predictors are turning to alternative data sets, such as social sentiment analysis and website analytics. This includes AltIndex, which extracts data from Twitter, Reddit, YouTube, Facebook, and other social networks. Data points include page visits, likes, shares, and comments.
Other alternative data sources include insider transactions, employee satisfaction, and credit card transactions. Put simply, data is extracted from non-traditional sources, meaning it offers valuable insights.
Data Analysis
Collecting fundamental, technical, and/or alternative data is only the beginning. The best stock predictor services typically use machine learning to analyze their findings.
AI models are trained to look for notable patterns and trends.
The data is then packaged together to generate meaningful insights.
For example, if fundamental data is extracted from quarterly earnings transcripts and financial reports, machine learning determines whether the outcome is positive or negative.
It can make comparisons with previous financial periods and industry competitors.
In the case of alternative data insights from social media, natural language processing is also required. AltIndex uses this tool to analyze millions of different comments and yield an overall sentiment score.
Stock Predictions
And finally, once the data has been extracted and analyzed, AI technology will begin making predictions. It will apply algorithmic testing models to current market conditions, allowing it to make informed recommendations. This is based on the likelihood of an event coming to fruition.
This is why AI stock predictor services like AltIndex and Stocklytics have developed an AI rating system. Based on all of the data findings and analytical models they have to hand, stocks are rated on their investability.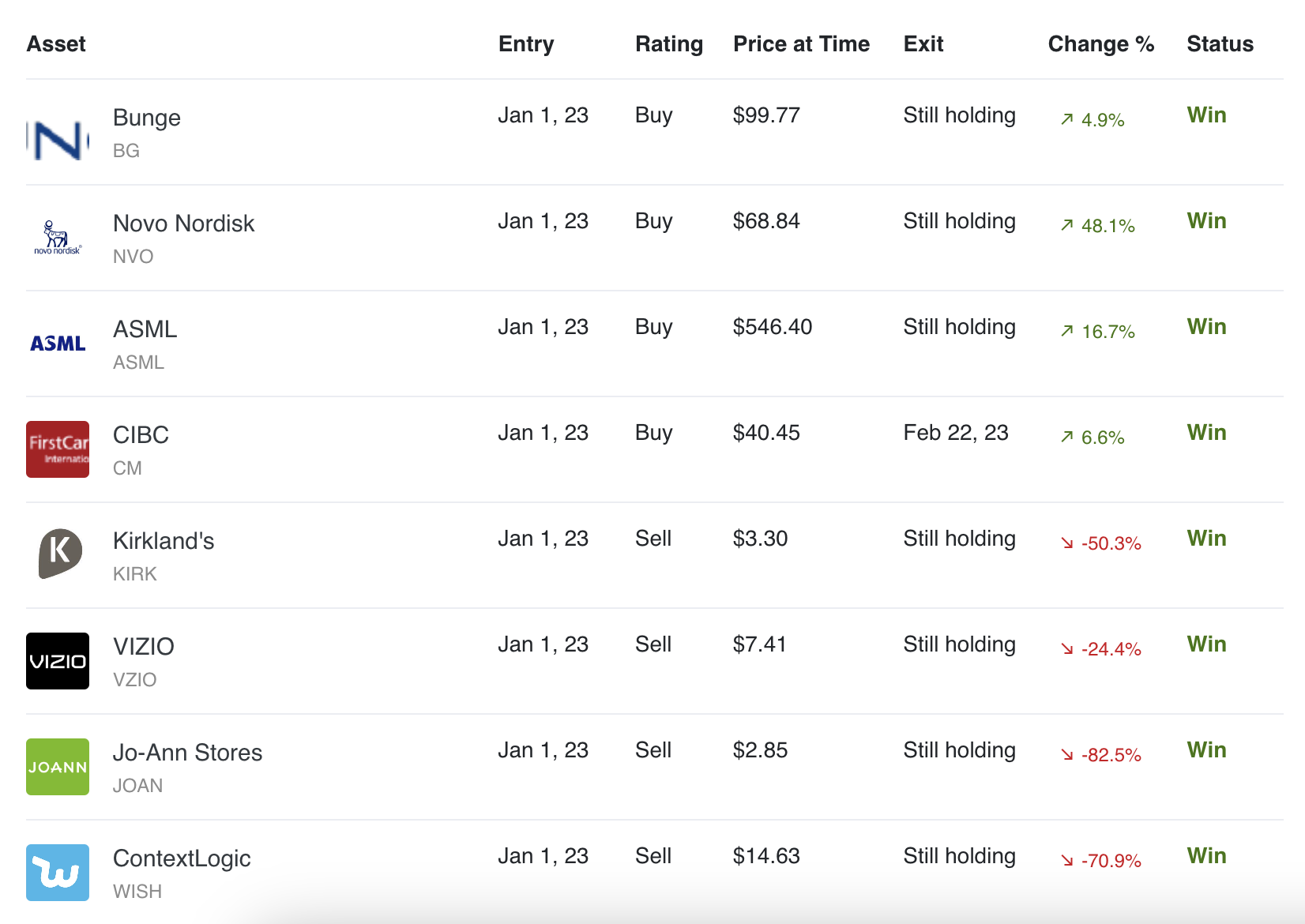 Highly rated stocks on AltIndex have a high probability of outperforming the market. While not guaranteed, this is based on historical data and backtesting methods. If AltIndex's confidence ratio is high, it will distribute a stock recommendation to its members.
Stocklytics uses a similar model, but stocks are ranked from 1 to 10. More importantly, Stocklytics focuses on fundamental data when making investment recommendations.
Relatable Example of an AI Stock Pick
If you're still confused about how AI stock predictors work, here's a relatable example using AltIndex.
Let's suppose AltIndex is analyzing Amazon stock. Considering Amazon relies heavily on its e-commerce marketplace, website analytics and app downloads are important metrics.
AltIndex finds that Amazon website visits have witnessed a major decline over the prior few weeks. It also finds that app downloads on Google Play and the App Store are down.
AltIndex then analyzes job posting websites. It discovers that new career postings are much lower than Amazon's prior quarter.
All of this suggests that Amazon is going through a challenging period. Through its AI scoring system, AltIndex assigns a bearish rating, highlighting that a declining stock price is likely in the next few months.
Investors then have the opportunity to short-sell Amazon stock before its issues become mainstream.
The entire analytical process is automated, meaning AltIndex users benefit from a passive experience.
Why AI Stock Market Predictions Are Worth Considering
There are many reasons why AI stock predictors are worth considering. For a start, AI technology can analyze millions of data points concurrently. This includes anything from financial news reports and earnings calls to annual statements, technical indicators, and pricing trends. In contrast, human traders are limited in how much data they analyze.
This means that AI gives you access to more trading opportunities. What's more, the best stock predictor services offer a passive experience. You won't need to research stocks yourself, as you'll typically be told which companies to invest in. Another benefit is that, unlike human investors, AI is emotionless.
It doesn't make irrational decisions – such as chasing losses or holding onto declining stocks. AI also has the capacity to make investment decisions with high accuracy, something that beginners will struggle to rival. For instance, AltIndex stock recommendations have a historical accuracy rate of 75%.
AI stock predictors are also proficient in generating risk-management strategies. They can identify potential trading risks and act accordingly. For instance, deploying stop-loss orders and rebalancing portfolios to avoid being overexposed to specific markets.
However, AI predictors are not guaranteed to make money – so ensure you consider the risks before proceeding.
For example, consider how AI stock predictors would have performed when COVID-19 was declared a pandemic. In just one trading day, the S&P 500 declined by 12%. Three weeks later, the market was 34% down. Crucially, conventional fundamentals and technical indicators went out the window, meaning AI would have struggled to perform to maximum capabilities.
Moreover, even during normal market conditions, not all AI stock predictors generate returns. Just like a traditional investment fund, there will always be losing trades. But overall, from what we've seen so far, AI will play a major role in the future of stock investing. Just make sure you're diversified across several AI stock predictors to mitigate the risks.
Conclusion
Artificial intelligence is creating a sea-change in the global stock market. Retail investors should take notice, as AI technology offers unprecedented prediction accuracy and speed.
Overall, we rate AltIndex as the best most accurate stock predictor. Its AI recommendations have a 75% accuracy rate, translating into average 6-month returns of 22%. Best of all, AltIndex tells members exactly what stocks to buy, ensuring a passive investing experience.
References
FAQs
How to get AI stock market predictions?
You can get AI stock predictions from AltIndex, which has a 75% accuracy rate since inception. Other providers include Candlestick.ai, Stocklytics, and Danelfin.
Are AI stock predictions accurate?
Although AI stock predictions have greater capabilities than human researchers, success depends on the underlying technology. This is because each AI provider will have developed its own proprietary algorithm.
Where to get free AI stock picks?
You can get 1 free AI stock pick from AltIndex each month, or up to 25 when signing up for a paid plan. Free AI Stock Picker also offers free stock recommendations.