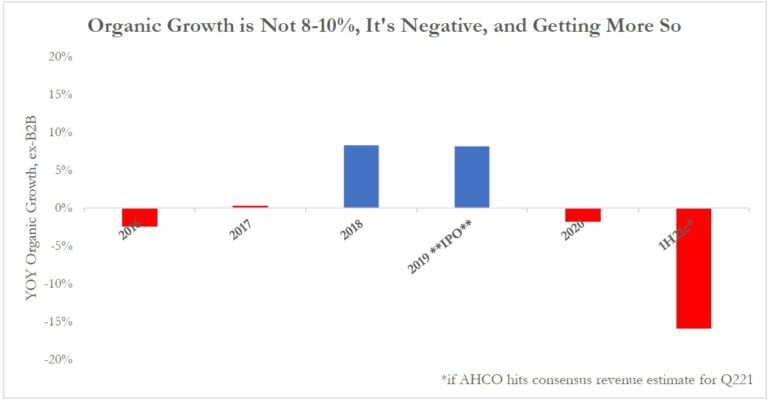 Jehoshaphat Research is short Adapthealth Corp (NASDAQ:AHCO).
Q2 2021 hedge fund letters, conferences and more
We believe that AdaptHealth (NASDAQ:AHCO), a roll-up of roll-ups with excessive debt, is deceiving the investor community via its financial reporting practices. While management claims (and consensus estimates reflect) an organic growth trajectory of 8-10%, AHCO is in fact experiencing double-digit organic decline. It is also, in our opinion, taking steps to obscure that decline which are expressly forbidden by the SEC.i This may explain the recent departures of the CFO, CSO, CTO and CEO, and a major (but quiet) stock sale by that CEO.
See's Candies Vs. Berkshire Hathaway
During his long career, Warren Buffett has invested in thousands of companies and acquired a whole range of businesses for his conglomerate. Q3 2022 hedge fund letters, conferences and more However, of all of these deals, two stand out as being the most transformational. If you're looking for . . . SORRY! This content is Read More
Of course, when asked for detail on its vague organic growth claims, management says that it is too "difficult" to calculate and "we don't follow…the traditional organic growth viewii." But you can calculate it, and we did. The truth is that this business is falling off a cliff, and management began its worst obfuscations just as the decline accelerated.
The setup to short AHCO here reminds us of an earlier rollup that played games with organic growth and ended up nuking shareholders before being charged by the SEC: MDC Partners Inc (NASDAQ:MDCA). MDCA's stock fell precipitously as its CEO got into trouble and stepped down in 2015. Most investors likely thought that was the bottom for MDCA. But the stock then fell another 80% after the resignation price shock, over the following year, and MDCA was investigated and then charged by the SEC for secretly changing its organic growth calculations. AHCO is following a similar path, including the timing of its CEO's departure.
With its biggest conceivable acquisition now months behind it, the upcoming end of a special disclosure holiday, and the recent departure of its CEO due to an indictment for operating a tax fraud, organic growth results will be the focus going forward. If the new CEO is smart, he'll throw the old CEO under the bus, reset expectations to a sane level, and stop the misrepresentation. We would expect the new CEO to act in this way to preserve his career, even though it would mean the stock getting de-rated as the truth comes out.
(In fairness, perhaps the new CEO is the guy to find creative ways to manufacture growth. After all, he presided over Rotech Medical for the entire five years during which the DOJ alleged a massive Medicare fraud there. Charges include defrauding the government by overbilling, forging documents, and filing claims for the dead.iii)
In our research, we spoke with former AHCO executives. One said the M&A process was a "barn fire," and the overall business is a "house of cards." Another described an unsustainably aggressive push to pile up assets using excessive leverage. One said that management had "no f**g clue" what organic growth was.
We also love the sentiment setup for this short: Only 4% short interest/float, and every single sell-side analyst has a Buy rating on AHCO (8 out of 8).
We have alerted journalists, AHCO's auditors, and other interested parties to our findings. We invite interested parties to contact us with questions at www.jehoshaphatresearch.com.1
Executive Summary
Organic Growth Went from Sluggish to Awful, so Management Covered it Up:
Over the past five and a half years, actual organic growth has averaged not 8-10%, but rather ~0%. Recently, it's cratered to double-digit negative.
AHCO claims on its earnings calls that it had 6% organic growth in FY20 and that this accelerated to 12% in Q121. The Street accepts this characterization fully, and projects 8%+ organic growth going forward. But nowhere does management provide investors with numeric inputs for these numbers.
In Q420 alone, organic revenues declined by more than -$20m year-over-year.iv
AHCO recently took highly unusual steps to make it harder for investors to see organic growth. Some of these include:

Failing to disclose contributions from all acquisitions on a quarterly basis (even meaningful ones)
Offering its own organic growth "estimate" with no quantitative inputs available and confusing wording
Changing organic growth calculations without disclosure
Retroactively changing the organic number without disclosing such changev
Removing certain inorganic contribution disclosures from one SEC filing to the next, etc.
We believe that some of these actions are prohibited by the SEC's rules on non-GAAP disclosures.
We don't think it's a coincidence that management decided to take its organic growth disclosure from "translucent" to "totally opaque" in 2H20: this was just as true organic growth was going from negative to very negative. This was also when they decided to do their biggest deal evervi, and to set up the company for an exit of the CEO.
The Game Ends This Year:
After AHCO loses its EGC status under the JOBS Act on December 31, the company will for the first time have its internal controls properly audited by an outside firm. This tends to drive increased disclosure of inorganic inputs.
AHCO's roll-up strategy has masked its organic decline but requires the company to buy progressively more in larger amounts. As the gigantic Aerocare deal laps in Q122, the organic growth decline will become obvious to everyone.
We expect the new CEO to tread lightly and be more discriminating with shenanigans in the "barn fire" he inherited.
Forward earnings estimates are also Herculean for AHCO. The Street is implicitly modeling YOY organic growth exiting 2021 at approximately +13%. Thus, a massive re-acceleration is required to hit year-end 2021 numbers.
Former Employee Interviews Confirm Our Findings of Misrepresentation:
Our key findings above were consistent with what former employees told us in interviews. Former executives described a chaotic, understaffed business, failing to do substantial M&A diligence in a race to accumulate assets.
One interviewee said that the company's M&A department was "like a barn fire. There were two acquisitions happening a month. They didn't have the ability to disaggregate [organic growth], trust me. They had no f****ng clue. There was no concept of what organic growth actually was." He described the overall company as a "house of cards."
One common refrain was disbelief at the idea that this business grows meaningfully faster than GDP.
A Levered Rollup with Anemic FCF and Low ROIC, Touting Stupidly "Adjusted" Numbers:
Bulls ignore financial analysis so they can make the case that AHCO is a great business led by a brilliant team of executives and technologists. But just calculate the company's ROIC: at about 3%, it's well below its cost of capital.
Free cash flow is embarrassingly low for AHCO: $75-80m in 2020, pro forma for Aerocare. The stock trades for 43x FCF (and much higher with EV/FCF). This level of FCF also leaves little ability for AHCO to de-lever naturally.
Management likes to point to a fanciful "Adjusted EBITDA Less Patient Equipment Capex" as a clever proxy for free cash flow. "Adjusted EBITDA" for this business – a business that frequently does M&A, lays off acquired workers, and taps the debt markets – excludes costs related to M&A, layoffs, and tapping the debt markets. Its Patient Equipment Capex number understates actual cash payments for equipment.
A more realistic "Adjusted EBITDA Less Capex" calculation yields only $77 million (which is 59% lower than management's given number). Enterprise value is over $5 billion. This business is insanely and dangerously levered.
Senior Executives Are Bailing:
We count four C-level executive departures in the past year. Only two of these were disclosed publicly. How many executives must leave a company in the same 12-month period before it's considered alarming?
The former CEO just sold $21m of his personal holdings of AHCO last month. This was not filed on EDGAR because the CEO is no longer an employee. The evidence exists in a paper filing at the SEC's reading room.vii The CEO did this only days after he was out of the spotlight as CEO (during which time the sale would have been publicized in a Form 4 filing).
The AHCO CEO offered Aerocare $1.2-$1.3bn to acquire it. The Aerocare CEO countered with $2.0-$2.5bn.viii The transaction ended up closing right where the Aerocare CEO countered. Was the AHCO CEO so desperate to buy Aerocare that he wasn't price-conscious at all?
To touch on valuation: The best public comp to this business is Apria (APR), a direct and named competitor in AHCO's 10-K, though not a rollup. APR is substantially less leveredix, and unlike AHCO it has grown FCF every year for three straight years.x Yet, APR trades at a fraction of the multiples of FCFxi and earningsxii that AHCO does, and at a substantial discount on an EV/EBITDA basis as wellxiii. If AHCO merely traded at parity with this pure comp on NTM EV/EBITDA (6.5x vs. 8.5x), it would be a $12 stock, for >50% downside.
And pure-comp APR's organic growth? Low single digits.xiv
AHCO's Organic Growth Is Deeply Negative, But Obfuscated By Accounting Games
a. What AHCO says its organic growth is (8-10%)
Pull up the last quarter's financial supplement from AHCO's websitexv and you'll find a generally strong organic growth rate represented, with an especially impressive Q121 against a remarkably strong Q120 comp:
AHCO indicated its expectations for similarly impressive organic growth in 2021 and 2022 at the Jefferies Healthcare Conference on June 2, 2021:
"…we're still confident with 8 to 10 organic growth in this year and right now we see similar, if not the same in future and for 2022 as we get closer to the year end, I'm sure we'll update that."
And of course, the analyst community dutifully accepts this guidance, modeling 8%+ organic growth in the years to come. All currently known acquisitions will have been lapped by the second half of 2022, and analyst convention is to model future revenues without assumed acquisitions:
We believe that the Street is unwittingly modeling approximately 13% YOY organic growth exiting 2021 as well. The Street models $640m of revenues for that quarter, which compares to $345m of ex-B2B net revenues for Q420 (Bloomberg's Q420 number above is wrong). That's an increase of $295m. AHCO has only purchased companies with revenues of about $225m quarterly in Q121, and about $26m quarterly so far in Q221 (our estimate for Spiro), or $251m in total.
This implies that the Street is expecting roughly $44m of quarterly, YOY organic revenue growth in Q421, given Wall Street's convention of not modeling future acquisitions. This would represent a truly massive acceleration of currently negative organic growth, obviously.
Because AHCO just did a massive deal, far larger than anything it has ever bought before, the organic growth rate of the company is going to become even more important than it already was. This is because the company cannot realistically expect to maintain its inorganic growth rate anywhere near what it has been. Understanding the real organic growth of AHCO is important for any investor to begin with.
So what would it mean if AHCO's organic growth were actually negative, but the company were actively hiding that fact and investors were buying the story?
b. What AHCO's organic growth actually is (around zero, and -14% in recent quarters)
Restated for convenience, the chart from our Executive Summary section showing our independent calculations of organic growth appears here. We will elaborate in detail on our calculations shortly.
While we have annual revenue information going back to 2015, we have quarterly information for a limited historical period as well. We think a quarterly calculation is especially illuminating in one key respect: it highlights how the company's organic growth surged in late 2018 and 2019, just before the IPO, but faded after and has been downward since:
(Note that in this second chart, we include the Q221 consensus-estimated period as well. This represents what organic growth should be if the company hits the consensus revenue bogey, based on our estimates of inorganic contribution.)
We can pick different time periods over which to average these organic growth numbers, but they're consistently averaging in the low single digits (at best), and they're trending in the wrong direction.
Read the full report here.