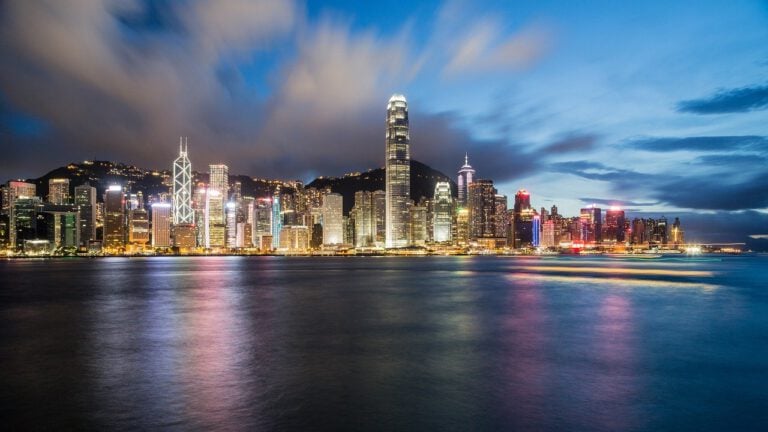 In his Weekend Reading Notes to investors, while commenting on China vs the U.S., Louis Navellier wrote:
Q2 2021 hedge fund letters, conferences and more
Gates Capital Management Reduces Risk After Rare Down Year [Exclusive]
Gates Capital Management's ECF Value Funds have a fantastic track record. The funds (full-name Excess Cash Flow Value Funds), which invest in an event-driven equity and credit strategy, have produced a 12.6% annualised return over the past 26 years. The funds added 7.7% overall in the second half of 2022, outperforming the 3.4% return for Read More
While all eyes are on the Kabul airport, let's not ignore the main Heavyweight battle in that region.
Who Will Win the 21st Century
I wrote three articles ("Who Will Win the 21st Century – China or the U.S.?"), timed to the 25th anniversary of our investment group's tour of central China and the 55th anniversary of their Cultural Revolution. This addendum was inspired by a pair of extensive special reports I've just perused:
Most wars these days are predominantly economic wars, where China has been perceived to be the big winner. I celebrate the fact that these bloodless trade wars are a great advance over what we see in history, from "Saving Private Ryan" to Walter Cronkite's Vietnam coverage to today's carnage in Kabul.
China is "perceived" to be the winner, but are they really? I don't like reading tea leaves based on weekly retail sales or trade figures, since it's too short-term. I tend to look at China vs. USA as a Hundred Years' War and we're in Round 3 (the 2020s). By my rough calculation, China won Round 1 (2000 to 2010), as they experienced tremendous growth while America suffered two major financial crises and very slow growth. Round 2 was roughly a draw (2010 to 2019), with America enjoying its longest recovery, while China grew far faster, but ballooned short-term debt and had a flat stock market.
Round 3 (the 2020s) began with China's inadvertent export of that killer COVID-19 virus to the world. At first, it seemed that the virus hit Europe and America the hardest, while impacting China and most of East Asia less, but that assumption is now coming into question. Now, multiple reports are showing that the U.S. is pulling ahead of China. America and China are converging in the GDP race.
China vs The U.S.: GDP Growth
Specifically, U.S. GDP rose 12.2% in the second quarter vs. a year earlier, while China's grew 7.9%, and Moody's forecasts that U.S. GDP growth will outpace China's over the next four quarters as well. If that happens, it would mark the first time since 1990 when the U.S. grew faster than China for over a year. (Source: "For Now, U.S. Tops China in Growth," by Bob Davis, Wall Street Journal, August 16, 2021).
America is recovering faster than China, in part, because the U.S. is the center for vaccination research and got the winning vaccine formulas first. That's one more advantage of a free-market economy over a command economy. America also poured trillions into the domestic economy while China kept pouring more money overseas into its Belt & Road Initiative, other grandiose plans, and building up their military.
According to Daniel H. Rosen, writing in "China's Economic Reckoning: The Price of Failed Reforms" (Foreign Affairs, July-August 2021), China's foreign direct investment rose from $73 billion in 2013 to $216 billion in 2016, so "from 2013 to 2016, borrowing via the short-term money market quintupled."
It's the WEALTH of Nations, Stupid
Short-term, "It's the economy, stupid," as James Carville so crudely counseled the Clinton campaigns of the 1990s, but Adam Smith wrote an "Inquiry into the Wealth of Nations," not just their growth or GDP.
U.S. households have now accumulated $2.6 trillion in what Moody's Analytics calls "excess household savings," or savings that exceed what would have been anticipated before the pandemic. That is nearly seven times as much as in China, with four times as many people. China also has demographic challenges resulting from long decades of its "one child" (usually, one male child) policy, which only ended in 2016.
China's labor force – age 15 to 59 – peaked in 2014, and has been shrinking, including a 0.5% drop in 2020, according to Capital Economics, which expects China's GDP growth to slow to about 2% by 2030.  China's birth rate fell 15% in the last 12 months; one-third of its people will be over age 60 by 2033 and The Lancet forecasts that China's population will shrink by nearly 50% by the end of the century ("Xi's Gamble: The Race to Consolidate Power and Stave Off Disaster," by Jude Blanchette, Foreign Affairs).
Wealth takes time to accumulate, China just started to think about capitalism in 1978 – over 200 years after America was born and Wealth of Nations was published. It takes time to build a military power, too. For instance, there are 22 aircraft carriers on earth. The U.S. has 11; no other nation has more than two.
America Is Winning The Wealth Race
In "Round 2" (between 2011 and 2021), China closed the GDP gap with the U.S. by $2 trillion, according to International Monetary Fund estimates, but during that same decade, America's lead in wealth increased by $13.5 trillion, according to Credit Suisse estimates.
In City Journal last week (August 19), Allison Schrager wrote (in "Why China Will Never Have the Pre-Eminent Global Economy") that China lacks a spirit of innovation. "The industries Beijing favors may continue to grow and attract investors," wrote Schrager, "but growth will slow as its population shrinks and China finds that it lacks the innovation needed to reach the pinnacle of the global economy."
China may have better math training in primary schools, but their best students often come to America for college training and employment. That trend will only grow after China's dictator-for-life, Xi Jinping, cracked down on many forms of innovative technology – social media, private tutoring, and gaming – while nixing key mergers and halting what could have been one of the world's largest IPOs. Xi's restrictions are growing. Instead of "allowing 1,000 flowers to bloom," he thinks he can control innovation from Beijing.
Capital and brain power go where they are most richly rewarded, so creative Chinese engineers will keep migrating to America and other Western nations to invent cool new things.  According to the August 14-28 edition of The Economist, Xi is reversing much of the progress engineered by his predecessors:
"In the past nine months China's regulators have cracked down on the country's effervescent tech scene, which, though it has generated world-beating innovations and astounding shareholder value, is no longer seen as fit for purpose. On August 11th, the authorities indicated that regulations over all manner of tech businesses will be strengthened in the next five years. As a consequence of all this, the country's hottest tech groups have lost at least $1 trillion in market capitalization since February."
Last week, China's market cratered ("Half a trillion dollars wiped from China markets in a week as clampdowns shatter confidence," Reuters, August 20, 2021). The Reuters article begins like this:
The Slump In China's Tech Stocks

"China's tech stocks slumped to new lows on Friday and Hong Kong's benchmark index hit an almost 10-month trough, as an unrelenting series of Chinese regulatory crackdowns crushed investors' confidence. More than $560 billion in market value has been wiped off Hong Kong and mainland China exchanges in a week as funds capitulate out of once-favored stocks, unsure which sectors regulators will target next. The Hang Seng fell 1.8% and its weekly drop of 5.8% was the largest since the height of the pandemic panic in financial markets in March 2020."
The Shanghai stock market was flat for a decade (2009-19), while the S&P 500 tripled. Since then, the situation has grown even worse for Chinese investors. Since its February 2021 peak, the MSCI China ETF is down 31% while the U.S. S&P 500 is up about 14%. Since the end of 2019, NASDAQ is up 66%, the S&P 500 is up 37%, the MSCI World Index is up about 30% while MSCI China is flat as a pancake.
Big questions remain – like whether we want to grow and remain #1, and whether our internal factions can co-exist as a cohesive nation over the next 75+ years – but if we do, the U.S. is winning Round 3 of the Hundred Years' Economic War, whether measured by Wealth (preferable) or Growth (short-term OK).