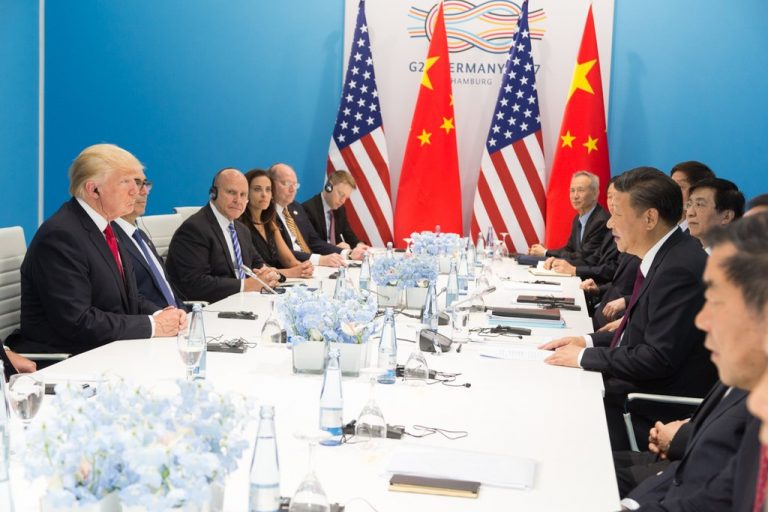 "Trump is to meet with his Chinese counterpart, Xi Jinping, during the Group of 20 summit in Buenos Aires, Argentina, on Friday and Saturday," according to DAWN. The two executive leaders will have the opportunity to call off an ongoing trade war began by President Donald Trump earlier this year.
BBC explained the trade escalation in September of this year:
The US has imposed three rounds of tariffs on Chinese products this year, totalling [sic] $250bn worth of goods. The first two rounds placed 25% tariffs on $50bn worth of imports from China, and Beijing retaliated in kind. Washington delivered a sharp escalation in the trade conflict in September with another set of tariffs, this time on Chinese goods worth $200bn. Those taxes will take effect from 24 September, starting at 10% and increasing to 25% from the start of next year unless the two countries agree [to] a deal. Mr. Trump has warned even more could be on the way. The US president said if China retaliates then Washington would impose fresh tariffs on $267bn worth of Chinese products.

Short-Seller Spruce Point Highlights Its Latest Canadian Consumer Short: Saputo

Reputed short-seller Spruce Point Capital Management released its latest short report this week. The firm is shorting Canadian dairy and grocery manufacturer Saputo. Spruce Point chief Ben Axler believes the company is entering a phase of declining growth and highlights the financial stress and growing challenges he sees it facing, not only in Canada but Read More
Is A Tariff Truce Likely
If the two leaders don't come to an agreement, it's likely China will retaliate with tariffs of their on January 1, 2019, when the 25% rate takes effect. Unfortunately, most analysts believe they won't come to a deal that will end tensions but could agree to a cease-fire.
"I'm very prepared. You know, it's not like, 'Oh, gee, I'm going to sit down and study.' I know every stat. I know it better than anybody knows it. And my gut has always been right," President Trump said on Thanksgiving Day for reporters.
With such rhetoric, it doesn't seem like much ground will be made during the meeting this weekend.
US Companies Hurt By Tariffs
"Companies cannot shift their supply chains on a dime. It takes months, if not years, to find new suppliers who can meet all of a retailer's sourcing requirements. These tariffs will unfairly punish US companies and ultimately US consumers," said Jonathan Gold National Retail Federation Vice-President of supply chain and customs policy to South China Morning Post (SCMP). "We have a recent survey of our membership, and three-quarters of our companies are going to be hurt by the US tariffs," according to William Zarit, chairman of the American Chamber of Commerce in China to SCMP.
"If the Trump administration acts on threats to place new tariffs on automobiles and parts and additional tariffs on products from China, GDP would fall by an additional 0.38 percent ($94 billion), resulting in 0.24 percent lower wages and 292,648 fewer full-time equivalent jobs," according to the Tax Foundation.
Frances Coppola further describes the harm caused by the Trump trade war:
….This is without retaliation. President Trump's tariffs mainly hurt his own people.

China has already said it will retaliate to the new tariffs, as it did to the previous $50bn of tariffs. Other countries have also retaliated to tariffs. Retaliation primarily hurts their own producers and consumers, of course. But it also has a negative effect on American output and jobs through reduced exports, though considerably smaller than the direct effect of President Trump's tariffs. The Tax Foundation estimates that if other countries retaliated, U.S. GDP would fall another 0.09 percent ($23.5 billion) and cost an additional 72,864 full-time equivalent jobs.