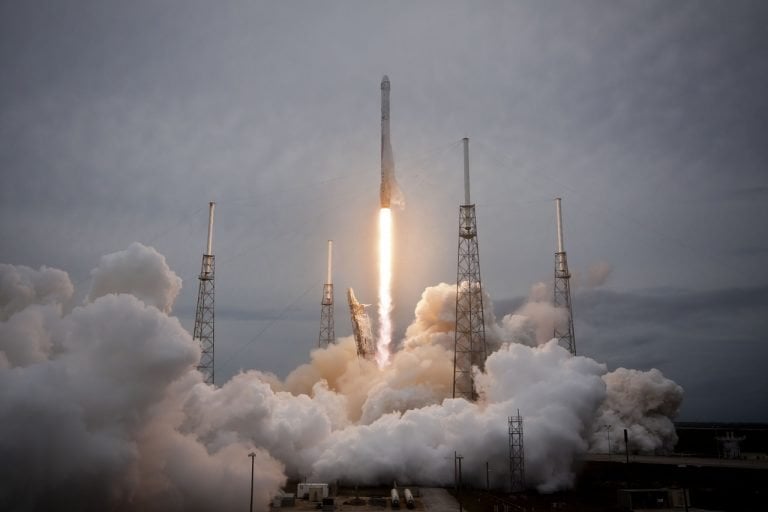 "Satellite imagery reportedly revealing a ballistic missile facility deep in the Saudi desert spotlights Riyadh's increased investment in its independent warfighting capabilities, U.S. defense experts say," reported CNBC on Friday. Those speaking to the outlet on background cautioned the revealed ballistic missile facility indicates a desire by Saudi Arabia to make offensive military action without the public approval of the United States.
Last week The Washington Post reported on images analyzed by missile experts at the Middlebury Institute of International Studies in Monterey, California. A military base near al-Dawadmi, approximately 145 miles west of Riyadh is at the center of the new discussion. "I would be a little worried that we're underestimating the Saudis' ambitions here," cautioned Jeffrey Lewis who studied the photos which were captured in November of last year. Missile experts further commented to CNBC that the images 'show what appear to be structures big enough to build and fuel ballistic missiles.' A rocket-engine test stand is also present in the base and is 'the type on which a rocket is positioned on its side and test-fired in place.' The expert added that such testing is vital for countries in the process of manufacturing functioning missiles.
The base was first identified in 2013 by Jane's Defence Weekly, who suggest the design looked similar to Chinese design and contained two launch pads the kingdom purchased from China. When asked by the Associated Press, Chinese Foreign Ministry spokeswoman Hua Chunying denied knowing of any involvement of China with the development of the base.
Gates Capital Management Reduces Risk After Rare Down Year [Exclusive]
Gates Capital Management's ECF Value Funds have a fantastic track record. The funds (full-name Excess Cash Flow Value Funds), which invest in an event-driven equity and credit strategy, have produced a 12.6% annualised return over the past 26 years. The funds added 7.7% overall in the second half of 2022, outperforming the 3.4% return for Read More
Outlet Leaves Out Key Context
"There's an arms race underway. Whiplash policy changes in Washington have had their impact on Riyadh: Saudi authorities are no longer going to be constrained by White House whispers. The Saudis are demonstrating that they can take matters into their own hands," Michael Rubin, former Pentagon official and current resident scholar at the neo-conservative American Enterprise Institute (AEI) think tank said to CNBC.
However, the outlet failed to mention the bias of AEI, despite officially having a non-partisan affiliation.  In June 2017, Rubin pivoted from the abuses of Saudi Arabia to making an argument that those critiquing the kingdom looked past the actions of Iran and Qatar to do so.
But, even if Saudi Arabia had not begun cracking down on radicalism, is pointing out bad Saudi behavior a reason to absolve Qatar? Or should U.S. officials celebrate the growing Arab consensus against Qatar and its continued support for radical and subversive movements across the region? In effect, that is exactly what those who bash Saudi Arabia and look past Qatar have done. The same is true with regard to Saudi Arabia and Iran. When Saudi Arabia executed Sheikh Nimr al-Nimr in January 2016, it was despicable. Is that any reason to diminish criticism or sanctions against Iran, where the rate of execution is actually an order of magnitude higher?
Rubin repeated the same tactic in October of last year when Saudi Arabia was receiving international criticism for their direct involvement in the Jamal Khashoggi murder. "But does Saudi Arabia's fall from grace mean reorientation toward Tehran? Hopefully not. While critics of Saudi Arabia are right to point out its atrocious human rights record — public beheadings are seldom a sign that liberal reform has taken hold — the rate of public executions in Iran is almost nine times as high." Rubin would continue, "But does the fact that Saudi Arabia supported extremism before mean that Washington should pivot to Tehran?" Yet, the argument of forgiving the abuses in Iran due to those in Saudi Arabia is not an argument anyone with credibility is making, nor ever has.
The idea that an 'arms race' is beginning due to Saudi Arabia having a missile base, that the international community has known about for years seems to be off target. CNBC briefly mentions the Saudi led war in Yemen, which the United States Senate recently voted to stop supporting. Armed Conflict Location & Event Data Project (ACLED) estimates 60,223 deaths from violence occurring in the Yemen war from January 2016 through November 2018, which doesn't take into account the tens of thousands in Yemen estimated to have died from starvation. "ACLED's estimation of Yemen's direct conflict deaths is far higher than official estimates – and still underestimated," ACLED Executive Director Clionadh Raleigh began. "Fatality numbers are only one approximation of the abject tragedy and terror forced upon Yemenis from several sides. This cannot be overstated."
By recent figures, Saudi Arabia is the largest buyer of United States weapons. Bombs purchased from the US have been used by the kingdom to target civilians, drawing further doubt to an 'arms race' beginning over suspected missile tests, due to the supply of weaponry the US provides Israel and Saudi Arabia within the region. Framing the situation in such a manner only goes to further empower the military-industrial complex within the US. It's vital for readers to be aware of the persuasion of AEI and Rubin when complex issues involving possible warfare come to light.