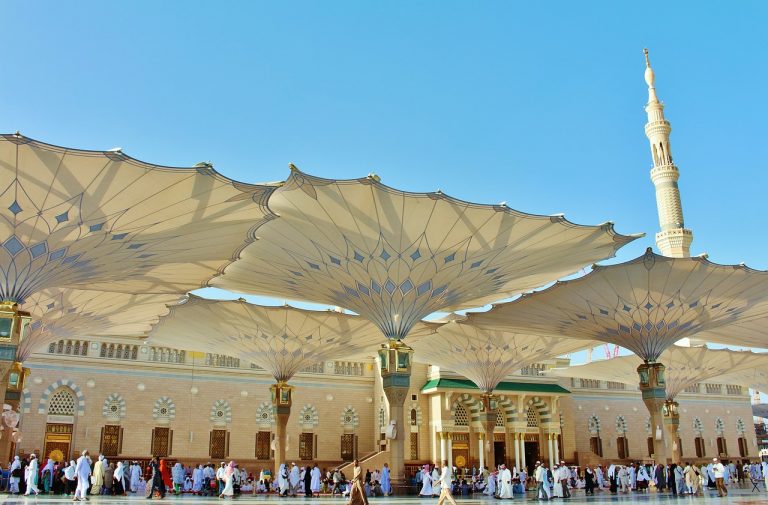 Saudi Arabia could execute noted woman activist Israa Al-Ghomgham, who was detained in December 2015. She along with her husband Moussa al-Hashem and many others were put before the Specialized Criminal Court (SCC) in Riyadh on August 6th. The public prosecutor recommended the death penalty for six defendants including Israa Al-Ghomgham and her husband Moussa al-Hashem.
They were arrested and tried on charges of anti-establishment protests and incitement to disobedience of the ruler. Saudi Arabia, which carries out executions by publicly beheading the culprit, has rarely carried out the death penalty on a woman.
Saudi Arabia to behead Israa Al-Ghomgham? Prosecutor recommended the death penalty for six defendants, including Ghomgham and her husband, Moussa al-Hashem, who have been jailed for nearly three years on charges of protesting the government. https://t.co/RMXUe2eNrS pic.twitter.com/OwEvWx5L6i

According To Jim Chanos, This Is The Biggest Story No One Is Talking About

When a liquidity crisis struck China's Evergrande Group in the summer of 2021, it shook the global markets. Debt payments by China's second-largest property developer by sales were estimated in the hundreds of billions of dollars, and the company missed several payments. Those missed payments led to downgrades by international ratings agencies, but the Chinese Read More

— DocRock1007 🇺🇸 (@DocRock1007) August 20, 2018
Don't fall for the false reports of her beheading on August 19
Several false reports are already circulating on the Internet claiming that the woman activist had been beheaded on Sunday, August 19th. Twitter account Thefreethoughts even shared a video of an executioner fixing her on the ground and then beheading her with a sword. The video showed the security forces standing nearby. As it turns out, the video was of an earlier beheading, and the photo was of another imprisoned activist Samar Badawi, not Esra Al-Ghamgam.
https://twitter.com/PressTV/status/1031123052615098368
Human rights activists and Al-Ghomgham's relatives have refuted the reports of her beheading. The woman activist's sister told media that the false reports have caused distress to their family, and have done nothing to advance her cause.
Saudi Arabia subjects Israa Al-Ghomgham to an 'unfair trial'
The Specialized Criminal Court (SCC) isn't known for conducting fair and unbiased trials. According to the European Saudi Organization for Human Rights (ESOHR), the SSC is "under total control by the king, and therefore many of these trials are merely show trial and have pre-determined outcome which serve the narrative of the state."
Saudi Arabia is calling for the beheading of female human rights defender Israa Al-Ghomgham because she participated in peaceful protests.

This is the same barbaric regime which still sits on the UN Women's Rights Commission.

Let that sink in.

— Sarah Abdallah (@sahouraxo) August 20, 2018
The ESOHR said last week that Israa Al-Ghomgham was being subjected to "an unfair trial, which uses flawed laws" to serve the needs of King Salman directly. Al-Ghamgam's execution could set a dangerous precedent in Saudi Arabia, a country that ironically sits on the United Nations Human Rights Council. The country is trying to send a message that it will not spare anyone who raises their voice against the establishment.
Horrifying. For the very first time, Saudi Arabia is set to behead a female human rights defender, Israa Al-Ghomgham, for participating in peaceful protests.

Really puts the "human rights" in UN Human Rights Council. pic.twitter.com/5FionQDqSZ

— Sarah Abdallah (@sahouraxo) August 20, 2018
Saudi punishing the woman activist for the Arab Spring?
Israa Al-Ghomgham supported peaceful protests and tweeted in support of human rights. The charges against her do not involve violence, which means she should not be accorded death penalty under the country's law. Then why did the public prosecutor recommend death penalty? The ESOHR director Ali Adubisi said Saudi Arabia was trying to avenge the Arab Spring and the Qatif protests.
Al-Ghomgham is from the port city of Qatif in the Eastern Province. During the Arab Spring in 2011 and 2012, the Shia-dominated Eastern Province came under the radar of the rulers, who repressed, murdered, executed or arrested dozens of activists. The protests continued through 2014, and Qatif had become a militarized zone.
Al-Ghomgham and her husband carried out peaceful protests, demanded the release of human rights defenders, and called for fundamental and civil rights. Saudi Arabia continues to repress its Shia minority, which constitutes 10-15% of the country's total population.
International human rights groups have called for Saudi Arabia to implement a fair criminal justice system. According to Amnesty International, Riyadh conducted nearly 150 executions in 2017 alone. It was only behind China and Iran in the number of executions. Surprisingly, the Kingdom has never sentenced any ISIS member to death, reports Sputnik News. In contrast, it has executed more than 50 Shia protesters.