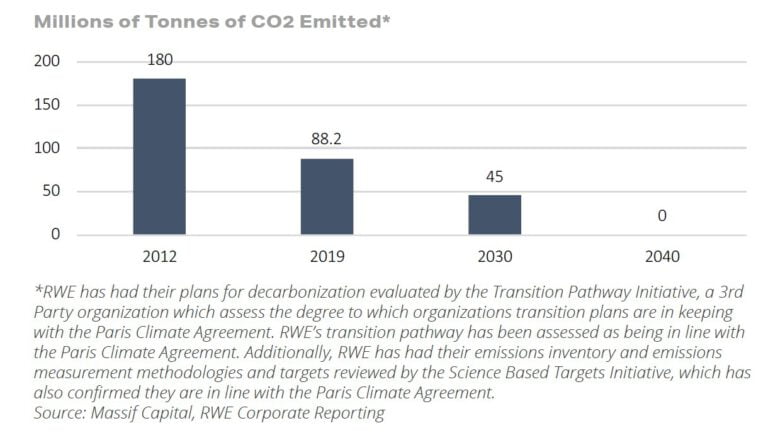 Massif Capital believes that ESG investing has been misunderstood and mischaracterized (see our recent white paper: Failure to Impact). Rather than focusing on further integrating ESG variables into investment decisions, most ESG investing efforts have been titled in favor of labeling firms as either "good" corporate actors or "bad" corporate actors. This is a mistake. ESG investing is at its best when it is geared towards gaining a deeper understanding of how a company's growth, returns, and cost of capital will evolve in a world of changing opportunities and in which previously ignored risks went unpriced.

Q4 2020 hedge fund letters, conferences and more
A good ESG investment is thus one in which a firm's management team has looked at how the world is changing in relation to environmental and social considerations, introspectively evaluates the firm's business model/products, and actively modifies strategy to not only confront head-on environmental and social liabilities but in doing so improves a firm's growth potential, returns, and cost of capital. In this way, a good ESG investment is one that produces the largest positive rate of change in terms of non-financial impact while also producing a financial return, not an investment that does no harm. Investment Thesis
London Quality Growth Investor Conference: Buy Dassault Systemes
At this year's inaugural London Quality Growth Investor conference, Denis Callioni, analyst and portfolio manager at European investment group Comgest, highlighted one of the top ideas of the Comgest Europe Growth Fund. According to the speaker, the team managing this fund focus on finding companies that have stainable growth trajectories with a proven track record Read More
RWE is a European utility on the cusp of becoming one of the three largest renewable- power producers in Europe and a global leader in offshore wind. The firm's transition from a carbon-intensive fully integrated European utility to a renewable power generation focused operator will drive increased profitability, reduce the firm's cost of capital, and improve its overall risk profile, increasing its value on a fundamental basis. The transition will also result in a shift in investor sentiment. The increased importance of ESG considerations to investors will result in RWE being priced at a higher multiple than it has been historically and more in line with its European renewable power peers.
Our work suggests that RWE is likely worth between €55 and €60 per share, an expected return of between 62% and 77% from its current share price. Further upside is possible depending on management's development plans for the period between 2025 and 2035.
RWE: A Transition Story Ten Years in the Making...
Before the announcement of an asset swap in late 2017 with E.ON, RWE was a traditional German utility, with significant exposure to thermal coal generation and nuclear power. As a conventional utility, RWE's competitive advantage has always been limited. Recent changes in the European energy markets and public policy eroded the firm's narrow competitive edge further. Following a particularly difficult operating stretch in 2015/2016, when generation earnings collapsed, the firm spun its non-commodity businesses (retail supply, renewable energy, and East/Central European grid infrastructure) off into a separate entity called Innogy, in which they retained a roughly 75% interest in.
The spinoff created a pure-play generating business, with assets primarily in Germany and a company less subject to Germany's uncertain regulatory issues (Innogy). Following the spinoff, the firm's core generating business backdrop improved with a rebound of power prices and a €1.7 billion nuclear fuel tax refund in mid-2017.
Looking to capitalize on the positive momentum, and with the regulatory picture around thermal coal in Germany becoming clear, RWE management boldly announced a significant asset swap with E.ON in early 2018. The asset swap (only completed in late 2019/early 2020) saw RWE trade its stake in Innogy to the E.ON while retaining Innogy's renewables business, in exchange for E.ON's renewables division and 16.7% stake in E.ON. The swap doubled RWE's renewable capacity from 3.4 GW to 8 GW and shed exposure to retail and distribution activities.

The markets take on the transaction was generally positive but failed to capture the strategic shift underway with the business model:
Pre-Swap Strategy: RWE used Innogy's dividends to pay for loss-making nuclear and coal mines. Any excess FCF from the core business, when it occurred, was paid out as dividends. This business model was based on a free cash flow maximization strategy that depended on the firm running existing thermal coal assets as efficiently as possible and with the lowest possible maintenance CapEx. Capital appreciation potential was limited; growth potential was tied to European electricity demand.
Post Strategy: Via the asset swap, RWE traded Innogy sourced financial cash flows for renewables generated operating cash flows. Put another way, RWE monetized its financial holdings to fund a new renewable business that immediately made the firm one of the top six renewable generators in Europe. Furthermore, in one move, RWE transitioned from a typical German utility suffering from the slow adoption of renewables due to legacy assets to one of Europe's largest renewable power developers and operators. The swap also primed RWE for further growth inside and outside core markets, an equity driver not previously present.
Post Swap Asset Profile

With the asset swap completed, RWE management can now look to the future. The new-look RWE reports in five segments: Offshore Wind, Onshore Wind/Solar, Hydro/ Biomass/Gas, Supply and Trading, and Coal/Nuclear. The core business (all segments excluding coal and nuclear) has a combined installed capacity of 28 GW, and the coal/ nuclear segment has a total capacity of 15 GW.
The New Renewables Segment
The RWE transition has been about fundamentally repositioning the firm in its market. Before the E.ON asset swap, RWE was a fully integrated utility with physical and financial asset exposure across the entire European energy value chain. Following the swap, RWE is a power generating and energy trading focused firm that derives most of its earnings power and future growth from renewables.
With the inclusion of renewable energy operations of E.ON, Innogy, and the Nordex development pipeline, RWE has become Europe's sixth-largest producer of renewable electricity and will be one of the top three by 2022. As of the end of the 3rd quarter 2020, RWE had 9.2 GW of installed renewable energy production capacity, up ~ 6% from year-end 2019. The firm is on pace to hit 13 GW by 2022 (at an expected cost of €5.0 billion). Additionally, the composition of the renewable portfolio's acquired make RWE the world's 2nd largest offshore wind operator, trailing behind only industry leader Orstead. The firm's development pipeline is one of the largest in the industry at 24.7 GW, of which 3.4 GW is currently under construction in support of the 13 GW 2022 target, and 2.7 GW is under development for commercial operation start between 2022 and 2026.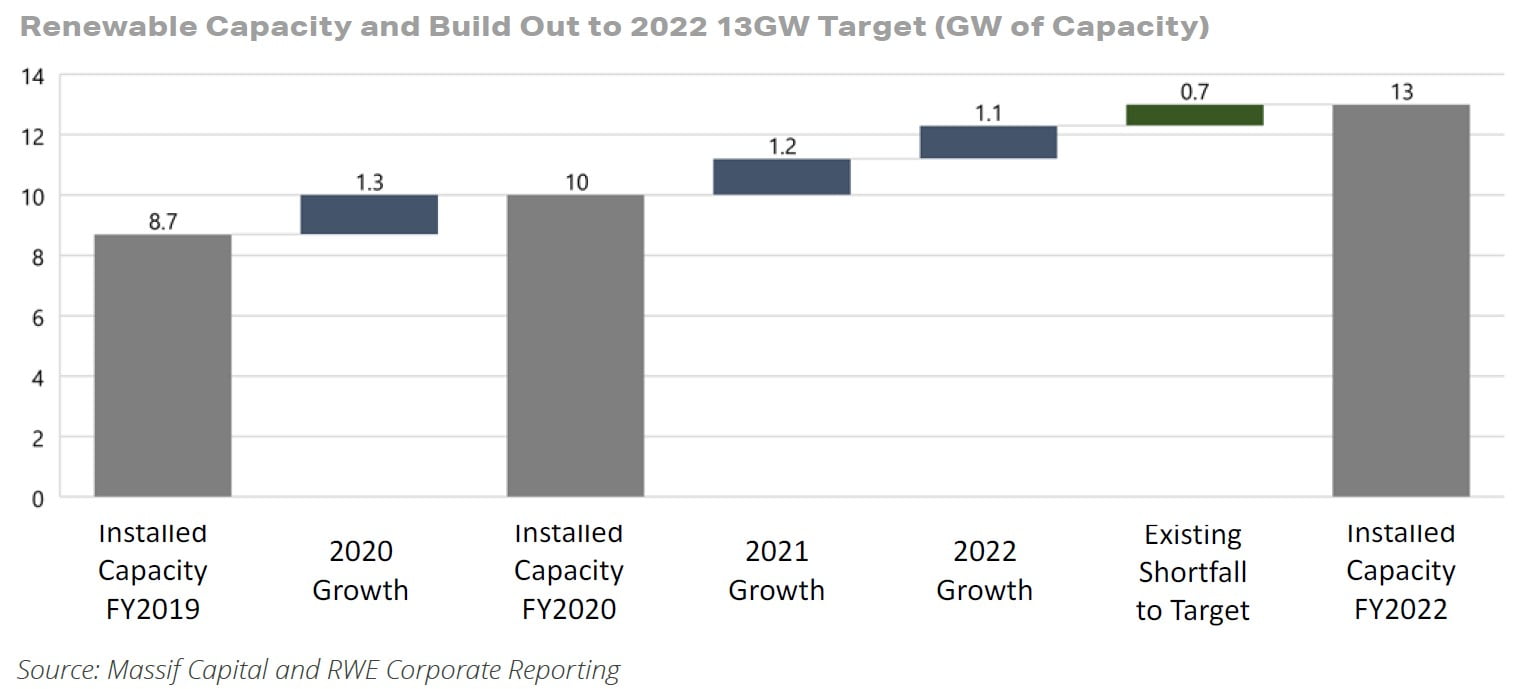 Changes to the Nuclear/Coal Segment
In 2022, 2.7 GW of nuclear power will come offline, the last of the firms operating nuclear capacity. Under Germany's nuclear phaseout, the power producers are responsible for the costs associated with decommissioning facilities. Currently, RWE management reserves €6.1 billion for the firm's nuclear facilities' closure and decommissioning.1 The German government is responsible for costs associated with the safe storage, post decommissioning, of any radioactive material.
In addition to the closure of the firm's last operating nuclear facilities, next year will see the start of the coal-burning facility phaseout. The coal phaseout process is based on a government agreed plan that was voted into law earlier this year.2 Under the law, hard coal assets are phased out based on an auction scheme in which the government will compensate firms for closing facilities, and lignite facilities will be phased out on a fixed schedule with fixed payments from the government to corporations.
The first auction for hard coal facility closures occurred in December 2020, and RWE secured a payment of €216 Mil for closing 1.6 GW of hard coal capacity. With the closure of 1.6 GW, RWE is left with only 0.8 GW of hard coal generating assets in the portfolio. Management will likely tender that remaining capacity for closure in next year's auction. The economics under which next year's auction will occur are the same as this year, with a maximum payout of €155K per MW. In the December auction, RWE earned €138K per MW of capacity. Assuming the firm manages the same, the remaining 0.8 GW of hard coal generating assets has a value of roughly €110Mil or €0.17 per share.
Total compensation from the German government for the closure of lignite coal assets will be paid out in 15 annual installments, with RWE being paid a total of €2.6 billion. The government compensation will help offset some of the coal phaseout liabilities, estimated to be €4.6 billion. Management has attempted to ring-fence this liability, offsetting it by allocating the firm's government receivables and the 15% stake in E.ON to it.3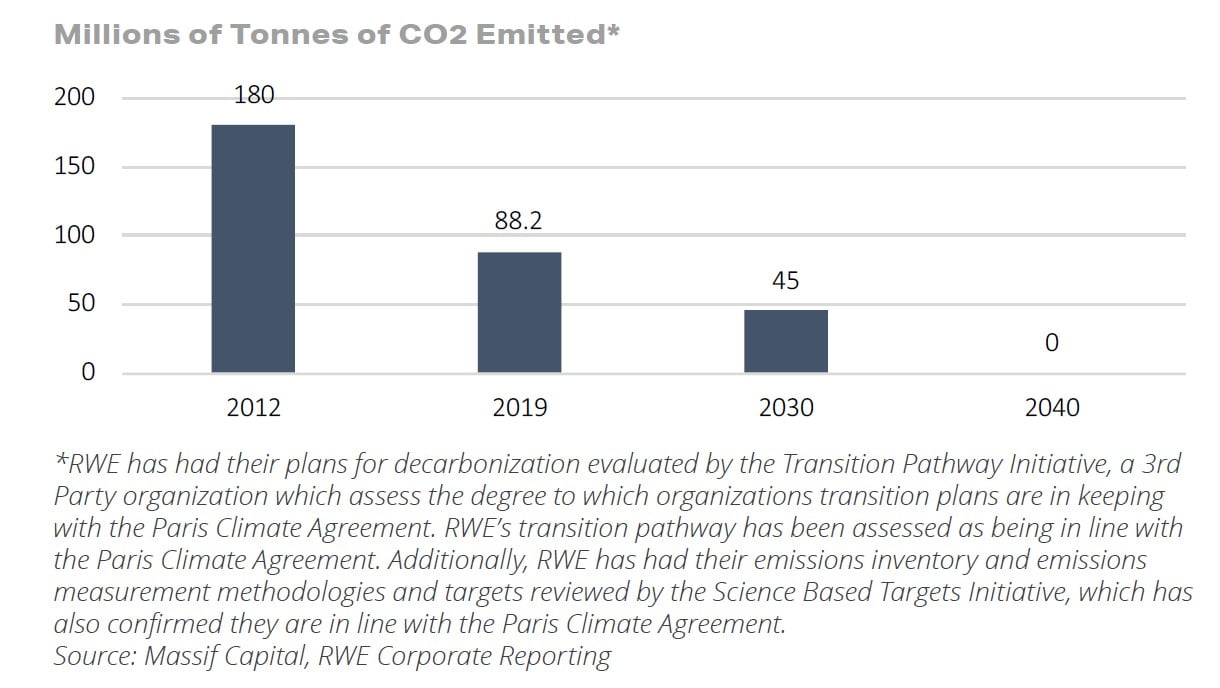 During the 2020 Capital Markets Day, the firm projected that coal would contribute less than 25% of total firm capacity and less than 35% of production by 2023 and less than 10% and 20% by 2030. Assuming successful execution of the firm's renewables growth strategy, the potential for a faster and earlier phaseout, completing the firm's Orsted analogous transition, seems probable. The reduction of coal-generated electricity will also drive a reduction in CO2 emissions, facilitating the company's goal of achieving a net-zero carbon footprint by 2040. Furthermore, despite the shrinking coal contribution, RWE has significantly less exposure to power price fluctuations than the market perceives, with >90% of production hedged through 2023 and 100% of potential costs arising from European carbon taxes hedge through 2030.
Read the full report here by Massif Capital
Updated on