The expression 'Business Ecosystem' was coined in 1993 in the Harvard Business Review. It proposed that a company should be viewed not as a single entity, but as a part of an ecosystem that includes participants across many industries.
Q4 2020 hedge fund letters, conferences and more
So the notion that another company's success is a barrier to your own is outdated. Partnering up isn't a sign of defeat: it's a smart way to leverage your ecosystem's resources and strengthen your position.
Businesses across the board are learning that forming strategic alliances with other companies – even competitors – results in a positive impact on the bottom line.
The new golden rule: when you collaborate, everyone wins.
Survive or Thrive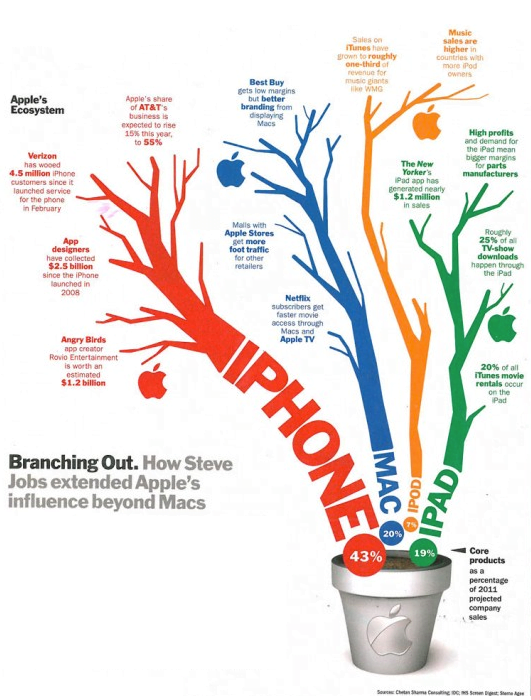 Strategic partnerships create effective barriers to entry for new competitors: they'll not only have to develop superior services or products - but they will also have to fight their way through a whole network of interdependent businesses.
Who Inhabits Your Ecosystem
There are two ways to build an ecosystem. One way is by partnering with businesses that offer complementary products or services. This could be
Technology providers
Producers of complementary products
Regulatory and media groups
Customers
Investors
Competitors
Shopify is a good example of this. The eCommerce platform has an app store that lets users plug in their stores with a ton of different third-party apps. Today, there are over 4500 different Shopify apps that power this ecosystem and this makes the platform a whole lot more powerful than competing eCommerce platform providers.
And therein lies Shopify's competitive advantage.
The other way to nurture an ecosystem is by partnering with businesses that target the same audience as you. These businesses need not always be your competitors or even in the same industry as you - yet, the sum total of this partnership would be more than the value provided by these providers individually.
Any marketplace that brings together providers and consumers is a good example of an ecosystem where multiple businesses that target the same audience come together. An independent freelance writer or designer may not provide enough value as the sum-total of all different writers and designers coming together as an ecosystem to offer freelance services on a platform like Upwork or Elance.
In a way then, for such marketplace businesses, the number of businesses they bring together can often be a measure of their own value.
What This Means To You As An Investor
As an investor, there are two ways to look at this.
Firstly, any business with a successful ecosystem model in place is hard to beat. So, if you are looking for a long-term stock to invest in, look for businesses with a solid ecosystem.
Shopify, for example, has risen over 100% from around $450 a share in January 2020 to nearly $1200 in January 2021. While several other eCommerce-related businesses have seen splendid growth on the back of the pandemic, those with a solid ecosystem in place have been the stock investor's favorite.
If you are an institutional investor putting money into startups, then investment into a startup with a strong ecosystem can really pay off.
There are plenty of examples here in the SaaS space. The latest is the acquisition of Slack by Salesforce for an astounding $27.7 billion dollars.
Like the Shopify example, Slack also has an advantage over other business communications tools in the space with a solid ecosystem of third-party apps. According to some recent stats, there are over 2000 apps and 750 bots on the Slack app store that let you integrate your Slack account with project management, productivity tools, marketing automation, and even media tools.
This acquisition could prove valuable to investors of both Salesforce and Slack. The acquisition has helped Salesforce get a larger foothold in the startup ecosystem that prefers a communication tool like Slack over enterprise competitors like Microsoft Teams.
Slack, on the other hand, now has a wealthy parent that can provide it with the ammunition to grow bigger.
How can more businesses adopt the ecosystem route?
Whether you're a business owner or an investor in a business, you should review the health of your business ecosystem.
Have you developed a strategy to not merely sell, but to interact and establish relationships with your customers?
Are you able to access all the potential resources within your network? Are you using them to increase your productivity?
Do you collaborate with your business community? Are there tech opportunities in which you could partner with a competitor?
Are there unique skills available within your network, and are you accessing them?
Are there ways your partners or suppliers could provide access to a unique competitive advantage?
Can you anticipate and accelerate innovation by using your ecosystem's resources?
Who are the actors (and potential partners) in your ecosystem?
Are you clear on your role in the ecosystem network?
Have you mapped out the interactions and connections within the network?
Are you able to foresee market trends that will impact your business?
Can you see opportunities for streamlining operations and reducing costs?
The Way Forward
Business ecosystems are not a mere trend.
Smart businesses recognize that to successfully meet consumer demand, they can't go it alone. They must work cooperatively within – and contribute to – a business ecosystem.
It's about more than survival.
Strategic partnering can stimulate new creative endeavors, reach new customers, lower costs, and expand markets.
According to Deloitte, "the world is entering an era in which ideas and insights come from everywhere, and crowds, clouds, collaborators, competitions, and co-creators can fundamentally help define our shared future. The business environment is being permanently altered as a result."
So be prepared to take a hammer to those walls.
Because working collaboratively within a healthy business ecosystem will be the key to prosperity for players who intend to flourish in the 21st Century.