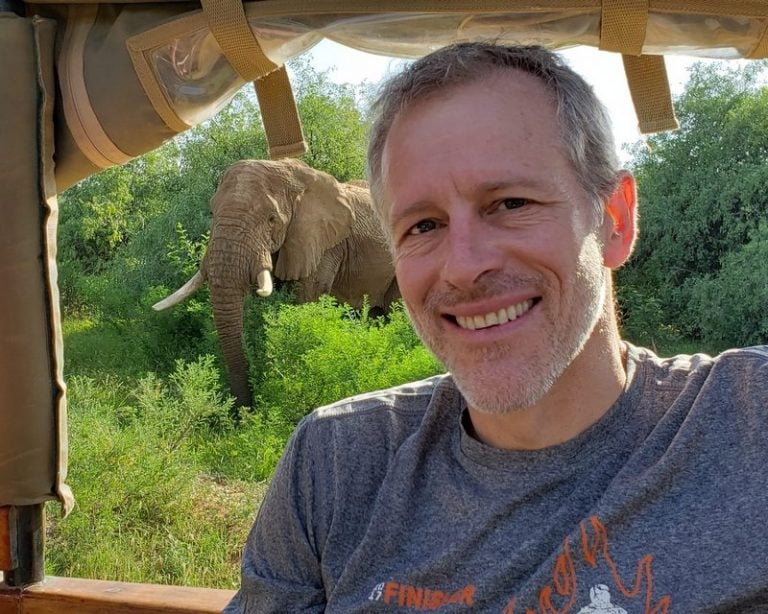 Whitney Tilson's email to investors discussing the Tesla bull case followed by Thomas Bachrach's presentation on "accounting red flags" at Tesla.
1) Tesla bull and blogger Galileo Russell hosted a podcast / live YouTube yesterday, which you can watch here:
Fund Manager Profile: Kris Sidial Of Tail Risk Fund Ambrus Group
A decade ago, no one talked about tail risk hedge funds, which were a minuscule niche of the market. However, today many large investors, including pension funds and other institutions, have mandates that require the inclusion of tail risk protection. In a recent interview with ValueWalk, Kris Sidial of tail risk fund Ambrus Group, a Read More
Q4 hedge fund letters, conference, scoops etc
A friend writes:
He is estimating 75,000 unit sales and 80,000 production for Q1.
Seems like he's too high on sales, but too low on production.
They might product close to 90,000 -- but sell perhaps as few as 60,000 (or even just under).
2) Anton Wahlman's latest: https://seekingalpha.com/instablog/200447-anton-wahlman/5283935-dan-ives-wedbush-doesn-t-know-automobile-industry
Summary
Dan Ives of Wedbush publishes Tesla report based on having visited Tesla's two main facilities in California and Nevada.
It appears that Ives does not cover any other automaker. Has he visited any other car factories lately? How many? Where? When?
As for the car itself, has Ives driven the latest competitive models from Audi, Jaguar, Hyundai and Kia? If not, how does he have any sense of the competition?
It seems to me that Ives doesn't know what he is talking about, because he has little or no experience with the competitive climate.
It's like someone seeing an Android phone and being amazed, without ever having heard of Apple and the iPhone.
3) A big part of the Tesla bull case is how the company marries software and hardware, like Apple does. My analyst Kevin DeCamp writes:
The bottom line is I think OTA (over the air) updates are one of Tesla's main advantages and one of the reasons that Tesla owners LOVE (as Whitney points out) their cars. I don't agree that it is just the EV powertrain that they love, although that is an important part of it.  Although comparisons to Apple are laughable when you consider the financials and the quality of the business, there are some parallels when it comes to the seamless integration of hardware and software.
More on this later, but for now here is a well-balanced blogpost that explains well why the auto incumbents are, and I think will continue to be for the foreseeable future, behind Tesla on software and the user experience: https://www.ben-evans.com/benedictevans/2018/8/29/tesla-software-and-disruption
And here's a WSJ article about what other car companies are doing in this area: Detroit Downloads Tesla's Software Strategy
---
A friend forwarded me this outstanding presentation:
From: Thomas Bachrach
Subject: Wharton Lecture - 3/19/2019
Date: March 19, 2019 at 9:32:22 PM EDT
To: Thomas Bachrach
Dear investors,
Today, I had the pleasure of delivering a lecture to UPenn Wharton students on "accounting red flags" at Tesla.  (I couldn't bring myself to pass up the opportunity to do this at Elon Musk's alma mater.)
Attached is the presentation in case anyone is interested.  The "assignment" was related to Tesla's 2018 Q3 figures and I had to stick to fraud / earnings management red flags (not over-valuation)... so significant current portions of the Tesla short thesis aren't reflected.  I also tried to avoid the more esoteric accounting issues (e.g. variable interest entities and other financing arrangements) which I am not even sure the insiders at Tesla understand.
Our fund remains "short" Tesla via various options strategies.
Tom
What's Our Goal Today?
Timing is everything in fraud detection. The longer frauds continue, the more victims they create.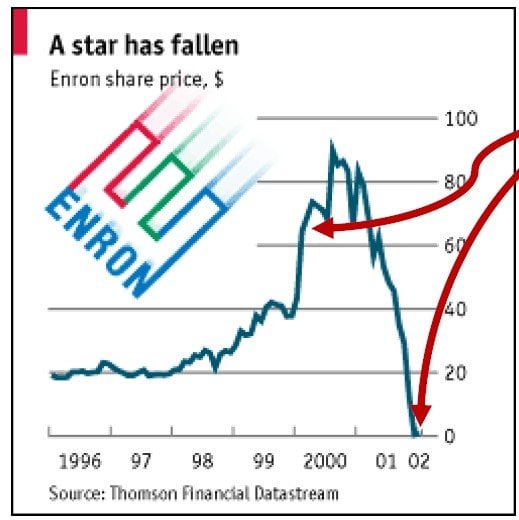 Today's Goal
1) Identify a business (spoiler alert – Tesla) exhibiting contextual risk factors suggesting an elevated risk of fraud.
2) Analyze a recent financial statement of that business for red flags suggesting aggressive (or fraudulent) accounting practices.
What Isn't Our Goal Today (& a Disclosure)?
Disclosure: My fund is "short" Tesla via long put options and bear put spreads. It is reasonable to consider me biased against Tesla (though I do my best to manage this bias)…

… However, our goal today is not to thoroughly cover the entire short thesis. Focus will be on the fraud / earnings management case, not valuation.
The "Potential" Fraudster – Tesla Inc (TSLA)
Electric car manufacturer founded in 2003. Elon Musk early investor + becomes CEO in 2008. Opened Fremont, CA factory in 2010 (auto assembly) + Gigafactory 1 in Nevada in 2016 (battery and sub-assembly).  Three current vehicles (not including discontinued Roadster)…
Model S (luxury sedan) – Launched 2012, $80K - $110K.
Model X (luxury crossover) – Launched in 2015, $90K - $115K.
Model 3 (affordable sedan) – Launched 2017, $35K - $70K.
Tesla's model is vertically integrated from vehicle production to direct to consumer sales and service (rather than using dealer network). Additionally, Tesla vehicles boast "autopilot" which they market as a precursor to full autonomy (using cameras, radar and ultrasonic sensors but not LIDAR as their competitors do).
Through 2018 Q2, Tesla's share price grew with increased revenues (and losses).

Contextual Risk Factors
Why look at Tesla in the first place?
… Only so much time in the day, better to look for fertile hunting grounds than a scattershot approach. This means searching for "contextual risk factors" that suggest we should take a deeper look. Some "contextual risk factors" that make Tesla worth digging into…
High growth (dependent on outside capital)
Complex structure & opaque reporting
Management turnover
CEO/Board red flags
High Growth (Dependent on Outside Capital)
Rapidly growing, capex intensive businesses require capital to scale, in particular when they are suffering substantial and growing losses. Their ability to favorably issue equity hinges on the "growth story"… and if that story busts, look out below.
With survival often dependent on short-term, quarter-to-quarter results, these high growth companies will have greater incentive to manipulate results (all else equal).
The SGI ("sales growth index") has a positive coefficient that is more than 5 standard deviations from zero, which is consistent with growth companies that are facing growth deceleration having incentives to manipulate earnings." Beneish (1999), "Detection of Earnings Manipulation" Financial Analysts Journal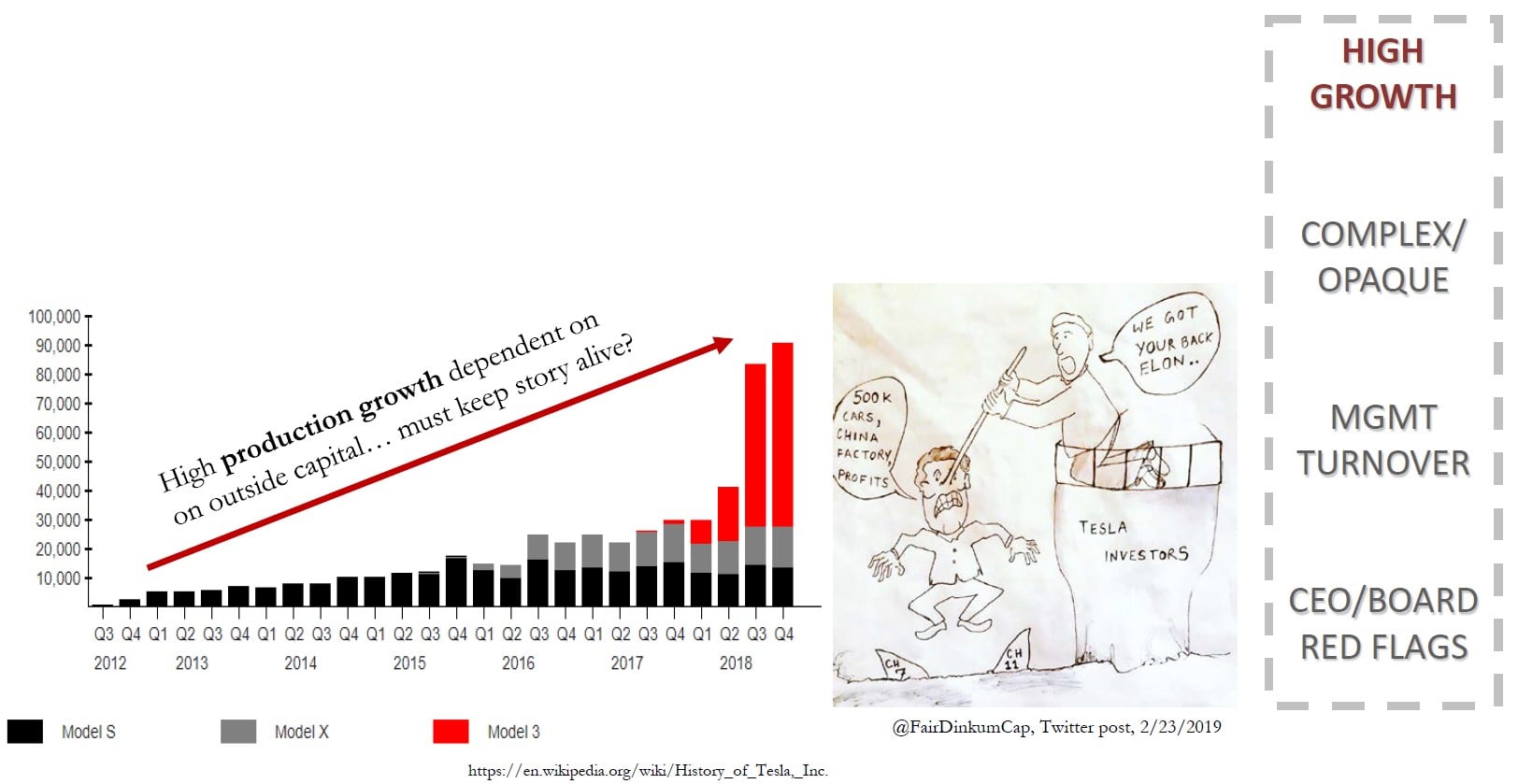 See the full slides below.