Whitney Tilson's email to investors discussing Rivian Automotive Inc (NASDAQ:RIVN) crashing; Judge overturns Purdue Pharma's opioid settlement.
Q3 2021 hedge fund letters, conferences and more
Gates Cap Management Reduces Risk After Rare Down Year
Gates Capital Management's ECF Value Funds have a fantastic track record. The funds (full-name Excess Cash Flow Value Funds), which invest in an event-driven equity and credit strategy Read More
Rivian Crashing
1) Electric-vehicle ("EV") maker Rivian Automotive (RIVN) went public on November 10. Its stock closed that day at $100.73, giving it a market cap of nearly $100 billion, despite the company having never earned even one dollar of revenue.
As absurd as that market cap was, it quickly became much more ridiculous... The stock soared to close at $172.01 only four trading days later on November 16.
Two days later, with the stock having closed the previous day at $146.07, I wrote in my daily:
While I remain bullish on the rise of EVs – they are a vastly superior product to regular gas-powered cars and, as such, I believe they'll soon dominate new car sales around the world – there isn't a single EV stock I like right now.
In fact, there are two I would consider shorting if I were still in that business: Rivian Automotive (RIVN) and Lucid Group Inc (NASDAQ:LCID) [which closed the previous day at $52.55]. These are both promising companies, but the former has made 386 deliveries as of 12/15, and the latter just started delivering sedans in a 520-car limited edition last month – yet they are valued at around $113 billion and $75 billion, respectively.
For comparison, Ford Motor Company (NYSE:F), which sold 4.2 million vehicles last year, has a market cap of roughly $80 billion...
After the close yesterday, Rivian reported its first quarterly earnings since coming public. The company delivered its first vehicles – 11 R1T trucks – thereby generating its first revenue: $1 million (cue clip of Mike Myers in Austin Powers: International Man of Mystery).
Rivian burned $1.15 billion in cash (a $685 million operating cash flow deficit, plus $469 million in capital expenditures) – at that rate, it won't take much more than a year to burn through its $5.2 billion in cash.
Of course, folks who own this stock aren't concerned about current financial metrics – it's all about the future, baby! On that metric, the company disappointed when it disclosed that "We expect to be a few hundred vehicles short of our 2021 production target of 1,200," which is why the stock is selling off today, trading this morning under $100.
To be clear, I don't think Rivian is a disgusting stock promotion like other EV makers I've warned my readers about, such as Workhorse Group Inc (NASDAQ:WKHS), Lordstown Motors Corp (NASDAQ:RIDE), and Nikola Corporation (NASDAQ:NKLA), which have crashed 89%, 88%, and 69%, respectively, from their peaks.
By all accounts, Rivian is making great vehicles. I checked out its R1T truck at the Consumer Electronics Show in January and was very impressed: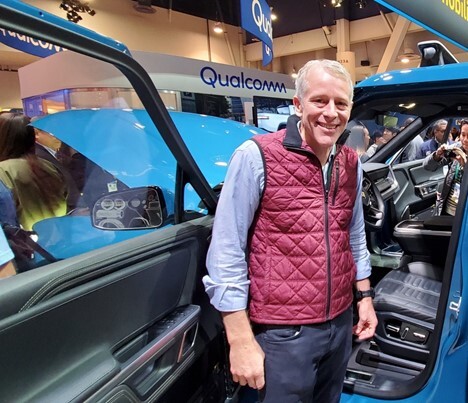 But the company's valuation leaves no room for even the tiniest error. Yes, Elon Musk and his team at Tesla Inc (NASDAQ:TSLA) pulled off miraculous feats of engineering again and again, but I think that will prove to be the exception, not the rule.
I agree with the short seller's report that I included in Wednesday's e-mail. Excerpt:
[W]e are short Rivian because we believe even if they pull off the execution story of the century, and we are doubtful they can, we foresee many bumps in this long road between here and nirvana. With an expected delivery estimate of 1,000 cars in 2021, the company sports an almost $100B market cap, more than GM and Ford, despite the fact they will likely generate negative free cash flow for the next 5-10 years. Even Elon Musk commented on how absurd this is when he tweeted: "Maybe they should be required to deliver at least one vehicle per billion dollars of valuation *before* the IPO?" True, Amazon lost money for years on its way to dominance, however making vehicles is a capital-intensive business with incredible operational complexity. And in truth Rivian is trying to build and scale numerous complex businesses simultaneously.
Tesla has generated an industrial miracle before our eyes over the past decade, and that is probably one of the biggest reasons why Rivian can enjoy a $100B valuation before mass producing any cars. That said, Rivian's operational plan is even more ambitious than Tesla's as they seek to produce three new models (commercial, SUV, and pick-up) simultaneously. They are later to market, seek to sell to customers without dealerships, and must execute on an almost impossible operating plan.
I have similar feelings about Lucid.
Just because these stocks are well off their peaks doesn't mean they're cheap. They most emphatically aren't. I think both are likely to fall another 50% from here, so avoid them at all costs.
Judge Overturns Purdue Pharma's Opioid Settlement
2) Longtime readers know how closely I've been following the opioid epidemic and the Sackler family, whose company, Purdue Pharma, is most responsible for it. On August 19, I wrote:
What a sick joke this is: Sacklers Threaten to Pull Out of Opioid Settlement Without Broad Legal Immunity.
The Sacklers chose to have their company file for bankruptcy in White Plains, New York, because the only bankruptcy judge there is known to be very corporate-friendly – a bet that has paid off in spades with a disgraceful settlement that allows the most evil family in America to walk away scot-free, keeping the billions they've hidden in offshore accounts.
To understand this total disgrace, I recommend watching this segment (and the prior two) on Last Week Tonight With John Oliver: Opioids III: The Sacklers.
David Sackler's threat to walk away from the settlement is like someone saying, "Stop right there... or I'll shoot myself!"
The settlement should be discarded, every senior executive at Purdue Pharma when it was creating the opioid crisis should be prosecuted, and the Sackler family should be forced to disgorge every last penny of blood money it took out of the company.
So I was delighted to see this news yesterday: Judge Overturns Purdue Pharma's Opioid Settlement. Let's hope higher courts reject the Sacklers' appeal of this ruling and they are then bankrupted... Excerpt:
A federal judge on Thursday evening unraveled a painstakingly negotiated settlement between Purdue Pharma and thousands of state, local, and tribal governments that had sued the maker of the prescription painkiller OxyContin for the company's role in the opioid epidemic, saying that the plan was flawed in one critical area.
The judge, Colleen McMahon of the U.S. District Court for the Southern District of New York, said that the settlement, part of a restructuring plan for Purdue approved in September by a bankruptcy judge, should not go forward because it releases the company's owners, members of the billionaire Sackler family, from liability in civil opioid-related cases.
Best regards,
Whitney
P.S. I welcome your feedback at [email protected].