Whitney Tilson's email to investors discussing Hard Money's Million Dollar Podcast up more than 10x; why he no longer short stocks; Cassava Sciences Inc (NASDAQ:SAVA); Nikola Corporation (NASDAQ:NKLA); Zillow Group Inc (NASDAQ:ZG).
Q3 2021 hedge fund letters, conferences and more
ValueWalk's December 2021 Hedge Fund Newsletter: Hedge Funds Avoid Distressed China Debt
Welcome to our latest issue of issue of ValueWalk's hedge fund update. Below subscribers can find an excerpt in text and the full issue in PDF format. Please send us your feedback! Featuring hedge funds avoiding distressed china debt, growth in crypto fund launches, and the adapting venture capital industry. Q3 2021 hedge fund letters, Read More
Hard Money's Million Dollar Podcast Up More Than 10x
1) I want to give a shout-out to my colleagues Enrique Abeyta and Gabe Marshank, who are crushing it with their Hard Money's Million Dollar Podcast, which follows them as they try to turn $10,000 into $1 million – or go bust trying.
It's a total balls-to-the-wall approach and they often remind listeners not to follow their strategy... But in this environment, it's working. They're now more than halfway to their goal, having made more than 10 times since they launched on February 2, so they only need one more 10-times return!
They've earned most of their profits by trading levered cryptos (something I do not recommend unless it's play money – less than 1% of your portfolio).
But sometimes, they have excellent stock ideas as well.
I highlighted one in my August 11 e-mail:
In their latest episode (starting at 35:32), they discuss California utility PG&E (PCG), which Enrique says "is a f**king no brainer."

I think they're right...
Since then, PCG is up 24%.
Why Whitney No Longer Short Stocks: Cassava Sciences
2) Yesterday reminded me why I no longer short stocks. (In fact, to make sure I don't fall victim to temptation, I haven't even set up the capability to do so in my personal account!).
First, biotech firm Cassava Sciences (SAVA) should have been cut in half (or more) after my friend Gabriel Grego's bombshell report on Tuesday (covered in my last two e-mails).
Instead, the stock soared 49% after releasing an almost-irrelevant piece of news: A journal investigated an article published nine years ago about the company's only drug, simufilam, and found that there was "no evidence of data manipulation."
As one of my friends commented:
Yeah, this was a true test of the current market. Insane! And sad that all these "apes" think they are fighting the good fight against these evil short-sellers by going long a piece of crap like SAVA.
But another friend cautioned:
This just underscores (again) why public shorting is a terrible activity in today's market.
Sadly, I have to agree...
Nikola
3) Speaking of flying turds, here's another example: Electric truck maker Nikola (NKLA), which I've written about extensively, reported third-quarter earnings. The stock jumped 21% despite its terrible fundamentals, summarized in a tweet by Nate Anderson of Hindenburg Capital, who authored the initial takedown of the company: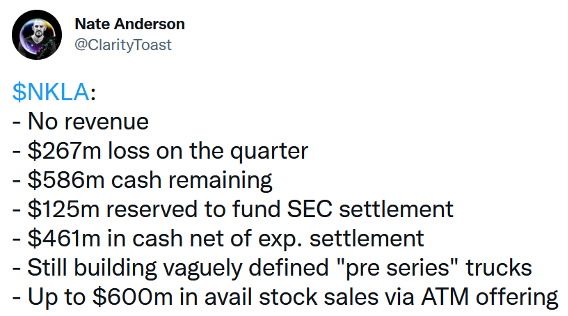 He added this tweet: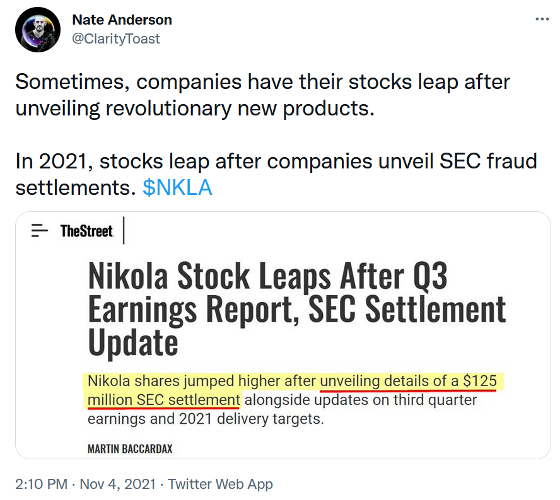 Zillow
4) And here's a third example: Digital real estate company Zillow (ZG) has fallen 68% since its peak in February and is down 35% this week alone on news that it's exiting its much-hyped home-flipping business and taking big losses: Zillow Quits Home-Flipping Business, Cites Inability to Forecast Prices. Excerpt:
Real estate firm Zillow Group is exiting from the home-flipping business, saying Tuesday that its algorithmic+ model to buy and sell homes rapidly doesn't work as planned.

The firm's termination of its tech-enabled home-flipping business, known as "iBuying," follows Zillow's announcement about two weeks ago that it was halting all new home purchases for the rest of the year. At the time, Zillow pointed to labor and supply shortages for its inability to renovate and flip houses fast enough.
Given that the housing market is white-hot and prices are soaring, it just underscores what a dumb idea this was. And that's not just 20/20 hindsight... When Zillow first announced this new line of business in early 2019, I wrote in my May 8 e-mail:
This is one of the dumbest ideas I've ever heard, for some of the reasons outlined in the article [Real Estate's Latest Bid: Zillow Wants to Buy Your House]:

At best, skeptics see instant buying, also known as "iBuying," as an overhyped, capital-intensive business whose explosive growth will fizzle once investors tire of profit margins that Zillow itself calls "razor thin." At worst, they worry that it could bring volatility and risk to an industry that has already brought down the American economy once this century.

Glenn Kelman, the chief executive of Redfin, the online brokerage firm, said there was a danger in pouring huge sums into buying up homes "without having a clear idea of how you're going to make money on almost every single home." If that happens, he said, "you're just putting the housing markets, the capital markets, at some degree of risk."
Given my assessment has now been proven correct, you may ask why am I citing this example as a reason not to short stocks? Because, as you can see in this chart, even with the recent collapse of Zillow's stock, it's still doubled since May 2019 (and at one point was up more than 500%)!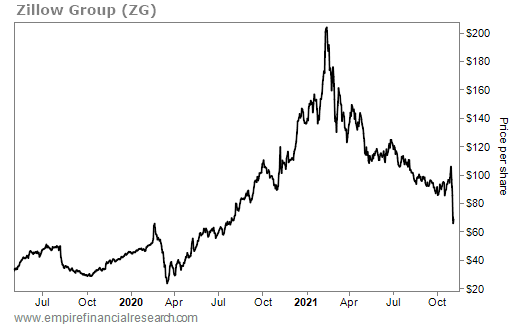 Fortunately, I anticipated what would happen, writing in my May 8, 2019 e-mail:
[It's] too early to short Zillow. Its home-buying program will likely end in disaster, but that could take years. In the meantime, bulls like Hansen will be enamored with the strong growth and enormous total addressable market ("TAM") and could thus run the stock up a lot.
Best regards,
Whitney
P.S. I welcome your feedback at [email protected].
Updated on