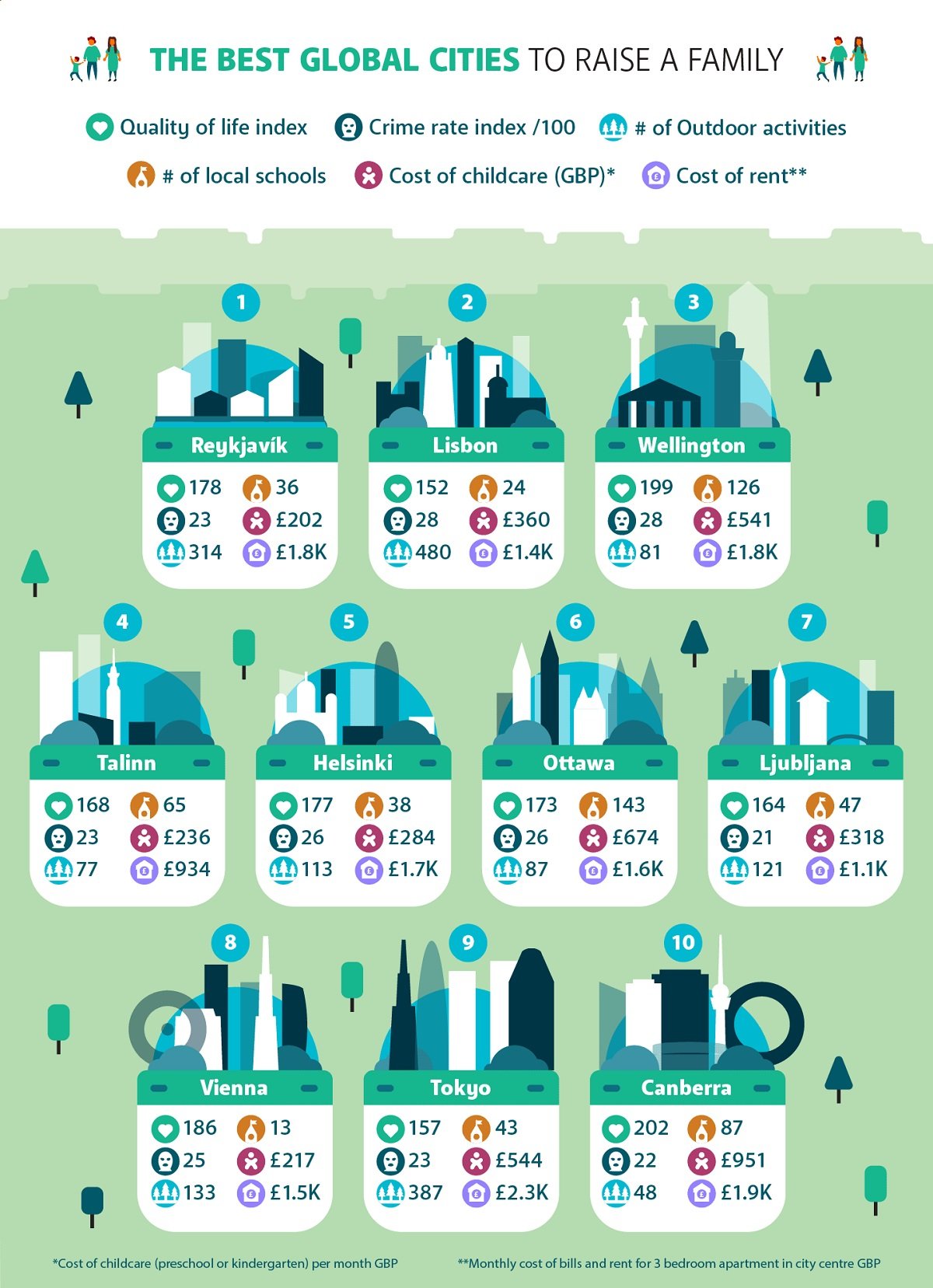 A new study by CIA Landlord reveals that Reykjavik is the best city to raise a family in. 
Q4 2020 hedge fund letters, conferences and more
When moving to another city to raise a family, there are a number of aspects you need to take into consideration. From finance and childcare to attractions and general health, choosing the right city plays a vital role in the upbringing of your family.
Hedge Fund Launches Jump Despite Equity Market Declines
Last year was a bumper year for hedge fund launches. According to a Hedge Fund Research report released towards the end of March, 614 new funds hit the market in 2021. That was the highest number of launches since 2017, when a record 735 new hedge funds were rolled out to investors. What's interesting about Read More
CIA Landlord have looked into the best cities to raise a family, analysing the cost of rent, childcare and cost of bills alongside the number of schools, attractions, quality of life and pollution.
Reykjavik Ranks First as the Best Global City to Raise a Family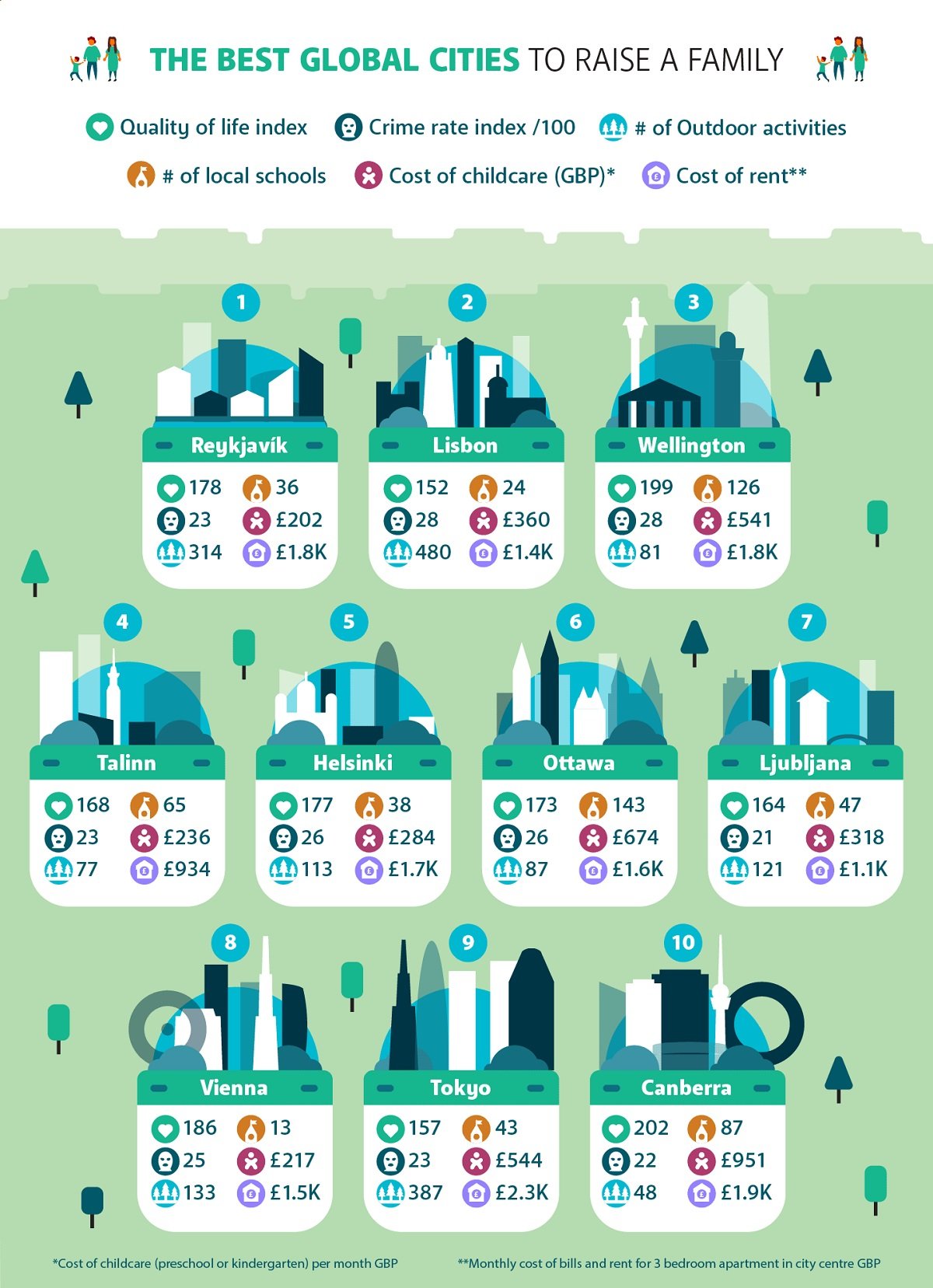 For families who are looking for the best cities to locate to, Reykjavik in Iceland ranks first. Our study looked at the quality of life, crime rate index, number of outdoor activities, number of local schools, cost of monthly childcare and cost of monthly rent.
Reykjavik ranks highly for quality of life with a score of 178. This followed with a high number of outdoor activities, and low crime rate makes it the perfect city to raise a family.
Lisbon follows Reykjavik in second place, boasting 480 outdoor activities, low crime rate levels and affordable monthly rental and bill costs at £1,200 for a three bedroom apartment in the city centre.
If the choice of schools is an important consideration for you, Ottawa has 143 within the city, 17 more than second highest Wellington.
Below shows the top 20 global cities to raise a family in:
| | | | | | | | | | | |
| --- | --- | --- | --- | --- | --- | --- | --- | --- | --- | --- |
| Rank | City | Quality of life | Crime rate | No. of attractions | No. of outdoor activities | No. of local schools | Pollution index | Rent of 3 bedroom apartment (£) | Cost of childcare per month (£) | Cost of monthly bills (£) |
| 1 | Reykjavík | 178.02 | 22.53 | 133 | 314 | 36 | 15.49 | 1,777.00 | 202.43 | 71.91 |
| 2 | Lisbon | 152 | 28 | 722 | 480 | 24 | 35.41 | 1,310.21 | 359.9 | 96.05 |
| 3 | Wellington | 198.99 | 28.35 | 220 | 81 | 126 | 13.66 | 1,724.81 | 540.53 | 86.86 |
| 4 | Tallinn | 167.57 | 22.88 | 301 | 77 | 65 | 22.54 | 777.88 | 235.96 | 156.24 |
| 5 | Helsinki | 177.49 | 25.57 | 337 | 113 | 38 | 13.34 | 1,637.02 | 283.79 | 77.23 |
| 6 | Ottawa | 172.53 | 25.78 | 280 | 87 | 143 | 21.68 | 1,534.19 | 674.05 | 81.42 |
| 7 | Ljubljana | 164.11 | 21.4 | 187 | 121 | 47 | 23.21 | 960.03 | 318.18 | 188.83 |
| 8 | Vienna | 185.8 | 25.25 | 854 | 133 | 13 | 17.76 | 1,329.79 | 216.9 | 171.86 |
| 9 | Tokyo | 157 | 23 | 6,402 | 387 | 43 | 43.01 | 2,124.25 | 544.47 | 150.08 |
| 10 | Canberra | 201.64 | 22.14 | 223 | 48 | 87 | 13.89 | 1,727.48 | 951.01 | 133.62 |
| 11 | Budapest | 124.29 | 35.88 | 620 | 204 | 15 | 54.15 | 702.48 | 257.09 | 117.69 |
| 12 | Athens | 120.51 | 52.57 | 421 | 251 | 19 | 57.16 | 613.04 | 339.69 | 121.46 |
| 13 | Oslo | 161.71 | 34.74 | 383 | 91 | 45 | 23.96 | 1,696.89 | 274.42 | 106.47 |
| 14 | Santiago | 101.44 | 55.41 | 512 | 393 | 16 | 69.84 | 647.08 | 273.06 | 113.44 |
| 15 | Bratislava | 145.33 | 30.76 | 287 | 64 | 12 | 40.90 | 920.01 | 384.96 | 160.74 |
| 16 | Madrid | 147.93 | 29.91 | 1011 | 130 | 47 | 52.92 | 1,399.76 | 376.65 | 119.71 |
| 17 | Stockholm | 155.09 | 45.03 | 341 | 10 | 13 | 19.81 | 1,705.57 | 105.32 | 64.71 |
| 18 | Warsaw | 129 | 26 | 499 | 84 | 21 | 59.95 | 1,115.66 | 284.79 | 139.66 |
You can view the full study here: https://www.cia-landlords.co.uk/landlord-news-advice/the-healthiest-cities-to-raise-a-family/
Updated on