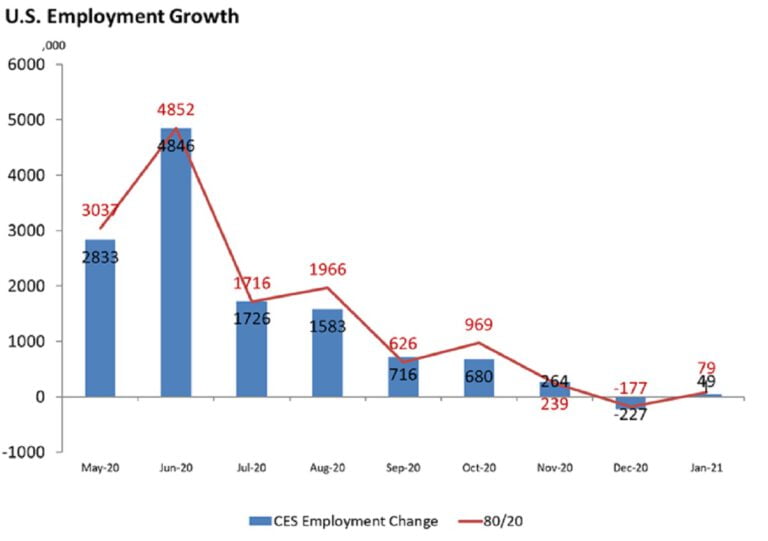 Jeoff Hall, Managing Economist, Refinitiv IFR Markets comments on monthly decreases:
Q4 2020 hedge fund letters, conferences and more
January Jobs Report Gets A C-Minus
"We are giving the January jobs report a C-minus. Total nonfarm payroll employment increased by 49k in January, which closely matched the Reuters poll consensus forecast of a 50k advance. However, November growth in payrolls was revised downward by 72k and October growth was taken lower by 87k. For us, the net 159k downward revisions to job growth in prior two months steal any joy from the modest rise in January. Keep in mind, total employment is still down 9.9 mn (6.5%) from where it entered the pandemic.
Crypto Hedge Fund Three Arrows Blows Up, Others Could Follow
A few years ago, crypto hedge funds were all the rage. As cryptocurrencies rose in value, hundreds of hedge funds specializing in digital assets launched to try and capitalize on investor demand. Some of these funds recorded double-digit gains in 2020 and 2021 as cryptocurrencies surged in value. However, this year, cryptocurrencies have been under Read More
In the goods-producing sector, manufacturing employment went down by 10k whereas it was expected to go up by 30k. This was the first loss in factory payrolls since April 2020, and followed growth over the preceding six months that averaged 38k per month. All of the loss was among durable goods manufacturers, which shed 17k jobs in January, nearly wiping out the 18k increase in December. There are still nearly half-a-million jobs to make up in this sector compared to February 2020. Construction employment also fell (by 3k) in January, the first decline in nine months. Prior to this, employment had risen an average 37k per month for the previous six months. One bright spot was in Natural Resources and Mining, which added 9k jobs in January, the most for a single month since January 2012.
The Rarity Of Monthly Decreases In A Recession
Things looked worse on the service-providing side, especially after excluding the government sector that added 43k jobs in January, the first gain in five months. Pandemic-induced shutdowns have forced us to look first at employment in the Leisure and Hospitality sector, which lost another 61k jobs in January, on top of the revised 536k lost in December. The sector now has 3.88 mn (22.9%) fewer jobs than in February 2020. Retail Trade employment fell by 38k in January, though that did follow an outsized 135k increase in December, suggesting seasonal adjustment factors were mismatched. Transportation and Warehousing employment went down by 28k in January, following a 24k loss in December. Education and health services employment decreased by 7k in January, following an uncharacteristic 31k loss in December. Monthly decreases are rare, even in recessions. Back-to-back monthly decreases are even more rare. Financial Activities employment went up 8k, though this was the smallest of what is now nine straight monthly advances. Employment in Other Services rose 7k, following declines totaling 21k in the two previous months.
The six-cent (+0.2% m/m) growth in average hourly earnings was weaker than expected (mkt +0.3%), and average weekly earnings only went up because of a longer workweek, mostly among factory workers. While three-fourths of industries added to payrolls in the previous six months, fewer than five in eight (61.9%) added to them in January.
On the surface, there was good news on the unemployment rate, which fell to 6.3% in January from 6.7% in December; it had been expected to hold steady at 6.7% for a third straight month. Yet that came, in part, at the expense of a drop in the labor force participation rate, which fell to 61.4% in January, down from 61.5% in December 2020 and 63.4% in January 2020. Also, the household survey did record a 201k increase in total employment, four times the rise in establishment survey. That does not include some 176k who were not at work due to bad weather. As Januarys go, this year had the fewest workers displaced by weather in 21 years.
It is sometimes helpful to look at job growth by commingling the two surveys, and a common way of doing that is to weight the establishment survey's contribution by 80% and the household survey's contribution by 20%. By doing this we get 80/20 job growth of 79k in January, compared to -177k in December and +239k in November. This methodology shows the economy lost 22.962 mn jobs in February and March of 2020, since which it has recovered 13.308 mn (58.0%). Clearly there is much room for improvement, no matter how the markets and the Fed look at labor utilization."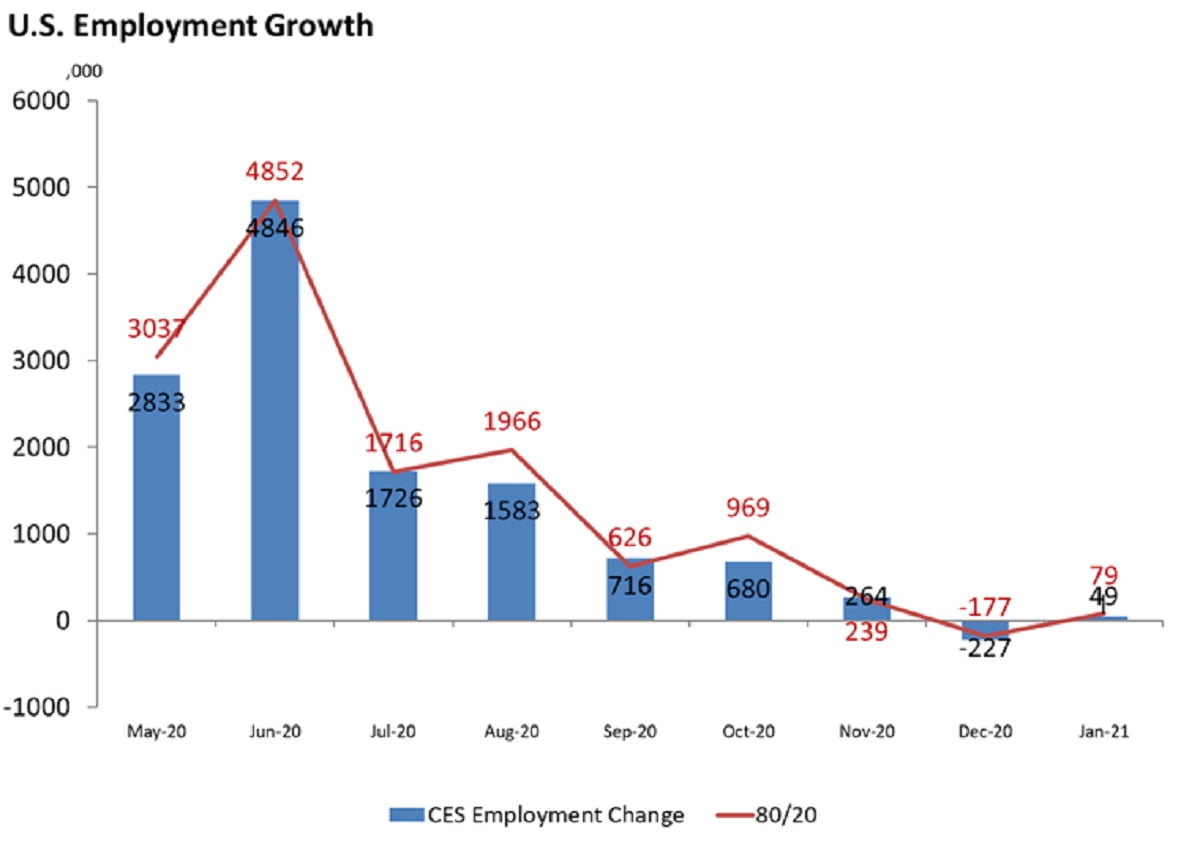 Source: Refinitiv IFR Markets
Updated on