There's more and more pressure on individuals, businesses and entire cities to show that they're making an effort to be as 'green' and eco-friendly as possible. But what exactly makes a 'green city'? Ultimately it's a city which is taking steps to be as sustainable as possible and takes into account the impact that they're having on the environment, but new research from comparethemarket.com has highlighted ten factors to reveal the 25 greenest capital cities in Europe.
Gates Cap Management Reduces Risk After Rare Down Year
Gates Capital Management's ECF Value Funds have a fantastic track record. The funds (full-name Excess Cash Flow Value Funds), which invest in an event-driven equity and credit strategy Read More
Q3 hedge fund letters, conference, scoops etc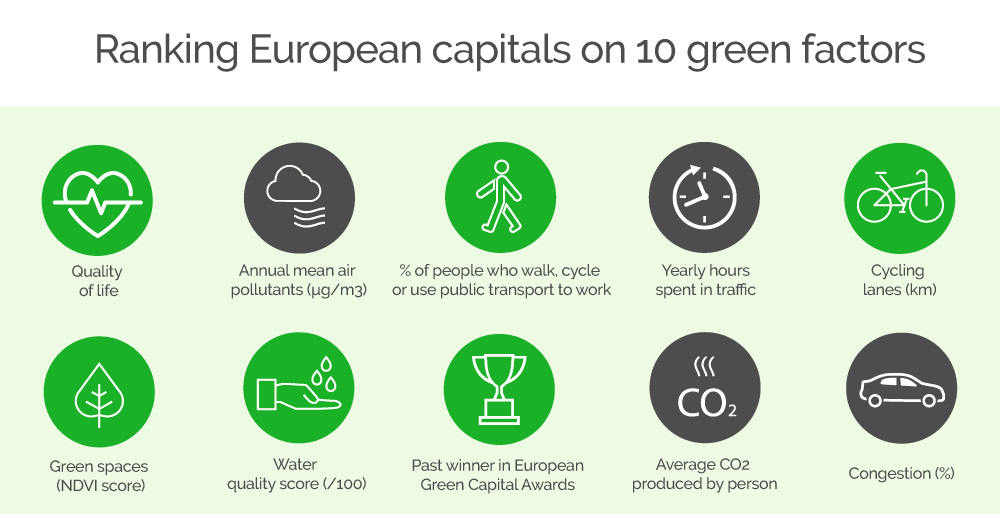 We're going to take a quick look through some of the factors that went into the ranking, before revealing the top five greenest capital cities in Europe.
Green Spaces: Parks have been referred to as the 'lungs of the city', and as well as giving residents a quiet place to take a break from the stresses of city life and recharge their batteries, they also play an important role in the ecosystem, providing a counter to the natural 'urban heat island' effect which means that urban areas are always significantly warmer than surrounding rural ones.
Public Transport: The sheer amount of cars on the road is one of the biggest contributing factors to air pollution and global warming, so it's imperative that cities take steps to get as many people using public transport as possible, whether that's buses, trains or high-tech metro systems. The research looked into the number of people using public transport, as well as how congested their roads were.
Cycle Lanes: Again, getting people out of their cars is key to a green city. Aside from public transport, bicycles are another eco-friendly way to get around cities, but many simply aren't set up to accommodate cyclists, which is why they need as many dedicated safe cycle lanes away from traffic as possible.
Air and Water Quality: Ultimately, a city will be judged on how much pollution it produces, so the research also looked into the quality of both the air and water of each, as well as the amount of harmful CO2 gases being produced.
Now we're going to take a look at which five capital cities were revealed as the greenest in Europe, according to the research.
Vienna, Austria
Coming out at Europe's greenest capital city was the capital of Austria, Vienna, ranking in first place for three different factors: length of cycle network, water quality and air quality.
Vienna has long been known for its green credentials, with 280 parks and gardens throughout the city.
In fact, green spaces make up over a half of the city's metropolitan area, such as the sprawling Volksgarten park in the centre, or other recreational areas further afield, such as Prater, Vienna Woods and Lobau.
As we mentioned, the city came out on top when it comes to water quality, which is because its fresh spring water supply flows directly from the Austrian Alps, reaching the city in as little as 36 hours, with strict regulations ensuring that it reaches the taps at the very highest quality.
Bern, Switzerland
In second was Bern, the capital of Switzerland, which rated highly for its green spaces, lack of congestion, water quality and general quality of life.
Switzerland in general is known for its high quality of life and the capital is no exception. IN fact, the city came in top place when it came to quality of life.
The city was also scored highly on its green spaces, lack of congestion and water quality (much like Vienna, the city benefits from a clean Alpine water source).
Helsinki, Finland
Finland's capital, Helsinki, came in third place and scored consistently highly across the board, without topping any of the factors.
Known for its lack of high-rise skyscrapers (most of the building's date back to the 19th century) and abundance of green spaces, Helsinki has long been seen as a leader in sustainability.
The city is particularly well known for its efforts to promote recycling, which has become a part of the daily routine in the city.
Finland's capital is also is very big on public transport, with the third-largest cycling network on the list and 77% of people using public transport to get to work.
Stockholm, Sweden
Having been the first ever city to win European Green Capital in 2010, Stockholm came fourth in this list, with an extensive 830km cycling network, a high standard of living and percentage of green space.
It's also known for trying to keep its carbon emissions down, with the majority of its buses run on renewable fuel, aiming to eliminate their use of fossil fuels by 2020 and having the whole city run without them by 2050.
Copenhagen, Denmark
Copenhagen came in fifth and among other things, scored highly for its low CO2 emissions and public transport (84% of people use it to get to work), which is all part of the city's plan to be completely carbon neutral by 2025.
They also want to become the world's best city for cyclists, aiming to have 50% of people cycling to their workplace or school, with over 390km of cycle lanes at present. It also took home the European Green Capital award in 2014 too.
That's just the top five but if you want to see the full ranking and see exactly how each city scored on each factor, click here to see the full research for yourself.