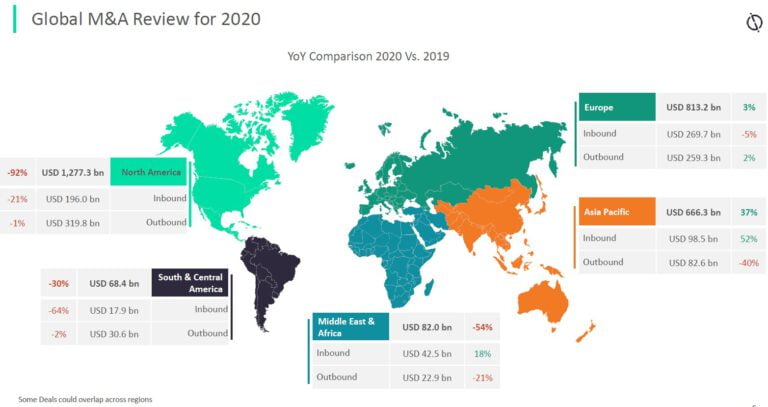 According to GlobalData's report, 'Global and North America M&A Report Financial Adviser League Tables 2020', deal value decreased by 14.9% from $1.5 trillion in 2019 to US$1.3 trillion in 2020.

Q3 2020 hedge fund letters, conferences and more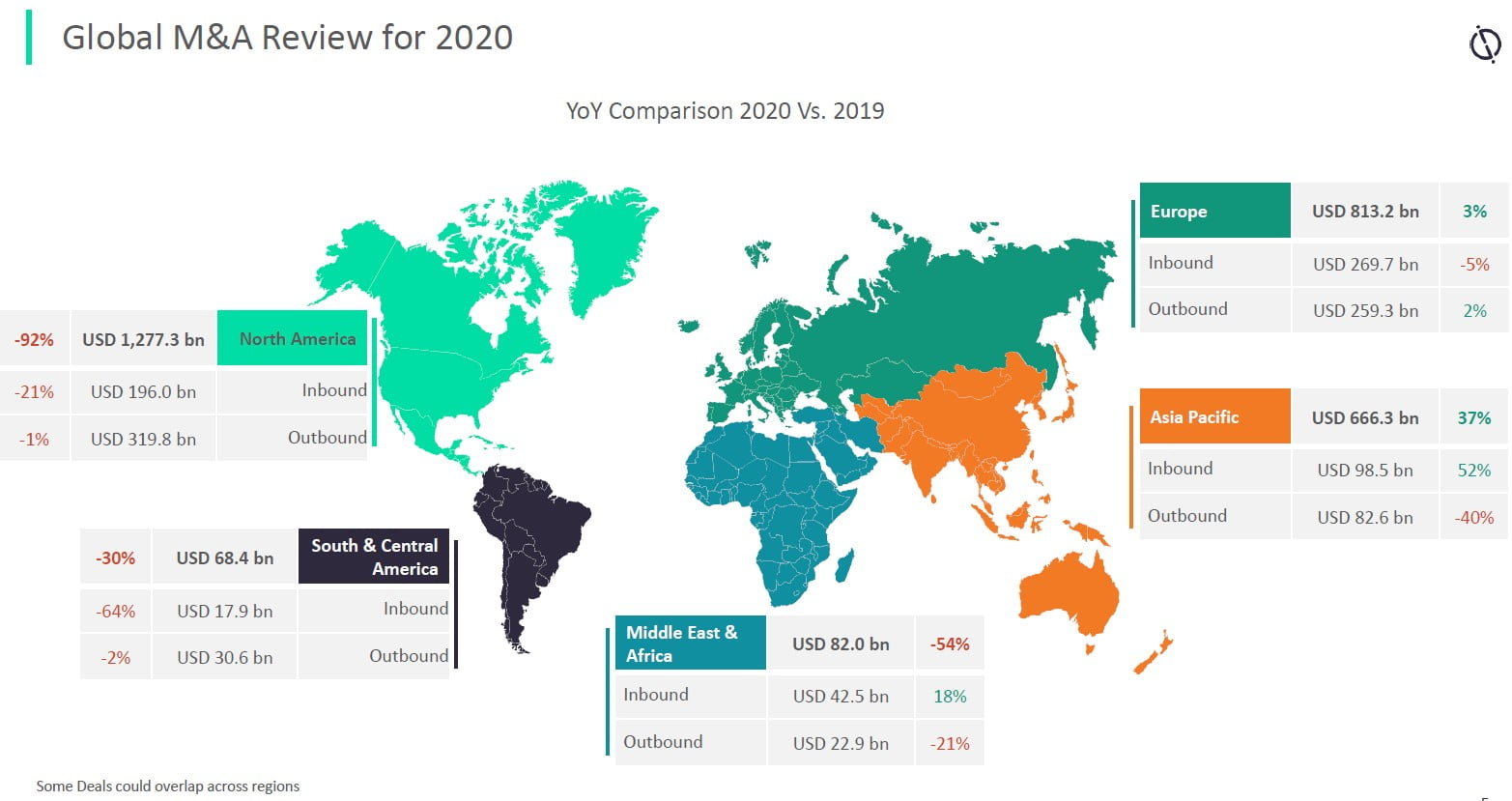 How Value Investors Can Win With Tech And "Fallen" Growth Stocks
Many value investors have given up on their strategy over the last 15 years amid concerns that value investing no longer worked. However, some made small adjustments to their strategy but remained value investors to the core. Now all of the value investors who held fast to their investment philosophy are being rewarded as value Read More
Global M&A Review 2020
Deal activity remained subdued in H1 but H2 sees light at the end of the tunnel
Overall deal activity remained subdued during Covid-hit 2020 with the crisis more prevalent during the first half of the year. However, deal value showcased improvement starting Q3 2020. Deals worth US$2,871bn were announced during 2020, which is a decline of 5.4% over deals worth US$3035bn announced during 2019. Deal volume also posted a y-o-y decline of 4.8%. However, after registering decline for two straight quarters, deal value rebounded sharply with 131.8% qoq growth in Q3 2020 owing to some big-ticket deals while Q4 also sustained the growth momentum.
North America continues to dominate while APAC takes a major leap in share of deal value
North America's regional share of M&A deal value declined from 49% in 2019 to 44% in 2020. Despite the decline in share of deal value, North America continued its dominance in global M&A landscape. On the other hand, APAC registered a massive jump in its share of deal value, which increased from 16% in 2019 to 23% in 2020. APAC also managed to remain attractive for inbound investments. Europe was the other region that witnessed increase in share of deal value, which increased from 26% in 2019 to 28% in 2020.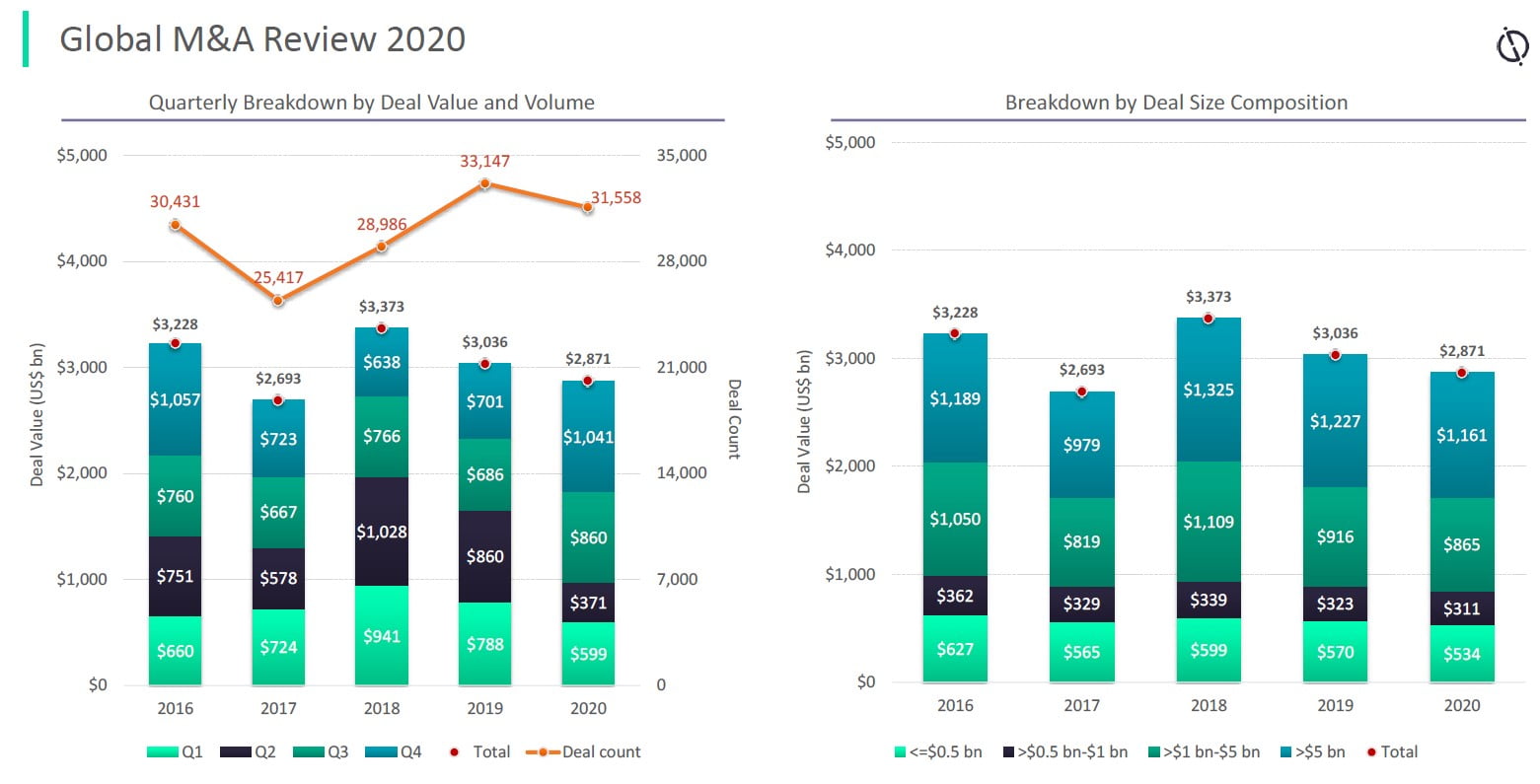 Announcement of several megadeals paved the way for revival
The rebound in deal value in H2 2020 is attributed to announcement of several megadeals (deals valued more than or equal to US$10bn). Some of the notable highvalue transactions announced during H2 included acquisition of IHS Markit by S&P Global for US$44bn, acquisition of NTT DoCoMo by Nippon Telegraph & Telephone for US$40.7bn and acquisition of ARM by NVIDIA for US$40bn, among others. Announcement of such big-ticket deals could also be indicative of the fact that the sentiments for deal-making have started reviving.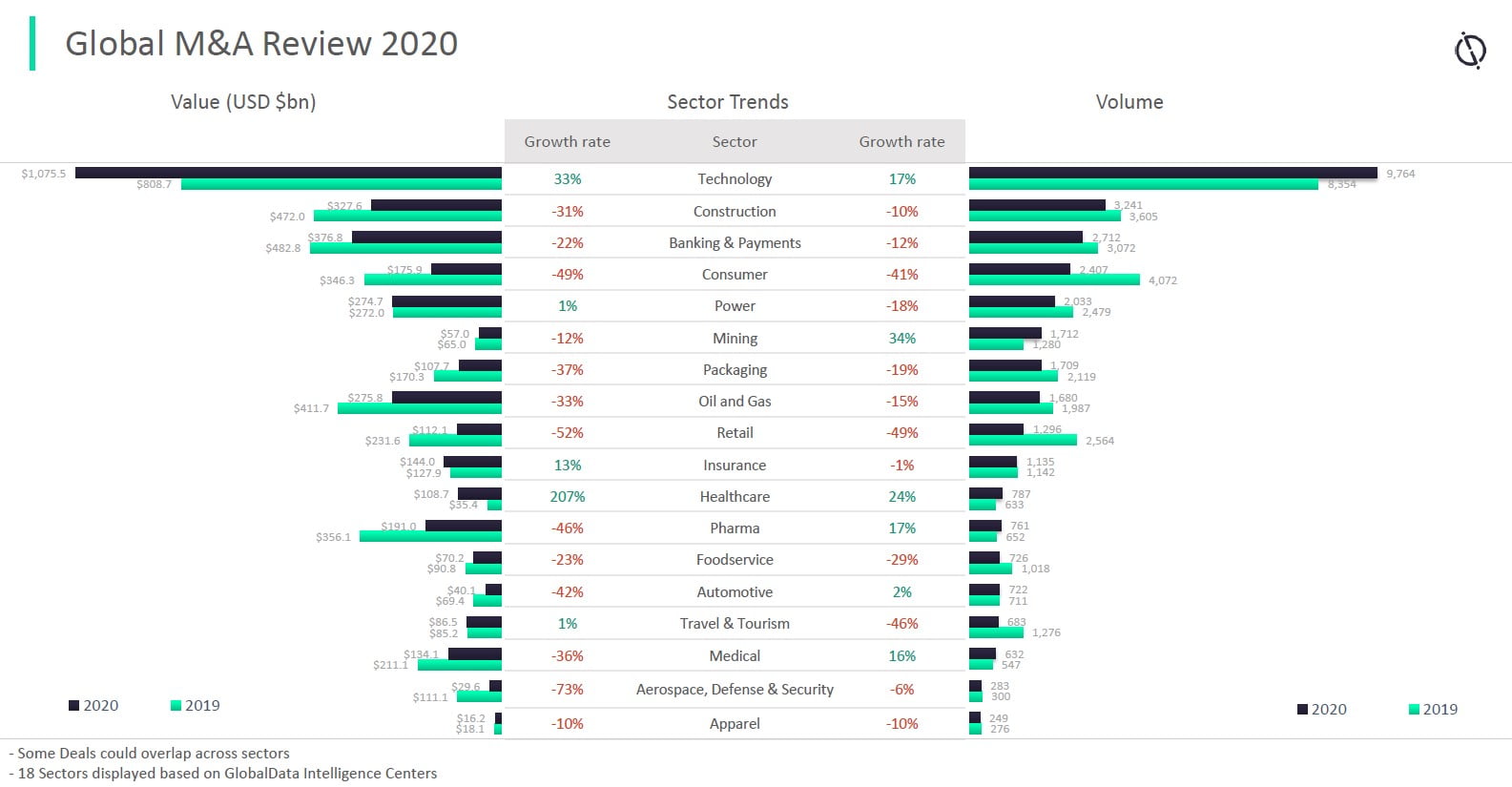 Technology and healthcare sectors showcased resilience
While most of the industries were reeling under the impact of Covid-19 pandemic, technology and healthcare sectors were witnessing renewed interests with both the sectors also experiencing growth in deal activity. 9,764 deals worth US$1,075.5bn were announced in the technology sector in 2020, a 17% and 33% volume and value growth over 8,354 deals worth US$808.7bn announced during the previous year. Healthcare sector also witnessed 24% and 207% growth in deal volume and value, respectively.
Value of transactions across all deal sizes close to pre-Covid levels
Covid-19 outbreak affected the M&A deal making sentiments with the impact felt across all deal sizes. An analysis of deal size composition reveals that total value of transactions across all deal sizes experienced year-onyear decline in 2020 compared to 2019. However, enhanced deal activity and high value transactions in the second half of the year helped closing in the gap to a large extent and now total value of billion-dollar deals announced during 2020 are almost on par with 2019 levels. In fact, value of transactions across other deal sizes were also close to pre-Covid levels.
Companies active in cloud space increasingly on radar of investors
Of all the Technology themes, the highest number of M&A deals were announced in Cloud theme during 2020. A total of 2,047 M&A deals involving targets active in the Cloud space were announced during 2020. With Covid-19 outbreak prompting adoption of technology to stay connected and operate remotely, businesses have been transitioning to the cloud. This acted as a lucrative investment opportunity for companies with innovative cloud solutions emerging as probable acquisition targets.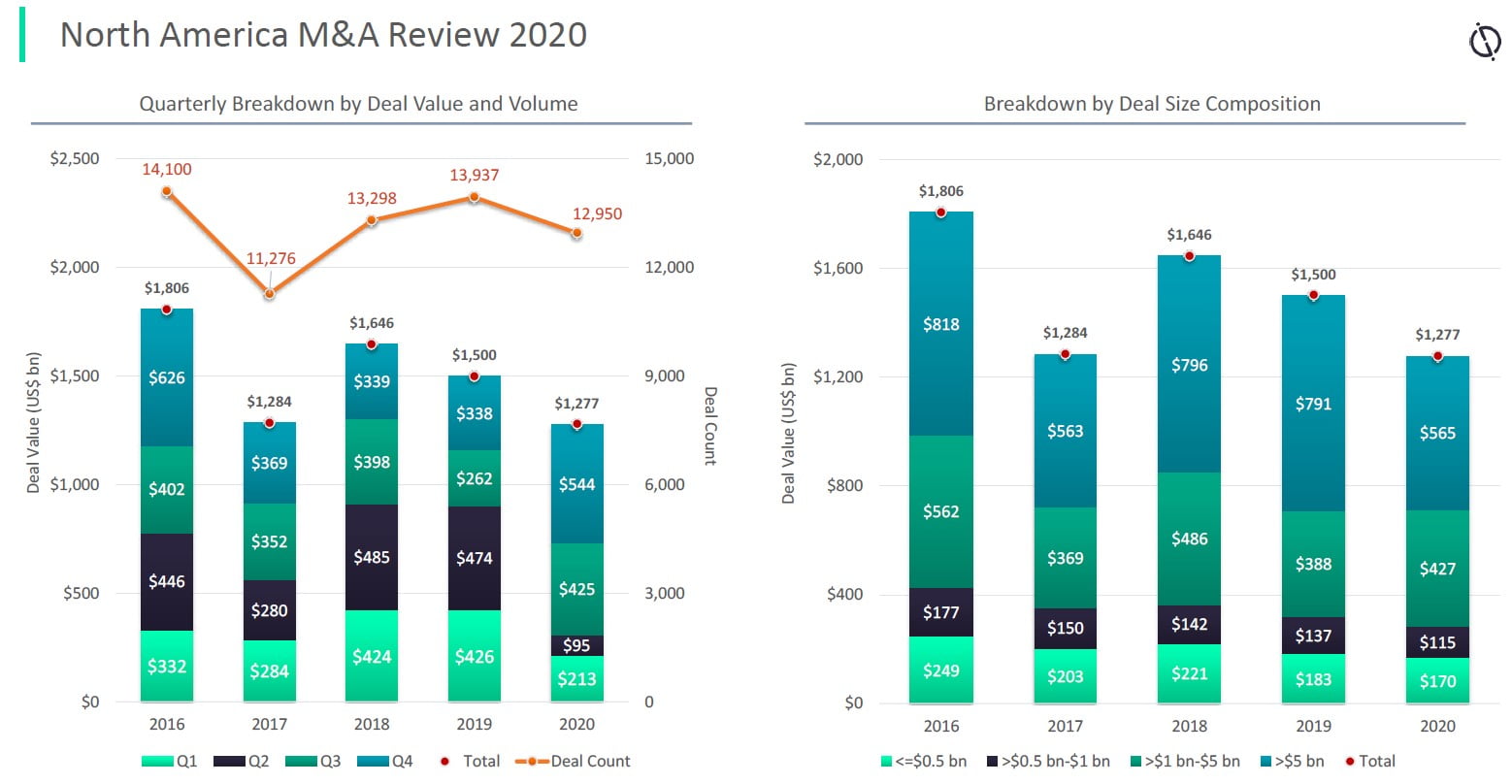 North America M&A Review 2020
After remaining muted in H1, deal value grows three-fold in H2
Overall deal activity for 2020 remained sluggish in North America with total deal volume and value in the region declining from 13,937 deals worth US$1,500bn in 2019 to 12,950 deals worth US$1,277bn in 2020. The decline was primarily driven by onset of the pandemic and subdued deal activity during H1. However, deal value started trending upwards during H2 though it was not enough to offset the decline witnessed in H1. Deals worth US$969bn were announced during H2, which is more than threefold increase compared to announcement of deals worth US$308bn in H1.
2020 sees the best third quarter in recent years
After witnessing decline for two consecutive quarters, Q3 in 2020 makes a solid comeback and deal value increased by 347.4% from US$95bn in Q2 to US$425bn in Q3. Interestingly, Q3 2020's deal value is by far the highest value recorded across any third quarter during the last five years. Moreover, the Q3 growth was the highest among all the regions and was primarily driven by the US, which witnessed an increase in deal value by 354.6% in Q3 over Q2. In fact, the US also had the best third quarter in 2020.
Technology sector dominated while Healthcare and Automotive sector also showcased resilience
Technology sector dominated the M&A landscape in North America in terms of deal value as well as volume during 2020. Moreover, while deal-making sentiments remained subdued across most of the industries during Covid hit 2020, only few resilient sectors witnessed y-o-y growth in deal volume as well as value with Technology sector also being one of them. Healthcare and Automotive were also among the other sectors that managed to witness growth in deal value as well as volume in 2020 compared to 2019.
No dearth of money for deal-making in promising areas
The Technology and Healthcare sectors witnessed announcement of several big-ticket deals during H2, which is indicative of renewed interests in sectors with enhanced relevance during the pandemic. Some of the notable high-value deals announced during H2 within these sectors in the region included acquisition of Alexion Pharmaceuticals Inc by AstraZeneca Plc for US$39bn, Advanced Micro Devices Inc.'s acquisition of Xilinx Inc for US$35bn and acquisition of Slack Technologies Inc by Salesforce.Com Inc. for US$27.7bn.
Criteria
GlobalData's M&A report including Advisory League Tables consists of top Financial advisers across regions, and sectors. The deal values in the report are included wherever disclosed
Deal types include Mergers, Acquisitions, Asset transactions, Private Equity Buyouts which are announced between January 1, 2016 and December 31, 2020. The M&A trend data is based on the dominant geography and sector focus of the target entity
Data presented in this report is derived from a number of reliable sources and is believed to be accurate. Key sources include company press releases, stock exchanges, trade journals, and business press
GlobalData's sector coverage includes technology, construction, banking & payments, consumer, power, mining, packaging, oil and gas, retail, insurance, foodservice, healthcare, pharma, automotive, travel & tourism, medical, aerospace, defense & security, apparel, and others
As part of our league tables we consider deals announced during the stated time period and include ongoing deals as well as completed deals. Any deals announced prior to the stated time period will not be included in the league tables. The deal values are represented in USD Billions or Millions and the conversion is based as on the deal announcement date. Non-US dollar denominated transactions are converted to the US dollar equivalent at the time of announcement of terms
Adviser rank above 99 has been marked "-"
Each adviser deals are consolidated under a single name; the name may be the parent advisory company or another entity, in case advisor has specific suggestions. Advisers can submit deals for inclusion in the database and claim credit for existing and new deals by adding GlobalData email deals@globaldata.com to your deal submission list or submit directly on GlobalData website https://www.globaldata.com/media/deals-submission/
About GlobalData
GlobalData is a leading provider of global business intelligence including market, competitor, product and customer information. It provides in-depth research, analysis, data and forecasts through a range of interactive online databases, reports and management briefings. GlobalData has a large team of experienced research and analysis, consulting, and marketing experts. It has a global presence, including key offices in the US, Europe and Asia. The group has over 50 years of experience of delivering market intelligence data and analysis and a highly experienced senior management team.
Updated on