The gold price broke back through $1,600 an ounce early this morning, approaching $1,611. However, it has been struggling to hold $1,600 as the day has gone on. Some may be wondering what will happen to gold once the coronavirus outbreak is brought under control.
Q4 2019 hedge fund letters, conferences and more
While bulls see gold heading toward $2,000 an ounce in some cases, some bears are concerned that the coronavirus may be driving most of the upside in the gold price.
Why 2020 could have brought a lower gold price
Morgan Stanley strategist Susan Bates said in a recent report that there were plenty of reasons to expect the gold price to slow in 2020. She said the expected macroeconomic recovery, trade deal between the U.S. and China, slowing central bank buying and weak jewelry market all threatened to weigh on the yellow metal.
However, the coronavirus triggered a fresh wave of risk-off sentiment, which boosted the gold price for a time. Stocks have begun to recover today while gold has struggled, which indicates that the risk-off sentiment is starting to shift back again, at least for now.
Bates said in the report dated Feb. 24 that if the coronavirus isn't contained in the next two weeks, the disruption to the market could extend into the second quarter. She expects global growth to decline 50 basis points during the first quarter.
Drivers of the bull market
She added that gold's status as a safe haven and its inverse relationship with U.S. real yields are near-term bull market drivers. U.S. real yields turned negative again due to coronavirus fears. She also noted that while total negative yielding debt declined through the fourth quarter, it has climbed 19% so far this year to $13.5 trillion.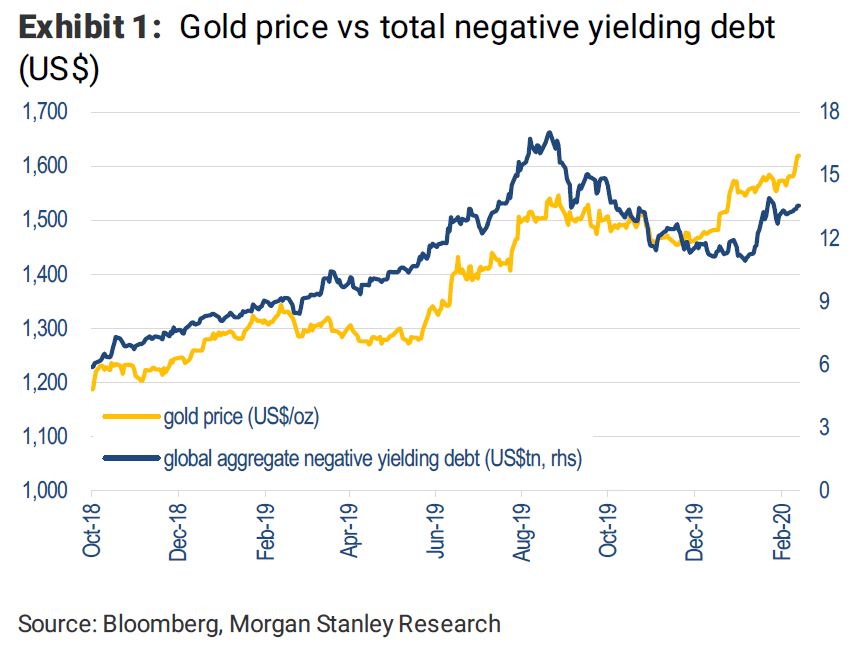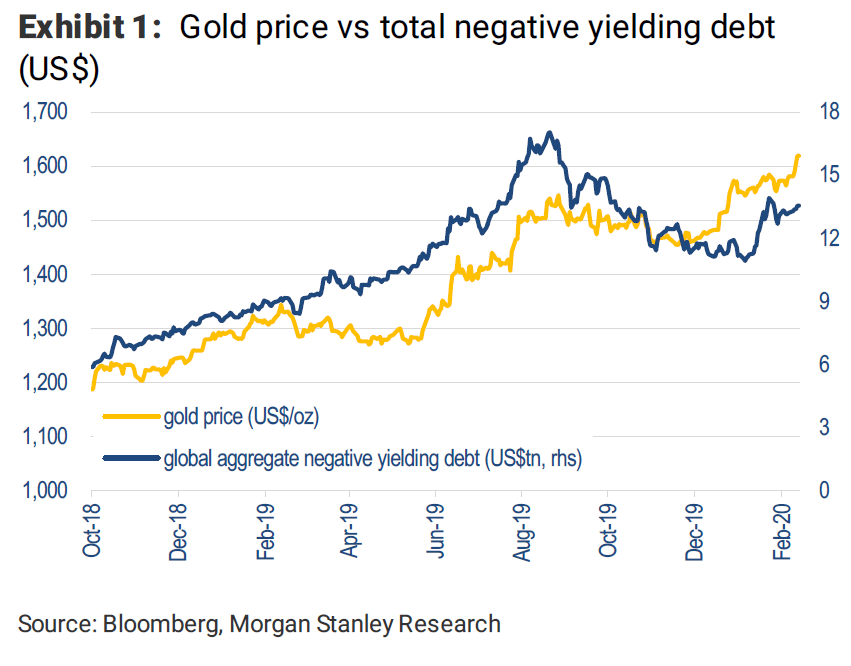 That makes holding gold an attractive idea, she explained. As a result, total ETF holdings of gold have risen to new all-time highs after inflows of 1.2 million ounces in January.
Do you know which under-the-radar stocks the top hedge funds and institutional investors are investing in right now? Click here to find out.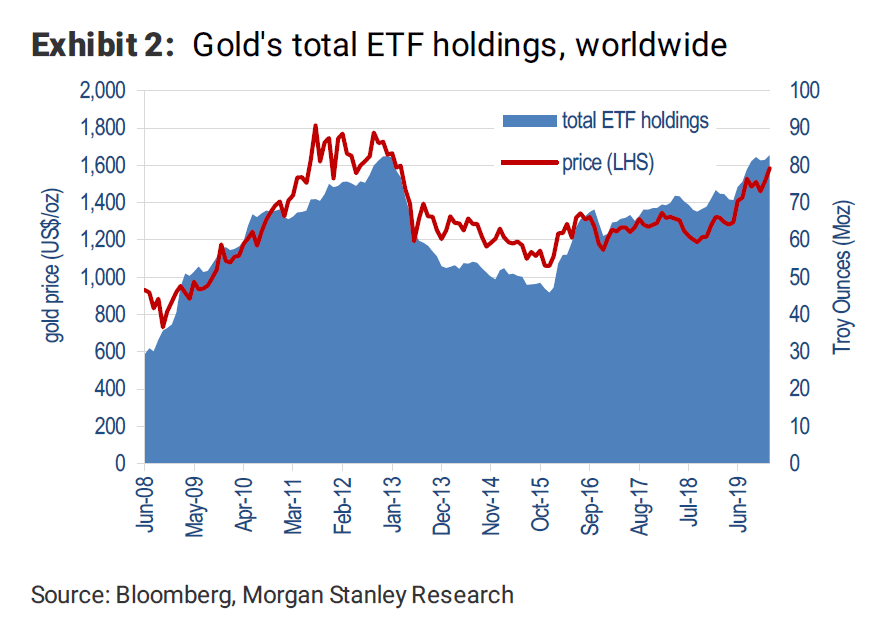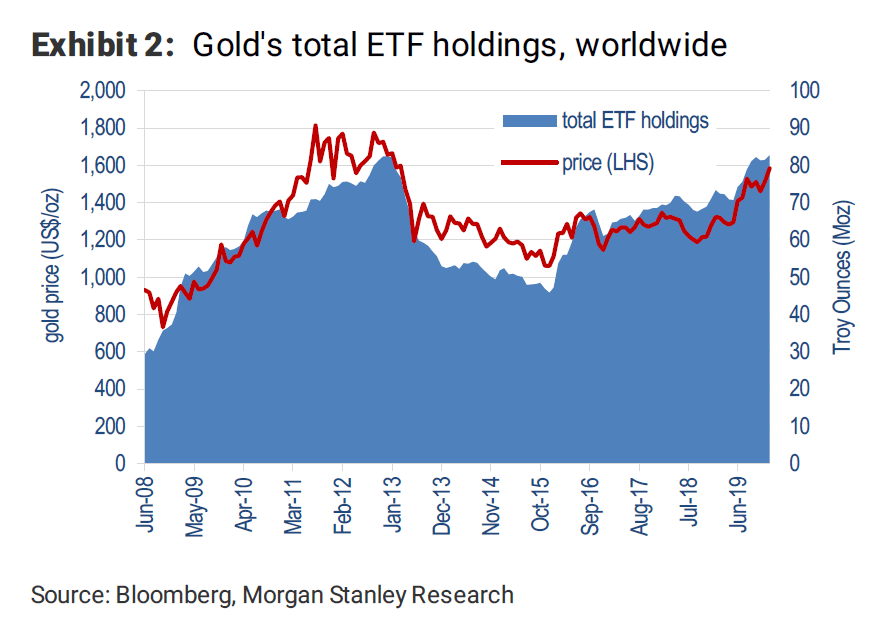 Less help from the dollar and central banks
She added that the U.S. dollar has not been a headwind on gold, although under normal situations, the two assets are negatively correlated. The dollar and gold were both rising due to their status as safe haven assets. However, both assets are struggling today as sentiment shifts toward the risk-on side of the spectrum.
One thing that could have weighed on the gold price this year has been a slowdown in central bank buying, which reached record levels in 2019. Bates said Russia and China have been major gold buyers, but both of them have cut back on their purchases of the metal.
Russia now holds more than 20% of its reserves in gold, although it usually holds about 15% of its reserves in the metal. She said Russia's buying has slowed as its exports have ticked higher. The last time China bought gold was in September.
She said overall central bank purchases reached 650 tons per annum or 16% of the total gold supply. However, while central bank purchases are likely to slow this year, she still expects "substantial" buying to continue through this year, offering further support for the gold price.
Some analysts have noted that consumer demand for gold has weakened, especially as much of China was on lockdown due to the coronavirus. China is one of the top consumer markets for the yellow metal.
However, Bates describes the physical gold market as "a virtual irrelevance" due to the current market environment amid the coronavirus concerns. Bates said physical demand for gold was already "exceptionally weak" throughout the second half of 2019. She expects the drag on jewelry demand to increase even more.
She added that the second half of 2019 did see a surge in secondary supply of gold because high prices drew out scrap. However, she doesn't expect that surge to be repeated as the supply dries up.
She believes the threat from a prolonged downturn in global growth due to the coronavirus could keep the gold price high. Bates added that net positioning is "extremely long," but she expects ETF inflows to continue rising as long as real rates remain negative. She also sees the potential for a move higher if the number of new cases continues to rise, which it has since she wrote her report.