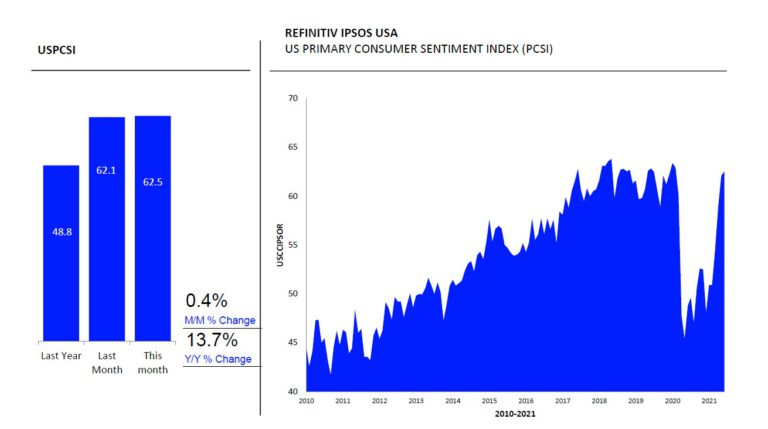 WASHINGTON, DC ‐ The Refinitiv/Ipsos Primary Consumer Sentiment Index for June 2021 is at 62.5. Fielded from May 21 ‐ June 4, 2021, this month's index marks only a slight increase from May.
Q1 2021 hedge fund letters, conferences and more
Consumer Sentiment Index Reading Is Highest Since February 2020
The Consumer Sentiment Index is at its highest reading since February 2020 (62.9), surpassing its reading in March 2020 (60.1) for the second consecutive month. Slight growth across most sub‐indices continues this month, with only the Investment Index seeing a decline (‐0.8 points).
Fund Manager Profile: Kris Sidial Of Tail Risk Fund Ambrus Group
A decade ago, no one talked about tail risk hedge funds, which were a minuscule niche of the market. However, today many large investors, including pension funds and other institutions, have mandates that require the inclusion of tail risk protection. In a recent interview with ValueWalk, Kris Sidial of tail risk fund Ambrus Group, a Read More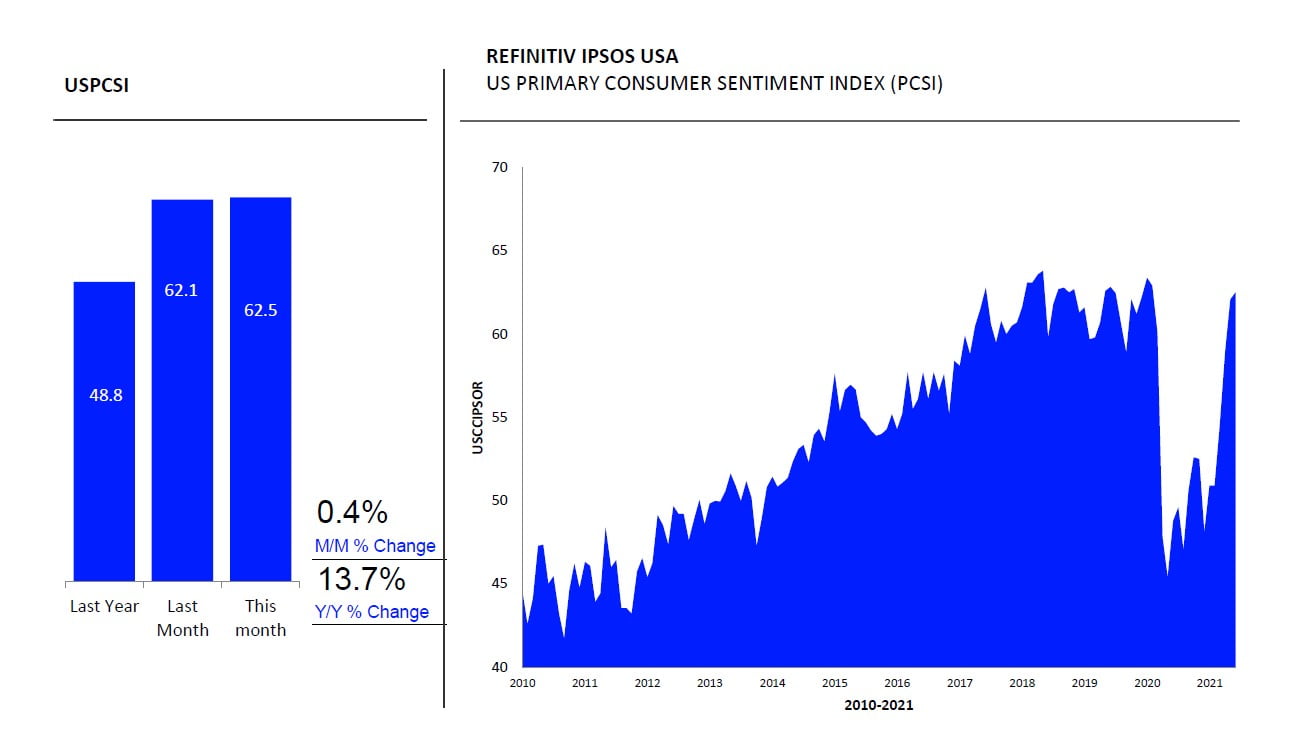 Following a gain of 0.7 points from May, the Current Index now reads at 56.1. After three months of growing more than 4 points, growth slowed down this month. Despite slower growth, this month again marks the Current Index's highest level since January 2020 (56.4).
The Investment Index, at 56.9, is down 0.8 points from last month after three months of significant gains. Despite this decline, this month's reading is the second highest since the start of the pandemic and the second highest since January 2020.
With another month of significant upward movement, the Expectations Index (69.4) is up 0.6 points. It sits nearly 6 points above its prepandemic reading in March 2020 and is the highest reading for the index since its inception in 2002.
At 71.1, the Jobs Index grows by 1.4 points, surpassing its March 2020 reading for the first time since nationwide shutdowns. This is the sixth month in a row of continued growth for the Jobs Index, with a 16.1 point gain since December 2020.
"Continued optimism is seen across the national consumer sentiment index and sub‐indices in this month's Refinitiv/Ipsos Primary Consumer Sentiment scores. The Jobs Index displays particularly strong growth, and the Expectations Index sets a new all‐time high record," Chris Jackson of Ipsos states. "On the other hand, the Investment Index shows slight wavering, indicating possible hesitations around spending and investing amid inflation fears and spiking prices."
Jharonne Martis, Director of Consumer Research at Refinitiv, said, "Looking forward to anticipated Q2 2021 earnings, the Leisure Products sector has the strongest growth rate estimates. Thus, suggesting that consumers continue to purchase items that will improve the stay‐at‐home and outdoors experience. And, slowly but steady continue to increase their spending on other discretionary items."
Current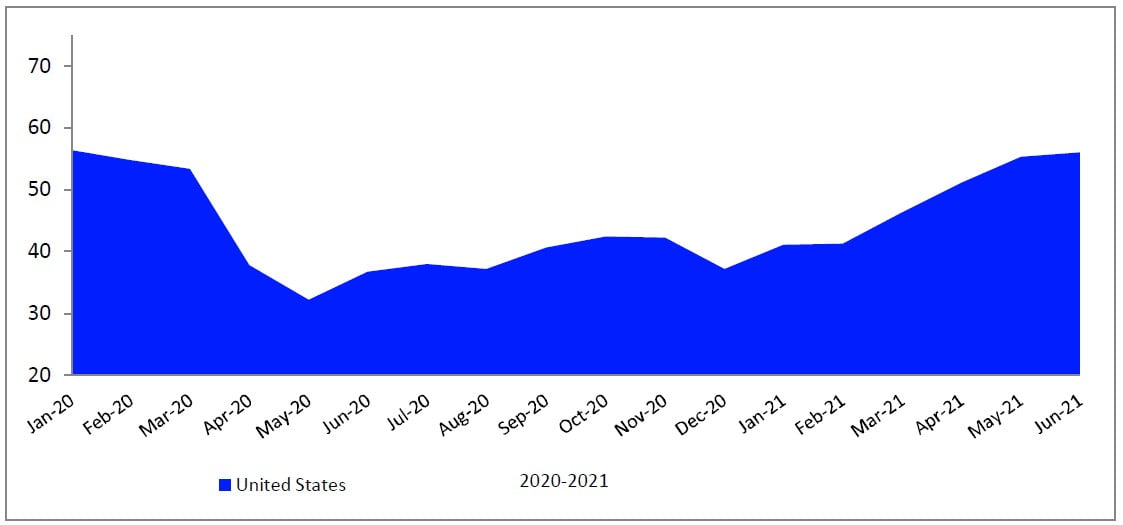 The PCSI Current Index currently reads at 56.1. After a slight gain from May, this month again marks a new pandemic high and continues to sit just below its January 2020 reading of 56.4. The index is now almost 3 points higher than where it stood pre‐pandemic lockdowns in March 2020. The Current Index displays muted growth this month after three consecutive months of significant gains.
Expectations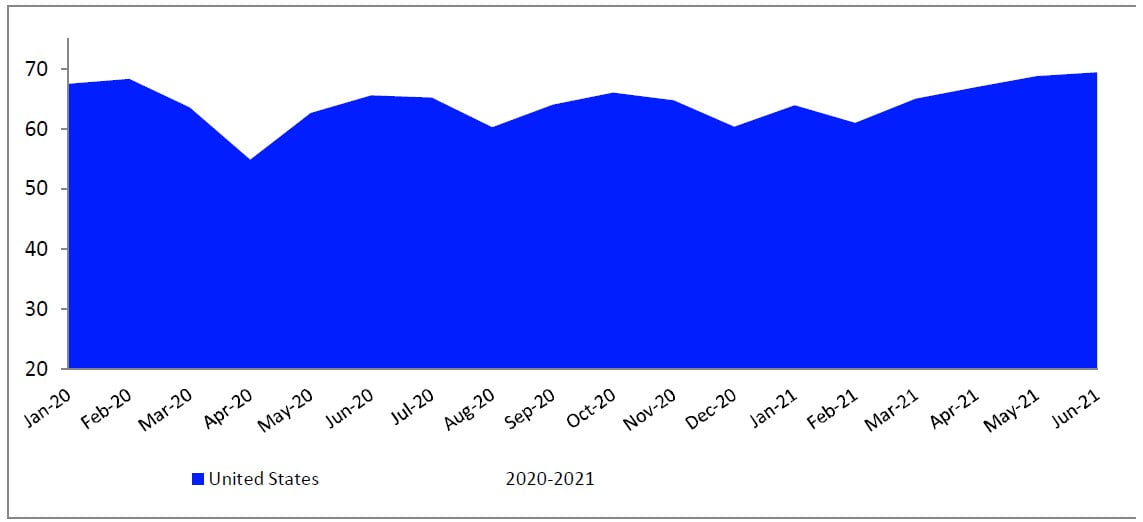 The PCSI Expectations Index is up 0.6 points from last month. Reading at 69.4, this month marks a new pandemic‐high, building on last month's record of 68.8. It currently sits 5.8 points above its March 2020 reading and is the index's highest reading recorded since its inception in January 2002 (65.3). The second highest reading is 69.1, recorded in February 2018.
Investment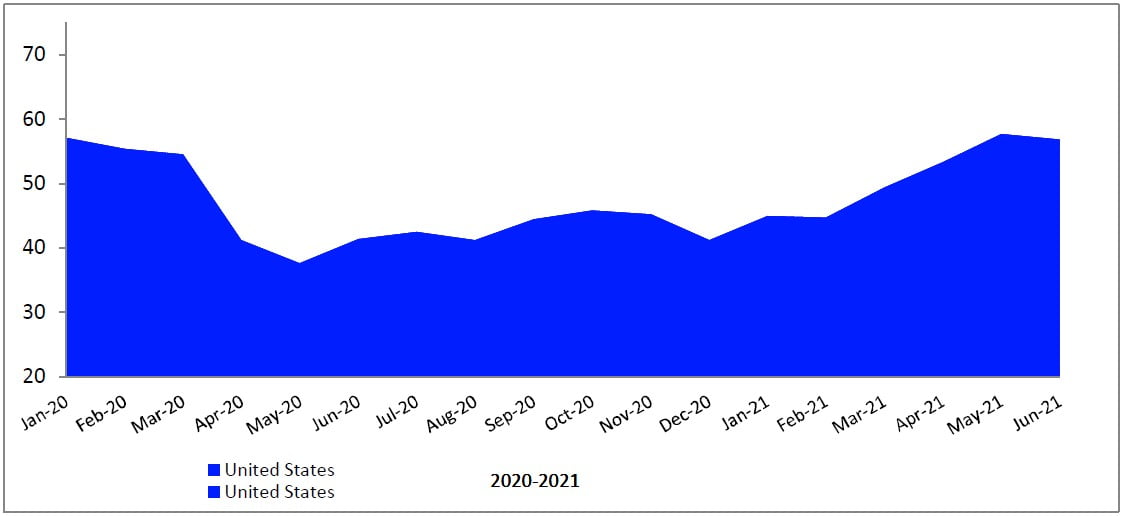 This month, the PCSI Investment Index reads at 56.9 after dropping 0.8 points from May. It is the only index to display a decline in June 2021. After three months of strong growth, the Investment Index drops for the first time since this February. Despite this decline, it remains 2.3 points above its reading in March 2020 (54.6).
Jobs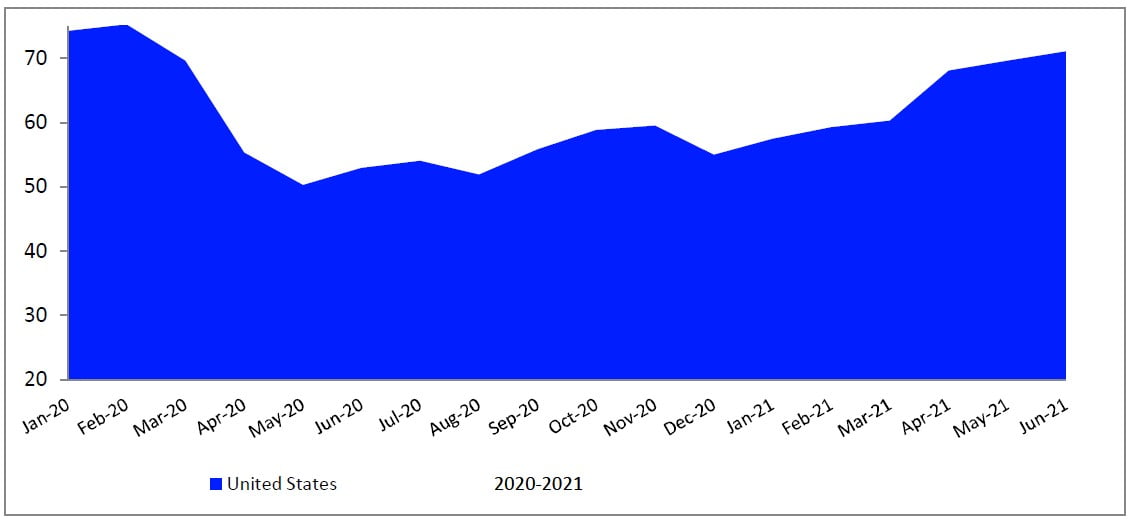 The Jobs Index (71.1) continues to display gains for the sixth month in a row, up 1.4 points from last month and 16.1 points from December 2020. This month's reading is its highest since the start of the pandemic marks the first time surpassing 70 since February 2020.