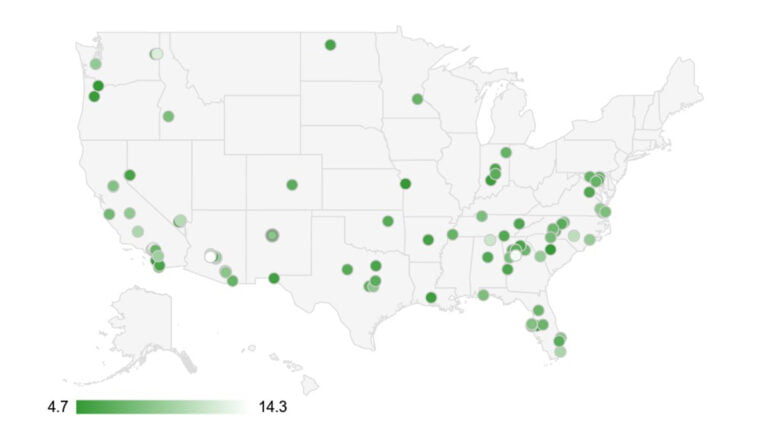 To say the coronavirus pandemic caused some changes to Americans would be an understatement. The pandemic this year created significant changes to almost every aspect of our lives. The U.S. economy and people's way of living were two of the major factors that caused the most notable changes affecting lives.
Q3 2020 hedge fund letters, conferences and more
As a result, many Americans have made changes to their school and work. Also, many made decisions on where to live as a reflection of the changing environment from COVID-19. These shifts have caused significant changes in residential rental prices in some cities.
Crypto Hedge Fund Three Arrows Blows Up, Others Could Follow
A few years ago, crypto hedge funds were all the rage. As cryptocurrencies rose in value, hundreds of hedge funds specializing in digital assets launched to try and capitalize on investor demand. Some of these funds recorded double-digit gains in 2020 and 2021 as cryptocurrencies surged in value. However, this year, cryptocurrencies have been under Read More
The Trends In Rental Prices
AdvisorSmith, a leading resource for small business content, examined trends in rental prices to determine which American cities had residential rent prices rising and falling the most in 2020.
They examined rental prices in 540 U.S. cities using Zillow and Apartment List data and looked at rental prices of studios, one, two, three, and four-bedroom rental units for their study. The study compared rents from November 2020 to the average rents in 2019 for each city. Each city's weighted increase or decrease in average rent was determined by each city's composition of rental housing units.
The study found that nationwide, the average rent increase was 0.5 percent, ranging from a decrease of -38.2 percent up to a rise of 14.2 percent.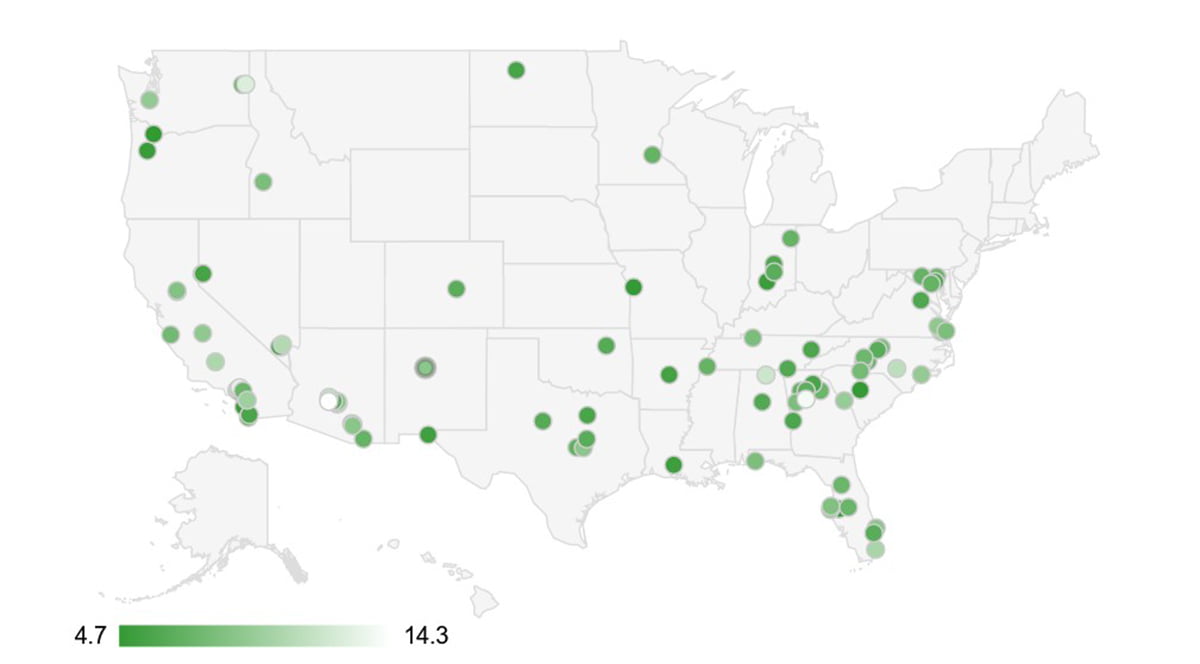 Cities With The Highest Rent Increases
Cities with the highest rent increases were those on the outskirts of large metropolitan areas, including cities around Atlanta, Phoenix, and Riverside/San Bernardino counties in Southern California. Before the pandemic, the cost of living in these cities was much lower than the national average. A low cost of living attracted residents who didn't need to live in a more expensive city due to working from home.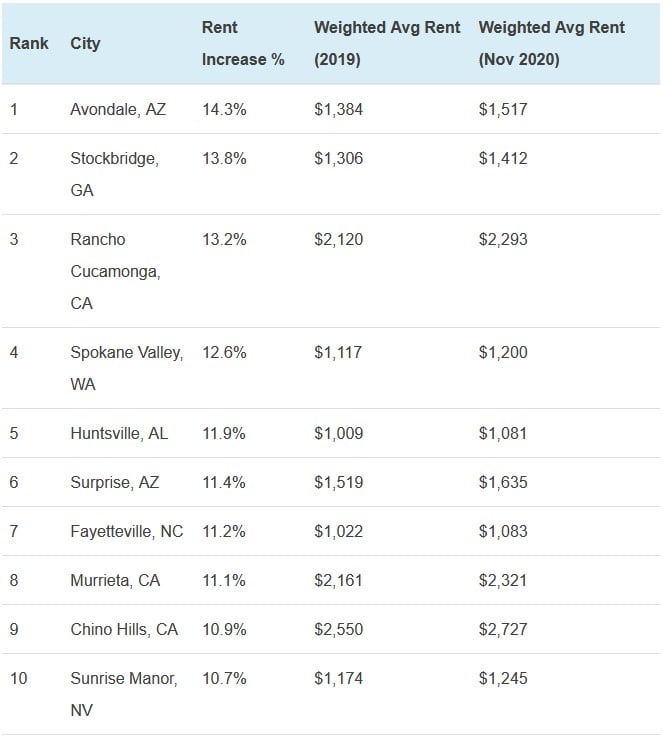 The city with the largest rent increase was Avondale, AZ. Avondale had a rent increase of 14.3 percent, which is 28x higher than the national average increase. The weighted average rent in Avondale jumped from $1,389 in 2019 to $1,516 in 2020.
The Phoenix metropolitan area had eight cities appear on the top 100 list of cities with the highest percentage of rent increases nationwide this year. The cities were Avondale (#1), Surprise (#6), Glendale (#11), Peoria (#21), Mesa (#26), Gilbert (#27), Phoenix (#68), and Chandler (#71).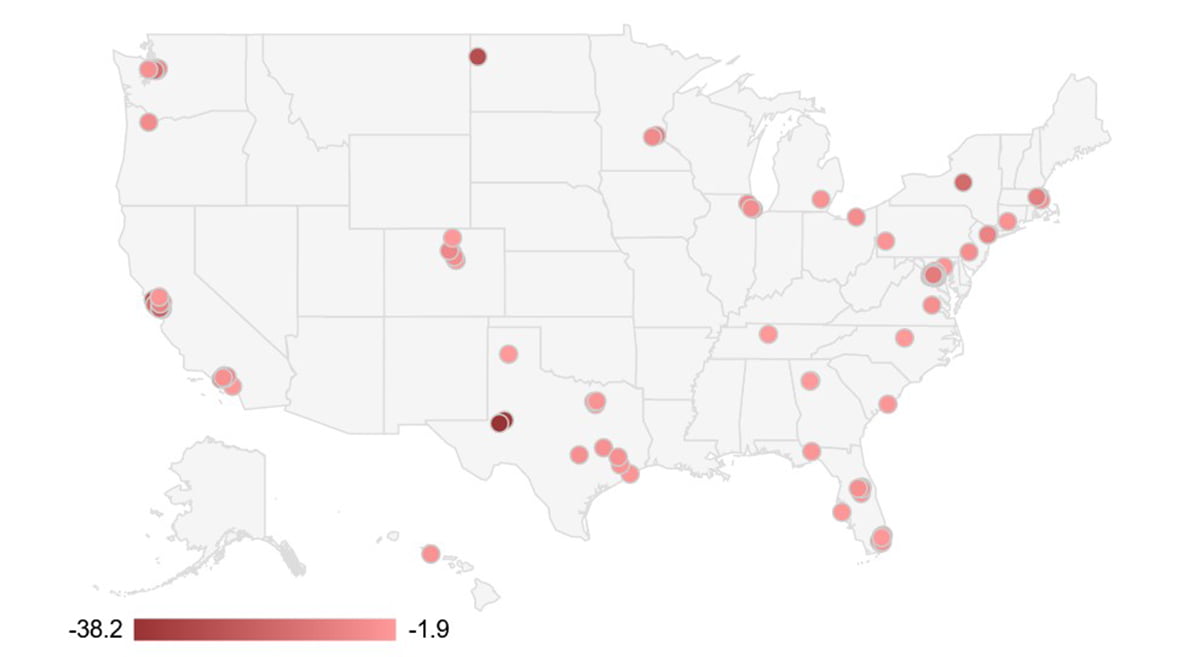 Cities With The Highest Rent Decreases

On the other hand, The top three cities where rent prices decreased were Odessa, TX; Midland, TX; and Williston, ND. All these cities' economies rely on oil and energy, and with residents working from home and no longer commuting, this has dropped in the amount of work needed and offered in these cities. With oil and gas prices reaching into the negatives earlier this year because of the coronavirus pandemic, housing demand in these cities has fallen substantially.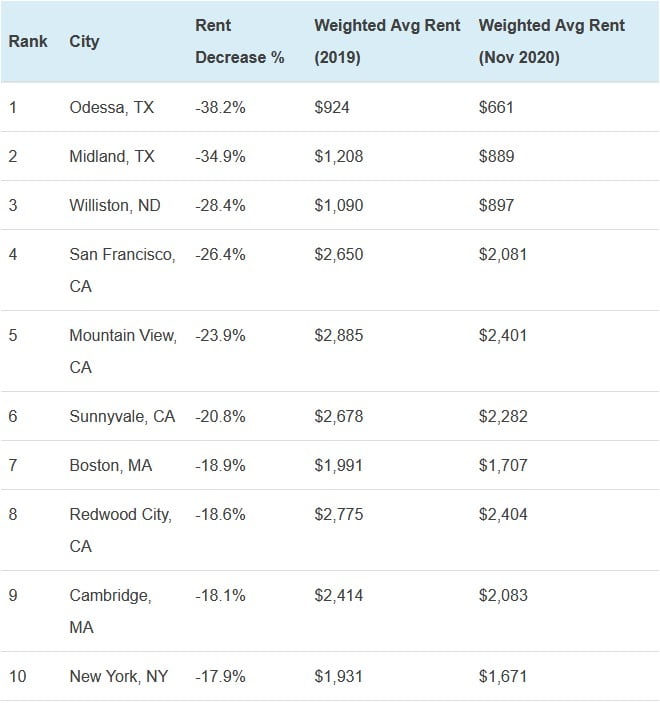 For Odessa, resident rental prices decreased by 38.2 percent in the last year. The weighted average rent in Odessa fell from $923 in 2019 to $661 in 2020. Midland, which is only 23 miles away from Odessa, rents fell 34.8 percent. In Midland, the weighted average rent fell from $1,208 in 2019 to $888 in 2020.
Cities where rents also fell the most were in some of the most expensive renters' cities before the pandemic. Rents fell the most in the San Francisco Bay Area and the New York, Boston metro areas, and the Washington D.C. suburbs. Many of these cities were highly represented in the top 25. Besides having some of the country's highest rents, these cities contain professional and technical workers working from home for much of the year.
With all American's being affected by the coronavirus pandemic one way or another, they must know what their best options are and what rent prices they can expect when moving to a new city.
Updated on