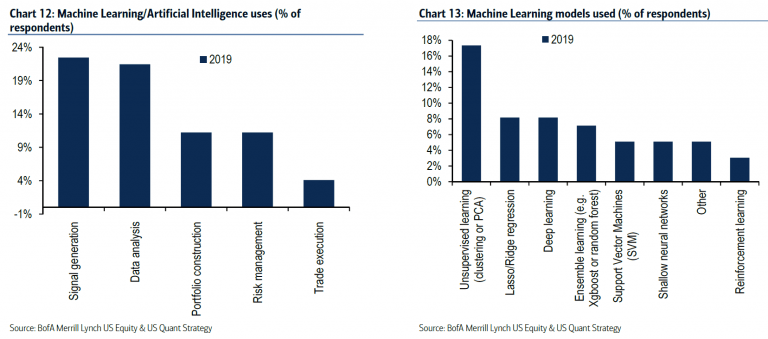 There seems to be quite a lot of crowding in the markets these days, and a recent survey offers some insight into that. Investors are all battling for the same positions, which can sometimes turn into a market-wide disaster. One of the key trends identified in this year's Annual Institutional Factor Survey from Bofaml Team (Bank of America Merrill Lynch) is the combination of quantitative and fundamental investing—or "quantamental," as the firm calls it.
Bofaml Team – Here come the quants
Strategist Savita Subramanian and team said in a report on their annual survey that 70% of respondents now consider themselves to be quants. In fact, the number of job listings for a "data scientist" outnumbers the number of listings for an "equity research analyst" nearly 10 to one.
Trident Fund LP November 2022 Performance Update
Trident Fund LP performance update for the month ended November 30, 2022. Q3 2022 hedge fund letters, conferences and more The Trident Fund LP GM, GME, and GME4 share classes returned +0.8, +1.2, and +3.0 percent, respectively, in November, and the fund +6.6, +9.9, and +35.0 percent net for 2022. Please click here for the 
Q1 hedge fund letters, conference, scoops etc
For the 14th consecutive year, low P/E was the most popular factor even though it has lagged behind other factors for much of the current bull market.
In fact, BofAML estimates that the low P/E factor has underperformed by 46 percentage points over the last nine years.
The biggest increase in popularity went to the earnings surprise and estimate revision factors. In general this year, the firm found the greatest increase in fundamental factors.
However, the BofAML team warns that since 1991, the earnings revisions factor has underperformed by 1.4 percentage points in years of "heavy usage." In other years, it outperformed by nearly 4 percentage points per annum, they added.
Other areas of factor growth
Interestingly, leverage has become the second most popular factor after significant increases. The BofAML team observed a major jump in the use of leverage in 2014, but at the time, it was still only lightly used.
Between 2014 and now, low-leverage stocks have outperformed those with high leverage by 16 percentage points. They also said the valuations of the most levered stocks are no longer trading on par with those with low leverage. In fact, highly levered stocks are trading at an average of a 35% discount now.
The BofAML team also found that quant models in general have gotten more complex, with the average model now having 18 factors instead of the seven or eight factors used in most models during the 1990s.
Artificial intelligence and machine learning became especially important this year as investors blend traditional factors with machine learning to study larger sets of data and identify non-linear relationships. The survey found that over 20% of participants use machine learning to generate alpha, while 17% of machine learning users apply "unsupervised learning approaches."
When fundamentals fail
Almost 40% of survey respondents use alternative data in various forms, with online data being the most prevalent at 30% of alt data users. Online data includes web searches like Google Trends, business review websites like Yelp or Glassdoor and social networking sites. Only about 10% claim to use credit card, satellite and geolocation data, and the BofAML team suggests this could be because these types of data are more expensive and present more challenges in modeling.
The survey also found that almost half of respondents see the failure of fundamentals as the biggest threat to their processes, an increase from 45% last year. This makes sense because we've seen quite a few hedge fund managers bemoan the failure of fundamentals over the last year or more. Other concerns were said to be short-termism at 46% and crowding at 37%. High frequency trading is no longer seen as a serious threat as it's fallen to 20% from 30% a year ago.
bofaml team - Running low on conviction
Investors seem to be getting less and less sure of the investments they're making too. BofAML found increases in multiple factors. The firm explains this as a combination of the convergence in style factor popularity and increasing flows into factor-based funds.
The problem is that it has become quite difficult to diversify factor-based investment approaches. The firm adds that the correlation between growth, value, quality, momentum, risk and size has soared to nearly post-crisis highs.
This article first appeared on ValueWalk Premium