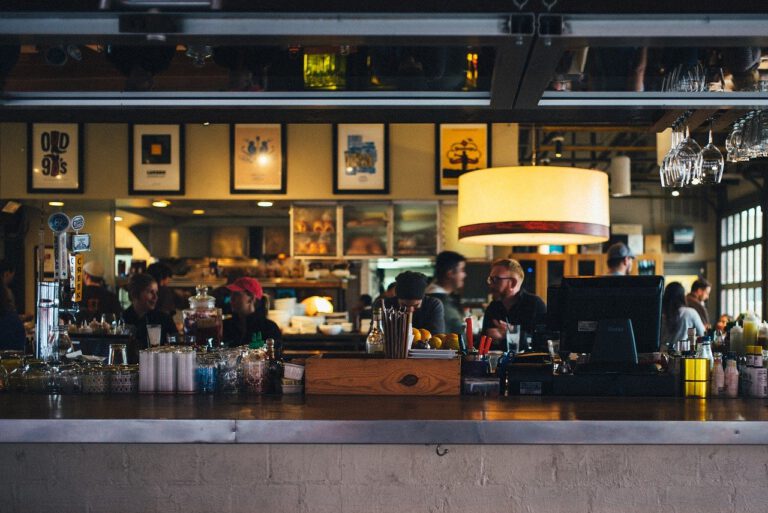 Congressional Negotiations on Government Spending Exclude Funding for Restaurant Relief Program, Leaving Behind At Least 2,667 Arizona Restaurants
Q3 2021 hedge fund letters, conferences and more
Over 82% of Independent Restaurant and Bar Owners Concerned They Will Close Without a Restaurant Revitalization Fund Grant
Gates Capital Management Reduces Risk After Rare Down Year [Exclusive]
Gates Capital Management's ECF Value Funds have a fantastic track record. The funds (full-name Excess Cash Flow Value Funds), which invest in an event-driven equity and credit strategy, have produced a 12.6% annualised return over the past 26 years. The funds added 7.7% overall in the second half of 2022, outperforming the 3.4% return for Read More
***Click Here to Watch the Press Conference***
Arizona Restaurants Are Struggling
PHOENIX, ARIZONA – Today, Arizona restaurant owners struggling to keep their doors open urged Senator Kyrsten Sinema (D-AZ), Congress and the Biden administration to refill a federal relief program for neighborhood restaurants, the Restaurant Revitalization Fund (RRF). Senator Sinema is the sponsor of the Restaurant Revitalization Fund Replenishment Act, which would allow the Small Business Administration to finish processing applications from nearly 200,000 eligible businesses who applied for relief, including over 2,667 in Arizona. There have been no indications from Congress or the Biden Administration that this legislation will see additional funding as part of the ongoing negotiations on government spending.
"We need help now, not next year," said Sasha Raj, Executive Chef/Owner of 24 Carrot Cafe in Tempe. "Everyone around us seems to think that the world is going back to normal life, but it's not. My business has been around for 14 years and I don't want to close right now. This boulder is too large for one woman to carry. We need greater support for that. I've done my part, and I will continue to do my part to the best of my ability, but my ability would be greatly enhanced if our elected officials help. I really hope that Senator Sinema hears this and that she recognizes that we are her constituents and these are our needs."
The difficulty facing restaurants nationwide is being acutely felt in Arizona. The state is home to 10,281 restaurants, which employ nearly 338,200 leisure and hospitality workers. While 1,325 received an RRF grant and now have the financial flexibility to survive the pandemic, 2,667 restaurants were left behind in the first round of funding and are in danger of permanent closure unless Congress refills the RRF.
"Winter is coming, again, and restaurants and bars cannot wait until 2022 for the relief they've been promised," said Bobby Stuckey, Member of the Board of Directors of the Independent Restaurant Coalition. "The Restaurant Revitalization Fund ensured over 100,000 restaurants and bars nationwide could keep people working, pay back rent, and afford the increasing cost of supplies, but nearly 200,000 are still holding out hope that Congress acts. The IRC will not stop until each Arizona restaurant who needs help, gets it. We need Congress to refill the Restaurant Revitalization Fund. Our representatives need to make this industry a priority."
Everything Is So Much More Complex
"Everything is 20 times harder," said Ross Simon, Proprietor and Bartender of Bitter & Twisted, Little Rituals in Phoenix. "Everything we used to take for granted — opening up and just managing the space — is so much more complex. The RRF would relieve my debt and allow me to keep my doors open. Senator Sinema is a sponsor of the effort to refill the RRF and I know she cares about this industry — but we need everyone in Congress to be at the table fighting for us now."
"It is not fair for the government to pick winners and losers in Arizona," said Dwayne Allen, Owner of The Breadfruit & Rum Bar in Phoenix. "Our elected leaders know the Restaurant Revitalization Fund works and they know exactly which businesses are desperate for help. Debt is compounding and the pandemic is far from over – Senators Sinema and Kelly cannot let us close forever. We are looking to our elected officials to step up and support the communities who have supported them."
Restaurants and bars are struggling to survive. The September Jobs report indicated that restaurant and bar employment is still down 930,500 jobs since the start of the pandemic. The Delta variant threatens to push more restaurants and bars into permanent closure. Since the beginning of the pandemic, more than 90,000 restaurants and bars have closed. There are now dining restrictions in more than a third of the states in the country. Restaurant reservations have plummeted in states across the nation; for instance in Brooklyn (57%), Minneapolis (58%), and Raleigh (36%), bookings are far below their 2019 levels. According to a recent survey, 60% of adults changed their dining habits due to the Delta variant. These businesses have a pile of debt that is continuing to build — 51% of restaurants could not pay their September rent.
The IRC conducted an email survey indicating that the situation facing restaurants is more dire than ever:
85% of restaurant and bar owners reported not receiving an RRF grant.
Over 82% of restaurant and bar owners reported concern they will close without an RRF grant.
Nearly 1 in 5 (18.3%) of restaurant owners reported having their credit scores reduced below 570 during the pandemic — many of these operators cannot take on any more loans.
The Small Business Administration closed the RRF application portal, leaving over 177,000 restaurants and bars that applied for relief out in the cold. Restaurants and bars lost over $280 billion during the pandemic yet only received $28.6 billion in targeted relief. These businesses continue to deal with pandemic-induced headwinds — over the past year, the prices of beef and veal (57%), grains (55%), eggs (36.7%) and shortening and cooking oil (41.5%) have surged. This relief will give many of the nation's 500,000 independent restaurants and bars the support they need to survive the pandemic as well as the 16 million people they support to survive the pandemic.
Support for providing restaurants and bars the relief they need is continuing to grow. Senator Ben Cardin (D-MD) recently tried to add $48 billion by unanimous consent to add $48 billion to the RRF, invoking fierce speeches on the Senate floor from Majority Leader Chuck Schumer (D-NY) and Senator Dick Durbin (D-IL). The Restaurant Revitalization Fund Replenishment Act is gaining rapid bipartisan support as 223 members of the House of Representatives and 43 members of the Senate have come out in support of the bill, including Rep. Alexandria Ocasio-Cortez (D-NY-14) and Sen Susan Collins (R-ME). Reps. Earl Blumenauer (D-OR-3) and Brian Fitzpatrick (R-PA-1) and Sens. Roger Wicker (R-MS) and Kyrsten Sinema (D-AZ) introduced the legislation in both chambers of Congress, which provides $60 billion in additional funding for the RRF.