Activist Insight launches "Activist Investing in Canada" special report
Publication reviews 2018's record level of activism and looks at trends driving activity in shareholder activism in Canada.
Activist Insight has released its latest special report, entitled Activist Investing in Canada. The publication details many of the trends of the past year, including activist interest in the mining sector, the rise of activist short selling in Canada, and how some companies are settling rather than taking campaigns to a shareholder vote.
Q1 hedge fund letters, conference, scoops etc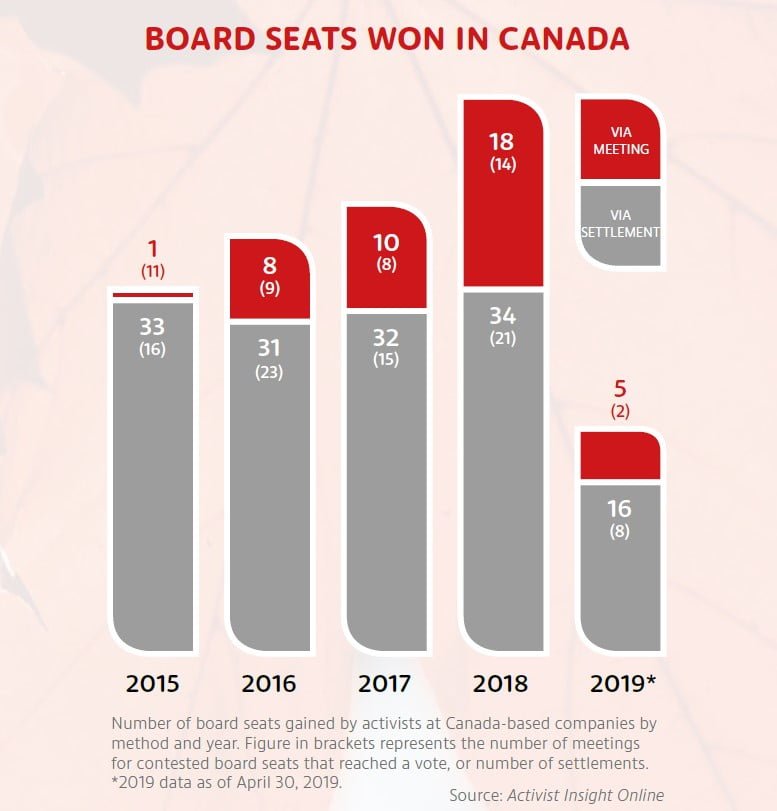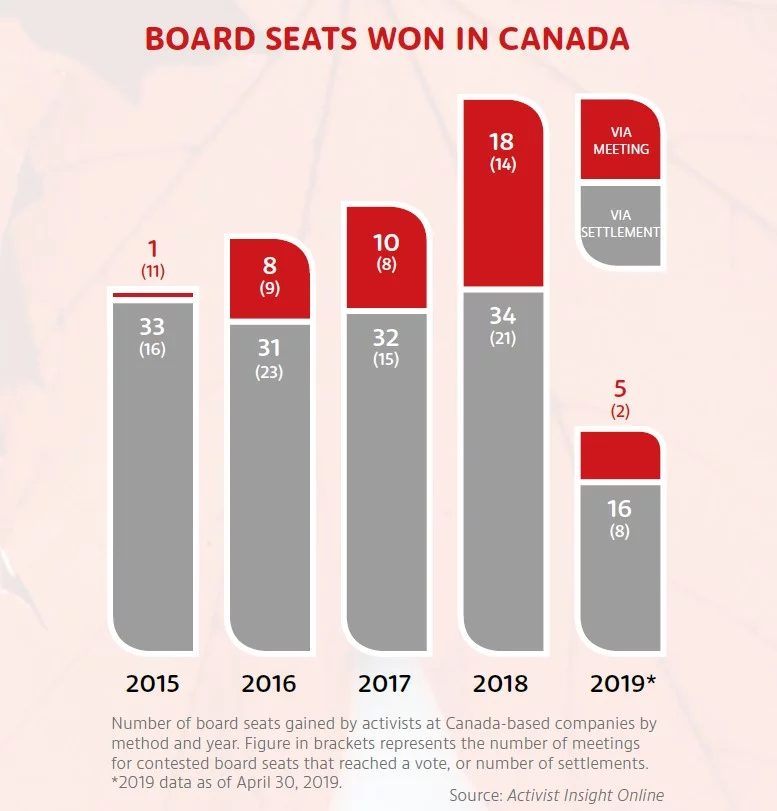 Among the data points contained in the report:
Activists publicly subjected a record 75 companies headquartered in Canada to demands in 2018. At the end of April 2019, activists had publicly subjected 28 companies to demands in 2019, slightly below the average for corresponding periods in the past four years.
Activists had won 21 board seats between the start of 2019 and the end of April.
M&A activism in Canada is more focused on opposing deals than in the U.S. Public demands to break up companies are relatively more infrequent.
There were a record 22 activist short attacks at Canada-headquartered companies in 2018, helping to spark a review of the issue by regulators. The most commonly-targeted sector since 2013 is healthcare.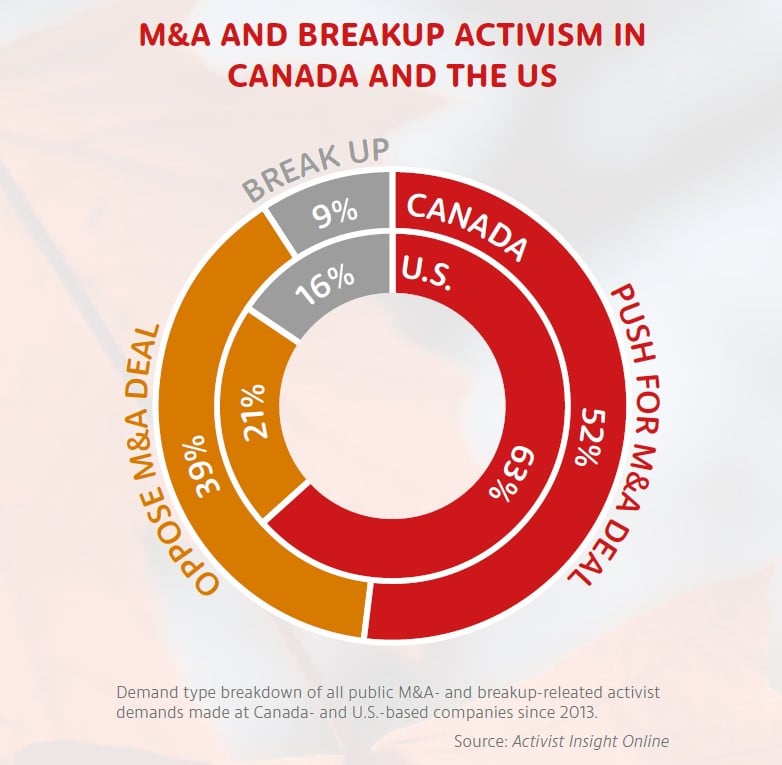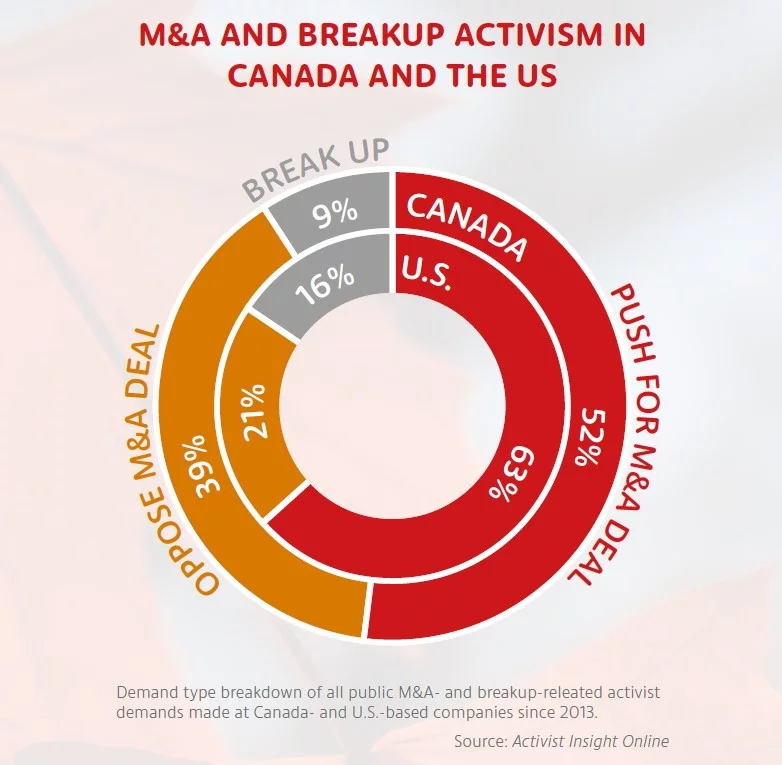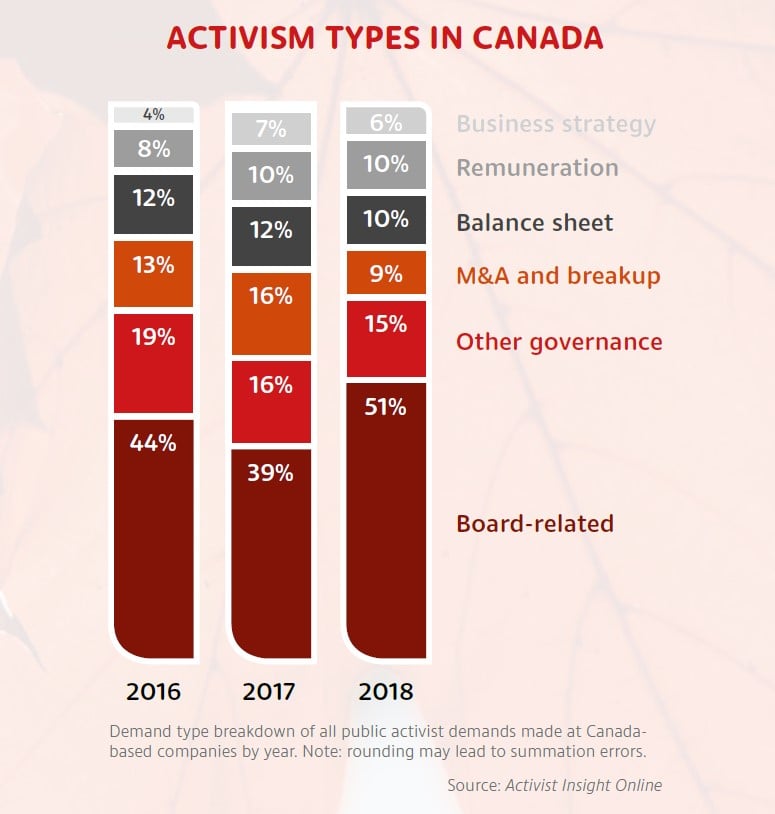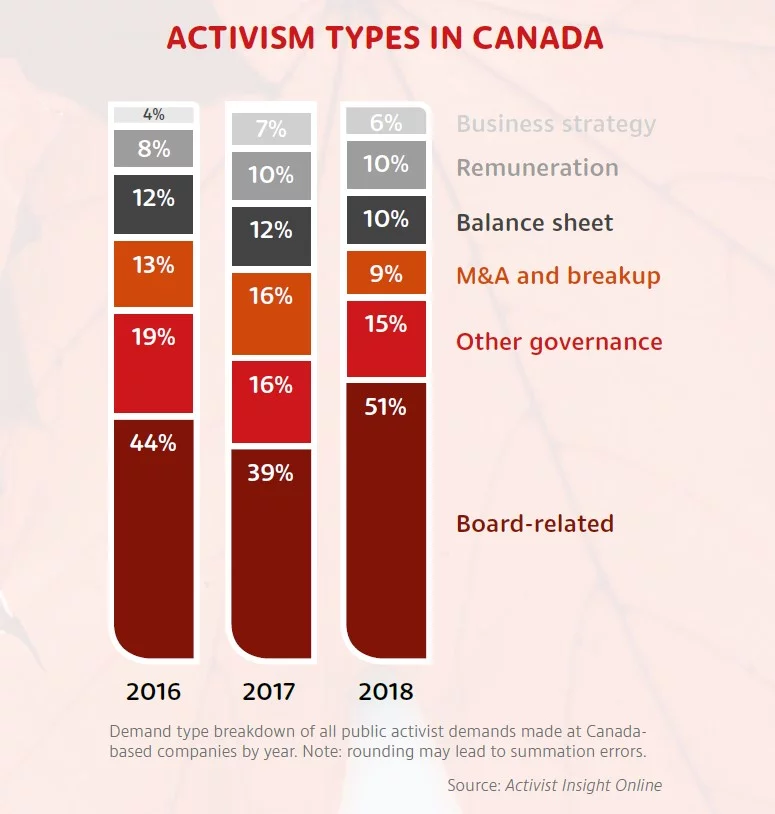 Experts quoted in the report also point to high levels of activity behind closed doors, with some corporate or board changes tied to activist activity that is never publicly acknowledged.
Kingsdale Advisors and Goodmans LLP, two of the leading players in the Canadian market, contributed interviews to the report on governance in the cannabis space, antipathy to U.S. activists, and last December's proxy contest at Detour Gold. Together with Activist Insight, the firms hosted a breakfast launch for the report on June 11 in Toronto.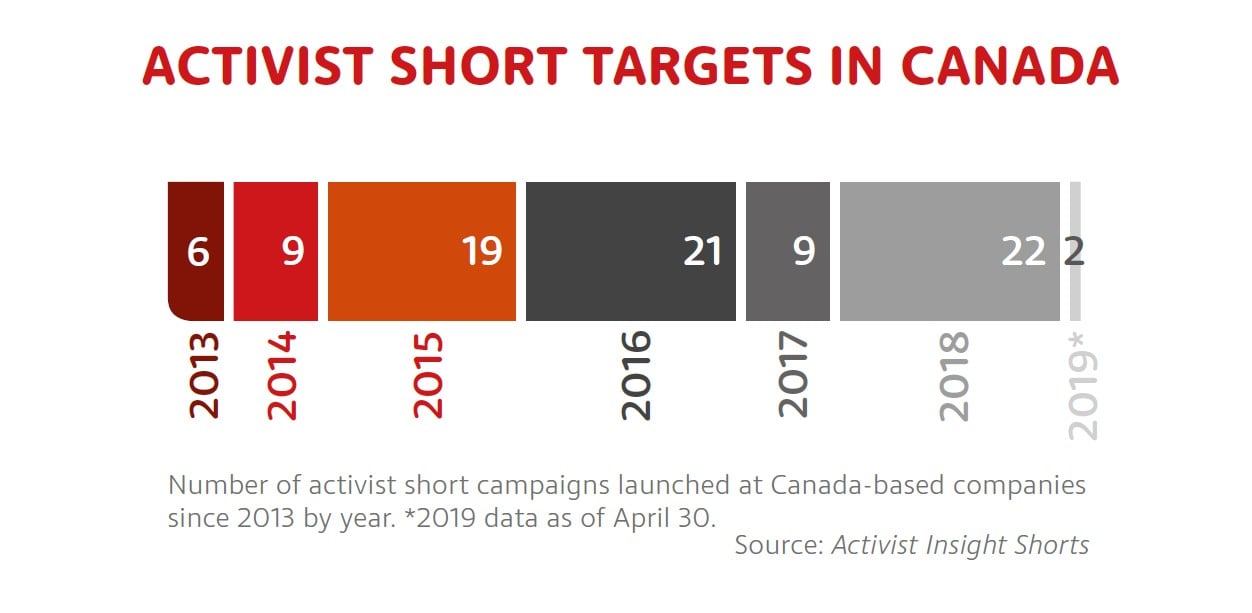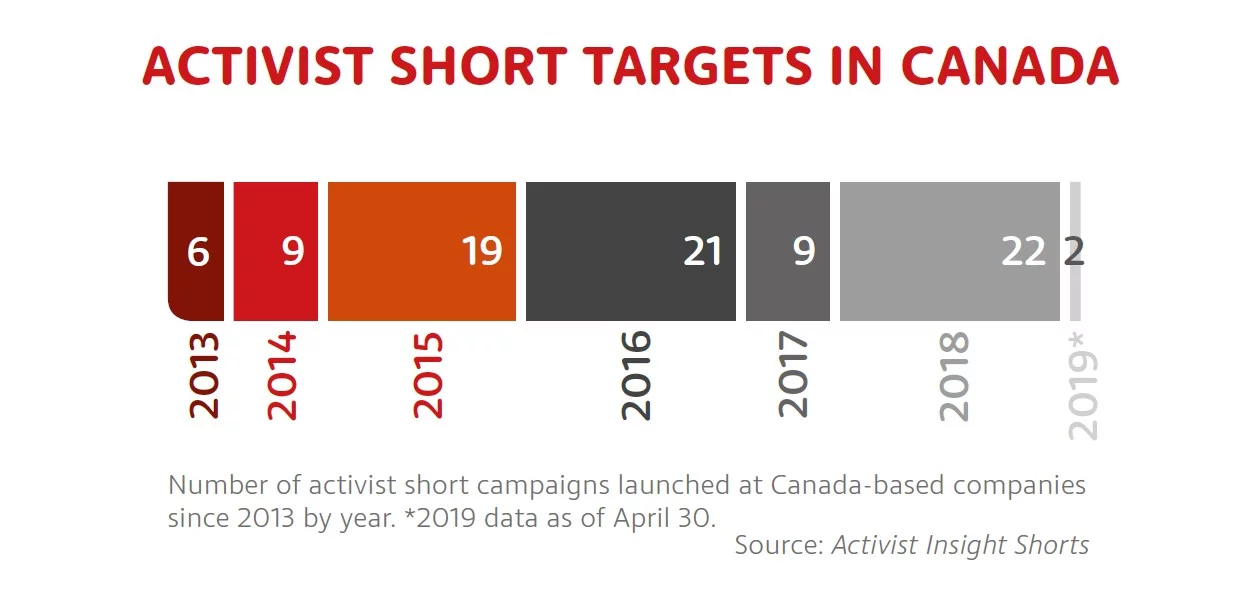 Quotes
Josh Black, Activist Insight's editor-in-chief, said: "A record year in 2018 and interesting recent developments make this a good time to take stock of activism in Canada. While the level of activist interest in the resources sector has been volatile, the first few attacks on cannabis companies and high valuations in the U.S. has made for an unpredictable start to 2019. As such, campaigns can come seemingly out of nowhere."
Wes Hall, executive chairman and founder of Kingsdale Advisors, says in the report: "Since we launched Kingsdale in 2003, we've seen a large increase in the number of public proxy contests in Canada. While we don't expect to reach a new peak this year, we have experienced a sustained high level of proxy contest activity since 2015, thanks to increased activism in M&A, favorable credit markets, a record number of investors engaging in public activism for the first time, and repeat activists going after the same target company again."
Jonathan Feldman, partner at Goodmans, says in the report: "The combination of nonperforming companies and boards (particularly in the natural resources and real estate sectors) and the growing success of activists in both public and private campaigns is emboldening activists to take greater risks and seek more all-encompassing change."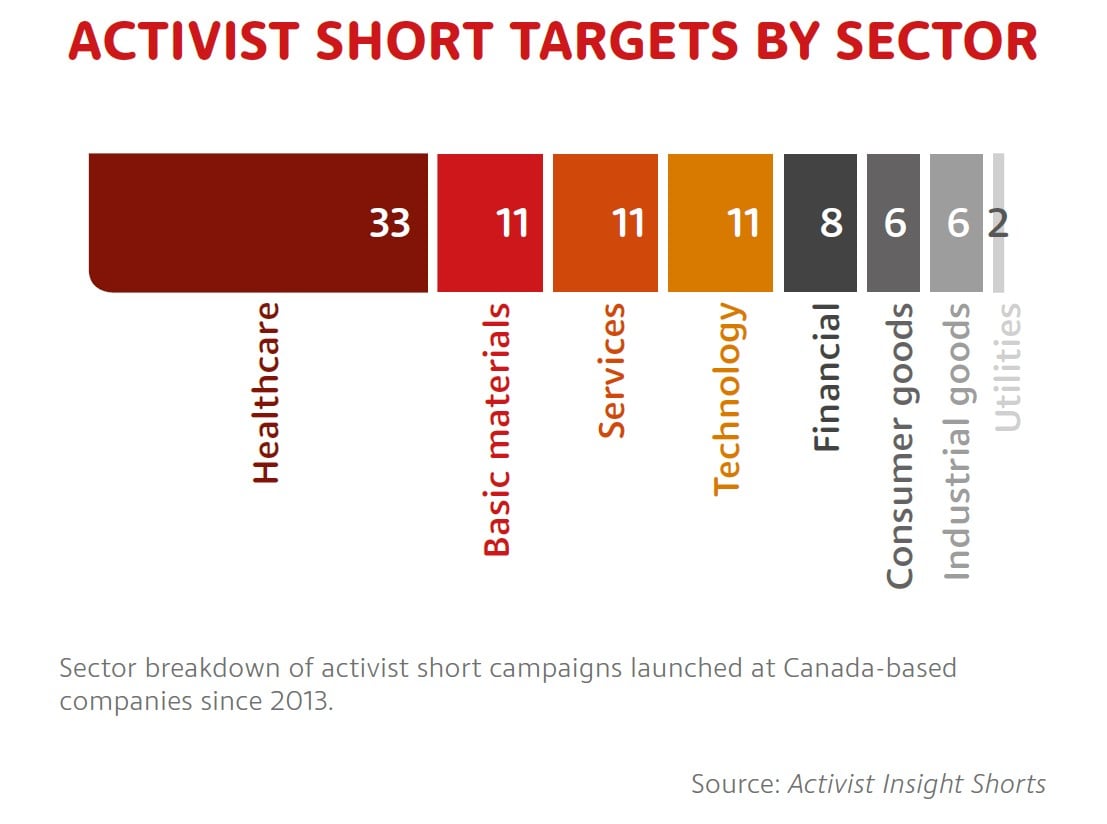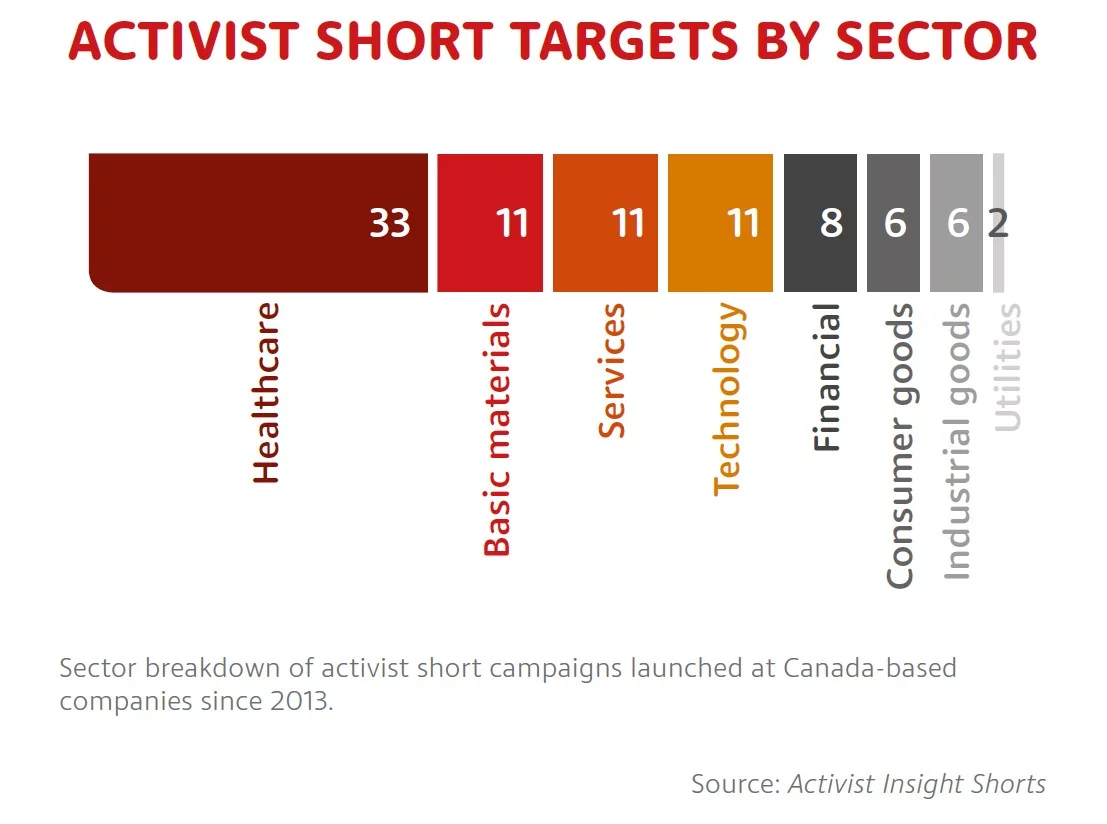 ---
About Activist Insight
Since 2012, Activist Insight has provided its diverse range of clients with the most comprehensive information on activist investing worldwide. Regularly quoted in the financial press, Activist Insight is the trusted source for data in this evolving space. Activist Insight offers five industry-leading products: Activist Insight Online, Activist Insight Governance, Activist Insight Vulnerability – a tool for identifying potential activist targets – Activist Insight Shorts, and Activist Insight Monthly – the world's only magazine dedicated to activist investing.
About Kingsdale Advisors
With offices in Toronto and New York, Kingsdale Advisors is the leading advisor to public companies on all shareholder, governance, and transaction related matters having acted on the largest and highest profile proxy fights, transactions, and other special situations. Since 2003, public companies across North America have looked to the expertise of Kingsdale Advisors to secure the success of transactions or resolutions driven by shareholder votes. Kingsdale Advisors' multidisciplinary team offers an array of specialized services focused on strategic and defensive advisory, governance advisory, compensation advisory, strategic communications, voting analytics, and creative services.
About Goodmans LLP
Goodmans is recognized as one of Canada's pre-eminent business law firms, offering market leading expertise in M&A, corporate and transaction finance, private equity, shareholder activism, REITs and income securities, real estate, tax, restructuring, litigation and other business-related specialties. The firm represents a broad range of Canadian and foreign clients, from entrepreneurial businesses to multinational corporations, financial institutions, private equity firms, pension funds and governments and has a reputation for handling challenging problems, often international in scope, that demand creative solutions.