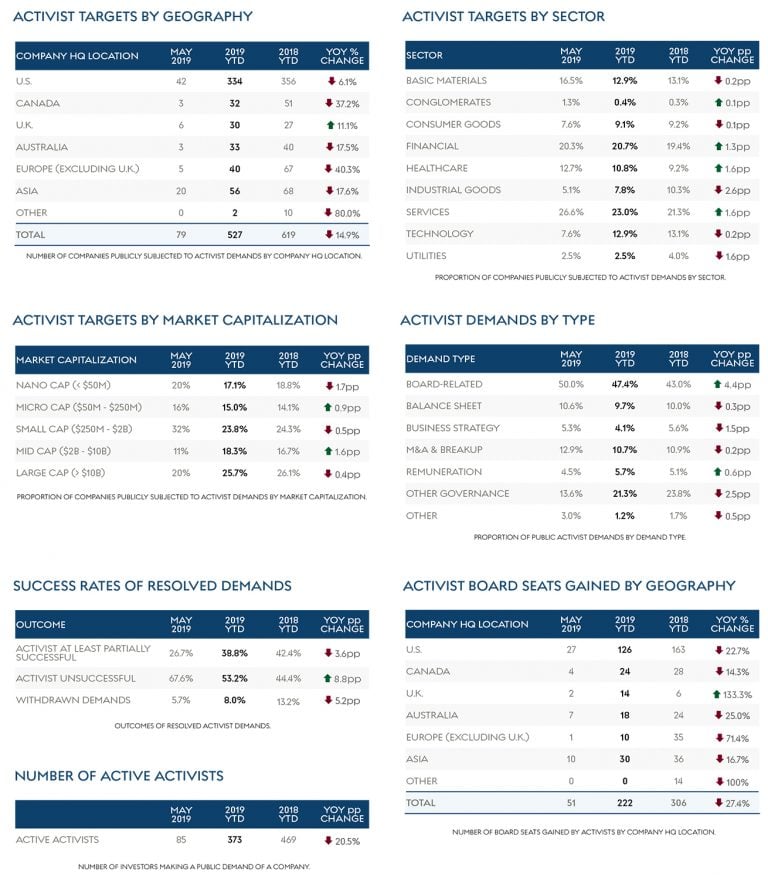 More than 500 companies have been publicly subjected to activist demands worldwide so far in 2019, according to Activist Insight Online, although that is down from 619 in 2018's record-breaking start to the year.
Q1 hedge fund letters, conference, scoops etc
These Are John Buckingham's Stock Picks For 2021
The economy remains in distress, although there are signs of recovery underway. John Buckingham of Kovitz, editor of The Prudent Speculator newsletter, has found that value stocks typically outperform coming out of economic downturns. Thus, he argues that this is an excellent time to be a value investor. Q4 2020 hedge fund letters, conferences and Read More
A few more data points worth noting from our May month-end stats:
The number of companies publicly subjected to activist demands worldwide continued to fall below last year's pace, with the difference year-to-date at 14.9%, compared to 13.7% a month ago. However, the U.S., Canada, and Asia are all down proportionately less year-to-date than they were a month ago.
So far this year, financial sector companies have accounted for 20.7% of all companies publicly subjected to activist demands, up from 19.4% in the same period last year.
Although activists gained 27 board seats at U.S. companies in May, the total year-to-date is still down 22.7% on the first five months of 2018.
Board-related activism has accounted for a larger relative share of the public demands made so far in 2019, with business strategy, and governance demands declining the most proportionately.
---
About Activist Insight 
Since 2012, Activist Insight has provided its diverse range of clients with the most comprehensive information on activist investing worldwide. Regularly quoted in the financial press, Activist Insight is the trusted source for data in this evolving space. Activist Insight offers five industry-leading products: Activist Insight Online, Activist Insight Governance, Activist Insight Vulnerability – a tool for identifying potential activist targets – Activist Insight Shorts, and Activist Insight Monthly – the world's only magazine dedicated to activist investing.