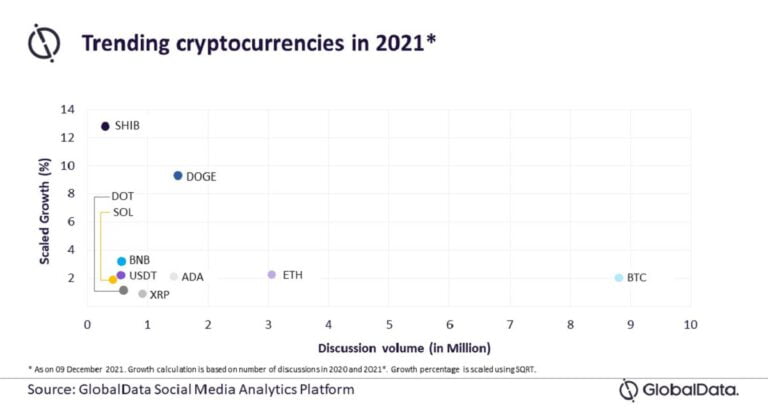 Cryptocurrency has become investors' favorite digital asset and as a result the prices of several cryptos have rallied to make new highs this year. Against this backdrop, 'Bitcoin' has emerged as the most mentioned cryptocurrency in terms of social media conversations among Twitter Influencers and Redditors in 2021*, according to the Social Media Analytics Platform of GlobalData, a leading data and analytics company.
Q3 2021 hedge fund letters, conferences and more
Gates Capital Management Reduces Risk After Rare Down Year [Exclusive]
Gates Capital Management's ECF Value Funds have a fantastic track record. The funds (full-name Excess Cash Flow Value Funds), which invest in an event-driven equity and credit strategy, have produced a 12.6% annualised return over the past 26 years. The funds added 7.7% overall in the second half of 2022, outperforming the 3.4% return for Read More
Smitarani Tripathy, Social Media Analyst at GlobalData, comments: "Social media conversations around crypto as a topic surged year-on-year by more than 400% in 2021*. Mentions by technical experts, blockchain experts, CEOs, and fintech experts were found to be more impactful to drive discussions around crypto.  Elon Musk, the CEO of Tesla Inc, proved to be one of the most influential contributors for the crypto market, and played as a catalyst for top cryptos such as Bitcoin and Dogecoin."
Most Mentioned Cryptocurrencies On Social Media
Bitcoin | 881,900+ Discussions
Bitcoin gained the highest conversations on social media, when it traded above US$66,000, after the Securities and Exchange Commission (SEC) approved the first US bitcoin futures exchange-traded funds for trading.
Social media discussions also surged when Elon Musk tweeted about not accepting Bitcoins to buy Tesla cars over concerns about the environmental costs of crypto mining.
Ethereum | 305,800+ Discussions
Social media conversations around Ethereum soared when it outperformed Bitcoin. Ethereum's association with ancillary growth sectors in the cryptocurrency world, such as decentralized finance (DeFi), non-fungible tokens (NFTs), and metaverse were some of the key drivers for its stellar performance.
A rise in influencers discussions around Ethereum on GlobalData's SMA was also noticed when Ethereum was hyped as the biggest metaverse token in crypto and being used most commonly for digital land.
Dogecoin | 150,700+ Discussions
Dogecoin emerged as the third most discussed crypto in 2021*, with more than 8,000% rise over 2020. Conversations around Dogecoin jumped when the crypto price skyrocketed after Elon Musk tweeted to launch a satellite named as DOGE-1 in 2022 and mentioned it as future of currency. The recent spike discussion around Dogecoin was majorly driven by Elon Musk's tweet to accept Dogecoin for merchandise.
Another spike around Dogecoin was recorded when it ranked among the top 10 cryptos by market capitalization, as the meme crypto took the cues from suspension of trading of GameStop at Robinhood.
Polkadot, Binance Coin, Tether, Solana and Shiba INU were the other top mentioned cryptos among social media discussions in 2021*. Among these, social media conversations around Shiba INU, a so-called rival meme token of Dogecoin, surged more than 16,000% in 2021*, the highest growth when compared to other top 10 cryptocurrencies in 2021*. The highest spike in social media conversations around Shiba INU was driven by market speculation on listing of it in Robinhood as investors clamored through a petition which also led prices to touch the life-time high.
* As on 09 December 2021
---
About GlobalData Social Media Analytics Platform
GlobalData's Social Media Analytics Platform allows businesses to understand brand sentiments, product led conversations, buzzing trends among Twitter Influencers and Redditors tracked by GlobalData, using a combination of AI and human based analysis that curate content and displays only what matters to you. It helps monitor competitor strategies, predict emerging trends, monetize disruptive innovation, decode smart money, mine thought leadership, and capture digital consumers.
About GlobalData
4,000 of the world's largest companies, including over 70% of FTSE 100 and 60% of Fortune 100 companies, make timelier and better business decisions thanks to GlobalData's unique data, expert analysis and innovative solutions, all in one platform. GlobalData's mission is to help our clients decode the future to be more successful and innovative across a range of industries, including the healthcare, consumer, retail, financial, technology and professional services sectors.