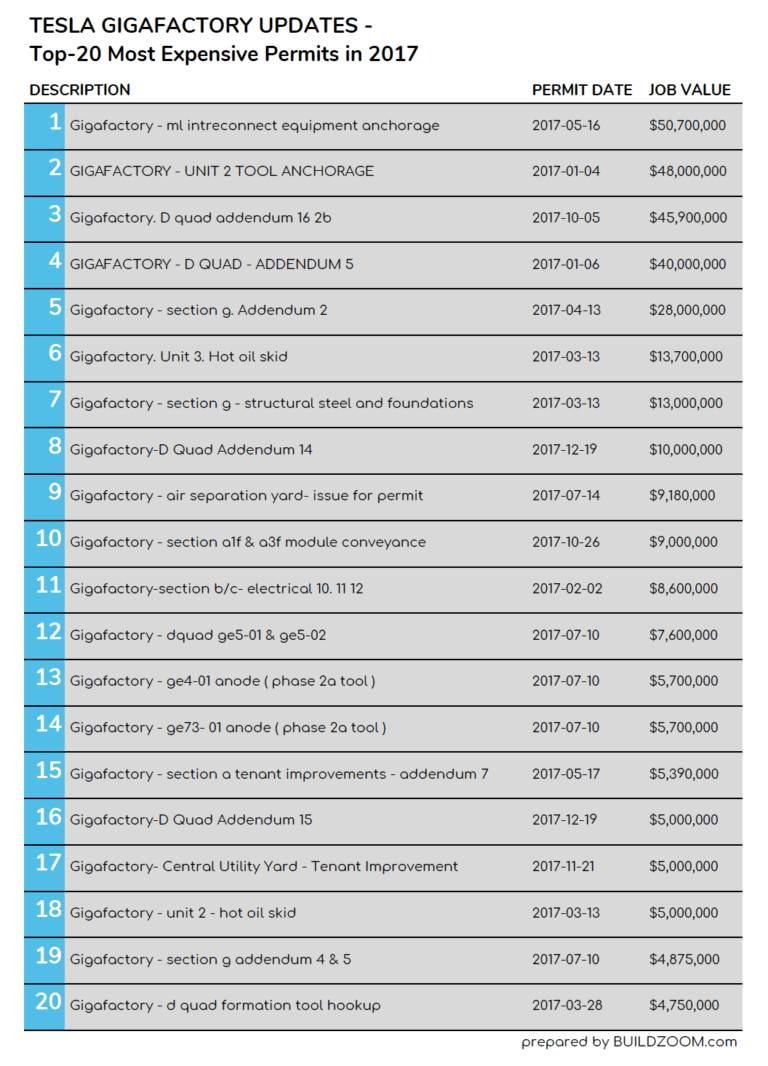 This is an update to our previous posts on the Tesla Gigafactory. You can read our Feb 2017 Update and our June 2016 Update by clicking on the links.
It's been an entire year since we last covered construction updates from the Tesla Gigafactory under development in the Tahoe-Reno Industrial Center (TRIC) near the aptly-named city of Sparks, Nevada. In recent days, TRIC was in the news for having completed the sale of a 67,125-acre parcel to Blockchains, LLC, a technology company that incubates and develops blockchain-related ventures. As we await further information on Tesla's new neighbor, we analyzed 2017 permits to assess the progress of the Gigafactory itself.
Despite having completed much of the structural work prior to 2017, the project clipped along, nearly doubling the number of issued construction permits from 144 at the start of the year to 255 by the end of 2017. These 112 new construction permits represent costs of $379.9 billion of the $1.3 billion filed to date.
ValueWalk's October 2022 Hedge Fund Update: Haidar Capital Surges 225%
Welcome to our latest issue of ValueWalk's hedge fund update. Below subscribers can find an excerpt in text and the full issue in PDF format. Please send us your feedback! Featuring investors exit long-short hedge funds, the oil market is now "broken", and Haidar Capital surges 225%. Q2 2022 hedge fund letters, conferences and more
According to the permits, most of the new development appears to be taking place within the existing factory footprint or as an addendum to previous permits. While some of the new installations represent typical manufacturing apparatus (e.g., multiple conveyor systems), much of the new equipment is emblematic of a higher-tech, Tesla-worthy operation. A few of the more interesting additions include the following:
A metrology lab (November 8, 2017)
A brazing oven to automate metal joining (November 8, 2017)
$179,850 for a hazmat building addendum (November 1, 2017)
$13.7M for hot oil skid systems to store and transfer heat fluids (March 13, 2017)
$10.8M for air separation yards to separate atmospheric air into elemental components
$2.6M for chiller yards to remove heat from liquids
You can view all of these building permits on our property page for the Tesla Gigafactory here.
Another trend evident in 2017 was a high occurrence of project addendums. In the new wave of 2017 updates, 50 of the 112 issued permits were addendums to previous permits, accounting for changes valued at $165.6 million. As mentioned in our early 2017 piece, an addendum is a supplemental permit that makes changes to a previous permit filed for the project. The value of these permits are the additional construction costs incurred to make these changes.
You can view the top-20 most expensive construction permits for 2017 below:
Article by BuildZoom