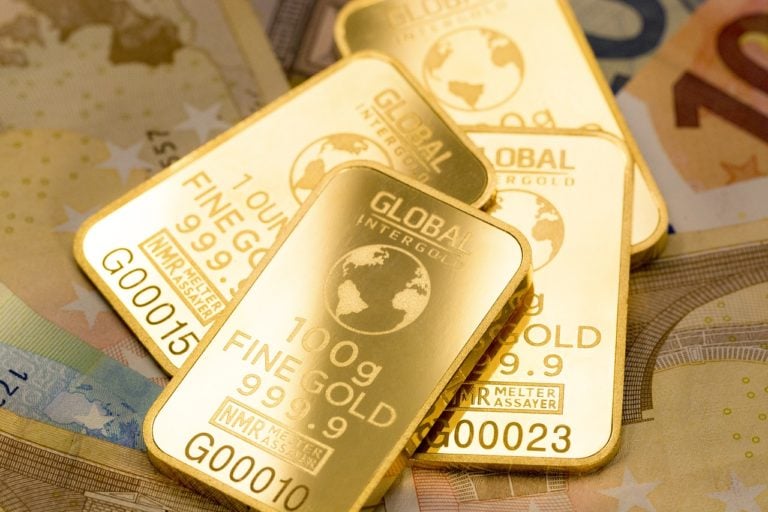 For the week, silver finished lower by 1.9% or $0.31 to close at $16.27 as of the final trade on the New York COMEX on Friday afternoon. The negative price action in silver at this juncture can only be taken as a warning sign for the entire precious metals complex moving forward: silver is acting weaker than it should at the start of an expected long-term precious metals advance. There is still a scenario by which this market could resolve higher later this year and into 2019, but it will have to prove itself in a defined manner by Q3 – Q4.
There are several important points to note about the pattern that is now shaping up in silver, the chart of which is referenced below: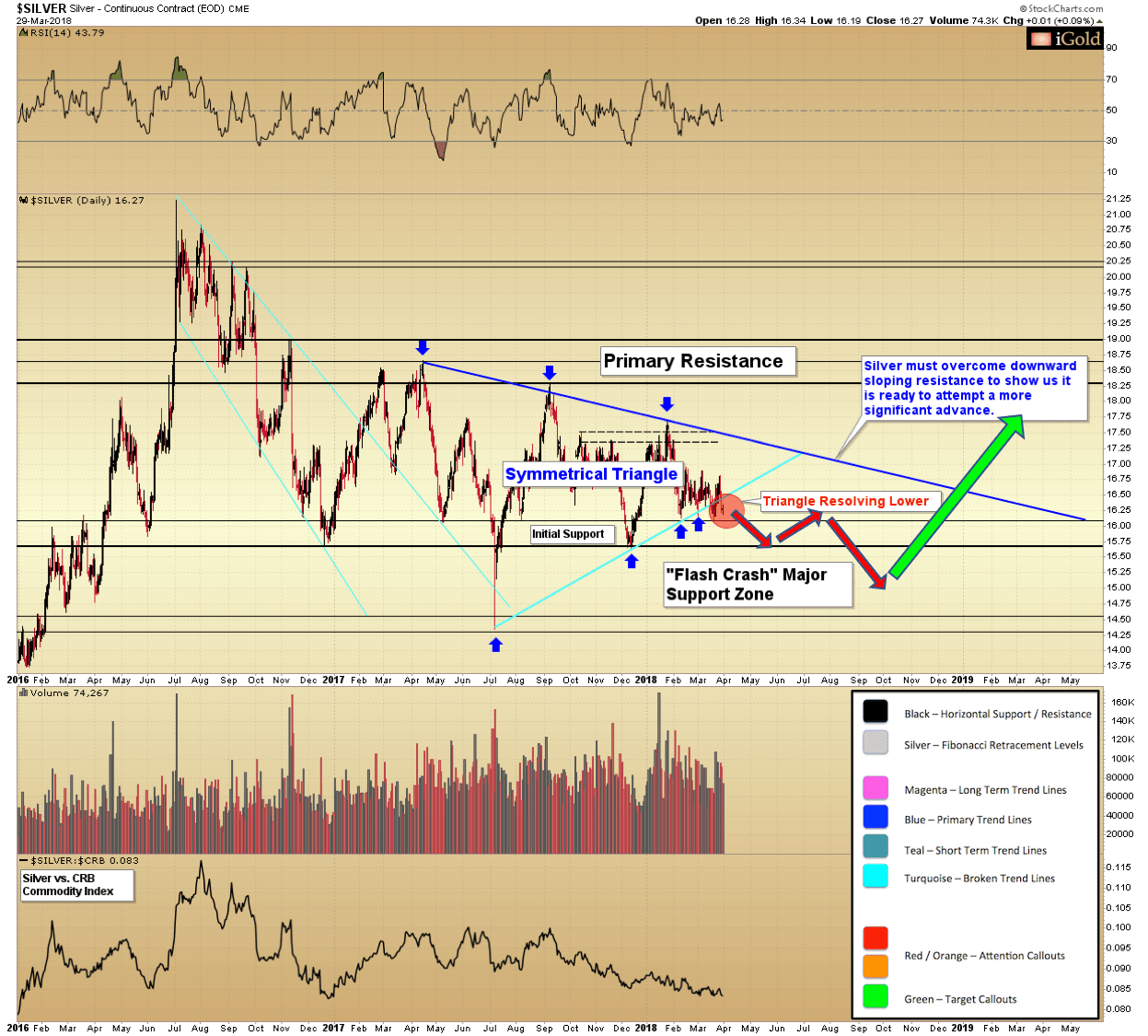 Gates Capital Management Reduces Risk After Rare Down Year [Exclusive]
Gates Capital Management's ECF Value Funds have a fantastic track record. The funds (full-name Excess Cash Flow Value Funds), which invest in an event-driven equity and credit strategy, have produced a 12.6% annualised return over the past 26 years. The funds added 7.7% overall in the second half of 2022, outperforming the 3.4% return for Read More
Silver's symmetrical triangle (blue) is breaking lower. Taken on its own, this triangle has an amplitude of $4.40 ($18.60 – $14.20, representing the widest part of the formation, from April to July 2017, blue arrows).

Subtracting the amplitude from the $17.20 apex of the triangle reveals a target of $12.80 within 12 – 18 months.

This target, taken alone, would mean that silver is set to form a new low below its 2015 bottom.

A single derived target should never be used in isolation to make price projections.

The more confirming technical levels, the better.

Silver has initial support

between $15.70 – $16.10 (black, above), and more significant support above $14.20, representing the "flash crash" low from July 2017.

Given the negative projection of the symmetrical triangle pattern yet crucial horizontal support existing a few dollars above the target, we would expect silver to find a bottom somewhere in the vicinity of its flash crash low. This should be expected later this year or into early 2019, as indicated by the red arrows, above.

The critical question for silver is: how does it respond when gold breaks above its 2016 high of $1,378 later this year?

We continue to expect this breakout is due for gold in Q3 – Q4 2018, as gold remains in a primary bullish ascending triangle pattern, as discussed in recent weeks:

Should silver show positive "catch-up" price action

relative to

gold

, and break above its 2016 high at $21.25 within 1-3 months following gold, this would set the stage for an early-cycle scenario: silver lags gold and then catches up in a more violent fashion. This is typical of the early phase of a long-term precious metals advance.

Conversely,

should silver fail

to advance meaningfully above its 2016 highs as gold does, this will be a significant warning signal that a period of several further years of grinding declines may be in store for the entire precious metals complex after the gold advance finishes.

The key technical level to alert us that silver is set to play catch-up to gold will be the upper declining (blue) boundary of its symmetrical triangle, now at $17.45. This declining pattern now extends into the future (far right of chart) and takes on significance as silver's primary declining resistance.

For silver to prove it is ready to follow gold, it must thus break about this trend at $17.45

on a weekly closing basis, a figure which is declining each week.

Silver's decline over the next 3 – 6 months should be grinding in nature, without major sustained movements in either direction lasting for more than 1-3 weeks at a time. This may seem rather uneventful and frustrating to watch. Silver will likely try to "lull" investors into a state of complacency immediately before it makes a more significant attempt to follow gold.
Short-term traders should beware that silver may not present multi-dollar trading opportunities until it decisively breaks its primary (blue) declining trend at $17.45. We expect leveraged trading instruments to increasingly succumb to decay effect over the next several months.
WMP Signal Remains Firm
We continue to monitor the ratio between Wheaton Precious Metals (WPM, formerly Silver Wheaton), the largest silver streaming company in the world, and the price of silver itself. The purpose for observing this relationship is that WPM investors as a sum tend to discount unsustainable advances or declines in the underlying metal.
Updated below, we continue to note WPM forming higher lows throughout February and March, even while silver is forming matching lows as it breaks lower from its symmetrical triangle.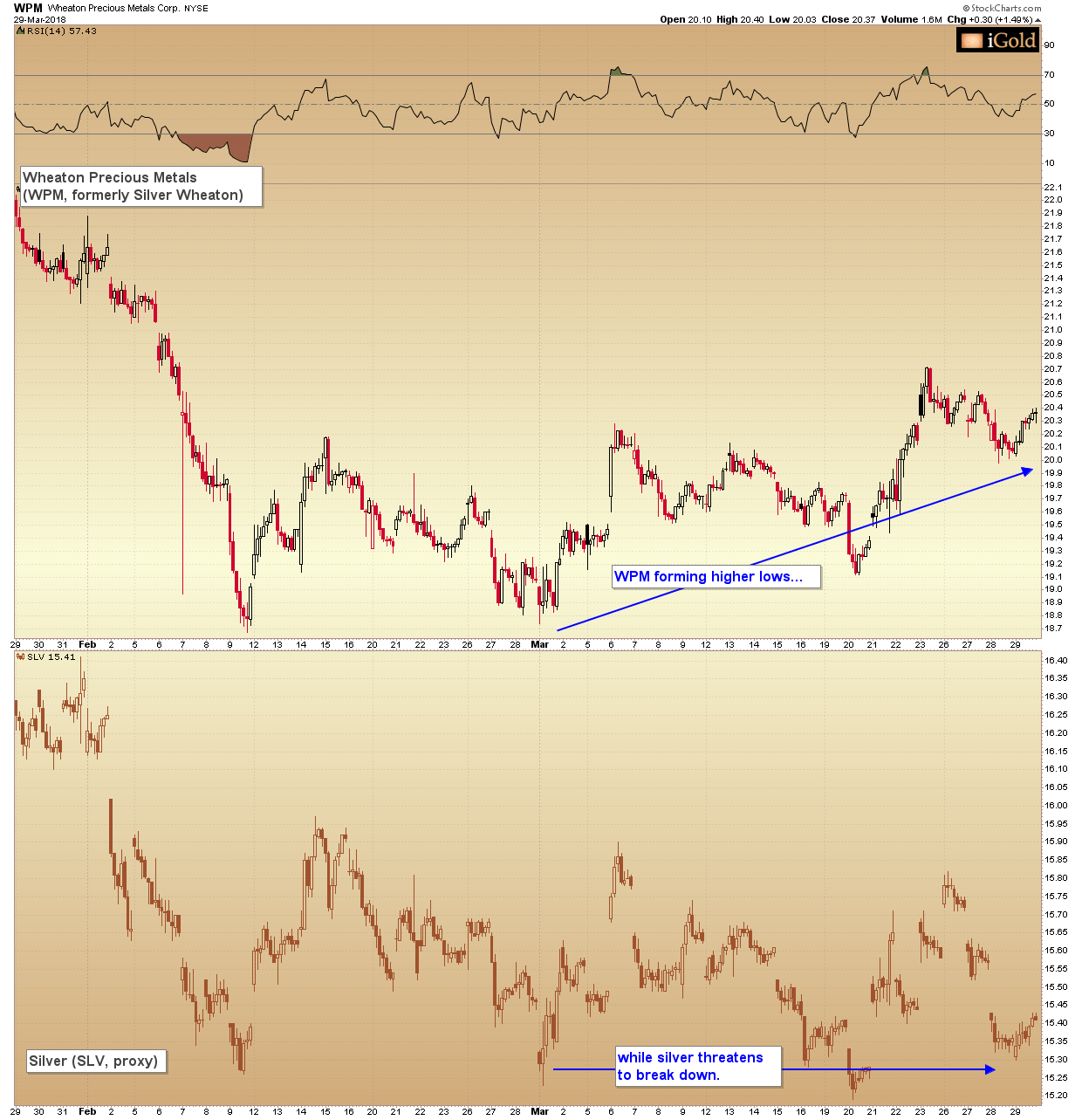 In extreme cases, we have observed times in which WPM can maintain a positive divergence from silver for up to 6 months. This may be what is setting up in the relative price action presently.
Our best assessment is that WPM will continue to meaningfully hold above its February / March lows at 18.7, even while silver itself continues to grind lower into its flash crash support zone over the next 1-2 quarters.
This leading indicator would thus set the stage for silver to begin catching up to gold later this year.
Executive Summary on Silver
Taken in isolation, silver is showing negative price action which reveals lower targets. The metal has broken its symmetrical triangle lower, and would have to maintain several weekly closes above $16.60 to negate this breakdown.
The opportunity for silver to advance with gold is still ahead of us, but it must show itself in no uncertain manner as gold breaks 2016 highs later this year. WPM is not breaking down with silver, indicating a reasonable forward-looking expectation for silver to reverse higher later this year.
---
Christopher Aaron
Bullion Exchanges Market Analyst
Christopher Aaron has been trading in the commodity and financial markets since the early 2000's. He began his career as an intelligence analyst for the Central Intelligence Agency, where he specialized in the creation and interpretation of pattern-of-life mapping in Afghanistan and Iraq. His strategy of blending behavioral and technical analysis has helped him and his clients to identify both long-term market cycles and short-term opportunities for profit.
This article is provided as a third party analysis and does not necessarily matches views of Bullion Exchanges and should not be considered as financial advice in any way.