Dan Loeb's letter to Third Point investors for the first quarter ended March 31, 2023, discussing his new positions in UBS Group AG (NYSE:UBS) and Alphabet Inc (NASDAQ:GOOGL).
Dear Investor:
During the First Quarter, Third Point returned -4.1% in the flagship Offshore Fund and -4.6% in the Ultra Fund. Assets under management on March 31, 2023, were approximately$12.1 billion.
Gates Cap Management Reduces Risk After Rare Down Year
Gates Capital Management's ECF Value Funds have a fantastic track record. The funds (full-name Excess Cash Flow Value Funds), which invest in an event-driven equity and credit strategy Read More
Read the full letter here.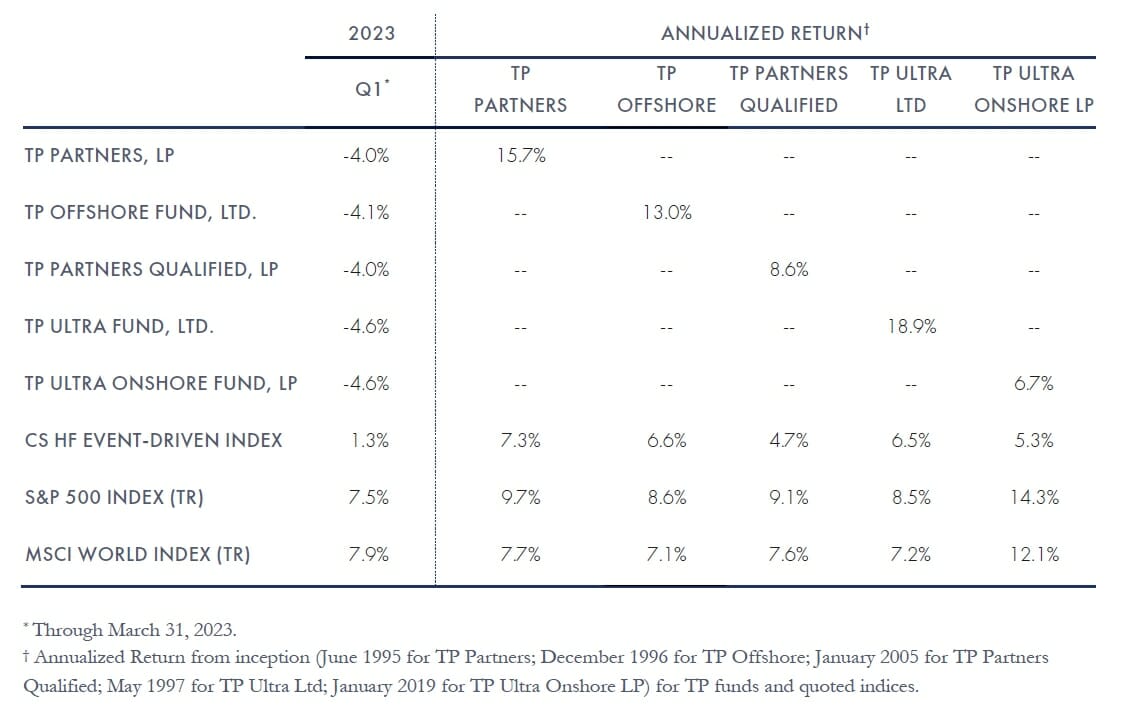 The top five winners for the quarter were Salesforce Inc (NYSE:CRM), Advanced Micro Devices, Inc. (NASDAQ:AMD), LVMH (OTCMKTS:LVMUY), Walt Disney Co (NYSE:DIS), and Microsoft Corp (NASDAQ:MSFT).
The top five losers for the quarter were Fidelity National Information Servcs Inc (NYSE:FIS), American International Group Inc (NYSE:AIG), Bath & Body Works Inc (NYSE:BBWI), Glencore PLC (LON:GLEN), and Alphabet Inc (NASDAQ:GOOGL).
New Position: UBS
We initiated a position in the Op Co and Hold Co paper of Credit Suisse just prior to its takeover announcement by UBS.
As one of the few funds remaining with the mandate to pick the "fulcrum security" across the capital structure, we determined that once the emergency rescue acquisition was announced, the equity of UBS presented the more compelling way to invest in this situation and rotated capital from CS bonds into UBS stock. We see the rescue of CS as a transformative deal for UBS at a highly compelling price and with downside-protected terms.
We believe that early guidance will prove to be conservative, and we see significant upside as UBS integrates CS, realizing the significant cost synergies and completing the wind-down of non-strategic divisions.
Read the full letter here.
New Position: Alphabet (GOOGL)
Third Point initiated a position in GOOGL during the First Quarter. Fears around the potentially negative impact that AI and ChatGPT/MSFT may have on GOOGL's business created a unique entry point into one of the best consumer internet assets and businesses of our generation.
While ChatGPT has unquestionably captured the general public's attention (as well as several hundred million users), we believe the market underestimates GOOGL's own capabilities and opportunities in the emerging field of generative AI.
GOOGL has been a leader in the broad field of AI for years, with the company's scientists pioneering several of the software and hardware innovations that underpin current advances, most notably the Transformer architecture in 2017 that served as a key building block for GPT-3.
We believe these new products now put Google on the offensive in the dawning age of AI, allowing it to further grow consumer engagement with Search, make its Workspace products more competitive against Microsoft Office, and differentiate its Cloud offerings to accelerate share gains from AWS and Azure.
Read the full letter here.
Credit
Both areas of credit (corporate and structured) contributed positively to First Quarter performance. While corporate credit spreads have been relatively range-bound generally, we continue to see periods of higher volatility that are creating interesting entry points. We took advantage of the broader market volatility created by the banking sector turmoil in March to add to existing positions on weakness and initiate new positions.
In the banking sector itself, we initiated a new position in the credit of a super-regional bank and, as discussed above, successfully invested in the more senior operating and holding company bonds of Credit Suisse prior to its acquisition by UBS.
Importantly, we avoided the subordinated securities with uncertain rights that we feared might be sacrificed to enhance the dowry for CS's suitor. Our CS investment was the result of fruitful collaboration between our equity and credit teams.
Read the full letter here.
Structured Credit
Within structured credit, residential mortgages and consumer credit outperformed to start the year, while CMBS underperformed given the well-publicized cracks finally emerging in the CRE sector.
When we increased our exposure to the asset class in 2020, we believed that the COVID pandemic would result in a multi-year investment opportunity where consumer-sensitive asset classes would benefit and outperform in the first phase while corporate-driven asset classes would have delayed credit and liquidity issues.
Our thesis for commercial real estate was that commercial real estate loans are effectively a bilateral negotiation between the borrower and lender that could enable multiple payment holidays for tenants and maturity extensions for borrowers which would obfuscate underlying changes in fundamentals.
Message to Investors
First Quarter performance was disappointing, in keeping with the past several quarters of losses that are inconsistent with the results we have delivered for the past 28 years. I am grateful for the patience and confidence shown by our investors during this period. As the largest investor in our funds, I look at the strength of our team and our process and am confident that together they will generate the outcomes you expect from us.
Business Updates
We recently welcomed Jarrod Bruno to the Third Point team. Prior to joining Third Point, he spent four years at Ashler Capital (a division of Citadel) as an analyst investing in internet, video games, and payments. Before joining Ashler, he worked at Balyasny Asset Management as an analyst focused on TMT.
He began his career as an investment banking analyst in the TMT group at Goldman Sachs. Mr. Bruno graduated summa cum laude from the Pennsylvania State University's Schreyer Honors College with a B.S. in Finance.
Sincerely,
Daniel S. Loeb
CEO & CIO
See the full letter here.