For most investors, gold and silver tend to be safe-haven assets only. Many people believe that these commodities are a great way to hedge against traditional stocks and bonds. This is because they are stores of value despite not yielding cash flow. Others see them only as hedges against inflation. However, gold and silver remain a respected asset and have a history of proven returns, liquidity, and low correlations.
Q3 2020 hedge fund letters, conferences and more
These factors are what makes gold and silver strong diversifiers, according to Juan Carlos Artigas. He is the director of investment research at the World Gold Council. Artigas explains these factors as follows:
Returns: Gold outperforms stock and bonds, even though it doesn't always beat them
Liquidity: Gold can easily be converted into cash
Low correlations: Gold often acts positively on negative stock market news. When stocks and bonds crash, gold usually does the opposite.
Gold and silver are assets that cannot lose their values unless we somehow magically discover a huge raw supply equivalent to the abundance of something like aluminum. This is why both metals are often treated as forms of money rather than simply investments. Also, their history as circulating coins bolsters this association. Rather than wondering about the buying power of your dollar in the next couple of years or decades, you can consider investing in gold and silver in order to protect and perhaps cultivate your savings.
Saving with Gold and Silver: College Funds and IRAs
Why is developing savings in gold easy? Think of it this way: $100,000 of gold today is slightly less than two gold kilo bars. When you compare this to physical cash, this is significantly easier to store and transport than cashing out or wiring money from the bank.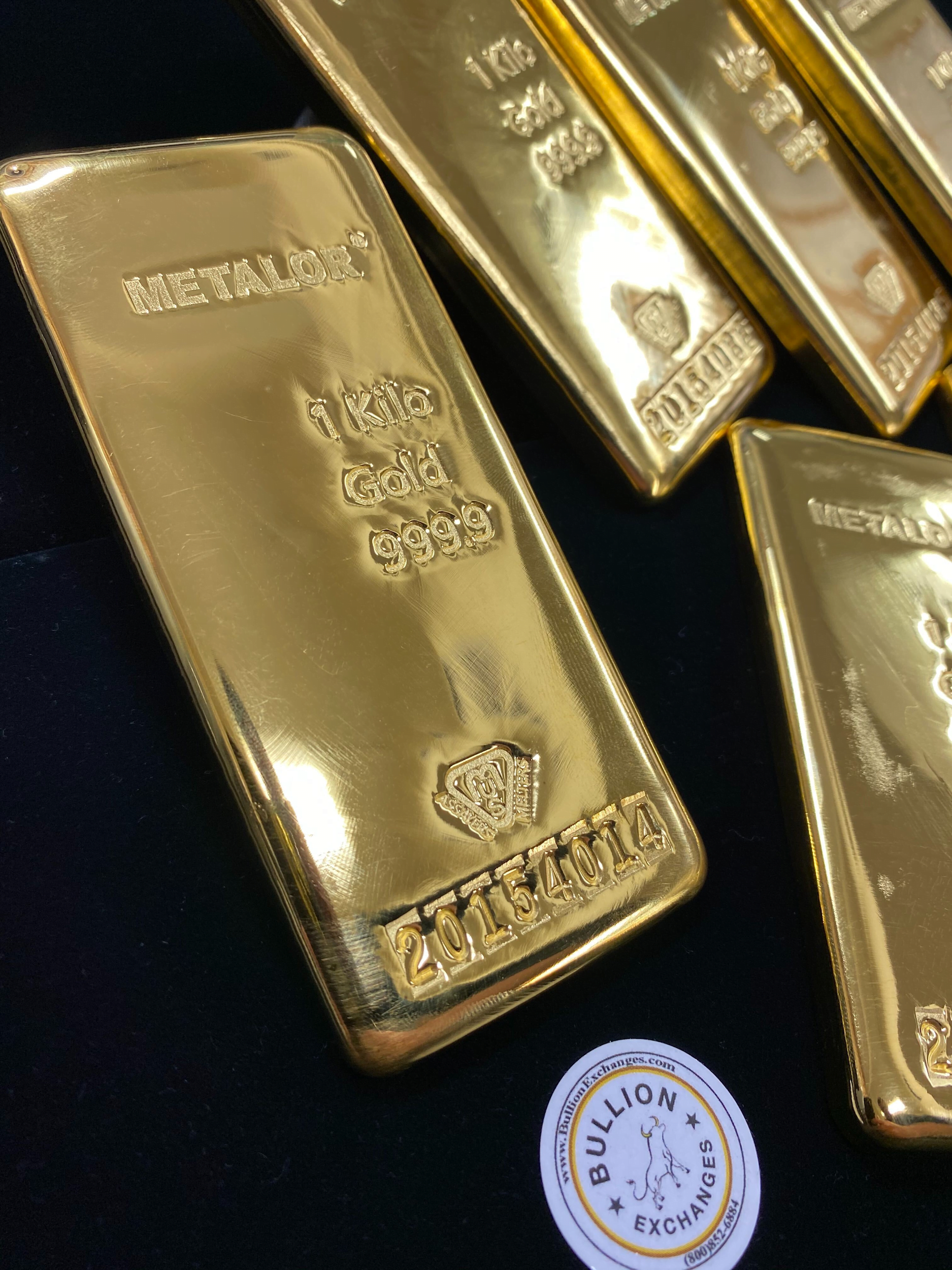 Buy Gold Bars from Bullion Exchanges
Although this is the case, keep in mind that owning larger deposits of gold might take more time to liquidate. Therefore, if you want to have $100,000 for a college fund, investing in 55 one-ounce gold coins today may roughly give you the equivalent if you do not factor in premiums or tax due when you sell. If you accumulate this over years, you may be able to create a worthwhile fund for college, a Precious Metals IRA, or anything you would like to save up for.
As the gold price increases over time, it is important to note that gold and silver do not physically change. Instead, currencies like the US Dollar depreciate in value. Consider the fact that the gold price in 2004 was just over $400. Today, the gold price per oz is well over $1,800. This difference in the increase of $1,400 per single ounce of gold would mean that if you bought 100 oz of gold in 2004, then you would have $183,300 today at the spot gold price. Back in 2004, this would have cost about $40,000 in one large purchase.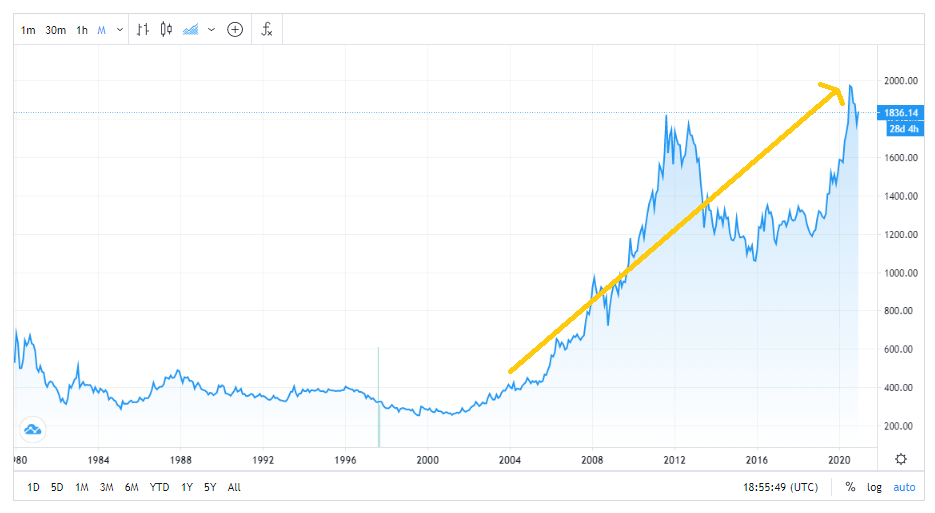 Source: AlphaBullion
Saving for College with Gold
Savings and accumulating wealth does not need to be reserved only for precious metals. It is all about balance. One writer at Forbes advocated in 2014 that buying gold helped him during the financial crisis, mitigate the "soaring cost of college tuition", and this disciplined savings plan helped his family through the turbulent financial environment. Although he also holds stocks, he made precious metals a part of his savings plan and used them as a hedge.
When it comes to saving for college, most people who decide to start saving early probably hear of a tax-advantaged 529 plan or permanent life insurance. Here's a quick look at these two based on info from Investopedia:
A state-run 529 plan (similar to a Roth 401(k) or Roth IRA) lets you save and invest on a state tax-deferred basis. Withdrawals are tax-free if you use them for educational expenses. However, it counts as an asset when you fill out FAFSA and apply for financial aid. There also is no federal deduction or credit for the money you invest.

This money will be taxed if you use it for anything other than education.

Permanent life insurance includes a death benefit and savings account. You can borrow against the savings portion to pay for college.

This kind of savings comes with a high cost and is generally more expensive than a 529 plan.
Some people may opt for the less headache-inducing method of saving and simply form a savings account on their own. However, the benefit of owning gold instead of using a fiat-currency to save is that you can worry much less about inflation. With the ongoing 2020/2021 health crisis, the foreseeable future of the economy is rather open-ended. Therefore, if you are someone who does not trust the dollar, gold could be the way for you.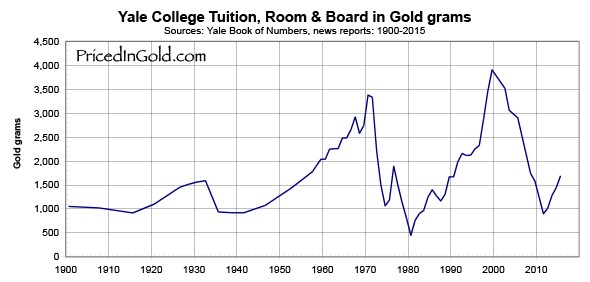 Just keep in mind that owning the physical bullion is a much better option than paper or ETFs because you actually own the gold instead of a representation of it.
Save for Retirement with Gold IRA
Alternatively, you might not have children and potentially do not want to start a family. But, that doesn't mean you cannot also benefit from buying gold and saving money. For example, many people opt for a Precious Metals IRA. This is often referred to as a Self-Directed Individual Retirement Account or SDIRA. The tax benefits of such an account are much different than a standard IRA because you can choose what you want to invest in. This includes alternatives like real estate and precious metals.
A Precious Metals IRA allows you to invest in physical gold, silver, platinum, and palladium. This may be referred to as a Self-Directed IRA since it is an alternative account. Owning a Precious Metals IRA gives you the ability to choose eligible bullion products to invest in, like Gold and Silver American Eagles and certain types of Gold and Silver Bars. You must go through an approved depository to hold such an account, but you can liquidate at any time.
Inflation: Buy Bitcoin or Gold?
Some people suggest that newer generations of workers, investors, and subsequently, parents, are less interested in gold or precious metals. With today's Bitcoin news, that is no surprise. Bitcoin is valued significantly higher than gold today, and perhaps that will be the investment of the future. Although Bitcoin is extremely high in demand today, it is still subject to high volatility, more so than precious metals. Because gold and silver carry their own intrinsic value, their worth can be volatile, but not as much as Bitcoin. Also, not everyone can afford one Bitcoin!
Bitcoin derives its worth from supply and demand. Since Bitcoin's supply is capped, it won't be subject to inflation. But, if everyone decided to leave Bitcoin tomorrow, its value will plummet. It is a digital asset that mostly derives its value from the basics of supply and demand. Gold and silver are also finite resources, but they carry their own store of wealth. Even if the price crashes, neither gold nor silver will ever drop to $0.
However, diversification is always the better option, so when it comes down to investing in wealth, hold more than just cash as part of your assets. Inflation concerns return to the public eye now and can be easily recognized in increasing grocery store prices, alongside positive news on a vaccine. Therefore, due to pent-up demand and a stunted market that may boom after the vaccine is fully distributed, now is more important than ever to reassess your savings before everything reopens.