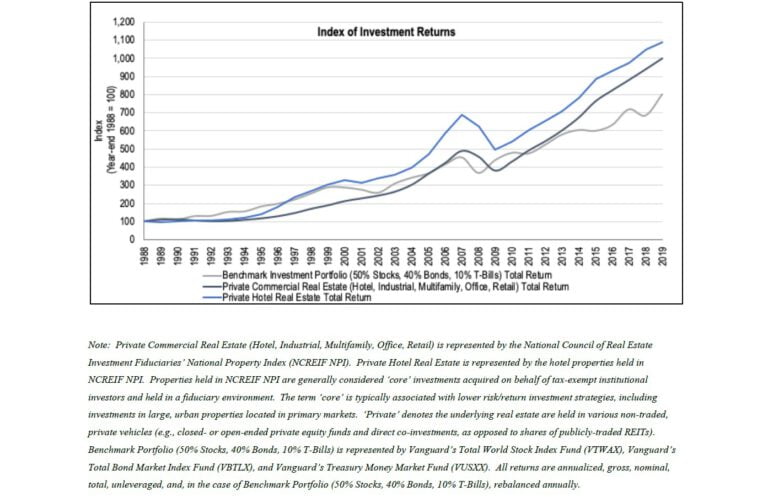 There are many reasons to like hotel real estate as an investment; however, with the COVID-19 pandemic raging and the resulting devastation inflicted on travel and hospitality, you may balk at the idea of running toward an asset class that everyone is apparently running away from. We are all reading the same headlines describing the unprecedented impact the pandemic is having on the airline and hotel industries. To be sure, hotel owners, operators, lenders, and especially hotel employees are suffering greatly through the pandemic with seemingly no end in sight. However, it is important to keep in mind that the pandemic is a transitory headwind – as vaccines continue to be distributed throughout 2021, I predict the stay-at-home trend will begin to subside, and the demand for travel and experience will return to and even exceed prior peak levels as it has in prior macroeconomic cycles. To illustrate the top six reasons why now is an excellent time to invest in hotel real estate, let's take a look at some historical trends.

[REIT]
Q4 2020 hedge fund letters, conferences and more
Fund Manager Profile: Zhang Hui Of China's Southern Asset Management
Historically, the Chinese market has been relatively isolated from international investors, but much is changing there now, making China virtually impossible for the diversified investor to ignore. Earlier this year, CNBC pointed to signs that Chinese regulators may start easing up on their scrutiny of companies after months of clamping down on tech firms. That Read More
1. Hotel Real Estate Returns Have Consistently Outpaced Those of Other Asset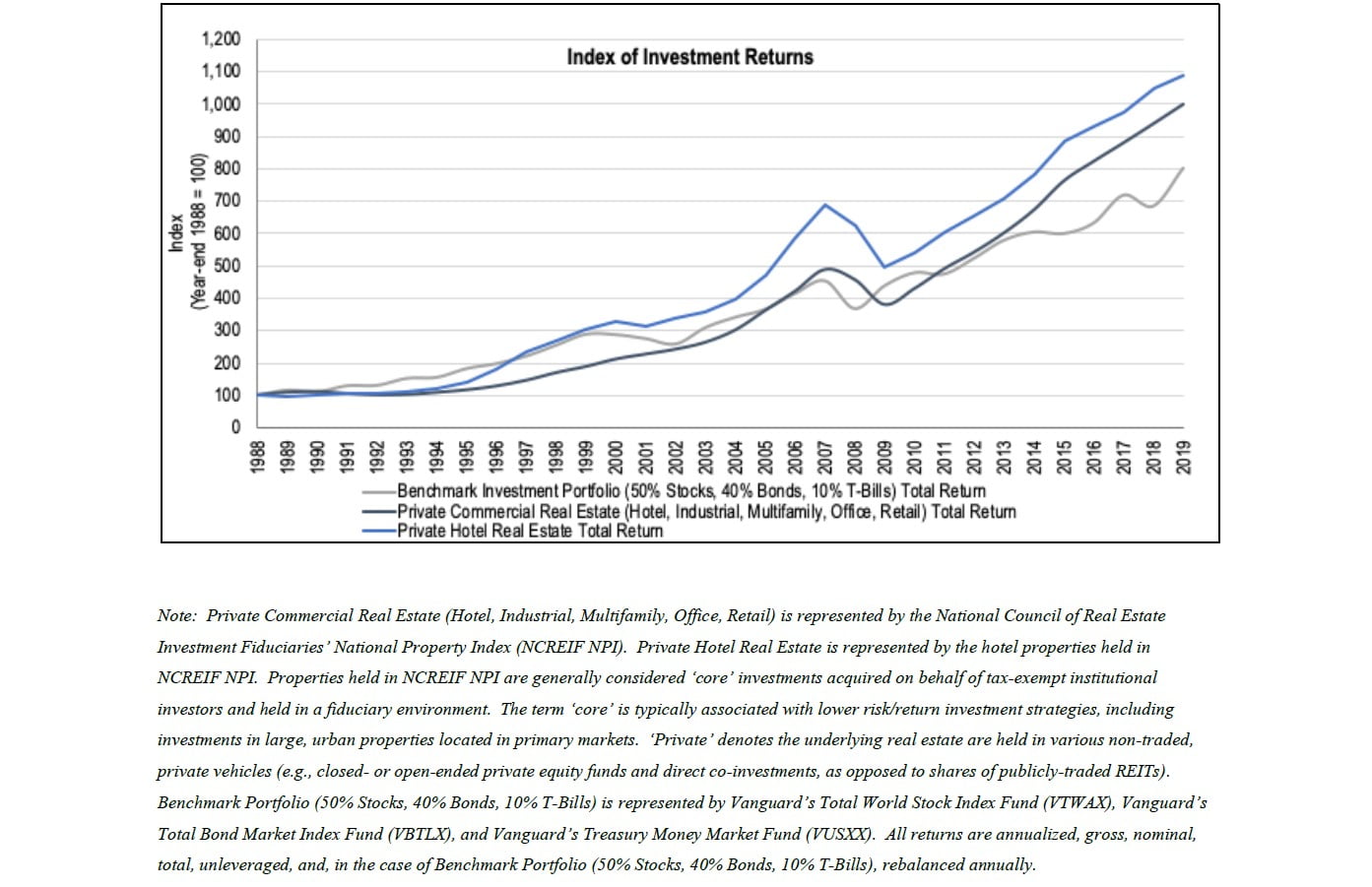 Owning and operating hotel real estate is a profitable business. In fact, hotel real estate returns have consistently outpaced the returns of the traditional commercial real estate product types (i.e., Industrial, Multifamily, Office, and Retail), as well as a benchmark investment portfolio (i.e., 50% stocks, 40% bonds, and 10% Treasury bills) in the 31 years through 2019.
2. Hotel Real Estate Revenues Have Consistently Exceeded Prior Peaks Through Multiple Cycles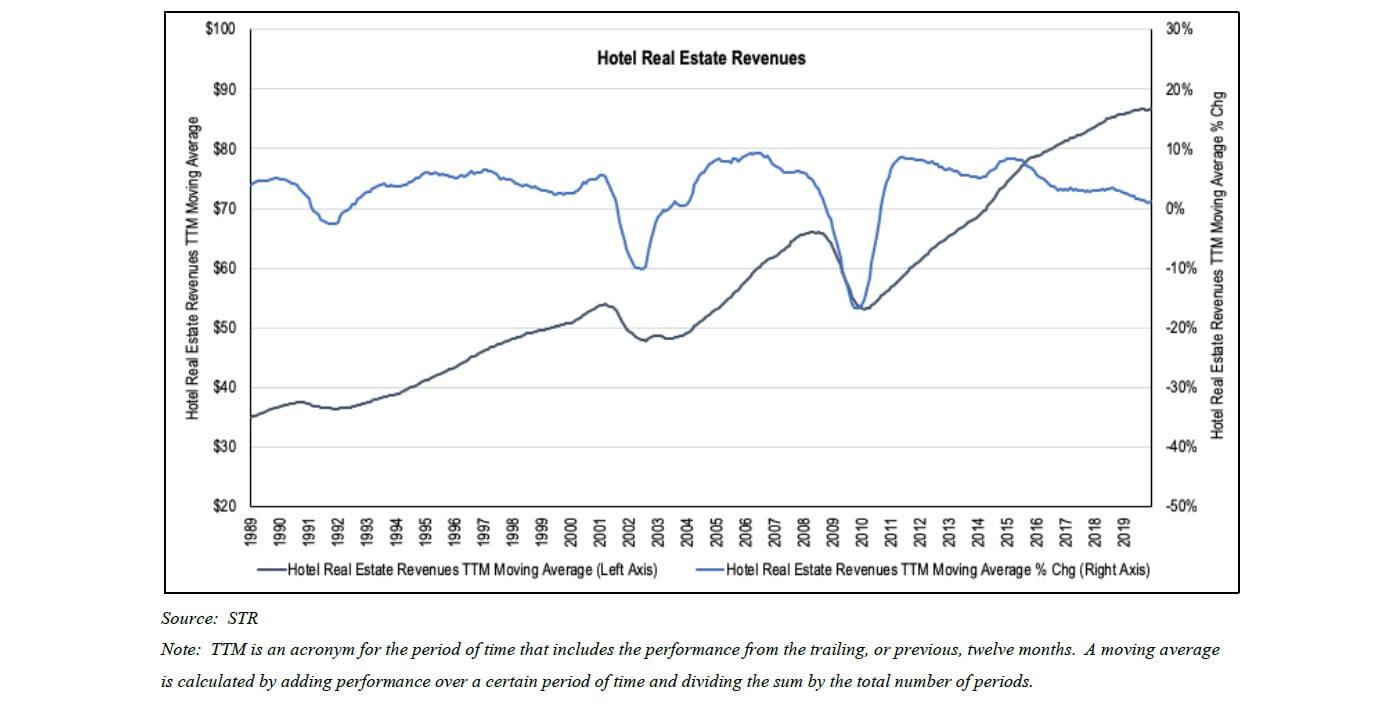 Owning and operating hotel real estate is a cyclical business, albeit one that benefits from secular growth trends. In fact, hotel real estate revenues have consistently exceeded prior peaks in spite of cyclical recessions occurring approximately every 7 to 10 years. As societies grow wealthier, business and consumer spending on travel and experiences, and thus demand for hotels and other accommodations, increases. Further, lodging is one industry that cannot be disintermediated by technology unless and until teleportation is invented. Through the pandemic, we have learned to live with video conferencing tools like Zoom; however, I believe once the pandemic subsides, it is unlikely businesses and consumers will continue to use them in lieu of traveling and meeting face-to-face. Nuclear and extended families will continue to take annual vacations together. Remote teams will continue to meet and strategize with their colleagues at quarterly and annual events. To win in business, you will still need to show up in-person to build trust and loyalty. Video conferencing tools, while providing a temporary solution to social distancing efforts, will not and cannot replace the human need for social interaction.
3. Hotel Real Estate Cycles Have Historically Followed a Similar Pattern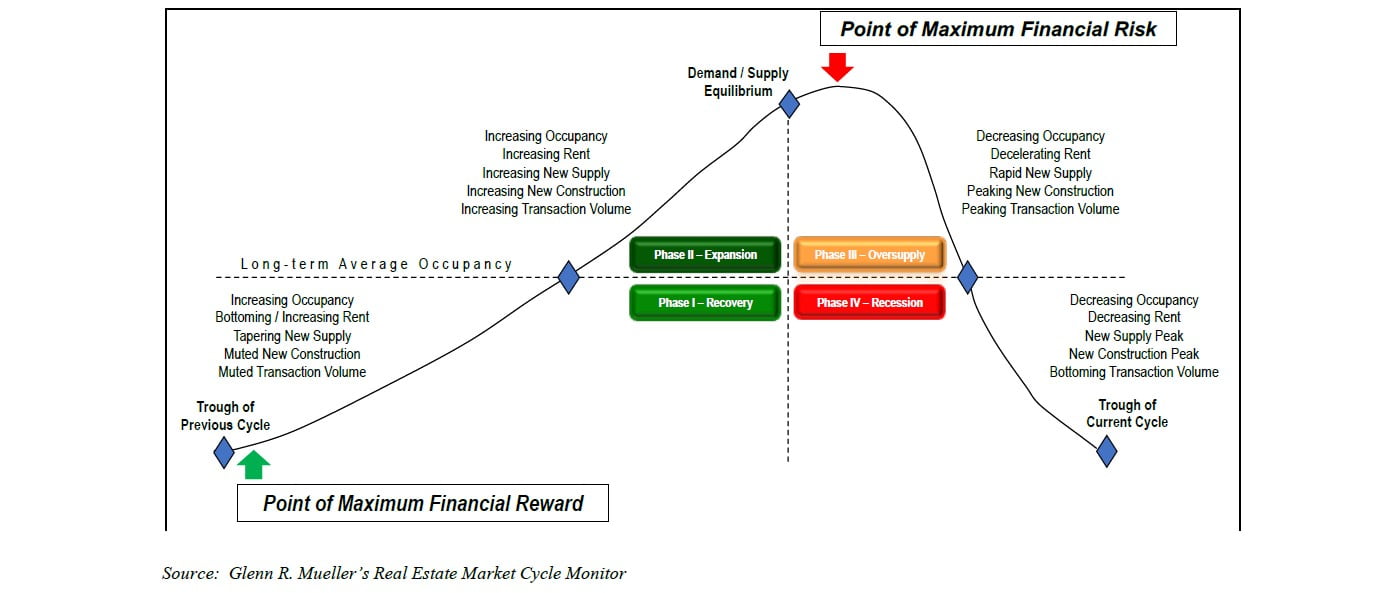 The 7-to-10-year hotel real estate cycle has historically followed a similar pattern. Given this cyclical pattern, if investors do not get hotel real estate investments directionally correct (i.e., timing), it is very difficult to generate meaningful returns. Investing in hotel real estate at the right part of the cycle is paramount. A typical hotel real estate cycle can be characterized by four distinct sequential phases – recovery, expansion, oversupply, and recession.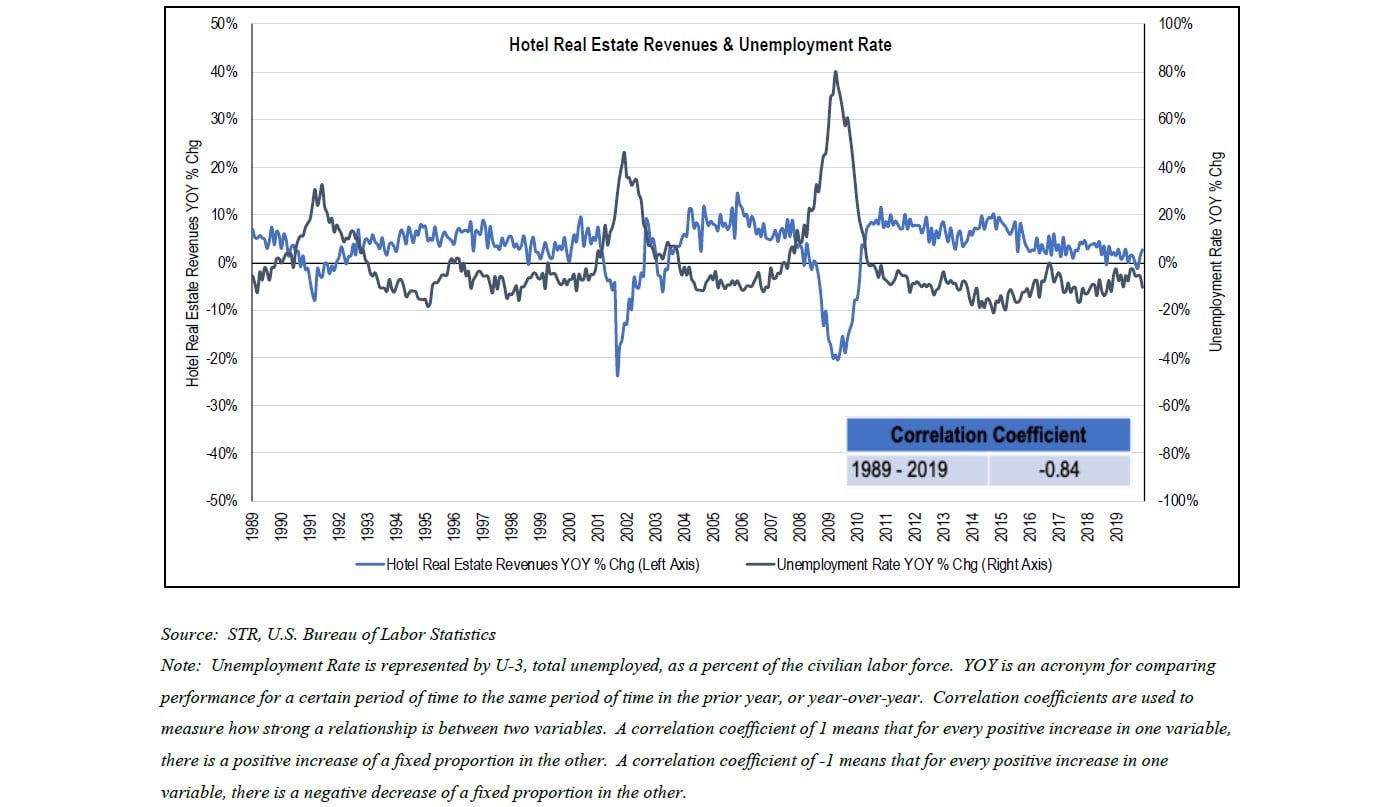 Hotel real estate revenues are highly correlated with the general health of the macroeconomy – when most investors think of macroeconomic cycle indicators, they tend to think of popular headline data such as the unemployment rate. As an example, changes in hotel real estate revenues are highly inversely correlated with changes in the unemployment rate – that is to say, when job losses occur and the unemployment rate rises, hotel real estate revenues decline.
5. Hotel Real Estate Leases Are Very Short in Duration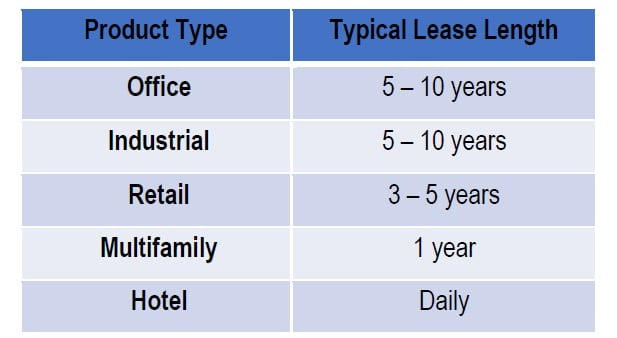 While the traditional commercial real estate product types feature leases of at least one year in length and often as long as 10 years or longer, hotel real estate leases are typically very short in duration (i.e., daily). In fact, daily rents can change by the minute, similar to dynamic pricing strategies employed by the airline industry. As a result, hotel real estate revenues can fluctuate relatively quickly and dramatically in response to changing macroeconomic conditions.
6. Hotel Real Estate Features High Operating Leverage (i.e., Fixed Costs)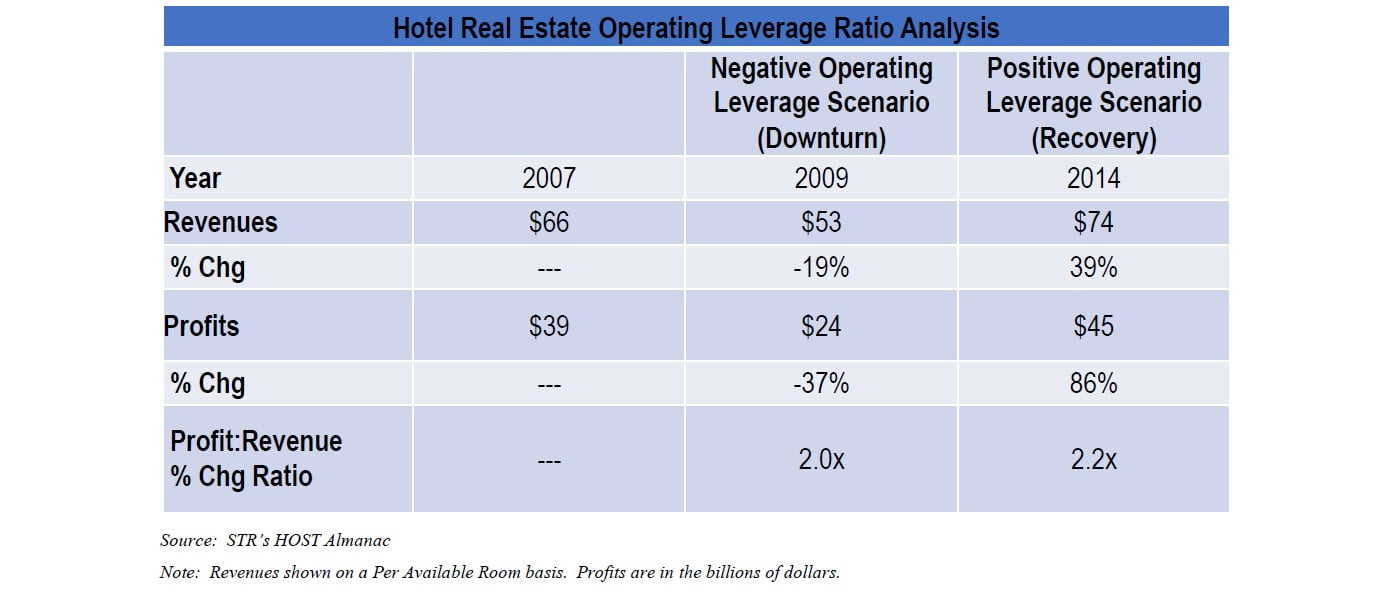 The business of operating hotel real estate involves relatively high fixed costs, a result of relatively static staffing requirements and other operating costs regardless of whether occupancy is 50% or 70%. These fixed costs, or operating leverage in economics, magnify the changes in top line revenues on bottom line profits. In fact, the operating leverage ratio for hotel real estate is approximately 2.0x, which means the resulting percent change in profits is typically double the percent change in revenues. As a result, hotel real estate profits can fluctuate relatively quickly and dramatically in response to changing macroeconomic conditions.
7. Conclusion: COVID-19 Has Caused an Unprecedented Downturn in Hotel Real Estate; However, the Industry is Poised for an Equally Unprecedented Recovery and Expansion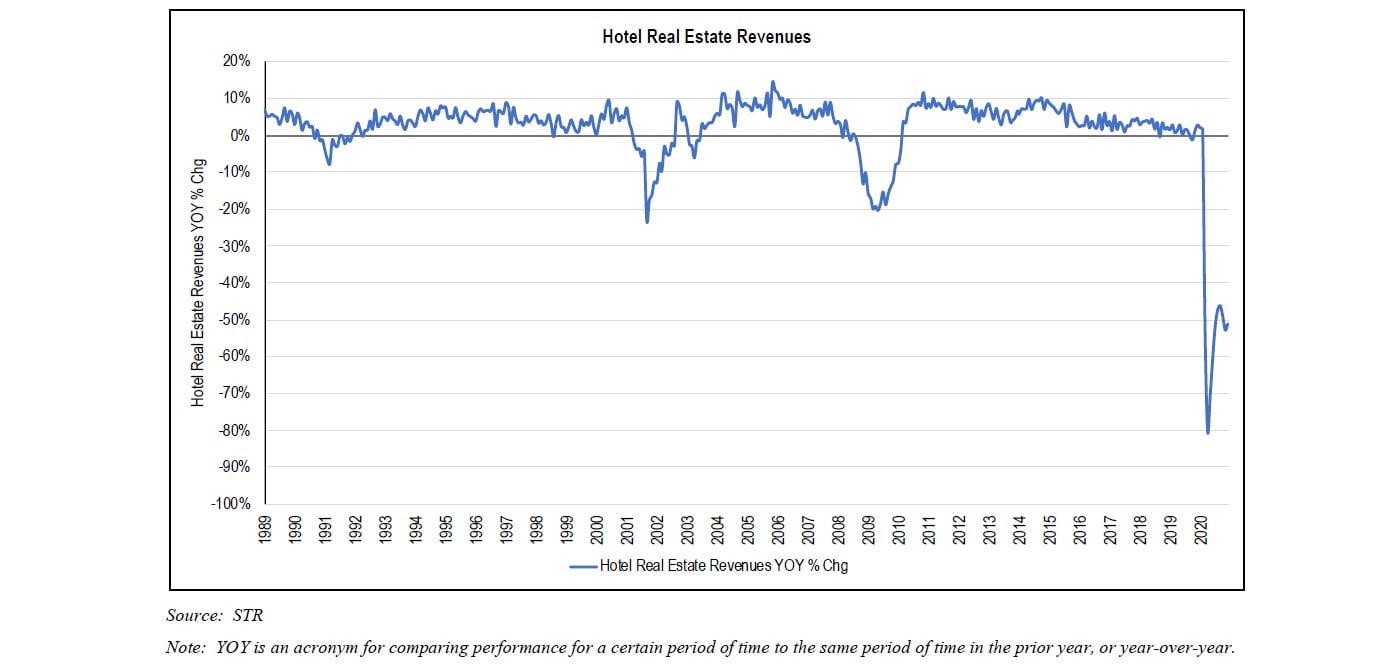 Historically, a macroeconomic recovery, daily leases, and positive operating leverage have combined to dramatically increase the profits and values of hotel real estate. In this regard, the new hotel real estate cycle brought on by the COVID-19 pandemic appears to be no different than prior cycles, other than its sheer magnitude. Hotel real estate has entered a new cycle leading to several years of recovery and expansion whereby hotel real estate revenues will rebound from historic lows and exceed their prior peak. As the macroeconomy sustains its current recovery and vaccines are widely distributed (allaying concerns around infection from travel) demand for hotels and other accommodations will return. Daily leases will allow hotel real estate owners and operators to respond relatively quickly to rebounding demand with progressively higher daily rents. Positive operating leverage will result in an unprecedented recovery and expansion of hotel real estate profits and thus values. Now is an excellent time to invest in hotel real estate.
Bonus: Hotel Real Estate Offers Investors a Strong Hedge Against Inflation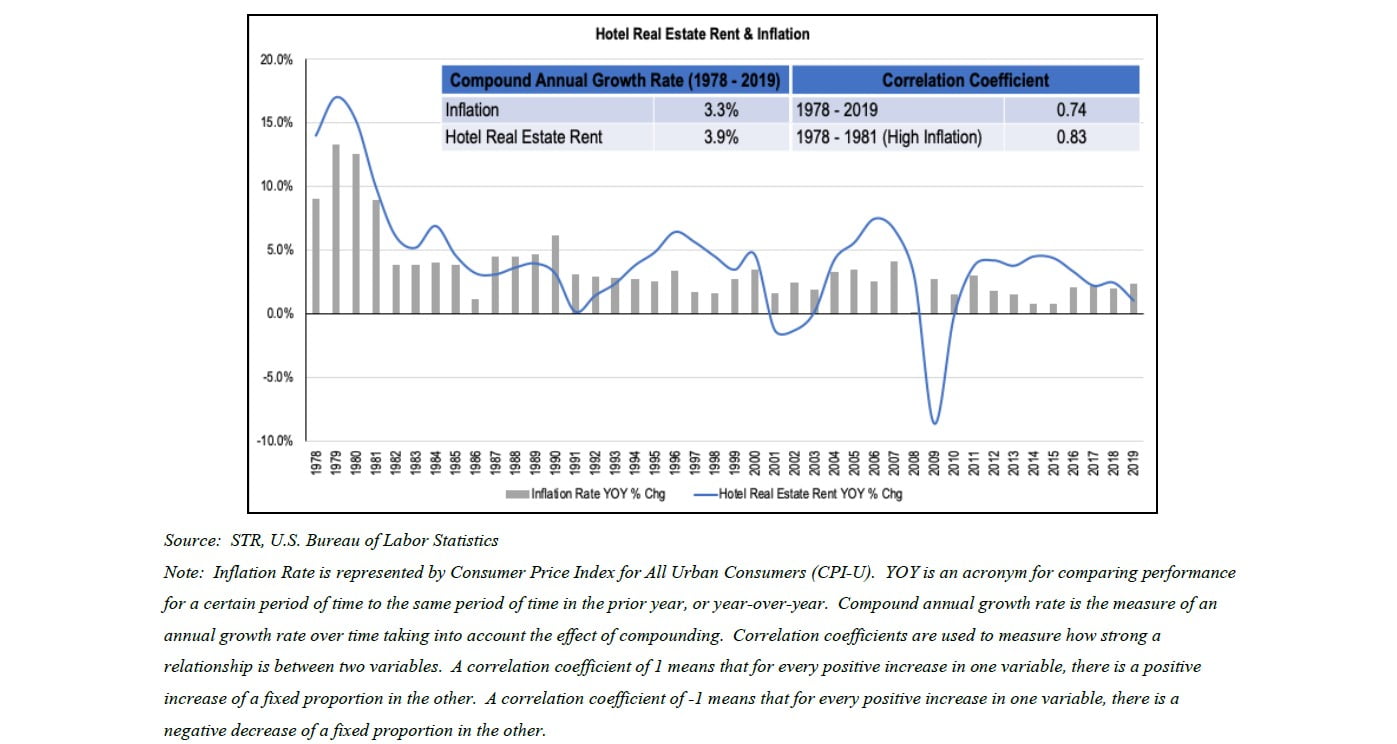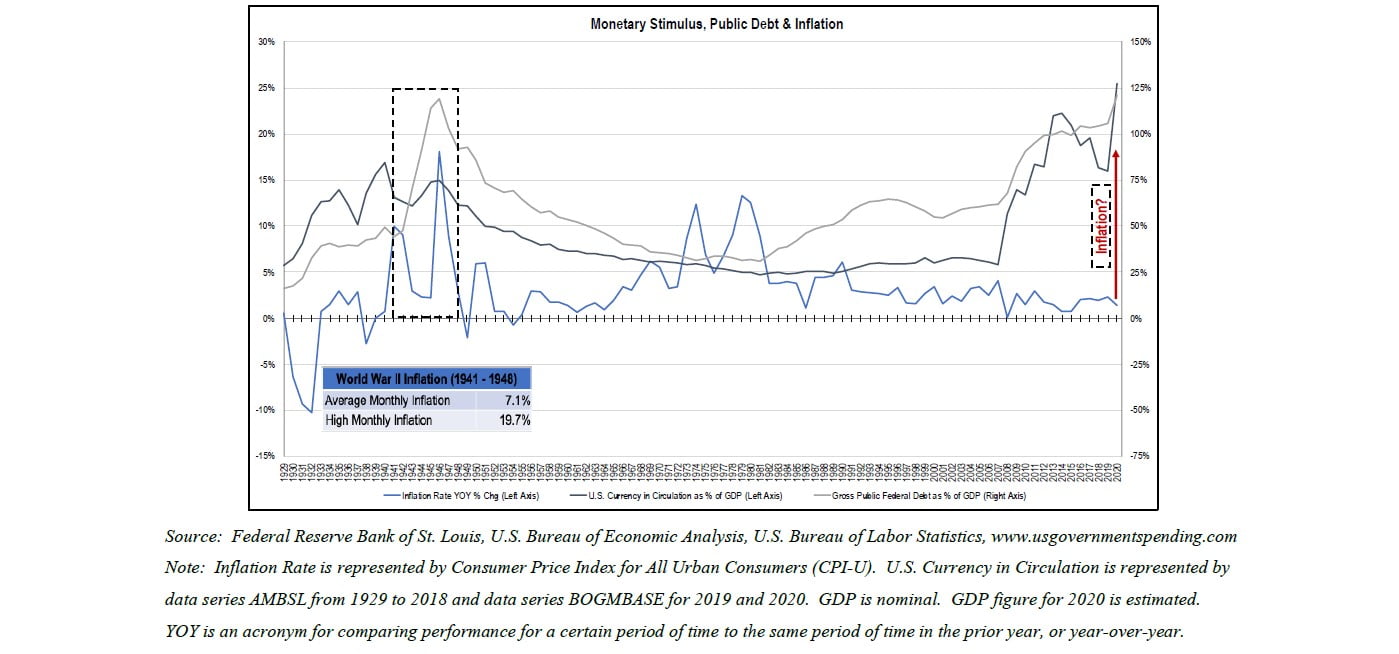 As a bonus, Hotel Real Estate offers an excellent hedge against inflation given the daily lease structure. This absence of "lease friction" experienced by other commercial real estate product types allows hotel real estate owners and operators to pass along increased costs to tenants relatively quickly. The specter of inflation is becoming an increasing concern in today's environment of unprecedented fiscal and monetary stimulus, which is driving investors to alternative stores of wealth and yield such as real estate. Some analysts believe we are entering a period that is analogous to the 1940s whereby the Federal Reserve and Department of the Treasury financed what were then enormous wartime spending deficits through a coordinated fiscal and monetary effort at debt monetization, which also led to bouts of inflation. From 1941 to 1948, the U.S. experienced average monthly inflation of over 7% and a high monthly inflation of nearly 20% in March 1947. Today's spending deficits and debt are attributable to ballooning mandatory spending requirements (e.g., Social Security and Medicare) as a result of an aging population and recent fiscal stimulus following the Global Financial Crisis and now the COVID- 19 pandemic.
Updated on