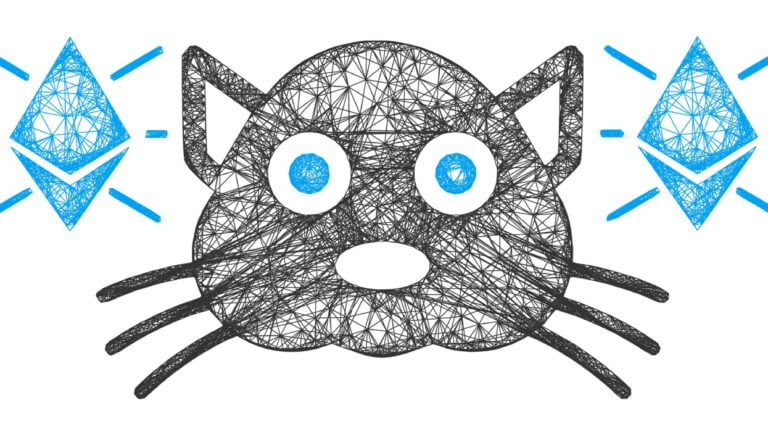 Thanks to Bitcoin's epic year-end bull run, cryptocurrencies are once again enjoying a moment in the sun. However, while many of the headlines are focused on price action, another type of token has emerged offering a novel type value proposition.
Q3 2020 hedge fund letters, conferences and more
Let's face it – cryptocurrencies still have a long journey ahead when it comes to shaking their reputation for being nebulous, volatile assets. In contrast, non-fungible tokens are more firmly anchored to real-world digital and physical assets of value.
Supercycle Sends Cash Flooding Into Commodity Hedge Fund Strategies
In May 2011, the commodity trading giant Glencore launched its blockbuster IPO, which valued the business at $60 billion. The company hit the market right at the top of the commodity cycle. In the years after, its shares crashed from above 500p to below 100p. The company is the world's largest commodity trading house. Its Read More
For the benefit of the uninitiated, a non-fungible token, or NFT, is a particular type of token that's programmed to be completely unique. Therefore, it's not like a Bitcoin or a dollar bill, where one can simply be exchanged for another.
If compared to objects of value, an NFT is more like a car, or a work of art, or a piece of real estate. Each one is valued based on what the market will pay for it as an individual item.
NFTs emerged around the same time as the last Bitcoin boom. They became popular back then thanks to a game called Cryptokitties, which allowed users to trade digital artwork that portrayed cartoon cats. At that time, many predicted that NFTs would become huge. Now, that prediction appears to have come to fruition, thanks to several big-name buy-ins adopting NFTs as a means of exchanging real-world value.
Digital Art and Collectibles
Arguably the most mainstream use case for NFT adoption has been in the realm of virtual collectibles. Sorare is a cross between a fantasy football league and a digital soccer card trading marketplace, challenging the status quo for fan engagement. Users can buy and sell digital cards, based on NFTs, of their favorite players and thus create their own fantasy football team.
Each card is generated on the Ethereum blockchain, so it's verifiably unique.
The NFT-based cards issued by Sorare are officially licensed by the participating clubs, and the platform has signed on an impressive roster of over 100 teams from around the world. These include big names such as Paris Saint-Germain, Bayern Munich, Juventus, FC Porto, and many more.
Source: https://sorare.com/press
In December, Barcelona defender Gerard Pique invested an undisclosed sum in Sorare, and was appointed as the company's strategic advisor. Sales on the platform grew by over 1,000% in 2020.
In a similar vein, the BBC has licensed images from the popular sci-fi show Doctor Who to be used on a brand new digital trading card game due to be released later this year. "Doctor Who: Worlds Apart" will feature limited-edition, hand-drawn designs of scenes and characters from the show.
"In the digital age, people have to find exciting ways to make traditional collectibles more appealing, and NFTs help facilitate that," Justin Sun, CEO of TRON, whose decentralized network powers several NFT projects, explains via email. "An NFT gives you that extra assurance that this digital item is in fact yours – it belongs to you and nobody else, much like a physical collectible."
Players can already purchase packs of Worlds Apart cards, priced according to their rarity, ahead of the game's launch. The initial release will be as a PC version, with mobile integration to follow.
"The involvement of a big organization such as the BBC in the NFT market indicates how important and revolutionary the technology has become," notes Digital Coin Standard's Adam Barry. "Most importantly, the BBC is not doing things lightly, and quality is important to protect intellectual property as Reality Gaming Group established."
NFTs in Gaming
Going deeper into the virtual realms of video games, NFTs are also being used to create unique in-game assets of value – eye-popping value in some cases. For instance, renowned gamer and YouTuber Felix Kjellberg, AKA PewDiePie, recently collaborated with the augmented reality game Wallem, which is based on the Ethereum blockchain.
He created several customized skins that players could bid for on the NFT marketplace Opensea.
The tokens representing the skins are programmed to generate a share of revenues that the skins generate within the game itself. Currently, they're selling for an average price of around 40 ETH. Based on the average ether price in recent weeks, the price of the skins equates to approximately $24,000 each.
Taking the concept a step further, users can now also tokenize their own avatars in digital gaming universes, virtual environments where they can interact with one another much in the same manner as a gamer might use an avatar in MineCraft, the Sims or even Fortnite.
"With MineCraft or Second Life, you're playing online, but you aren't making any money doing it," says TRON's Justin Sun. When it comes to virtual environments where avatars are tokenized assets, he adds, "They involve an actual monetary incentive to storing a collectible on the blockchain, or even for playing a game on the blockchain."
Source: https://twitter.com/keithage/status/1340243624286629889
There are several examples of this use case for NFTs in action. Somnium Space is a cross-platform VR game where players are represented by an on-chain avatar based on Sony's 3D model creation technology. MegaCryptoPolis offers a similar experience, where "citizens" of the gaming metaverse participate as an NFT, and can construct NFT-based buildings using in-game resources underpinned by a cryptocurrency economy.
At the time of writing, there are nearly 15,000 buildings in MegaCryptoPolis, occupied by over 35,000 citizens.
Even the big game console firms are getting in on the NFT act. The Six Dragons is the world's first blockchain-based Playstation game. It's a full-featured RPG with 64 square kilometers of Open World to explore, where NFT-based in-game assets are issued and traded on the Ethereum blockchain.
The game is slated for launch on the PS5 console in 2021, but players can already pre-order governance tokens and some in-game assets.
The appeal here makes a lot of sense. In virtual environments without NFTs, "everything that you work for in game remains in the virtual metaverse," says Justin Sun. "With tokenization and decentralization, the incentive for gamers isn't solely virtual status – it's also financial, which in turn may attract more gamers to the space."
Christie's Auctions NFT-backed Artworks
Whether an asset is virtual or not, the use of a blockchain-based token as proof of ownership is compelling indeed.
"It's critically important both to the person who wants one unique thing, or someone who spends a great deal of money on a very expensive object and wants to be sure it isn't a counterfeit," says William Shatner, who has started to sell digitized versions of personal mementos from his iconic acting career using NFTs.
Going a bit more highbrow, the Robert Alice project was founded by artist Benjamin Gentilli in 2018 to promote blockchain culture in the visual arts. Working under the name Robert Alice, which will eventually become a decentralized collective, Gentilli has developed the Portraits of a Mind collection. It comprises 40 pieces of art which represent the founding code of the Bitcoin blockchain.
In October, Christie's, one of the largest art auction houses in the world, sold the first piece from the collection, titled "Block 21." The piece is essentially a metallic disc inscribed with over 320,000 digits of hexadecimal code, one-fortieth of the entire code base comprising Bitcoin's first version. It's accompanied by its own NFT, which assigns digital ownership to the purchaser. Christie's had estimated the value of the piece between $12,000 and $18,000. It sold for $130,000.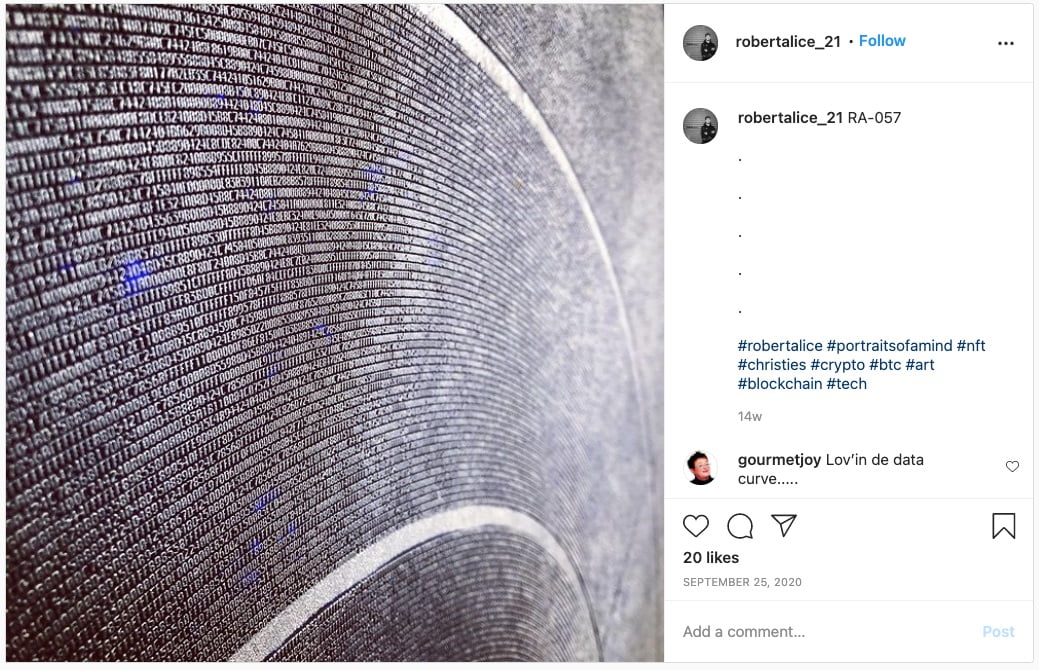 Source: https://www.instagram.com/p/CFiK0x8hPbH/
So what's the point of the NFT component here? If the piece is later stolen without its corresponding digital certificate, it cannot be passed off as legitimate in a sale. Furthermore, the Robert Alice collective, or other physical artists using NFTs, can now program the token to charge royalties each time the piece changes hands.
For instance, the hot NFT marketplace platform Rarible allows artists to mint NFTs based on Ethereum, which they can sell via the Rarible marketplace. In June, the platform launched a "flexible royalties" feature, allowing artists to receive a share of royalties as an automated payment each time an owner sells the NFT on a secondary marketplace.
This is a far cry from traditional art dealer economics, where the creator is cut out of the picture following the initial transaction.
Robert Alice is quoted on the Christie's website as saying, "Not since the Renaissance has a technology so radically reorientated power and control back into the hands of the artist."
Just the Beginning for These Assets
NFTs have taken several years to come into their own, and it's still very early days in terms of these unique tokens reaching their full potential. However, it's evident that they've already made significant headway in terms of generating value and adoption in 2020.
As they gain further traction, watch out for more innovative use cases and big-name integrations in the coming months and years.