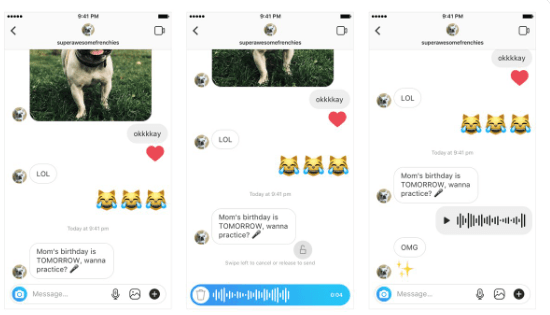 Instagram is now rolling out a new walkie-talkie feature in direct messaging. The same feature has long been available on other Facebook platforms, like Messenger and WhatsApp.
How to use Instagram's walkie-talkie feature
Instagram's walkie-talkie feature works similarly to the built-in audio feature in Apple's Messages application. The new feature will be available to both iOS and Android users globally.
"Starting today, you can send voice messages in Direct," Instagram tweeted. "Talk the way you want to be heard, whether by whispering what you're up to or shouting a compliment."
ValueWalk's October 2022 Hedge Fund Update: Haidar Capital Surges 225%
Welcome to our latest issue of ValueWalk's hedge fund update. Below subscribers can find an excerpt in text and the full issue in PDF format. Please send us your feedback! Featuring investors exit long-short hedge funds, the oil market is now "broken", and Haidar Capital surges 225%. Q2 2022 hedge fund letters, conferences and more
To send a voice message, head to the Direct section of the Instagram app and select a user or multiple users. To use Instagram's walk-talkie feature, all you need to is hold down the new microphone button and record your message. The message is then sent automatically to the user or group once you release the button.
If you want to delete it or re-record your message, all you need to do is slide your finger from the microphone button over to the trash can button without picking up your finger. However, once you pick up your finger, there is no way to retract the voice message.
According to Digital Trends, there is another way to send a voice message. Just tap the messaging icon and hold the phone to your ear. You will hear a beep, indicating that you can start speaking. Once the message is recorded, tap the send icon.
You can record audio messages of up to one minute long using Instagram's walkie-talkie feature. The voice messages appear in the chat as an audio wave. They will remain in the Instagram Direct threads indefinitely.
However, in Apple's Messages platform the audio messages disappear after two minutes unless a user wants to keep them. Apple recently added the walkie-talkie feature with watchOS. The feature provides real-time voice communication functionality to users.
Is adding voice support good or bad?
Instagram has recently been making efforts to improve its Direct platform so it can compete more efficiently with Snapchat. The Facebook-owned messaging app has added many features recently, like replay support, status indicators, poll stickers and more. Adding the walkie-talkie feature to Instagram suggests people are using it as their main chat platform, so they want all the messaging features available on other chat apps in Instagram as well.
Moreover, Instagram's walkie-talkie feature will help make the platform more appealing to drivers or people on the move. It could also come in handy for people in countries with less popular local languages or languages not supported by smartphone keyboards. T
On the other hand, many believe the addition of this messaging feature means Instagram is becoming more like its parent company than what its original creators had in mind. However, the platform's creators have left the company, so they have no say in its future.
Moreover, a fact that can't be denied is that voice messages are more effective than texts. Text messages lack tone, while voice messages clearly reveal the tone of the sender. Facebook has also been taking a huge interest in voice computing lately and only recently launched a voice-controlled smart speaker.
Facebook Portal is a voice-based hardware
In October, Facebook unveiled smart speakers for the home equipped with cameras and microphones. These smart speakers are Facebook's second piece of hardware, with the first being its Oculus virtual-reality devices.
Facebook's smart speakers, the Portal and Portal+, are an attempt to take on Amazon, Google and Apple in the fast-growing smart speaker market. Facebook's smart speakers are unique because they allow users to make video calls. To start a video call, all you need to say is, "Hey Portal, call…" and give the name of the contact on Facebook's Messenger service.
Moreover, the devices offer augmented-reality features like adding hats or turning the room into an animated night club to enrich the calling experience. Another unique feature is its ability to perfectly frame users on video even as they move around the room while on a call. This smart feature uses artificial intelligence and the device's cameras.
In addition to video calls, the device allows users to stream music from Amazon Music, Spotify, and Pandora and videos from Facebook. Despite offering some wonderful features, the device has faced backlash over privacy issues.