When comparing Facebook vs Snapchat vs Instagram in terms of popularity, which social media service comes out on top?
All three of these social media giants boast an incredible amount of users, but as time goes on we're starting to see some of the demographics change. A new study from the Pew Research Center has turned up some surprising results about the way that young people use social media.
The center found that only 51 percent of Americans from 13 to 17 years old say that they use Facebook. Considering that just three years ago that number was 71 percent, it's clear that Facebook is in a decline – at least in terms of popularity with young people. Those same teens have swapped Facebook for Instagram (72 percent) and Snapchat (69 percent) in order to connect online. 45 percent of teens report being online nearly constantly.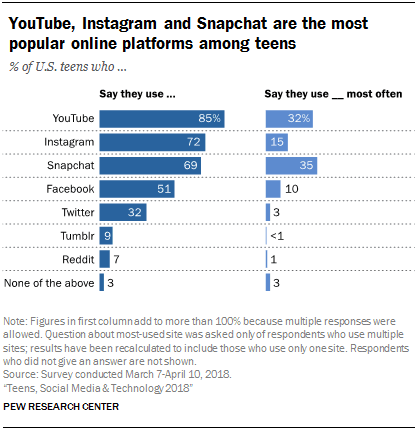 Facebook vs Snapchat vs Instagram: Facebook
While Facebook remains one of the largest social media giants, it no longer holds the top spot for young people when comparing Facebook vs Snapchat vs Instagram. The network is still incredibly large, but considering that young people are becoming one of the largest markets and consumers of social media content it's clear that falling out of their good graces could spell trouble for Facebook down the road. Strangely enough, however, Facebook is the most popular social media network for kids from families with low income (under $30,000 a year).
With that said, the general population outside of young people still seems to enjoy Facebook, and it's a much more accessible platform for the average user than image-focused platforms like Instagram and Snapchat. Being able to post statuses or share links without interesting photo content definitely appeals to a large section of users, so it's clear that Facebook isn't going anywhere anytime soon.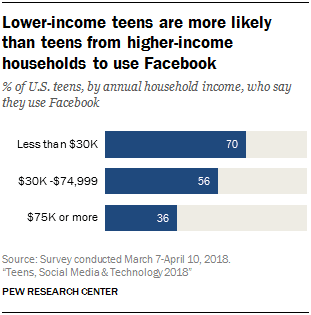 Facebook vs Snapchat vs Instagram: Snapchat
The statistics show that Snapchat is the second most popular service among young people, and it continues to grow its user base. With a huge selection of fun filters and an easy way to connect with friends, it's clear that it's becoming an excellent way to document ones' life or even just swap silly photos with your pals.
Do you know which under-the-radar stocks the top hedge funds and institutional investors are investing in right now? Click here to find out.
Snapchat was also the first to implement the stories feature which have since been copied by Facebook and Instagram, and it's clear that Snapchat still has the upper edge when it comes to that specific feature.
We expect that the Facebook vs Snapchat vs Instagram battle will continue to slant in favor of the last two, with Snapchat perhaps even passing Instagram as more young people come onto the platform.
Facebook vs Snapchat vs Instagram: Instagram
Instagram continues to enjoy immense popularity, and considering that it is owned by Facebook it may be the platforms saving grace in terms of appealing to young people. While Facebook will remain a major force in social media for years to come, Instagram is quickly catching up with the general population and is already far ahead with young people.
Instagram has shined with its image-focused platform and creative use of hashtags to organize content. With social media stars with millions of followers and even the ability to easily follow the goings-on of your favorite celebrities, it's a great way to follow those you find interesting as well as connect with your friends. While Facebook does have the option to follow pages, it's not quite the same as following the public accounts that you see on Instagram.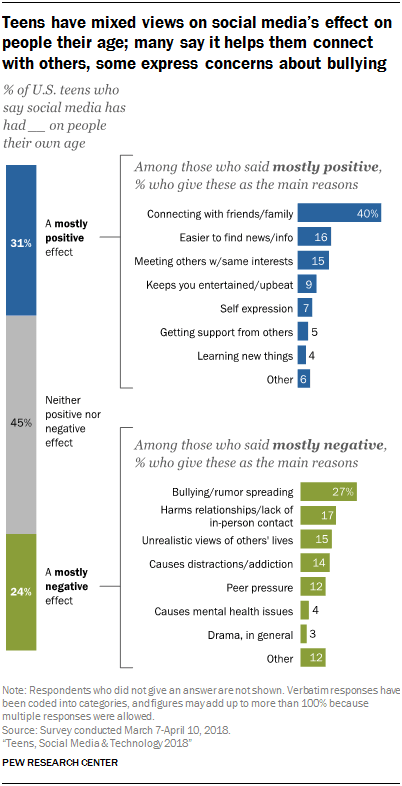 Facebook vs Snapchat vs Instagram: Verdict
There's no doubt that Facebook is currently the dominant force when it comes to social media, and it remains the biggest social media network by a large margin. With that said, it's decidedly unpopular among a lot of young people, which means that the dominance might not be the same a few years down the line. Instagram and Snapchat come out on top in our books just due to the future potential.
It's hard to imagine companies like Facebook losing their footing, but after seeing industry behemoths like Myspace completely fade into nothingness, all it takes is a few major problems for a company to take the turn for the worse. The privacy concerns with Facebook after the recent Cambridge Analytica scandal were certainly not helping the company out, and they are still struggling to regain the trust of their users.
While teens spend a lot of time online and with social media, they're also becoming increasingly aware of the impacts that the services can have on themselves and the way they interact with the world.
Roughly 45 percent were undecided about its impact, saying that it was neither positive nor negative. About 31 percent said that social media was generally positive, and 24 percent said it was mostly negative. Of the teens who said it was mostly negative, 27 percent mentioned bullying and rumor spreading. But of the teens who said that social media was mostly positive, 40 percent said that it was a great way to connect with loved ones and friends – and regardless of which social media platform comes out on top, that core commonality will remain the same.
Check out the video below courtesy of Newsy for a more visual look!