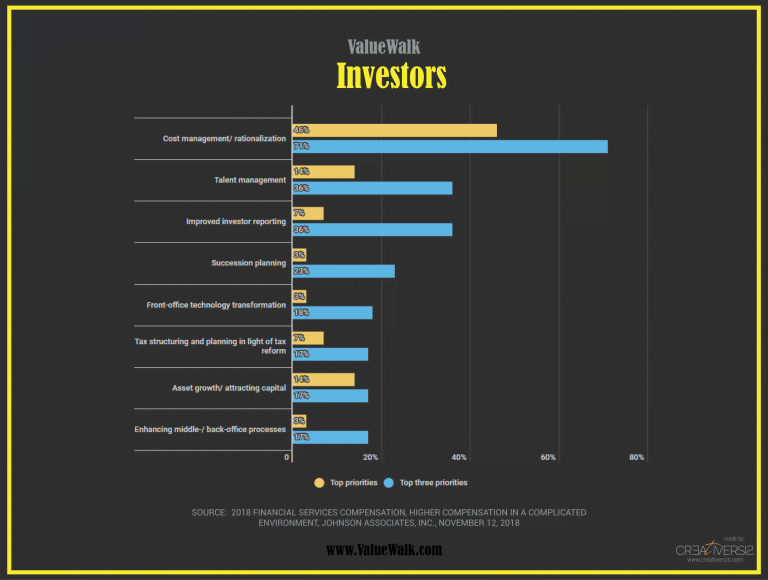 Technology is making tasks in the financial services industry much easier. Activities which once took a team of experts to handle can now be accomplished faster and with greater accuracy thanks to recent advancements. Ernst & Young's 2018 Global Alternative Fund Survey highlighted some key technology trends in the industry and how these trends are helping asset managers cut costs for investors.
Focus on cost management
For example, EY asked investors what they especially want alternative managers to innovate on most and found that cost management was at the top of the list. The firm noted that cost management has the most direct impact on investor returns, which is probably why it was overwhelmingly at the top of the list.
Q3 hedge fund letters, conference, scoops etc
Fund Manager Profile: Kris Sidial Of Tail Risk Fund Ambrus Group
A decade ago, no one talked about tail risk hedge funds, which were a minuscule niche of the market. However, today many large investors, including pension funds and other institutions, have mandates that require the inclusion of tail risk protection. In a recent interview with ValueWalk, Kris Sidial of tail risk fund Ambrus Group, a Read More
Investors also named these indirect areas in which they would like to see innovation in.
Pressure on asset management fees continues
Another big issue throughout the asset management industry is fees, which have been under pressure in recent years due to the growing interest in passive investment options. EY also feels that strong performance among non-alternatives and mostly mediocre performance in alternatives have also weighed on investor views of the fees they pay.
EY found that investors have been growing increasingly unsatisfied with the expense ratios of the funds they invest in. In fact, almost 40% of investors describe themselves as "not satisfied at all" with the fees. EY also noted that this trend follows "years of industry concessions on fees, some of which have been influenced by the preponderance of lower-cost alternatives."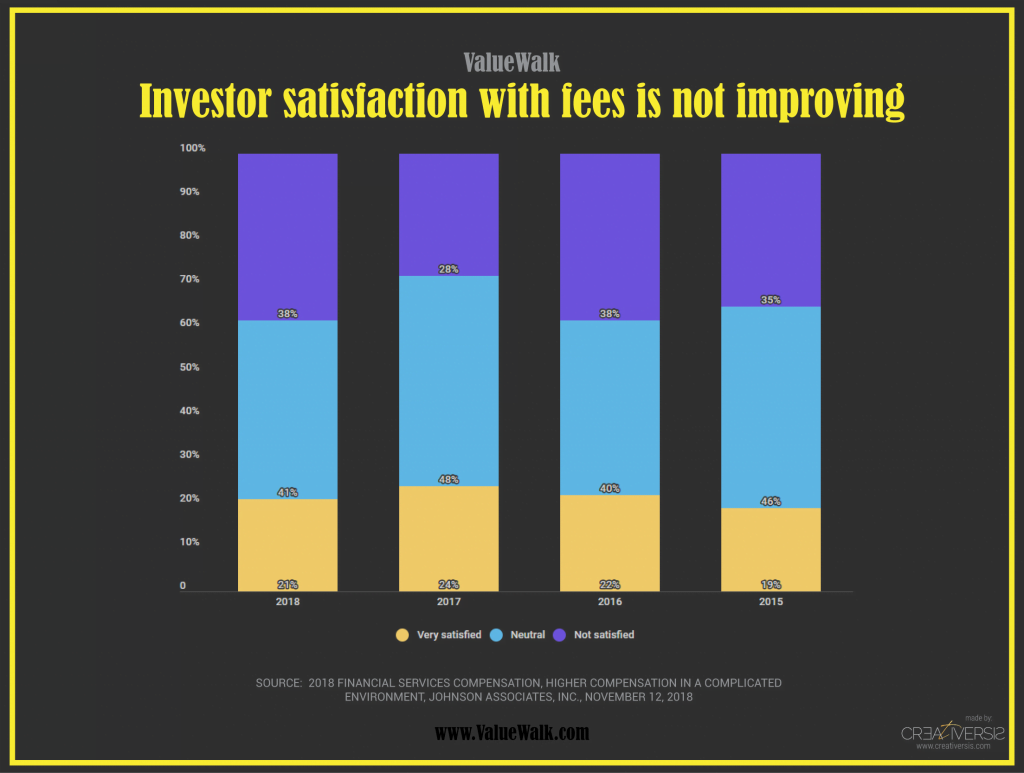 When asked about which expense drivers they considered most important when deciding whether to invest with a manager, investors said management fees drove about 45% of their decision, while performance fees drove about 30%. Trading and operating costs drove the rest of that decision.
EY predicts that investors will continue to challenge asset management fees because they know they have a lot of leverage. Investors may also challenge fees on alternatives whose performance may not justify such high fees. The firm doesn't think investors are being unreasonable in their demands.
"Investors tend to have a reasonable perspective — not wanting the management fee to be a profit center but also not wanting to pay so little in expenses that the manager cannot support an appropriate infrastructure to run the business," the firm wrote.
Even though investors have been challenging fees, EY also found that managers have generally been successful in resisting cuts. The firm found no "significant" change in expense ratios on a year-over-year basis, and less than 20% of investors reported that managers cut their fees within the last two years.
Fee structures have been changing
Even though EY found little evidence of fee cuts, the firm did learn that alternative asset managers changing their fee structures. The firm's survey indicated that almost 60% of hedge fund and private equity managers have adopted or are thinking about adopting a nontraditional fee offering to attract capital.
The survey found that the most common nontraditional fee structure currently in use by both hedge funds and private equity managers is charging a performance fee only above a certain level. This may be a certain fixed percentage or benchmark peg. Here are the other nontraditional fee structures mentioned in the survey: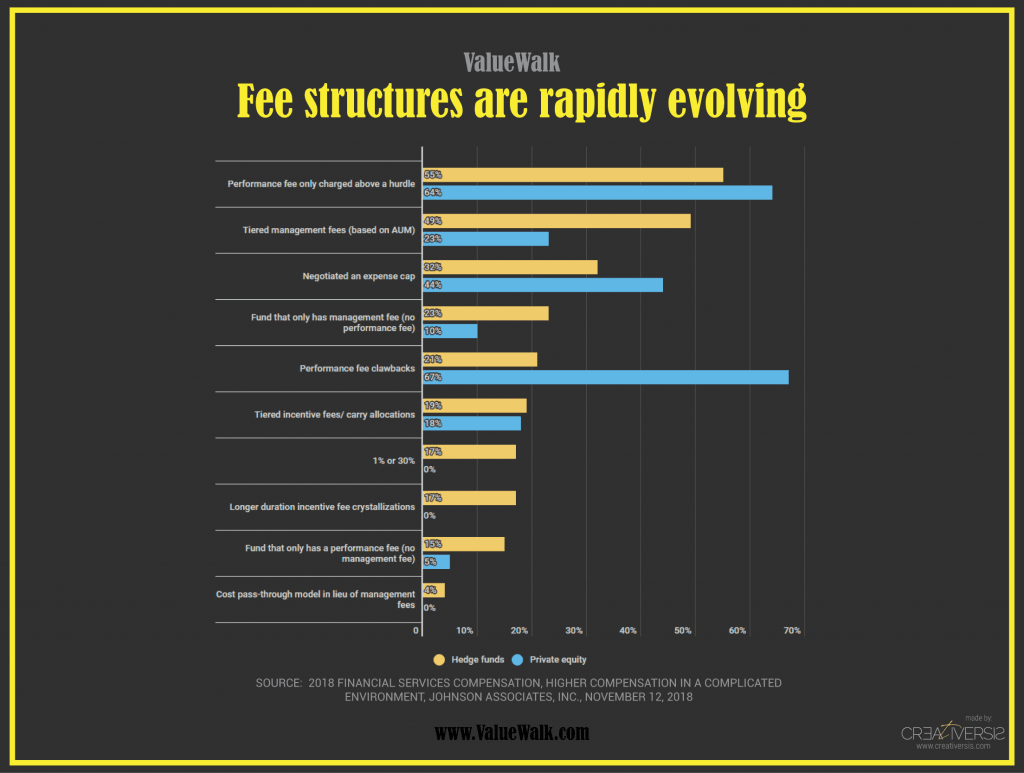 EY also looked at this issue from investors' perspective, asking which fee structures they have invested in: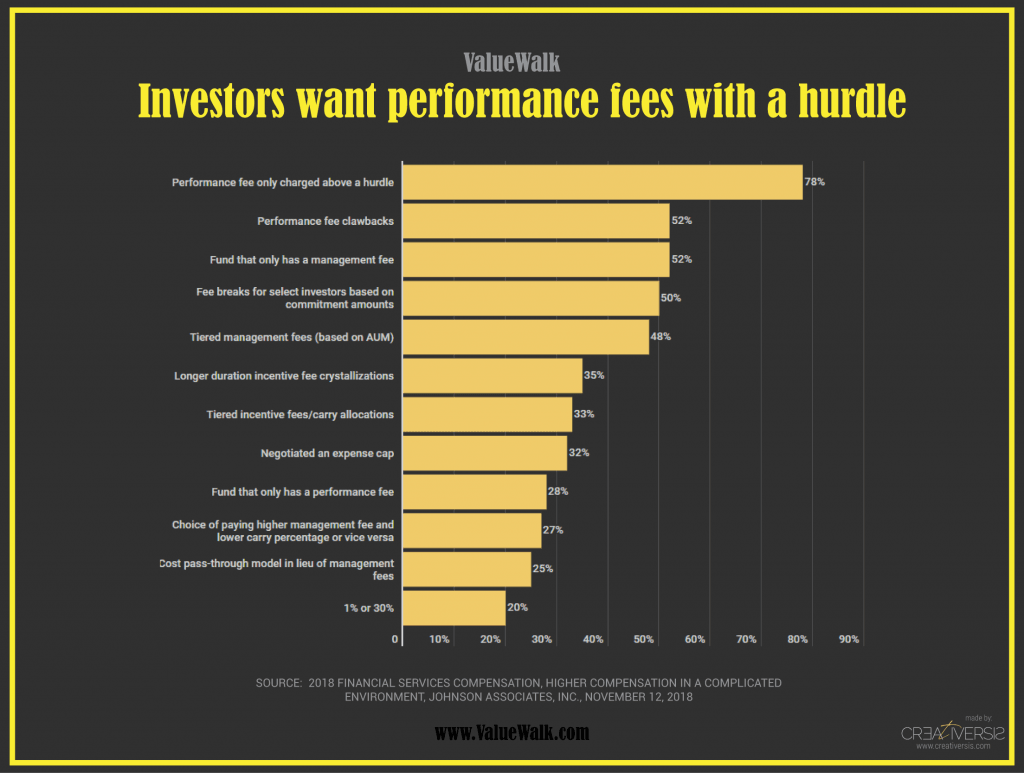 How technology is evolving fee structures
Both hedge fund and private equity managers have been investing in technology to improve their operations. Managers are now able to more quickly and accurately report their required data. Managers are investing in compliance and regulatory reporting, investor servicing, fund accounting, and middle office technologies.
However, EY also found significant differences in the types of technology being adopted by hedge fund and private equity managers. Hedge fund managers are further along in their efforts to embrace new technologies. They're now investing more than their private equity counterparts in next-generation technology aimed at automation using robotics and artificial intelligence.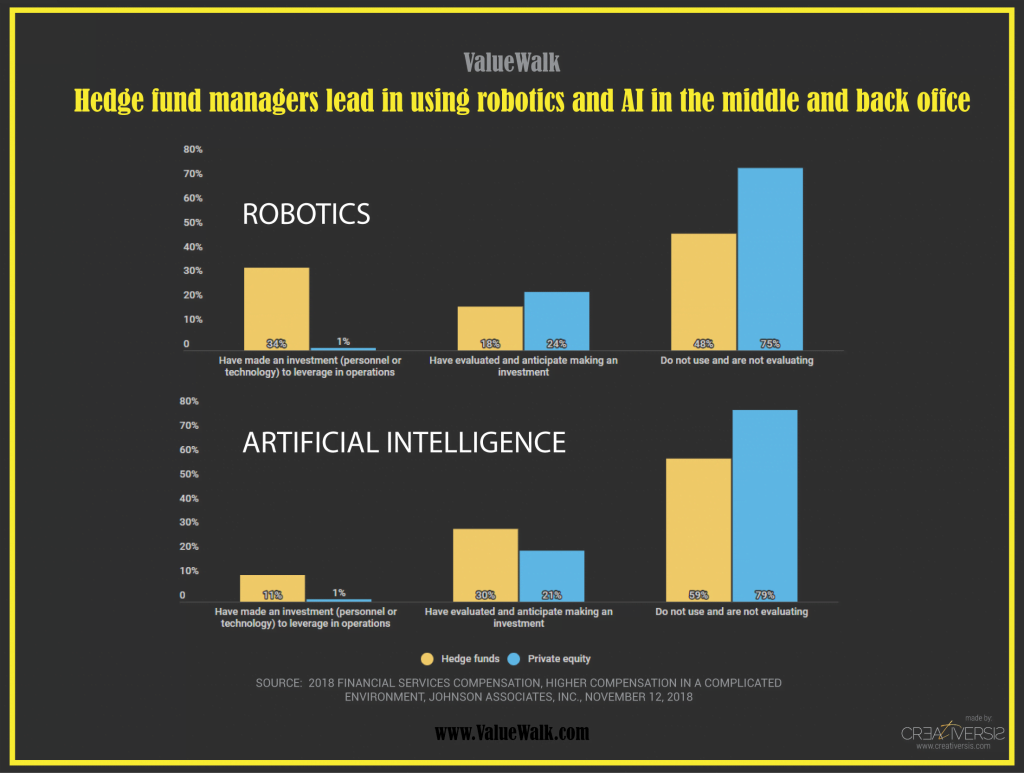 According to EY, these percentages demonstrate significant year-over-year growth among hedge fund managers. Last year only 10% of them reported investments in AI or robotics.
The firm found that technology is now being used to "confirm trades, reconcile positions, automate regulatory reporting filings" and more. The tools are reducing the amount of "manual, low-value work" performed by human managers, freeing them up for more value-added tasks.
This article first appeared on ValueWalk Premium