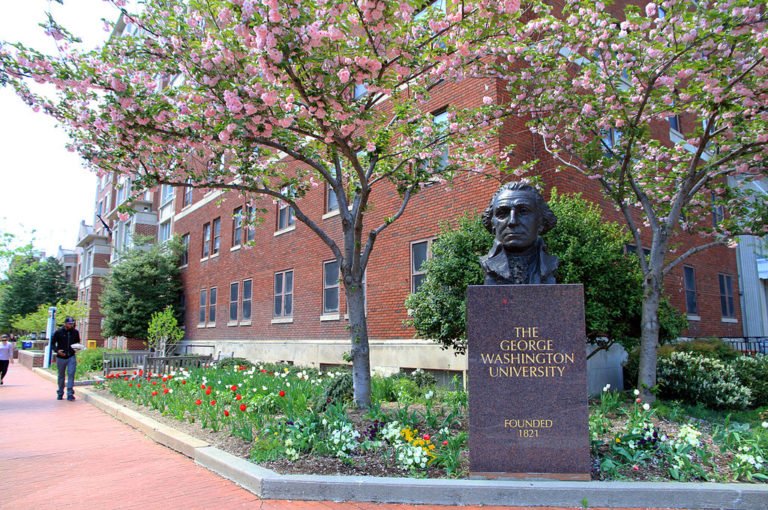 Could End fraternities and sororities, Ban Black Groups, Have Men Showering With Girls
WASHINGTON, D.C. (January 01, 2019) – George Washington University [GWU] has been warned, by an attorney who has won over 100 sex discrimination cases, that a new policy regarding sex which it is proposing to adopt could have serious and possibly unintended consequences, including the end to traditional single-sex fraternities and sororities, bans on groups speaking out on behalf of African American students, and anatomical males showering with young girls.
Q3 hedge fund letters, conference, scoops etc
Gates Capital Management Reduces Risk After Rare Down Year [Exclusive]
Gates Capital Management's ECF Value Funds have a fantastic track record. The funds (full-name Excess Cash Flow Value Funds), which invest in an event-driven equity and credit strategy, have produced a 12.6% annualised return over the past 26 years. The funds added 7.7% overall in the second half of 2022, outperforming the 3.4% return for Read More
Strangely, none of these consequences were raised when the new policy was discussed very recently by the GWU Faculty Senate, nor in the University newspaper article about this new proposed policy, reports public interest law professor John Banzhaf, who teaches at GWU.
The proposed new policy states that "failing or refusing to allow an individual to participate in a student organization or activity based on their protected characteristics" would be prohibited as "discrimination," and that "sex, gender [and] gender identity or expression" is a "protected characteristic."
GWU has a large number of traditional single-sex male fraternities and single-sex female sororities involving some 2,500 undergraduates. Fraternities and sororities are obviously organizations of students at GWU.  Indeed, fraternities and sororities are included - along with dozens of other student organizations - in GWU's "Directory of Student Organizations" on line and elsewhere.
So it would certainly appear that, if the new policy regarding sex is adopted, both fraternities and sororities would have to admit students of both genders or disband; a far stricter requirement than Harvard's controversial policy to strongly discourage - but not quite ban - single-sex organizations, which is now being tested in the courts.
Indeed, one analysis cited in the legal letter to GWU concludes that GWU's "new rules could make it impossible for all-female sororities and all-male fraternities to exist," notes Banzhaf, who has won many sex discrimination cases including: filing the complaint which forced state-supported military academies to admit their first female cadet, forcing the Cosmos Club in DC to admit females for the first time in more than 100 years, requiring dry cleaners to charge women no more than men to launder shirts (in DC and a number of other jurisdictions), etc.
In addition to actual fraternities and sororities, other Greek organizations - e.g., The Panhellenic Association and The Interfraternity Council - would likewise have to become coed or disband, says Banzhaf.  This would be true even if for some reason GWU exempted fraternities and sororities from the new rules, since while these organizations represent fraternities or sororities, they are not themselves fraternities or sororities.
The legal warning letter, send to University Vice Provost for Diversity Caroline Laguerre-Brown, University Senior Counsel Richard Weitzner, Provost Forrest Maltzman, and other GWU officials by GWU professor Banzhaf notes that:
"Forcing GWU's fraternities and sororities to either disband, or to admit persons of the opposite gender - a move which would go well beyond what Harvard has done (and is now being sued for doing) in discouraging but not banning single-sex student organizations - would of course be very controversial.  It would almost certainly anger those current students who are already members of Greek organizations.  It probably would discourage many high school students who might aspire to study at GWU, but who also want to become a member of a traditional all-male fraternity or an all-female sorority.  It is also likely to upset alumni, especially if they were members of a fraternity or sorority at GWU, and adversely affect their willingness to contribute financially to the University, and to otherwise participate in its various activities."
Another analysis cited in the warning letter reports that "the new rule would seem to forbid single-sex student organizations from excluding members based upon their sex. Currently, the George Washington University has numerous apparent single-sex student groups, including the Black Women's Forum . . . and the Black Men's Initiative."  This seemingly creates a different problem, suggests Banzhaf.
Under the constitutional doctrine known as the Freedom of Expressive Association, organizations which limit their membership in order to speak out and advocate for specific groups - e.g., on behalf of African Americans or women or Muslims, etc. - cannot be required to open its membership to individuals who are not members of that specific group.
For example, student organizations such as "Women For Pornography," "Men Speaking Out Against Rape," etc. could not be required to admit members of the opposite gender since that would substantially interfere with their freedom to speak out for a particular segment of society, just as "African Americans Against Affirmative Action" or "Blacks Opposing Policy Brutality" could not be required to admit students of other races.
While this constitutional requirement technically applies only to state colleges and universities, the Department of Education has indicated that it plans to impose the same constitutional standards on all schools.  This avoids having two different sets of rules for public and private schools.
It also seems to be a matter of basic fairness; how can GWU justify providing its students less protection regarding freedom of speech and expression than the University of Maryland, argues Banzhaf.
Moreover, if GWU attempts to exempt fraternities and sororities from its general rule requiring that they not discriminate on the basis of gender, while at the same time imposing that same rule upon organizations speaking out on behalf of African Americans - such as the Black Women's Forum and the Black Men's Initiative - it arguably could be seen as discriminatory and insensitive, and it certainly is likely to draw strong objections from African American students at GWU.
Another potential problem under the proposed policy as it is now drafted concerns the use of locker room changing areas and showers in GWU's recreational and athletic facilities.
The draft policy states that "refusing to allow an individual to participate in a student organization or ACTIVITY based on their protected characteristics" constitutes prohibited discrimination, and that "this policy also includes as protected class categories sex, gender, GENDER IDENTITY or EXPRESSION and sexual orientation." [emphasis added]
Since changing clothing and showering are clearly "activities," and a person's "gender identity or expression" is determined by their own statements regarding their mental feelings, it would appear that a person with a male physique and male genitalia could still demand to be able to change in any of GWU's women's locker rooms, and shower with traditional women, if the person simply claimed that he regards himself as female.
Being required to shower with a person having male genitals would probably be very embarrassing - if not also possibly frightening and intimidating - to many traditional females, who may well regard it as a major breach of well established norms of sexual privacy; norms requiring separation based upon gender which apply even to the use of separate restrooms, even though a user's genitals are not exposed to other patrons since toilets are surrounded by stalls.
This locker room and shower exposure could occur not only in locations restricted to adults, but also to the University's recreational swimming pool which is open to all family members, including those who use the included "Toddler Pool for younger children."  In other words, very young girls could be exposed to what would appear to be a naked man when using the locker room or taking a shower.
This could occur not only when the young girl is in the company of an older traditional female user such as her mother, but it could also happen when a young girl uses the female locker room and shower area by herself (e.g., a male faculty member takes his very young daughter swimming.)
Also, to traditional female women and girls exposed to a naked male-appearing body, it might not make much difference if the individual is truly a male-to-female transsexual who has not undergone genital surgery, a mischievous fraternity member claiming to be transgender as part of a prank or initiation, or a pervert using the ruse of claiming to feel like a female for purposes of sexual gratification or even assault.
Needless to say, the proposed policy does not now provide any exemption for locker rooms and/or shower facilities.
Law professor Banzhaf, who teaches at GWU, has argued that there are many aspects and potential problems to this proposed new policy which are yet to be considered, and urged that the University's policies be clarified to avoid ambiguities, uncertainties, and even possible legal actions once the policy is finalized.
JOHN F. BANZHAF III, B.S.E.E., J.D., Sc.D.
Professor of Public Interest Law
George Washington University Law School,
FAMRI Dr. William Cahan Distinguished Professor,
Fellow, World Technology Network,
Founder, Action on Smoking and Health (ASH),
2000 H Street, NW, Wash, DC 20052, USA
(202) 994-7229 // (703) 527-8418
http://banzhaf.net/ jbanzhaf3ATgmail.com  @profbanzhaf