Kids are digital natives and therefore their consumption habits are closely linked to e-commerce. Although debit cards for kids are nowadays a financial product, not all banks let the youngest pay in plastic for their purchases online, or use alternative means of payment such as mobile phones and smartwatches.
Due to the proximity of those born between 1995 and 2015 to the internet and online commerce, it is not surprising that, even though they are minors, debit cards for kids are usually backed up by their parents who pay for their online purchases, as well as for in-store payments. 
But what are the best debit cards kids could have? What are the key features these products should sport? If you want to know the answer to these and other questions, keep reading!
15 Best Bank Cards for Kids and Teens
Greenlight Debit Card
The first debit card for kids on this list is the Greenlight. It's a debit card issued by the Community Federal Savings Bank. It can be integrated with Apple Pay, and the idea of Greenlight Financial Technology –the company behind the card– is for parents to transfer money and select exactly where they allow their children to spend.
Parents do this using two categories: money they can spend anywhere, and money they can only spend at pre-approved stores or types of stores. The amount of money put into each category is controlled solely by the parents, and can be changed at any time. Monthly fee is $5.
FamZoo Prepaid Card
It is a prepaid debit card that parents can give their kids based on a very interesting educational concept. FamZoo is a virtual "family bank" in which parents are the bankers and the children are their customers. 
Parents can transfer cash to their kids to reward them for any task completed –whether at school or at home– and will allow them to come up with budgets to teach them personal finance basics. This is not a free debit card, as it has a monthly fee of $5.99 –the card limit is $5,000, and has no overdraft fees.  
Mazoola Virtual Debit Card
This is one of several virtual debit cards for kids, but this one doesn't include monthly fees. The virtual feature implies that it's designed for tech-savvy kids, while parents can use the Mazoola app to assign and follow on tasks, define financial objectives, and help the young ones spend smartly. 
Do you know which under-the-radar stocks the top hedge funds and institutional investors are investing in right now? Click here to find out.
Despite the interesting features –like P2P payments and tracking of financial goals–  Mazoola virtual debit cards for kids do not offer ways of paying physically. This means they can only be used for contactless payments. If this is not for you and your children, keep looking.
Till Debit Card
Compared to other debit cards for kids, the Till debit card doesn't have monthly fees or minimum deposits. It is both virtual and physical, and it's addressed to young ones aged 8 to 18 years. The Quick Give feature allows parents to transfer money seamlessly, and they can set up regular, scheduled transfers. 
Regarding saving money goals, Till offers great control as parents have to authorize every transfer. However, the debit card has its drawbacks: It's only available for iPhone and iPod Touch users, and it's not compatible with smaller banks.   
GoHenry Debit Card
Both an app and a prepaid debit card, GoHenry is designed for 6 to 18-year-olds so they can manage allowances through intuitive budgeting and responsible spending. Launched in 2012, the GoHenry debit card offers unique parental controls, allowing moms and dads to individually monitor the debit card transactions of each of their children –up to five kids.

The GoHenry debit card is available in the U.S., is free for the first month, and then it charges a monthly fee of $3.99 per child –it has no overdraft fees at all. Kids can also get rewards based on tasks completed. It allows parents to customize settings for each kid by setting weekly spending limits, restricting where the card can be used, and locking and unlocking it at will.
Copper Debit Card
Not as much of a bank as it is a proper fintech start-up, Copper offers a prepaid debit card for kids, which allows parents to reload funds whenever needed –kids can add money to the cards too. 
Some of the key features include fee-free withdrawals at around 55,000 Allpoint ATMs, Venmo and Cash App compatibility, and no monthly fees. It has a $2,000 spending and monthly load limit, and a $500 daily load limit. Also, kids can make up to $3 for every referral they send to Copper.  
Alliant Credit Union Teen Checking
This debit card is specifically designed for kids aged 13-17, with free access to about 80,000 ATMs. It doesn't require monthly fees or minimum deposits either, and the account rewards teens with a 0.25% APY and up to $20 in out-of-network ATM rebates.
The checking account will automatically convert to the Alliant High-Rate Checking account when they turn 18. If parents are gaining interest on the kid's checking account, they'll carry on earning the same APY on the new account. Despite the advantages, more parental control is needed.
Capital One Money Teen Checking
With no fees and no minimum deposits, Capital One has a specific product for kids above 8 years of age and was named one of the best checking accounts last year by GOBankingRates. With these credentials upfront, it is an interest-bearing account with an APY of %0.1, which is above average.
Kids can manage money with their parents' supervision, who can lock or cancel the card if lost or stolen. However, the account offers no sign-up bonuses and has above-average wire transfer fees. 
Current Visa Debit Card
With this Visa Inc (NYSE:V) card –controllable through a mobile app– children can access their money as they will also learn the ability to save. Parents can review what their kids spend their money on, as well as prevent them from doing so in certain product categories, such as alcohol.
The Current card allows, among other things, to program the automatic transfer of money –perfect for weekly payment– make one-time transfers at any time for punctual payments or emergencies, and offer rewards for tasks. Monthly fee is $5 and it is catered to teenagers.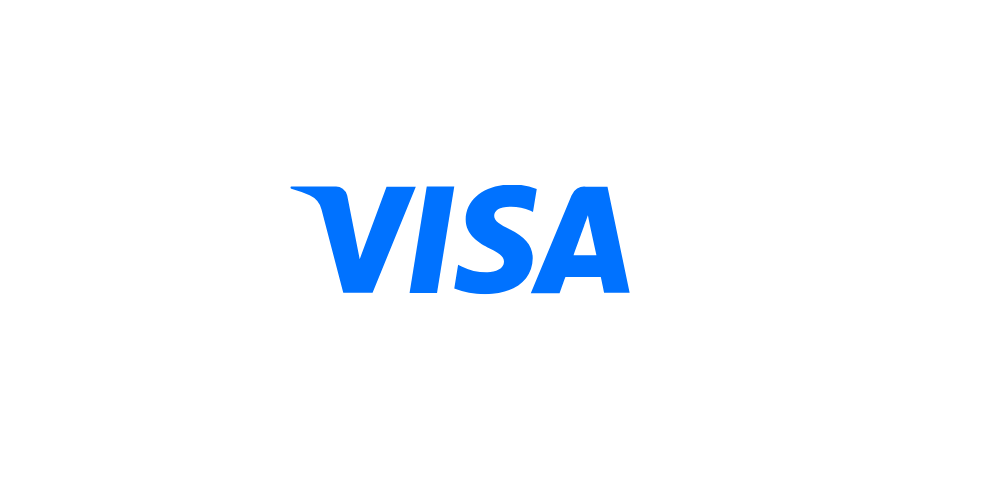 BusyKid Visa Prepaid Spend Card
The BusyKid card is packed together with the namesake app, and parents assign their children specific chores they need to finish to receive a reward. The app gives them the possibility to save up to 10% of their money, which they can later use through the prepaid debit card, under mom and dad supervision!
The app comes with a free debit card, and any additional one has an annual fee of $7.99. What's delightful about BusyKid is that it gives children the possibility to invest their money by creating a separate Stockpile custodial account.
Jassby Virtual Debit Card
Next one in the list of debit cards for kids is Jassby. This is actually another free mobile wallet app catered to families so they can oversee tasks, allowance transfers, and expenses. It lets kids spend their allowance in the Jassby Shop or Apple Pay through the Jassby Virtual Debit Card. A monthly fee of $2.99 will start after 6 months of inactivity.
Besides the enticing store with the likes of Apple Inc (NASDAQ:AAPL)'s App Store and iTunes, Nintendo Co Ltd (TYO:7974), the PlayStation Store, Microsoft Corporation (NASDAQ:MSFT)'s Rewards program, and more. Jassby also offers e-learning features to educate kids on personal finance. Accounts using contactless debit cards are free from monthly fees when at least one card is used to purchase each month. 
Step Visa Card
This is another option for kids to learn how to manage money. The Step card is personalized and has no monthly, overdraft, ATM, or late fees, and requires no minimum balance. It is also covered by the FDIC for up to $250,000. 
Catered to teenagers, Step is an all-in-one service as "parents won't have to open a separate checking and savings account for their teenager and can build their teen's credit without worrying about monthly credit card payments."
Visa Buxx Card
Visa Buxx is a prepaid, reloadable card conceived for teenagers. The Visa card allows parents to teach their teenage kids to create a budget, manage their finances, and shop smartly. The Visa Buxx card is accepted at every Visa-accepting business and e-commerce site. 
"Parents enroll their teen in the program and can also monitor their teen's spending; parents set the spending limits by the prepaid amount loaded on the card." It prevents last-minute ATM trips and constant requests for money, as it can easily be loaded online, via telephone, or automatically.

Parents can monitor their kids' spending, "Visa Buxx is perfect for school books, supplies, music, food, and travel, and it's great for peace of mind in case of emergencies."
Mango Prepaid Mastercard
The Mango Prepaid Mastercard Inc (NYSE:MA) offers a great set of features for teenagers –quite like the cards that include a checking account. "You can add and store funds in a Mango account and spend with the prepaid debit card, which works just like any Mastercard-branded debit card."
With this card, you can also open a linked Mango savings account with as little as $25. "This savings account currently pays up to 6% APY. That's well above the typical interest rate on savings accounts in the U.S." 
Monthly maintenance fee is $5, which can be waived if you have $800 in direct deposits every month. ATM withdrawal fee is $3 and $1 for checking the balance –something your kid can do on the mobile app which is a breeze.
Chase First Banking
Chase First Banking is a bank account for children and youngsters that must be opened by their parents, and helps families manage expenses digitally. The account provides opportunities for your kids to learn and practice personal finance basics using their own debit card.

Chase First banking has no monthly fees, no overdraft fees, but additional charges may apply when expedited shipping of a replacement debit card takes place, your child uses their debit card at an ATM of another bank, or when making a purchase or withdrawing at an ATM in another currency.
Key Features for a Debit Card for Teens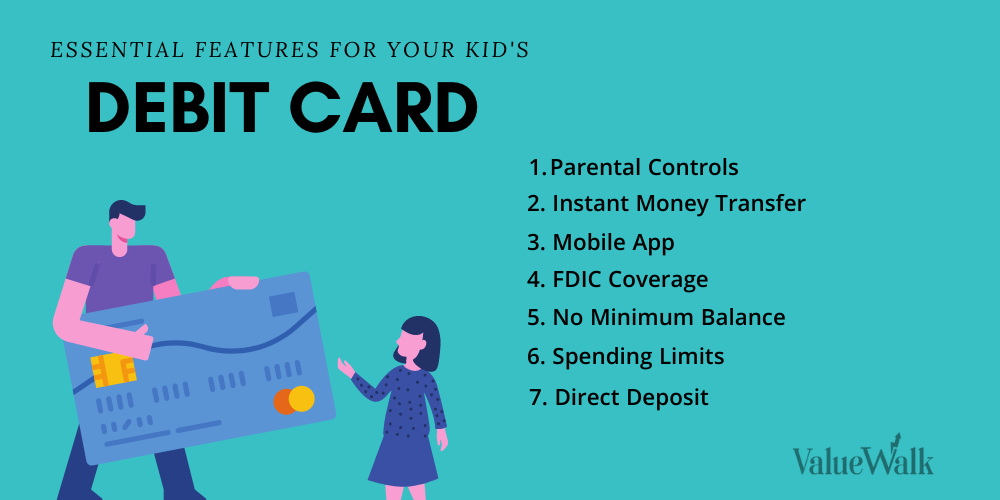 Parental Controls

 
If you're thinking about debit cards for kids, parental controls are essential and indeed the reason why you would want to acquire these products. Technology is increasingly playing a role in kids' appetite for e-commerce –video game consoles, clothing, entertainment–  so they have to be eased into the world of personal finance and consumption.
Besides teaching children money management from an early age, you want to protect them from external dangers like fraud and unwanted personal data exposure. Therefore, parental controls are a way to minimize to a significant degree those risks, and also prevent kids from using money for undesirable activities. 
Parental controls will allow for careful use of a debit card, a checking account, or set spending limits. Most products should grant you access to the card's balance, block the purchase of specific items or at particular stores, and monitor money management habits. When choosing a card –prepaid debit cards, virtual cards, etc.– this is a feature you should prioritize.
Transfer Money Instantly
Either to a checking account or a savings account, being able to transfer money instantly is an essential feature as it offers great convenience. It spares you from going to the bank when there is little time, and it helps you manage allowances, rewards and tasks.   
Instant transfers are also recorded so you can see how much you have sent to your kids and determine whether it is enough or not to accomplish their goals and go about their needs from a financial standpoint. 
Kids also learn the value of money and begin to understand what it takes to be awarded with some funding. This creates a positive association between hard work and reward, which sets them in the right way to financial independence and success.
Mobile App
Any debit card not offering a mobile app for management is not likely to be a good option. The mobile app supports the plastic in the sense that, for instance, kids can create a checking account with the help of one of their parents, receive some money, and then keep track of the money movements.
Mobile apps also allow parents to adjust the settings of debit card usage, such as expenses limits, forbidden e-commerce websites or stores, the limit of transactions per day or their amount, among other essentials of the parental control side of proceedings. 
With the app, parents can also set up a plan through which their kids can advance step by step and unlock specific perks. This will instill motivation in them, so they work hard and keep track of their own progress.
FDIC Coverage
The Federal Deposit Insurance Corporation should cover your kid's debit card as it does with every other financial product belonging to grown-ups. The FDIC protects the funds of every depositor in case a bank files for bankruptcy or any other similar event happens. 
It is absolutely important to be sure of FDIC coverage on these products, so be aware of the conditions that any app or card issuer offers. 
No Minimum Balance
Prepaid debit cards that offer no minimum balance represent great advantages as your kids will surely manage small amounts. This money accounts for allowances, or is usually destined to small gifts and purchases. Moreover, a small balance might stem from income reported by a part-time job. 
Direct Deposit
Direct deposit is a key feature to bear in mind when choosing a debit card for kids. With this, any paycheck will go directly to their account, which is of course controlled or supervised by parents. 
A direct deposit also helps them determine when money should be transferred to the bank account, and when it's best to transfer it straightaway in case there are some expenses to be covered. Further, in some instances, opening a premium checking account could allow for debit cards to receive early direct deposits, which improves convenience and speed.
Signing up for a direct deposit will allow some debit cards to deliver paychecks up to two days faster than regular banks. 
Spending Limits
Prepaid cards allow you to recharge money periodically to avoid, among other things, uncontrolled spending. In terms of limits, parents have the ability to set daily limits for ATM withdrawals or set a maximum monthly or daily spending. 
Spending limits is another aspect you can monitor from the family app, as most debit cards offer this function. Some banks, for example, send an SMS to the mother, father or legal representative each time the minor uses the bank card.
These limits can be set up daily, weekly, or monthly, depending on the kid's age and money management skills –those they will develop in time. Debit cards with limits will instill in them a cash-based approach to personal finances, so they will be less likely to have splurges. 
FAQs
Can I Get My Son A Cash App Card?
Cash App is a peer-to-peer payment application on which people can send and receive money. You can also use the linked debit card to buy or access an ATM. However, according to the Cash App minimum age requirements, customers must be 18 years old or above to open an account, and can only make payments to recipients in the U.S. 
Can I Get My Kid A Debit Card?
In general, children's cards are associated with a checking account owned by the minor, although parents or guardians are listed in the contract as legal representatives. The offer by banks is pretty varied, as some financial institutions have both checking and savings accounts for kids. The latter, however, offer children a very limited and less didactic experience.
The fact that there are prepaid cards for minors associated with the parents' account or a savings account in the kids' name, can indicate that the number of banks selling cards for children and teens is greater than the number of banks with current accounts for this customer segment.
If you want to offer your child the most educational experience possible, besides an account and a card, you'll need to find banks or platforms that give the children access to online banking –to check their balance and movements, make payments, etc. This will let them and you know what they spend their money on and how much they save. 
"Some institutions don't permit minors to have debit cards under their own name until they are at least 16, but others offer them to children who are 13 or even younger. Children have their own debit card, but parents can check spending online or on a mobile app."
How Do I Get A Debit Card Under 18?
U.S. law has it that under 18s need a parent to co-sign the request to set up a checking or savings account, and most kid debit card companies need parental advisory and signage. "Since a parent must co-sign, the parent is ultimately responsible if you overdraw funds or if fees are posted for which funds are not available."
What Age Can You Use Cash App?
Kids must be 18 years old or above to open an account. Users in the U.S. can only make payments to recipients in the same country. 
What Bank Is Greenlight?
According to the Greenlight Cardholder Agreement, Greenlight is not a bank but it partners with the Community Federal Savings Bank and it's an FDIC-insured member institution.

Final Thoughts
Kids can shift their piggy bank for their first bank account to start managing and controlling their money a little more. At a time when young people are buying more and more online, the question arrives.
However, debit cards will help your kids in their transition to adulthood by learning how to manage and monitor their finances. Debit cards can set up the foundations upon which they will build their money-aware future, so choosing the right product is essential.