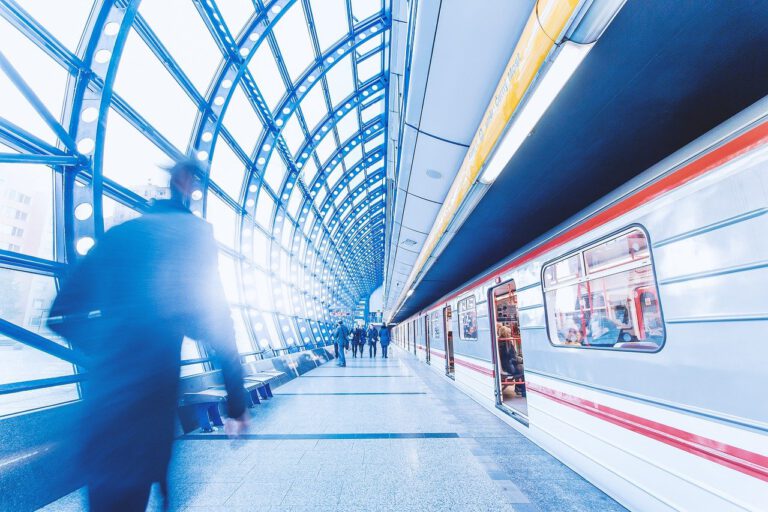 Lockdowns and restrictions across the world left many wondering how best they can productively spend their spare time. Binge watching your favourite series on Netflix, and finding the best new snack to sink your teeth into might be a more relaxing option. Looking into more productive ways to spend your time can help you to feel more positive about the future.

Q4 2020 hedge fund letters, conferences and more
The Idea Of Starting Your Own Venture
Starting your very own business might seem like a scary venture, but that hasn't stopped people from considering it. With much more free time than we're used to, the idea of having your very own company to make more money seems quite tempting. So, if you have toyed with the idea in the last year, then you are not alone!
Fund Manager Profile: Zhang Hui Of China's Southern Asset Management
Historically, the Chinese market has been relatively isolated from international investors, but much is changing there now, making China virtually impossible for the diversified investor to ignore. Earlier this year, CNBC pointed to signs that Chinese regulators may start easing up on their scrutiny of companies after months of clamping down on tech firms. That Read More
The copious amount of spare time now on our hands has allowed us to reflect and regroup with our dreams and aspirations. In fact, many have found themselves taking the plunge, and embracing their inner entrepreneur, turning their business dreams into a reality, and reaping the rewards.
You may have a passion or a belief that you think might make a great business idea, but have you thought about the additional funds needed to launch? Of course, having extra cash in the bank will always make a business venture easier. But, one major consideration to take note of, is how much your country will charge you to actually start the business in the first place.
The pandemic has had an effect on many people's paychecks, and now more than ever many of us are keen to watch our finances. But, if you're looking to expand your sources of income, it will help you to know where in the world is the cheapest place to form a business?
The Most Cheapest Countries To Start A Business
Rovva analyzed data from the World Bank, looking into the costs of starting a business in every country across the globe, and after narrowing down all of the countries, they have found the top ten countries where it is cheapest to form a business.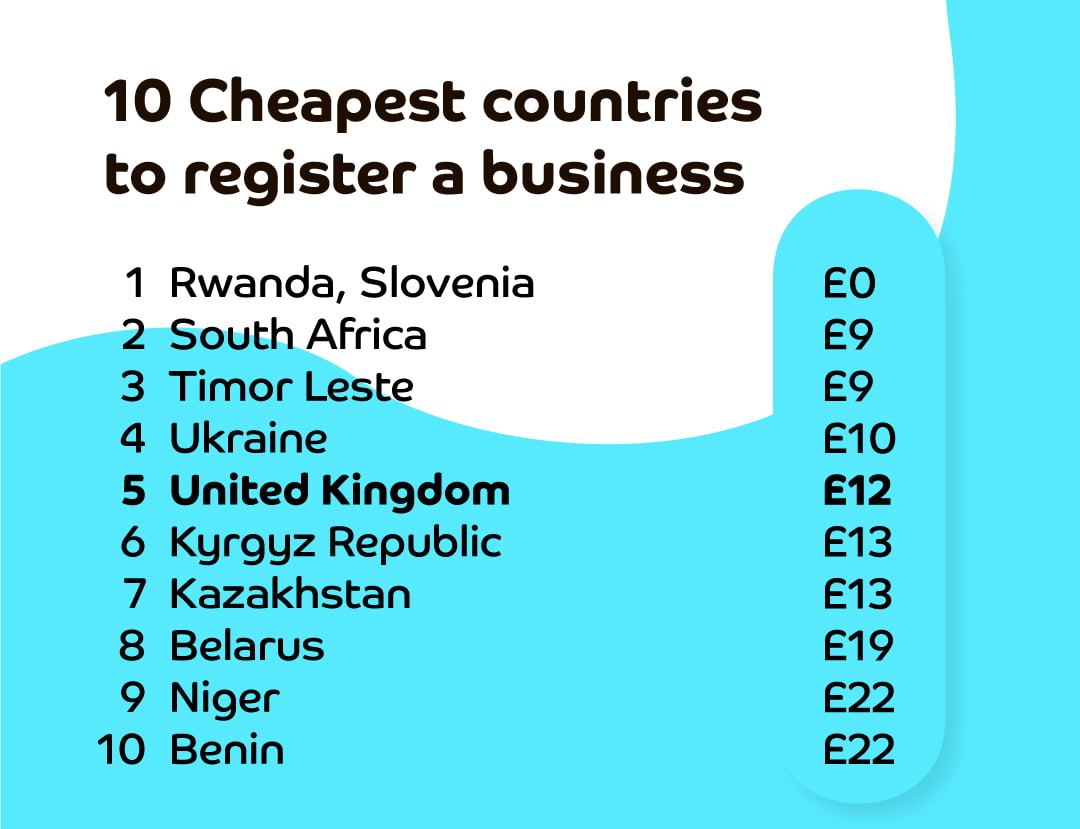 If you're looking to start a business with little funds, launching in a country with zero start up costs is of course, a no-brainer!
Rwanda and Slovenia jointly take the top spot here, both boasting zero start up fees it's official… These two places are the cheapest countries in the world to launch a business.
It should be said that while Rwanda has made it cheap for businesses to start up, its economy, which is largely based around agriculture, and the country's history of political instability is likely to play a significant role in any business's decision to locate here.
Slovenia's rock bottom start-out cost might be a particularly attractive prospect to some businesses since, being part of the EU, businesses have access to this market and the movement it allows.
South Africa is next up, with its low cost registration fee of only £9, it's another great option for forming a business overseas.
Ukraine takes third place with a cost of just £10. Whilst South Africa and Ukraines both offer low registration costs, we do have to compare this attractive starting fee to the potential blockers and bureaucracy a business could face in these countries when starting out.
Falling closely behind, is the UK, taking fourth place with just a £12 charge to register a new business.
Between 2019 and 2020, the UK alone saw as many as 665,495 company incorporations, the second highest number since UK figures were first reported, in 2009 to 2010. The global pandemic may have been the boost business-savvy individuals needed to launch their own ventures, with the economy turned upside down and a major lack of job security, it seems the people of Britain decided to go at it alone to create their own opportunities.
Launching a business in the UK is surprisingly easy! You will need to register your company with Companies House via the Government portal and you'll be charged a £12 registration fee and so, setting up a business in the UK seems to be another cost-effective location.
The Most Expensive Countries To Start A Business
Looking at the opposite end of the spectrum, some countries on the other hand do not offer such affordable registration costs to new business owners.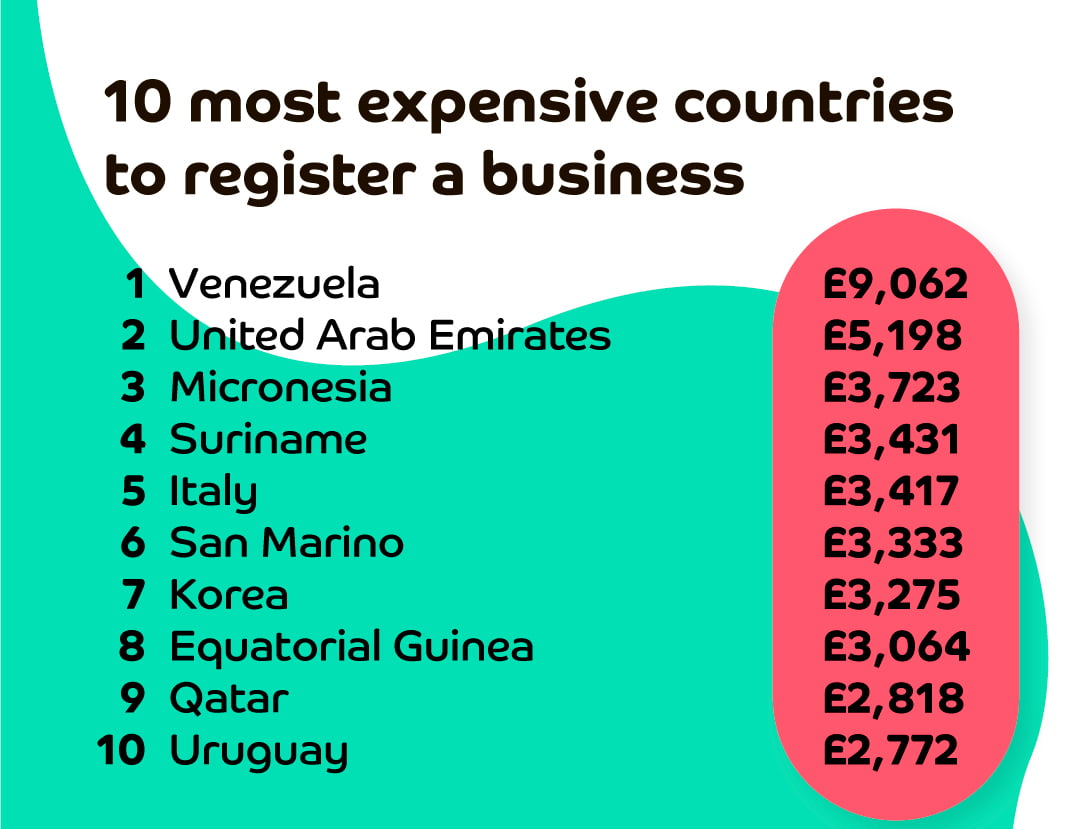 Taking the crown for most expensive business registration costs is Venezuela. The data revealed that Venezuela charges a hefty fee of £9,062 to register a business, the highest fee of any other country.
The United Arab Emirates is the second most expensive country, with registration fees costing £5,198.
Micronesia, Suriname and Italy too, make it into the top five for most expensive registration costs in the world.
While the cost of forming a business is one consideration, there are still lots of other factors to think of when choosing where to locate your business. These include residency requirements, your customer base, the needs of your workforce and operations, funding opportunities, and tax liability and incentives.
Jon Abrahams from Rovva, said: "We know that starting a business is a personal dream for many people across the world, and it's amazing to see so many people achieving that dream, even during these difficult times.
"But, whilst achieving those dreams has become a reality for so many, sometimes the costs of starting a new company can stand in the way for many businesses.
"Our research showed that there are some countries where it costs nothing to form a business, and on the other hand, there are those that do require a lot of funds in order to follow a business dream."
Updated on