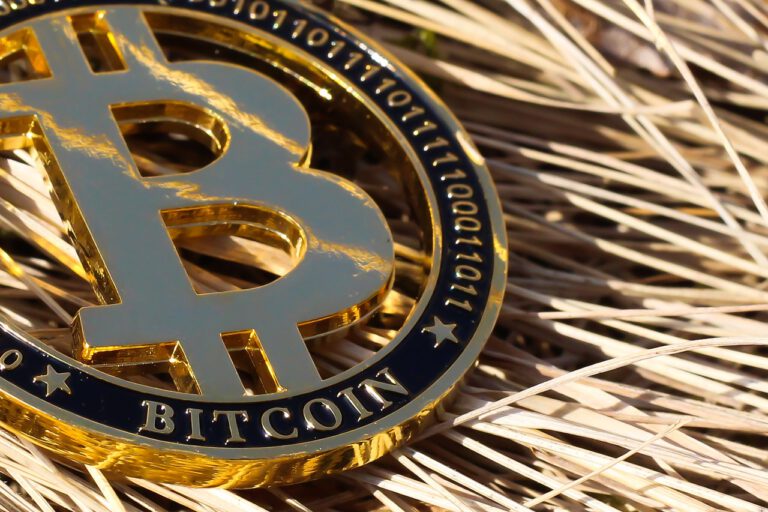 What happened with Bitcoin this week? Many investors who are new to the digital currency world might be scratching their heads with the Bitcoin news today. Why Bitcoin is increasing in value this week? After passing $16K and $17K within the last few days, this tidal wave has had multiple influences on the broader market's bull run. All of them seem to support a strong base for Bitcoin's success to continue. With tons of new support from major financial figures and the recent weakening of the US Dollar, Bitcoin's price rally may be just the beginning. Other cryptocurrencies may also capture investor interest as a result.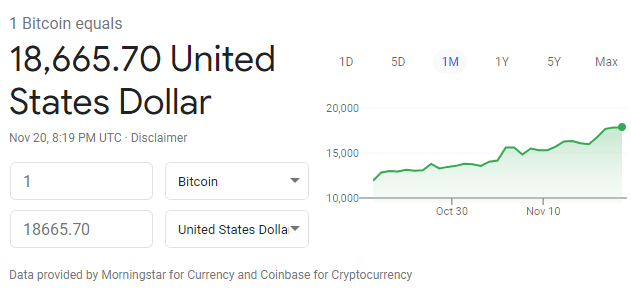 Bitcoin News Today – What's Going On?
Firstly, the price jump over the past few days runs in high contrast against the US Dollar. Some support for Bitcoin also now includes new high profile figures who turned to Bitcoin, and its successful quadrennial halving.
Gates Capital Management Reduces Risk After Rare Down Year [Exclusive]
Gates Capital Management's ECF Value Funds have a fantastic track record. The funds (full-name Excess Cash Flow Value Funds), which invest in an event-driven equity and credit strategy, have produced a 12.6% annualised return over the past 26 years. The funds added 7.7% overall in the second half of 2022, outperforming the 3.4% return for Read More
Other major Bitcoin news today is that MicroStrategy was the first to invest in Bitcoin majorly this year with $425 million. After this investment over the course of August and September, MicroStrategy's investment is valued at $620 million. Square followed suit to invest $50 million in October, and now it has $76 million. Consequently, other major companies rush into Bitcoin. This is now called the MicroStrategy Effect.
Why are these investment firms so taken by the digital currency? Even the skeptical JPMorgan which once criticized Bitcoin as a fraud investment now recognizes it as an asset that can compete with gold. Paul Tudor Jones, a hedge fund giant, also approves of Bitcoin. He stated on CNBC's Squawk Box that it is just as lucrative as being an early investor in a big tech company. Billionaire investor Stanley Druckenmiller recently acknowledged that it may be better than gold even though he holds much more gold than Bitcoin.
On top of PayPal now recognizing Bitcoin as an acceptable means of monetary exchange and adopting it into its platform, Bitcoin also underwent a successful halving. This halving happens every four years. What happens is the total number of all existing coins mined is cut in half. Since there is high demand and less supply, its price rises. And like gold, the price of Bitcoin rises concurrently against the US Dollar.
Where Does Bitcoin Derive Its Value?
The tricky thing about Bitcoin is that its value is not like stocks: it does not have earnings. Also, it has no yield like bonds. So, supply and demand control Bitcoin, and its halving, often jokingly called the halvening, helps to keep the supply in check.
This is what makes the price projection of Bitcoin so tricky. Its all-time high was in December 2017, after it went through its halving. This high price was $20,000, and it quickly crashed after since investor demand was too explosive to be stable. Bitcoin news today reveals that it is still extremely volatile, and it often crashes within hours or minutes. Most notably, the main problem with predicting Bitcoin is its mere 11-year history. This is doubly the case as neither the Federal Reserve nor private economists can agree on what to expect with inflation or massive workplace changes like the shift to remote working.
Active Bitcoin addresses recently rose to 1.2 million. However, it still remains below the levels witnessed back in 2017. This year, however, the Norwegian cryptocurrency analysis firm Arcane Research noted the active addresses in 2020 have grown more organically than explosively in 2017. What this means is that Bitcoin has more usage and adoption now. This is further supported by PayPal's adoption of digital currency. Therefore, there is a more stable base to help support the current bull run.
Experts are still skeptical about the Bitcoin price, owing to its current explosive rally. According to the managing director of KR1, George McDonaugh suggests $20,000 might prove to be a psychological barrier.
How Does Bitcoin News Today Affect Other Cryptos?
Similar to Bitcoin, Ethereum and Litecoin are also growing. Perhaps the new interest in cryptocurrency has many looking to other cryptos for more diversification options. However, many are still hesitant to trust digital currency since the only value backing it is demand.
Ray Dalio, CEO of Bridgewater Associates, recently prompted a debate on Twitter about Bitcoin.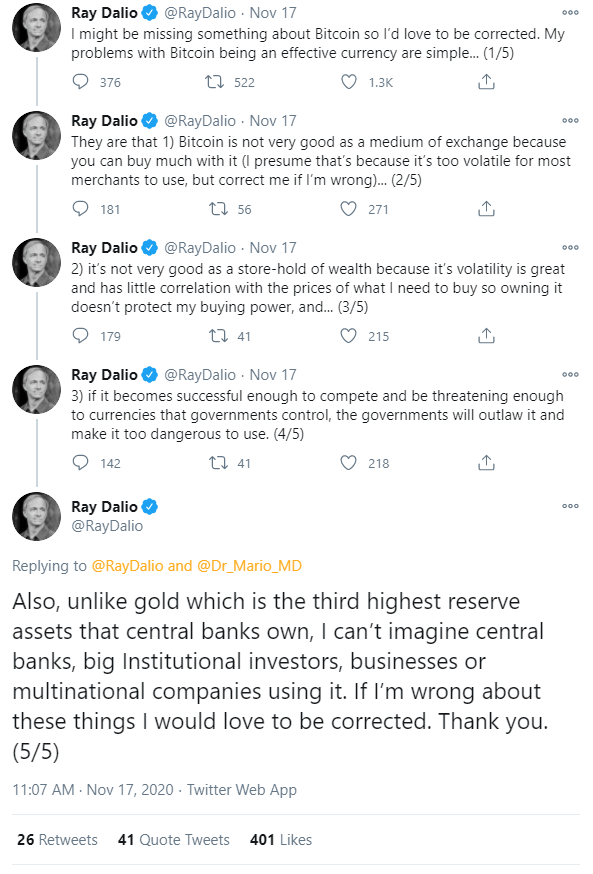 Basically, Dalio's concerns are not unfamiliar to those new to Bitcoin or other cryptocurrencies. So what would be the solution? Seeing as Dalio mentioned gold, which is a contender with Bitcoin, he might like to look into digital gold: PAXG.
For those of you who are not familiar with PAXG, it is a gold-backed digital token that can be exchanged for the physical gold it represents. Basically, think of it as digital gold. PAXG may be on its way to joining other cryptocurrencies in PayPal seeing as it is the first digital currency to gain the approval of the NY State Department of Financial Services. This department awarded Paxos, the founder of PAXG, with a limited-purpose trust charter. This in turn set up Paxos as the first company approved and regulated to supply cryptocurrency products and services. Later, this credibility made room for Paxos to become the first to have the virtual currency conditional license from the same state department.
Because PAXG is backed by gold instead of merely supply and demand, it has significantly less volatility than Bitcoin. As PayPal announced that it would incorporate more cryptocurrencies in the future, digital gold PAXG may just make the list and see greater investor sentiment in the coming days. The future appears to be bright for digital currency investors. Bitcoin news today showing recent success may be shared across the board as more and more people  trust digital currencies.