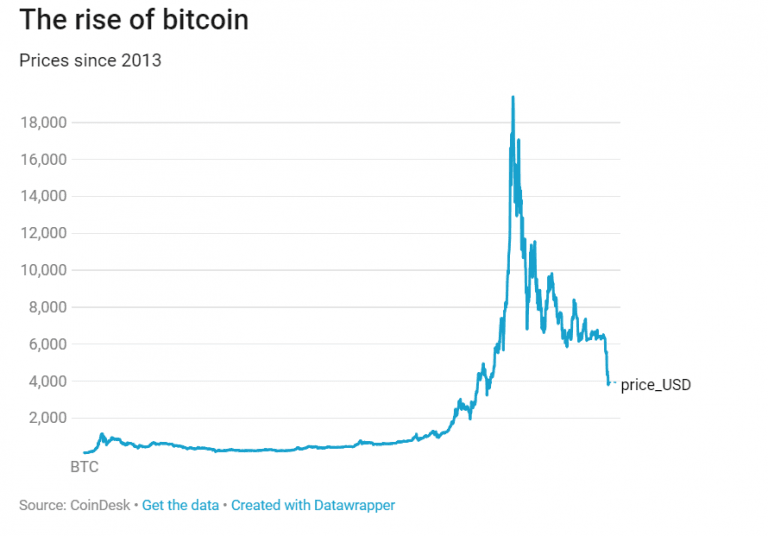 Just when you thought cryptocurrencies had bottomed out, the market was hit by yet another crash last week. Bitcoin's value plummeted 14% in under 24 hours last week, dropping to below $5k, a new low for the cryptocurrency in over a year.
In fact, this has been one of the biggest bear market crashes in the history of Bitcoin. In a period of about 300 days, Bitcoin has slumped over 80% from $19.6k to about $3.7k. Back in 2011, the cryptocurrency nosedived almost 97% to $2.2, shedding nearly all its value.
Q3 hedge fund letters, conference, scoops etc
Fund Manager Profile: Kris Sidial Of Tail Risk Fund Ambrus Group
A decade ago, no one talked about tail risk hedge funds, which were a minuscule niche of the market. However, today many large investors, including pension funds and other institutions, have mandates that require the inclusion of tail risk protection. In a recent interview with ValueWalk, Kris Sidial of tail risk fund Ambrus Group, a Read More
Marius Kramer, touted as a cryptocurrency expert, highlighted that the correction could be triggered by investors who entered the market at below $5k, liquidating their investments in the cryptocurrency to avoid losing their initial investment - eventually driving its price down further.
Why is Bitcoin plummeting?
Despite critics, Kramer claims that the recent pullback was engineered by crypto whales who manipulate prices regularly. They have driven the crypto market lower, where the Bitcoin reached a 14-month low of $3.5k.
The speculative movements in the cryptocurrency market may result in significant losses for investors and could cause the market to tank. Most often, crypto whales use this move to re-enter the market at a much cheaper price.
Despite the catastrophic crypto developments of late, Kramer claims the downturn is simply the calm before the storm.
According to Kramer, Bitcoin might touch $50k by the end of the next bull run, estimated to be six months away. "I predict the bull market to start in late September, reaching a Bitcoin price of $20,000 throughout October, November and reach its peak of $50,000-$100,000 in December, January or even $150,000 with a bit of luck," he wrote.
Bitcoin has risen by an average of 17x in every bull run. With the cryptocurrency trading at $4k per coin, a 17X return — the price might touch $68k. However, with the next bull run at least six months away, the market might well be choppy heading into the end of 2018.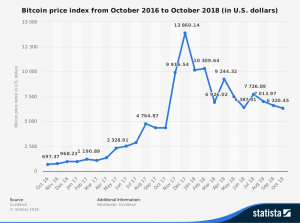 Bitcoin price prediction
Crypto experts believe that the next rally will begin around Jan. 24, 2019, which is the estimated launch date of BAKKT - a trading platform for digital assets that is set to be launched by NYSE owner, Intercontinental Exchange (ICE).
Kramer expects Bitcoin's price to rise to $10k around this time. He has also predicted a pullback to around $6k shortly after its rise.
Here's a timeline of Kramer's forecast for the cryptocurrency.
November 2018: Bitcoin will move back and forth between $4k and $4.8k
December. 2018: Price will touch $6k by Dec.10 and $8k by end of 2018.
January 2019: Price picks up momentum with the upcoming BAKKT launch and reaches $12k by Jan. 24. It then gets dumped to $8k
February and March 2019: Price bounces between $8k and $10k
April 2019: Price crosses $12k again
May-December 2019: Price may touch an all-time high and reach $50k with several blockchain and tokens showing users numerous technology applications.