When Dmitry Balyasny looks back at 2017, it must be challenging to see muted investment performance and recall the risk management glory days. Balyasny, managing partner and chief investment officer at the Chicago-based hedge fund that bears his name, is considered an uncorrelated maestro. Working with then portfolio manager Colin Lancaster, the hedge fund entirely avoided the August 2015 market crash on the back of strong central bank analysis and a risk overlay strategy.[1] But now Lancaster is gone, moving to cross-town rival Citadel, hard at work building a macro team. Balyasny, who runs the Google/Amazon of hedge funds for his part, looks to 2018 and expects the portfolio structure and organization he has built to shine as it has in the past.
"We were not satisfied with 2017 performance," Balyasny admits in a December 2017 letter to investors reviewed by ValueWalk.
Gates Cap Management Reduces Risk After Rare Down Year
Gates Capital Management's ECF Value Funds have a fantastic track record. The funds (full-name Excess Cash Flow Value Funds), which invest in an event-driven equity and credit strategy Read More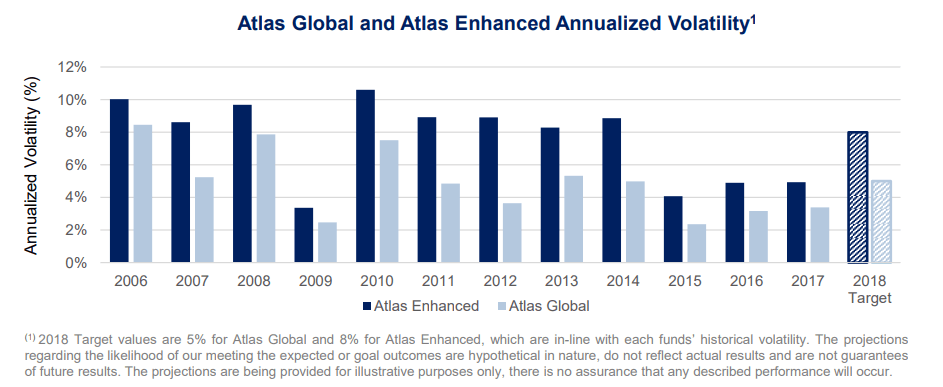 The Atlas Global flagship fund eked out 3.69% for investors, with nearly half of those gains coming in December alone. Atlas Enhanced lived up to its name, +2.88% in December and clocking in at 6.64% on the year.  94% of our returns in 2017 were alpha.
The cause for the disappointment is that since inception, Atlas Global has boasted a market-beating annualized return of +9.93% with relatively low 7.47% annualized volatility. But perhaps more interesting to uncorrelated investors is the Atlas Enhanced, which has a much higher annualized return of +14.05% but this performance comes with only a slight degree more annualized volatility of 8.47%.
Balyasny fell short of its mean performance but at the same time appears to be a fund that understands how to mix uncorrelated volatility factors.
The fund started as an Equity Long / Short player but eventually added Macro, Commodities, Credit and Systematic strategies, each which generally respond to different beta market environments.
Of these strategies, the original Long / Short bucket caught the most investment returns, up nearly 4% on the year, while macro & commodities were down slightly along with systematic.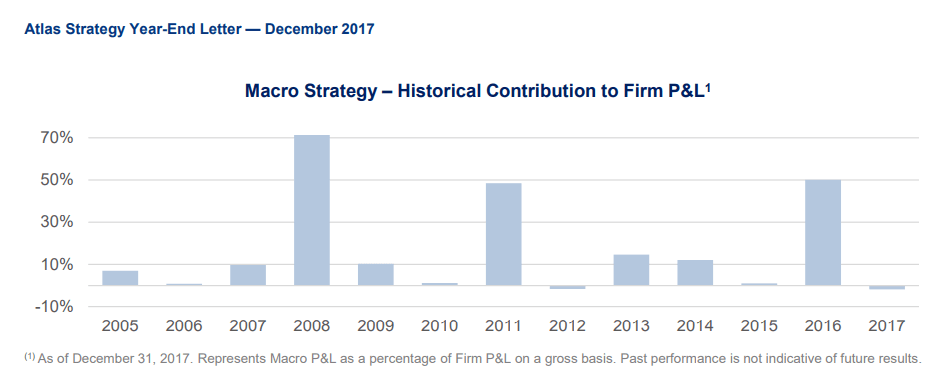 "Lumpy" returns to blame for muted performance at Balyasny
Looking in the rearview mirror, Balyasny points to three primary reasons 2017 returns were soft.
Losses in global macro subtracted 0.38% in Atlas Global and 0.52% in Atlas Enhanced. "While we made money in Relative Value and Commodities, we sustained losses in Directional Macro," he wrote. "While the return profile of the strategy is 'lumpy' in nature, it has been additive over time – particularly in difficult periods like 2008 and 2016."
Add to this poor performance in energy – the previously significant contributor caused just over a 1% loss – and then gross exposure levels that didn't befit a raging bull market and investors might recognize the performance drivers in a rather dreary year.
While systematic did not deliver much during the year of choppy general commodity performance, Balyasny notes the strategy is not entirely in place to deliver absolute returns, but also provide a risk management stabilization function:
Our Alpha Capture and Scaler programs, which are designed to complement and enhance the exposures taken by our PMs, delivered important returns during the year – particularly in the second half. These programs have a number of benefits such as addressing the challenge of PM capital under-deployment, minimizing factor risks, and balancing some behavioral biases that individual PMs might have. They are also more cost effective than traditional PM exposure. With each day, Alpha Capture and Scaler become smarter and more effective. These programs have now reached our allocation targets and I anticipate that future growth will be commensurate with growth in our PM allocations.
The firm is still hiring so send your CVs :)
The letter states:
We continue to add great hires to the team in both business and investment areas.
Some specific ones mentioned include hires from Pine River which has recently been struggling:
Paul Chambers previously worked at AHL Partners
Nina Zhao from Goldman Sachs
Ben Hoffstein from Pine River Capital Management
Simon Johnson  joined BAM in November 2017 from Pine River Capital Management
Also some big promotions
Jared Hade to Chief Financial Officer
Gustav Rydbeck  to Chief Operating Officer of the  Fundamental Equities division
Bill Wappler  to DOR  of  the Fundamental Equities division
Dina Madan  to Deputy Chief Compliance Officer
The hedge fund states that it has "over 150 Fundamental Equities professionals"
Finally, on Amazon itself, the Amazon of hedge funds opines:
A particularly interesting sector is retail where, although Amazon continues to be a fierce competitor, some companies have done a better job than others of adapting to the competition. This raises the question: How much of the sectors woes were due to online competition versus challenges brought about by slower growth? As companies respond to the various crosscurrents differently, our specialist teams are finding lots of idiosyncratic ideas on both sides of the market.
[1] According to former BAM portfolio manager in San Francisco who earlier in the year told me it was a portfolio risk overlay that was used to avoid the market downturn, not instructions given to individual managers.