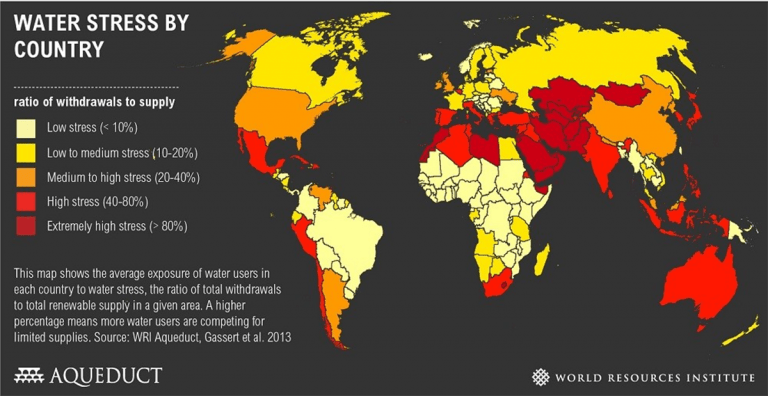 ValueWalk's Q&A session with Thomas Schumann, founder of the Water Security Fund. In this interview, Thomas discusses his fund structure, UN Sustainable Development Goals, if SDG is the same or different than SRI and ESG, the water crisis outside America, the correlation between Africa's population and climate change, Michael Burry going big into water stocks, and his views on CEO and executive pay.
Can you tell us about your background?
My name is Thomas Schumann. I was born in 1964 in Germany's financial capital and the 2015 world's most sustainability city Frankfurt/Main.
Gates Capital Management Reduces Risk After Rare Down Year [Exclusive]
Gates Capital Management's ECF Value Funds have a fantastic track record. The funds (full-name Excess Cash Flow Value Funds), which invest in an event-driven equity and credit strategy, have produced a 12.6% annualised return over the past 26 years. The funds added 7.7% overall in the second half of 2022, outperforming the 3.4% return for Read More
Q2 hedge fund letters, conference, scoops etc
After completing my German Abitur, I served as a private first class in the German Air Force, then started my first job as an international flight attendant with Lufthansa German Airlines. While traveling the globe and serving people of all ethnic, cultural, religious and socio-economic backgrounds I launched my first business that pioneered a German market for recycled Levis 501 jeans from California. In 1996 I immigrated to the U.S. Subsequent roles as VP Commercial Banking and Co-Founder/Chairman of a German tobacco company eventually led to my calling and passion for water security, sustainable finance, responsible investing and advancing the triple bottom line "People, Planet, Profit". My athletic background as an endurance athlete for more than 30 years provides me the tenacity, stamina, determination required to create positive change and impact in the world. I currently reside in Santa Monica, California, one of the most sustainable and environmentally-responsible cities in America.
What about your fund?
Water Security Fund seeks to deliver long-term sustainable alpha whilst actuating social and environmental responsibility. The fund's mission is to advance UN Sustainable Development Goal 6, "Sustainable Management of Water", it is nonthematic, and does not limit its focus on water management related companies. Water Security Fund invests in leading blue-chip stocks which are assessed for financial water risk, a core portfolio risk that has been undetected and ignored to date. The fund caters to investors who seek responsible investing, sustainable finance and ESG solutions aligned with Principles for Responsible Investing (PRI) and the European Commission's action plan on sustainable finance as part of a strategy to integrate environmental, social and governance considerations into its financial policy framework. Water Security Fund is world's first investment fund investing in companies which are good corporate water stewards, hence are well positioned to provide liquidity, safety, yield and social and environmental impact for the long-term to investors and stakeholders alike.
What is your fund structure? 
Water Security Fund is a Reserved Alternative Investment Fund (RAIF) based in Luxembourg, the global capital of sustainable finance and responsible investing. The fund is managed in collaboration with FARAD-Group, Luxembourg's first B-Corp (Benefit Corporation) a specialized asset manager focused on responsible investing and sustainable finance insurance products and services.
What types of investors do you have? 
The fund is currently in talks with seed capital investors that have a focus on impact and responsible investing. These are qualified, professional and institutional investors.
Are you SEC registered? Water Security Fund is a Luxembourg fund and not registered with the SEC. Luxembourg is the world's leading fund jurisdiction for responsible investing funds. An U.S.-based fund version is planned upon identifying an aligned, strategic partner with a focus on ESG, impact and responsible investing.
UN Sustainable Development Goals - can you tell us about that and how it impacts your mission?
The 2030 Agenda for Sustainable Development, adopted by all United Nations Member States in 2015, provides a shared blueprint for peace and prosperity for people and the planet, now and into the future. At its heart are the 17 Sustainable Development Goals (SDGs), which are an urgent call for action by all countries - developed and developing - in a global partnership. These 17 SDGs recognize that ending poverty and other deprivations must go hand-in-hand with strategies that improve health and education, reduce inequality, and spur economic growth – all while tackling climate change and working to preserve our oceans and forests. The mission of Water Security Fund is focused on advancing UN Sustainable Development Goal 6 "Sustainable Management of Water". Water security is the single most important guarantor for social, environmental and financial health, safety and sustainability. Water is the foundation of every human, environmental and economic process.
How are ISS, BlackRock, caLPERS and other influential firms doing on these issues?
ISS is the world's leading provider of corporate governance and responsible investment solutions.
CalPERS manages the largest public pension fund in the United States, with $300.3 billion in assets and is known for its shareholder activism. It is an agency in the California executive branch, the state which is home to the largest metropolitan water system on the planet. CalPERS endorses "Save our Water" on its website. I think it is only a matter of time until CalPERS embraces responsible investing and social and environmental responsibility as a fiduciary for America's most progressive and environmentally responsible state.
BlackRock, is the world's largest wealth manager. Larry Finks' 2019 Letter to CEOs evidences that the firm embraces "Purpose & Profit".
Is SDG the same or different than SRI and ESG - can you tell us what these terms mean?
The agenda for 2030 which includes the 17 SDGs is a commitment to eradicate poverty and achieve sustainable development by 2030 world-wide, ensuring that no one is left behind. The adoption of the 2030 Agenda was a landmark achievement, providing for a shared global vision towards sustainable development for all. It is currently the only recognized global agenda for sustainable development for the planet. The United Nations-supported Principles for Responsible Investment is an approach to investing that aims to incorporate environmental, social and governance (ESG) factors into investment decisions, to better manage risk and generate sustainable, long-term returns. It is currently the only globally recognized framework of its kind. SRI ("Socially responsible investing, or social investment, also known as sustainable, socially conscious, "green" or ethical investing, is any investment strategy which seeks to consider both financial return and social/environmental good to bring about social change regarded as positive by proponents") and ESG are valuable and crucial components of both the agenda for 2030 and PRI.
How big is the water crisis outside America? 
Please see World Resources Institute's Aqueduct Water Stress map. Water crisis along with climate change events is the top global risks assessed by the World Economic Forum. Climate change events, exponential population growth, global mispricing and mismanagement of water, increasing competition for water, expanding animal agriculture and growing demand for water-intensive animal products in emerging and developing markets are all drivers of water stress and water risk.
Wont it just get worse as Africa's population explodes and the world gets warmer?
That is to be expected. Predictions placing Africa's population at 2.4 billion by 2050. By 2100, more than half of the world's growth is expected to come from Africa, reaching 4.1 billion people by 2100 to claim over 1/3 of the world's population.
On the other hand places like India have made huge progress over the past few decades on many of these issues - is there bright light at the end of the tunnel?
There is always bright light at the end of a tunnel. The dark tunnel represents ignorance. The bright light represents the awareness of clean water alongside oxygen being the most precious asset on earth.
Have any technologies like desalination showed any promise in helping to solve water issues?
Yes and No. Desalination still has many disadvantages such as high energy use, concerns for human health, harm for ocean populations, brine production, waste disposal.
Preferred behaviors and technologies are water conservation, water recycling and reuse, smart metering and monitoring. But all starts with the awareness of water being the most precious asset on earth.
We heard that Michael Burry is going big into water stocks what do you think about the matter?
I heard this too, but to my knowledge Mr. Bury abandoned his original plan to invest in water via agricultural assets. But best to ask him personally at Scion Asset Management LLC, 20400 Stevens Creek Blvd, Suite 840, Cupertino, CA 95014, [email protected]
Any specific names you can tell us about that you like? 
CDP.net 2018 Water A List of good water stewards provides a good start.
Are you aiming for alpha or is this an issue that appeals to you? 
Increasing long-term sustainable alpha while mitigating financial water risk in securities is the main objective and investment strategy. Social and responsible investments are futile, if they do not produce alpha. Endless investment cases show that incorporating social and environmental aspects produces long-term alpha; outperformance.
Do you have any restrictions on your mandate?
The only restriction is to not overweight water wasters/polluters. A sustainable and responsible investment strategy should be considered "long", focusing on long-termism vs. short-termism, the latter getting our planet into the mess it is currently in by prioritizing greed and short term profits at the expense of people and planet.
Do you invest in any other type of sustainable or ethical types of industries?
No. I have a single-minded approach. I consider water security as the single largest investment opportunity for social and environmental responsibility, long-term sustainable alpha.
How does CEO and executive pay tie into your views?
The CEO who serves his stakeholders (not shareholders) the best, deserves the best executive pay as he/she creates the most value. Exemplary corporate governance includes measurable ESG factors and an alignment with one or more of the 17 SGDs and the Principles for Responsible Investment.
I always thought many ESG funds are just marketing gimmicks - a few weeks ago one big asset manager had their ESG head resign over a college admissions scam and it made me more cynical over the holdings of many funds - are many ESG funds out there missing the big picture?
Unfortunately the rise of responsible investing, sustainable finance, ESG and impact investing is accompanied by a growing trend of greenwashing. Integrity, values, ethics, authenticity are the pillars of ESG. SRI and ESG have biblical origins and were first practiced by churches and religious communities. It is not money that is the root of all evil. It is the love of it. (1 Timothy 6:10)
What companies or sectors should a fund dedicated to ethical investing avoid?
Any sector that explicitly harms the well-being of people and the planet are best to be avoided by an investor who embraces highest ethical standards of being truthful, fair and honest.
How does an investor differentiate from a fake and real ethical fund?
Proper due diligence and vetting.
It seems like a lot of big firms keep getting impacted in ethical scandals like helping China build mass concentration camps - why do many mega-corps keep getting caught in sometimes horrific actions despite them paying lip service to human rights? 
Because these bad actors love money more than they love people and the planet.
Related, companies get bigger and bigger it seems hard to find firms which do it all - treat workers well, do not pollute, care about more things than profits and other typical ethical issues - what do you think about the matter?
I see the light at the end of the tunnel. I agree with Richard Sandor who is known for asserting that the next financial revolution will be the convergence of the financial markets and the environment. Companies that do not evidence social and environmental responsibility will have stakeholders, investors and consumers avoid them in the future. Companies that exhibit exemplary stewardship of people and planet will be the long-term winners of a new global paradigm that favors "doing well, by doing good".
On a positive note any big names you think are doing it right?
Certified B-Corps (Benefit Corporations) a global community of corporate leaders are the big names of the movement "Business as a force for good".
Final thoughts?
I very much appreciate your and ValueWalks' kind consideration and support to create a better future for people, planet and profit.
(Sources: World Economic Forum, European Commission, World Resources Institute, CDP.net, B-Corp, Richard L. Sandor, Wikipedia, United Nations, PRI, BlackRock, CalPERS, ISS)