In the summer of 2019, a 33-year-old financial analyst from Massachusetts made the speculation of a lifetime.
Q2 2021 hedge fund letters, conferences and more
It started when he noticed an anomaly in the stock market…
He found a stock that was 140% "shorted."
Which means there were more shares shorted than shares in existence!
While this is technically possible, it is practically unheard of.
As regular readers know, shorting a stock is betting that it will decline in value. Generally, a short interest of 10% is considered high.
So a 140% short interest is off the charts.
Most people wouldn't even consider touching a stock like this…
After all, many heavily shorted stocks are poorly managed companies.
But this man decided to put $53,000 of his own money into the stock.
It was a bold move… and it made him rich.
The value of his $53k investment would hit $48 million. That's a 90,000% return.
The Most Epic Short Squeeze Of All Time On GameStop
GameStop operates stores where you can buy new and used video games.
Like many "in person" retailers, GameStop has been eaten alive by online shopping.
And yet, GME was the world's hottest stock for a few months. It outperformed nearly everything.
This wasn't because folks started shopping at GameStop like it was 2002 again.
No, it's because users on the social forum website Reddit starting piling into the stock.
They were trying to force a "short squeeze" by buying up a ton of shares.
Basically, they wanted to drive the share price of GameStop so high that short sellers would scramble to "cover," or buy back, the shares they were shorting all at once.
And it worked! GameStop went parabolic.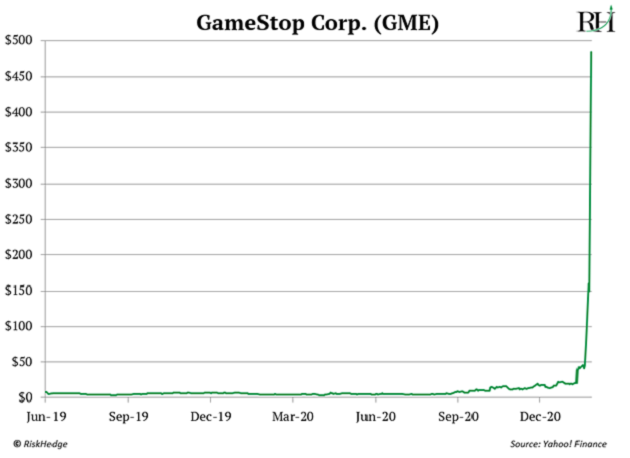 Of course, Gamestop wasn't the only "meme stock," that caught fire. The same thing happened with AMC Entertainment Holdings Inc (NYSE:AMC). It skyrocketed 2,816% over the course of 7 months.
Other dying stocks like Bed Bath & Beyond (NASDAQ:BBBY) and Koss (NASDAQ:KOSS) also went ballistic.
Short Squeeze Fever Is Still Alive
It was a full-blown short squeeze mania…
But here's something you may not know.
The short squeeze fever is still very much alive today.
More recently, we saw an epic short squeeze play out in Support.com (NASDAQ:SPRT).
SPRT surged 3,585% over the course of 11 months. That's enough to turn every $10,000 investment into a $358,500 windfall.
And much like AMC and GME, this move started after traders on Reddit started piling into the stock. SPRT had a short interest of nearly 50%.
The same thing happened with Smile Direct Club (NASDAQ:SDC). Its share price jumped over the course of just 25 days after retail traders piled into the stock for its 33% short interest.
These are incredible moves. But they shouldn't come as a surprise.
Short squeezes regularly produce some of the market's most explosive moves…
But here's the thing.
I wouldn't suggest anyone buy these meme stocks.
Remember, GameStop, AMC, and Bed Bath & Beyond aren't disruptors. They're getting "disrupted" by internet companies that can deliver the exact same services they do… but in a cheaper and easier way.
Of course, trading low-quality stocks like these is like playing hot potato. Eventually, someone is going to get burned...
Traders often jump ship with volatile stocks like these once they spike. If you're late to the party by even a day, you can end up taking huge losses.
For instance, after GameStop shot up over 1,941% in January, it quickly fell by 80% in February. Many investors bought in at that peak and were gutted after the stock dropped so severely.
But that doesn't mean you should avoid short squeezes entirely.
Investing In Short Squeezes
In fact, RiskHedge readers have also been making a killing off short squeezes lately…
But we aren't gambling on meme stocks.
We've been buying world class stocks… often days before they make explosive moves.
Consider Intellia (NASDAQ:NTLA), a genomics pioneer that recently showed it can edit genes inside the human body.
Disruption Trader readers took a position in Intellia just days before it released game changing clinical data. The announcement ignited an epic short squeeze that caused NTLA to teleport 128% higher in three days!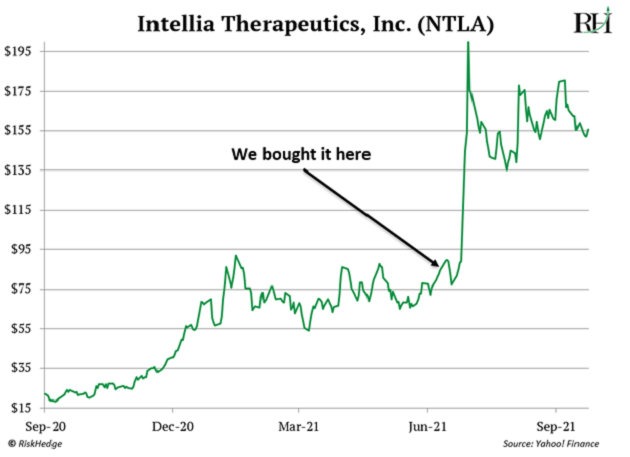 And that's just one of our short squeeze winners.
Last year, IPO Insider readers collected 41% on SiTime (NASDAQ:SITM) in just three months.
More recently, we positioned ourselves in Affirm (NASDAQ:AFRM) just days before its breakthrough partnership with Amazon (NASDAQ:AMZN) ignited an epic short squeeze in AFRM shares.
Affirm went to rally 101% over the course of just 28 days!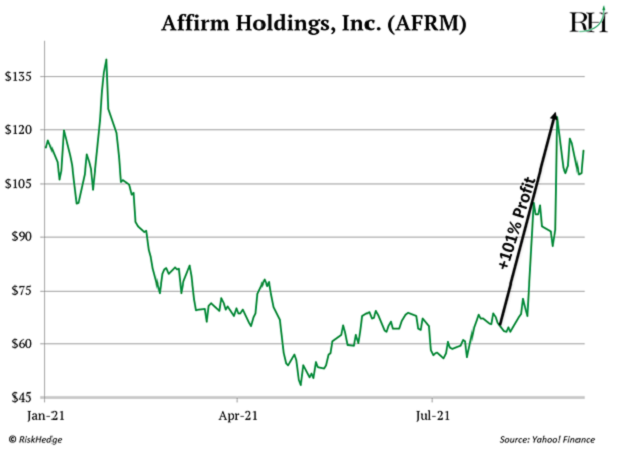 Most investors never enjoy these kinds of returns because they avoid short squeezes.
They think they need to be nimble traders to cash in on these opportunities.
But short squeezes aren't just a ticket to big, quick gains.
Long-term investors can also use short squeezes to position themselves in stocks that they plan to hold for years.
So, my guidance is simple…
Opportunities In IPOs
Focus on the initial public offering (IPO) market if you're looking for explosive short squeeze profits…
Why? Well, as you may know, many folks want nothing to do with IPOs. They view IPOs as high-risk gambles... as "unknown" companies to be avoided until they prove themselves.
There's some logic to this. After all, IPOs are, by definition, new stocks. They have no track record on the public markets. This attracts many doubters... and short sellers.
Plus, unlike Starbucks (NASDAQ:SBUX), Apple (NASDAQ:AAPL), or Amazon (NASDAQ:AMZN), most IPOs aren't household names yet. Most investors simply prefer to buy into companies whose products they've used.
Folks like to buy what they know.
When you're buying stock in a great business, a short squeeze isn't just an opportunity to make a quick profit. It's an opportunity to get in on the ground floor of a rally that could last months or even years.
This is why profiting off short squeezes has become one of my top money-making strategies.
Recently, IPO Insider readers took advantage of a short squeeze setup in ZoomInfo Technologies (NASDAQ:ZI). This trade has already handed over 58% in 10 months. We also took advantage of a short squeeze setup in Axonics (NASDAQ:AXNX). That's up more than 45% in less than a year.
We're currently sitting on 58% and 45% on these positions—both in under a year.
The Great Disruptors: 3 Breakthrough Stocks Set to Double Your Money"
Get our latest report where we reveal our three favorite stocks that will hand you 100% gains as they disrupt whole industries. Get your free copy here.
Article By Justin Spittler, Mauldin Economics