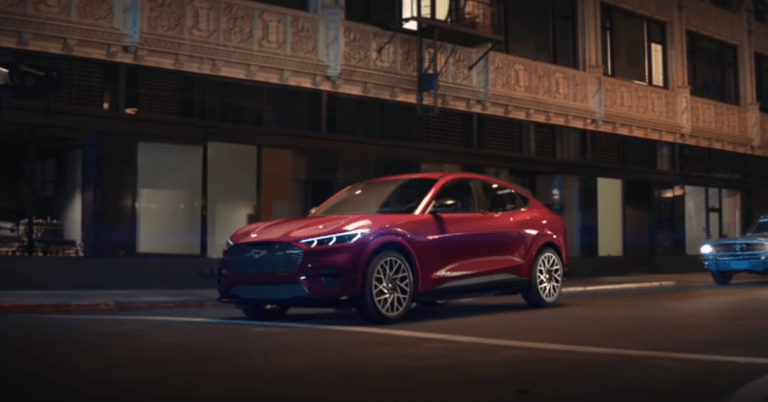 Competition in the electric vehicle industry is intensifying with each passing month. So far, Tesla has been the undisputed leader in the category. But established automakers such as Ford, General Motors, Audi, BMW, and others are also trying to grab a piece of the EV pie. Recently, Ford unveiled the Ford Mustang Mach-E to compete with Tesla's upcoming Model Y SUV crossover. The two vehicles are similar in most aspects, including price, range and performance. Let's check out how they stack up.
Tesla CEO Elon Musk has said his main objective is to encourage other automakers to shift from fossil fuels to electric vehicles. Musk congratulated Ford when it unveiled the Mustang Mach-E in Los Angeles, even though it will compete directly with Tesla's Model Y. Ford chief executive Jim Hackett called Tesla a "very good" competitor.
Congratulations on the Mach E! Sustainable/electric cars are the future!! Excited to see this announcement from Ford, as it will encourage other carmakers to go electric too.

ValueWalk's October 2022 Hedge Fund Update: Haidar Capital Surges 225%

Welcome to our latest issue of ValueWalk's hedge fund update. Below subscribers can find an excerpt in text and the full issue in PDF format. Please send us your feedback! Featuring investors exit long-short hedge funds, the oil market is now "broken", and Haidar Capital surges 225%. Q2 2022 hedge fund letters, conferences and more

— Elon Musk (@elonmusk) November 18, 2019
If you are planning to buy an all-electric SUV crossover in late 2020 or 2021, these two vehicles are going to be your best options.
Tesla Model Y vs Ford Mustang Mach-E: Design
Both vehicles are SUV crossovers. The Tesla Model Y will have room for up to seven adults with an optional third row. It offers easy access to the trunk, making it convenient to load and unload. By comparison, the Ford Mustang Mach-E can accommodate only five people. Both cars have a panoramic all-glass roof.
The Model Y also has relatively more cargo space. Tesla has said it would offer 66 cubic feet compared to the Mach-E's 64.4 cubic feet. Ford was more detailed than Tesla about the dimensions of its vehicle. The company said the Mach-E would have 4.8 cubic feet of cargo space in the front trunk, 29 cubic feet behind the rear seats, and 59.6 cubic feet from the back of the front seats to the rear. Tesla hasn't published the detailed dimensions of its SUV crossover.
Ford has borrowed a few elements from Tesla vehicles. Both the Mustang Mach-E and Tesla Model Y would feature a 15-inch touchscreen. Both vehicles will be able to receive over-the-air software updates. And owners of both cars will be able to open them with their phones.
Specifications
Tesla has listed three different versions of Model Y on its website – Long Range RWD (rear-wheel drive), Long Range AWD (all-wheel drive), and Long Range Performance. The Long Range RWD will have 18- or 19-inch wheels, up to 300 miles of range, and 130mph of top speed. It will go from 0-60mph in 5.5 seconds.
The Long Range AWD will have a slightly lower range of 280 miles but a higher top speed of 135mph. It will go from 0-60mph in 4.8 seconds. The top-of-the-line Long Range Performance will have larger 20-inch Performance Wheels, all-wheel drive, 280 miles range, and a top speed of 150mph. It will go from 0-60mph in just 3.5 seconds.
The Ford Mustang Mach-E will arrive in five different versions – Select, Premium, First Edition, California Route 1, and GT. The Select model will be available in both rear-wheel drive (RWD) and all-wheel drive (AWD). Both versions will have the same 75.7kWh standard range battery pack. The RWD version will offer a range of 230 miles while the AWD version would go 210 miles on a single charge. The RWD version goes from 0-60mph in six to seven seconds but the AWD version will take one less second.
The Premium Ford Mustang Mach-E will also have the option of RWD (230 miles range) or AWD (210 miles range). But it will also be available in an extended range battery pack option, which will obviously cost more. The 98.8kWh extended range version will go 270 miles with AWD and 300 miles with RWD. It will go from 0-60mph in "mid-5 seconds."
The First Edition will be a limited-edition version. It will offer AWD with 98.8kWh extended range battery pack with 270 miles of range, and 333 horsepower. It will have the special 'First Edition' paint job.
The California Route 1 Mach-E will be available only in RWD configuration with the 98.8kWh extended range battery pack. It will have a maximum range of 300 miles. The most expensive model will be the Ford Mustang Mach-E GT. It will have an extended range battery pack, but will go only 250 miles on a single charge due to beefed-up performance. It will go from 0-60mph in "mid-3 seconds." The GT model will have a metallic front grille and the GT badge.
Tesla Model Y vs Ford Mustang Mach-E: Charging
Charging is one of the most important aspects people look at when buying an electric vehicle. Tesla claims that one of its Superchargers will deliver up to 168 miles worth of charge in just 15 minutes. That's pretty impressive. The Ford Mustang Mach-E will get 47 miles of range in 10 minutes of charge at a DC fast-charging station.
All models of the Mach-E will come with a home charger that you can plug into 120V or 240V power outlets. Ford will also be selling a faster home charger. Ford recently invested in Electrify America network to help it expand its coverage before the Mach-E launch.
Both Ford and Tesla's software will have a route-planning feature that will recommend where to charge your vehicle. The Mach-E and Model Y will both have access to public charging stations from Electrify America, EVGo, ChargePoint, and others.
Tesla has the edge here. It has installed more than 1,600 Supercharger stations with about 15,000 plugs across North America. The Supercharger stations work only with Tesla vehicles.
Autonomous driving
Both vehicles will have some form of semi-autonomous driving technologies. They will require human supervision at all times, but can handle braking, acceleration, and steering for you. The Model Y will have Tesla's Autopilot, which can change lanes automatically. Ford's Co-Pilot360 Assist is not capable of changing lanes.
Autopilot will come as a standard feature on the Tesla Model Y, but interested customers will have the option to get the Full-Self Driving option at an additional cost. The Mach-E will come with Ford's improved Co-Pilot Assist 2.0, which could have a few additional features.
Pricing and availability
Officially, the Tesla Model Y was unveiled with a starting price of $39,000. But Tesla has been changing the pricing and configurations of Model 3 and Model Y. According to Electrek, the Model Y is expected to start at $43,000 and the Performance version is estimated to cost $61,000. Tesla plans to start deliveries in the summer of 2020.
The Select model of Ford Mustang Mach-E will start at $43,895. The Premium model has been priced at $50,600. The First Edition model is going to cost $59,900 and the California Route 1 will set you back by $52,400. The top-of-the-line Mustang Mach-E GT has been priced at $60,500. The First Edition and Premium models will start shipping in late 2020. All other versions will arrive in 2021.
Ford's upcoming electric vehicle appears to be more expensive than Tesla Model Y. But Ford customers will be eligible for a full $7,500 tax credit, which Tesla Model Y buyers can't take advantage of. Depending on the state you live in, the tax breaks will bring down the price of Mach-E by as much as $10,000 in the US.
On top of that, Ford dealers could further reduce the cost by a little bit to secure a sale. The prices of Tesla vehicles are non-negotiable.
Conclusion
The launch of Mach-E around the same time as Model Y will intensify competition in the EV space. Ford appears to have got the design, features, and pricing right. The federal tax credit will also help it attract more customers. Ford also has the advantage of a strong sales and service network across the nation.
But Tesla still has the edge in terms of charging speed and network. And only time will tell whether Ford can match Tesla in terms of user experience and autonomous driving capabilities.