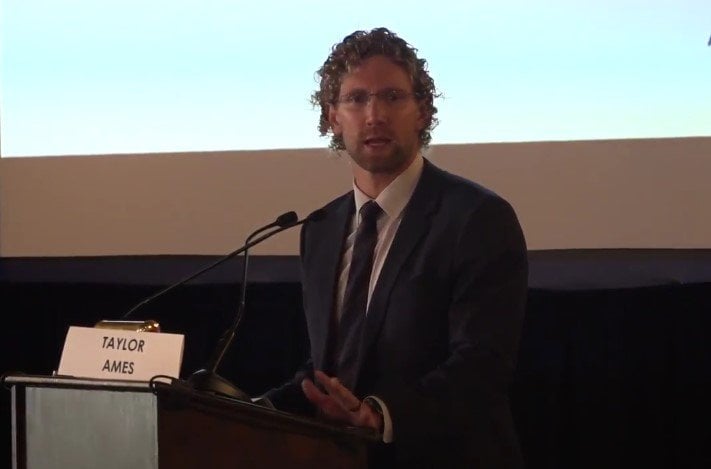 Taylor Ames, Vice President, Product Strategies at ALPS Distributors, Inc., discusses how disruptive technology is changing at the 2018 Closed-End Funds & Global ETFs Forum.
Q1 hedge fund letters, conference, scoops etc, Also read Lear Capital: Financial Products You Should Avoid?
Taylor Ames - How Disruptive Technology Is Changing
Transcript
Gates Capital Management Reduces Risk After Rare Down Year [Exclusive]
Gates Capital Management's ECF Value Funds have a fantastic track record. The funds (full-name Excess Cash Flow Value Funds), which invest in an event-driven equity and credit strategy, have produced a 12.6% annualised return over the past 26 years. The funds added 7.7% overall in the second half of 2022, outperforming the 3.4% return for Read More
My name is Taylor Ames. I am the vice president of product strategies for Alpes. Basically Will my job is a combination of sales marketing and research kind of kind of help come up with ideas behind our exchange traded funds closed and funds open end funds for sales guys to use out in the field. A quick word about Alpes before we get into my prepared remarks here what Alpes is in the business of is kind of helping to bring about innovations through factor investing thematic investing and then alternative assets. We're kind of product agnostic. We think when we work with best in class managers index partners whoever through exchange traded funds open end funds closed and funds. We really don't care. Whatever your best ideas. That's what we want and we're really really excited to be able to partner with some of the best in breed within the industry. So before I start I think it's kind of important to back up and think about why we're all here when it comes to managing people's money or investing people's money. That is a very very serious business where people take their time their talents and their treasures and they trust us to invest that for them. It's a very serious business but it's also very very rewarding and very very fun to be a part of. And I think when you remove the compliance and the travel and the politics and all of that to be in an industry where you can take people's money watch it roll over time that's so much fun to be a part of. I got involved in investing when I was 8 years old.
I had a paper route. My mother took us to our financial adviser and he basically explained to me what stocks and bonds were basically started by saying how would you like to be an owner of McDonald's. I'm eight years old of course and want to be an owner of McDonald's. That is incredible. I invest in my paper on money when I was 8 years old and actually watch it grow over time. I used that to buy my wife's engagement ring right. That is what we are in the business of is taking an eight year olds paper route money investing it over time whatever the structure is whether it's the Madec or whatever it is. And for them to be able to buy something of worth to be able to buy something of value. Now I ended up selling my McDonald's stock to buy my wife's engagement ring I had some money left over and I bought Bank of America in October of 2007. Didn't turn out very well as a result of that. So I think that that's also gives some credence to invest in people kind of know what they're doing don't just try to beat the market thinking that your 20 year old who noticed that Bank of America is probably not going do well in the last couple of years. So when it comes to investing and really the future of investing the future is always changing but we're really at a tipping point right now at an inflection point right. There's so much that is happening within the world of technology that is changing the way that we within the financial industry interact and do business right.
It used to be that you would need to invest your money through a financial advisor or a stock broker who was the only one that could buy stocks for you. Now they were talking about it on the panel robo can do all of that for you. You don't need a financial adviser. They still have a place and they're still absolutely essential to the industry. But there are other options that are out there because of technology. You also have to think about the millennials right and I am I am key millennial. What I always say is gospel and I got to get a selfie of this I'm a millennial if I don't take a selfie it didn't really happen. OK. I actually want to see the damn millennials in this presentation. I asked our compliance person if I couldn't. Like no you're basically degrading an entire generation. The millennials don't think about the importance of size and style investing and sector diversification and things like that. They are still essential. They're still really important. But when it comes to things like thematic investing in environmental social and governmental investing these are the things that the next generation cares about. There was a study that was done last year and basically about 30 percent of the general population cares about thematic investing. That's a good percentage. But when it comes to the damn millennials sorry about that. But we're at 83 percent today. We probably don't even know what size and style investing is. That's why we need financial advisers. But when you think about the proliferation of smart beta factor investing that's all very important.
At the same time we have to be aware of the fact that the next generation cares about investing across multiple countries at the same time multiple market capitalizations at the same time multiple market cap multiple sectors at the same time.