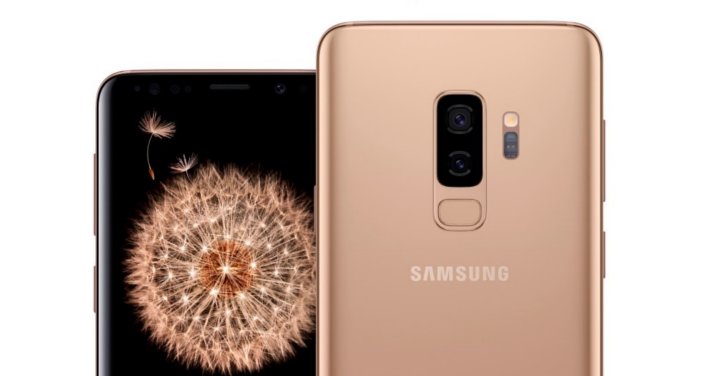 The Galaxy S9 and S9 Plus are powerful and beautifully designed smartphones. They both have incredible rear cameras. But the S9 series received a lukewarm response from consumers due to their resemblance with the Galaxy S8 line. Samsung has now launched a Galaxy S9 Plus Sunrise Gold color edition in India in an attempt to boost sales. The new color variant is already up for pre-order on Samsung's online store and on Flipkart.
These deals make the Galaxy S9 Plus Sunrise Gold easier to buy
Last month, the Korean company had shown off the Sunrise Gold model along with the burgundy red Galaxy S9 and S9 Plus, but it chose to launch only the Sunrise Gold in India. However, only the larger S9 Plus is getting the new color. The Galaxy S9 Plus Sunrise Gold will be available in 6GB RAM and 128GB storage variant. It will go on sale in major retail outlets across the country from June 20th.
Samsung has priced the Galaxy S9 Plus Sunrise Gold at INR 68,900 ($1,015). Buyers will receive an INR 9,000 cashback if they pay via Paytm Mall or ICICI Bank credit cards. Samsung is also giving buyers a "special one-time screen replacement offer." Samsung India general manager Aditya Babbar said in a statement that the Galaxy S9 Plus Sunrise Gold model has a "vibrant style that embraces a modern and classic feel."
What Value Investors Can Learn From Walter Schloss And Ben Graham Today
Walter Schloss isn't a name many investors will have heard today. Schloss was one of the great value investors who trained under Benjamin Graham and specialized in finding cheap stocks. His track record was outstanding. In Warren Buffett's 1984 essay, the Super Investors of Graham-and-Doddsville, he noted that between 1956 and 1984, Schloss's firm returned Read More
The limited edition model has a satin gloss finish with a reddish glow to "perfectly capture the warmth of the rising sun." Samsung executives said in an interview that the company has spent "several years" developing the satin gloss finish, and it's the first time Samsung has applied the new finish on a smartphone.
Currently, the Galaxy S9 Plus is also available in Coral Blue, Midnight Black, and Lilac Purple colors. The Sunrise Gold model is identical to the regular S9 Plus in terms of technical specifications. It has a 6.2-inch Super AMOLED Infinity display, 2K resolution, 6GB RAM, and 64GB of base storage. It also gets wireless charging, a rear-mounted fingerprint sensor, and a huge 3,500mAh battery with fast charging support.
Just like its standard sibling, the Galaxy S9 Plus Sunrise Gold model has a vertically-aligned dual camera system on the back. It consists of a 12MP wide-angle and a 12MP telephoto lens. The wide-angle sensor has variable apertures of f/1.7 and f/2.4. The camera automatically adjusts between the two apertures based on lighting conditions. It is particularly useful in low-light environments. The rear camera also supports Super Slow-motion video recording at 960fps and 720p resolution.
The Galaxy S9 Plus is powered by the Snapdragon 845 or Exynos 9810 chips depending on the market. Samsung has also included an Intelligent Scan feature for authentication and security, but it's not secure enough to process financial transactions. Other features include Bixby AI assistant and an IP68 rating for water- and dust-resistance.
Samsung launched the Galaxy S9 Plus Sunrise Gold alongside a new TV Control widget that offers unified solutions between TVs and mobile phones through the SmartThings app. Once you enable the SmartThings app, the widget shows up automatically on the Galaxy S9 Plus. It allows for a two-way screen and sound mirroring when the phone is near a compatible TV.
Truly Exquisite brings gold and platinum plated Galaxy S9
If the Galaxy S9 Plus Sunrise Gold is not premium or expensive enough for you, folks at Truly Exquisite are offering the Galaxy S9 and S9 Plus plated with precious metals such as 24K gold, 18K rose gold, and platinum. Even though the rear panel is plated with gold and platinum, the phone will continue to support wireless charging.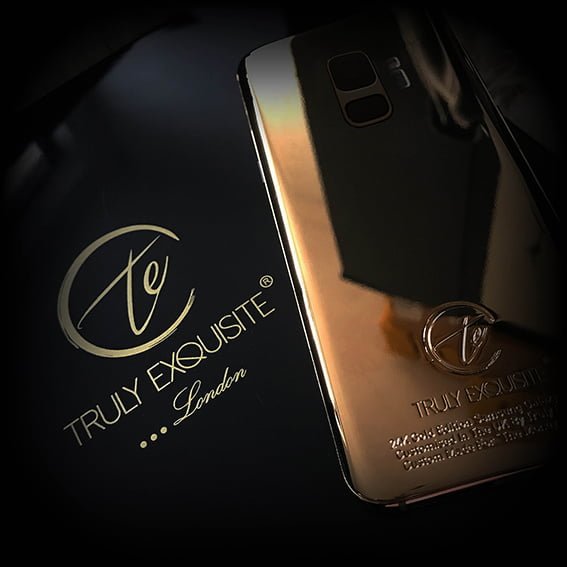 There is a gold model with a roaring tiger on the back. Truly Exquisite also offers other options such as dragons and lions drawn on the rear panel. There will be only 99 units available. These phones aren't for the middle-class, though. Their prices start from GBP 2,300 and go up to GBP 3,800. If you have deep pockets, place your order at the earliest because Truly Exquisite is making only 99 of them.