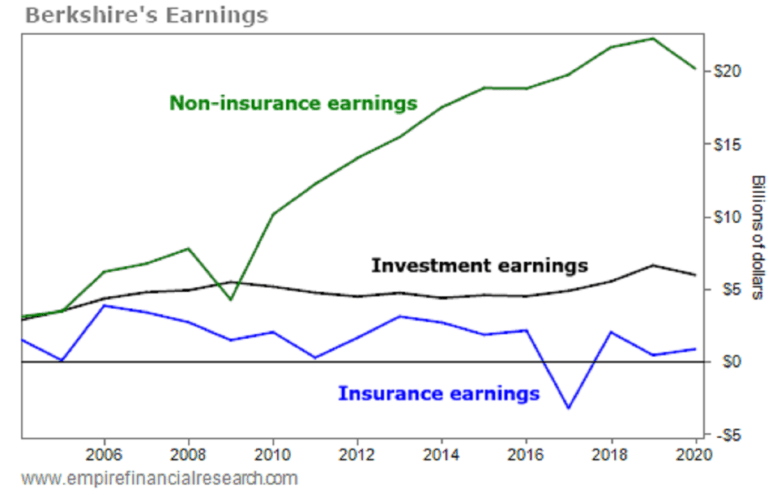 Whitney Tilson's email to investors discussing his pot stock event tomorrow night; his analysis of Berkshire Hathaway; Hertz to exit bankruptcy; berna on L Brands.
Q4 2020 hedge fund letters, conferences and more
Pot Stock Event
1) In my past two e-mails, I've written about my friend Tom Carroll, who writes the Cannabis Capitalist newsletter for our sister company Stansberry Research.
Gates Capital Management Reduces Risk After Rare Down Year [Exclusive]
Gates Capital Management's ECF Value Funds have a fantastic track record. The funds (full-name Excess Cash Flow Value Funds), which invest in an event-driven equity and credit strategy, have produced a 12.6% annualised return over the past 26 years. The funds added 7.7% overall in the second half of 2022, outperforming the 3.4% return for Read More
He is truly the ax on pot stocks – I'm not aware of anyone who knows this sector better.
A good indication of how highly I think of him and how much I trust his stock-picking abilities is the fact that my colleagues Enrique Abeyta, Berna Barshay, and I turned to him in September for his best idea to share with our Empire Investment Report subscribers.
At the time, we believed – based primarily on our analysis of the polls and the COVID-19 pandemic – that Democrats would sweep the presidency and both houses of Congress (a prediction I'd initially made in two e-mails in May).
We had identified the cannabis sector as one that would benefit from a "liberal landslide" (along with a few others, such as green energy and infrastructure), but we didn't know exactly which stock to recommend... so we turned to Tom.
He didn't disappoint. His pick, one of eight that we included in the September issue of Empire Investment Report entitled "How to Profit From a 'Liberal Landslide' in November" is up a stunning 158% in less than six months! (All eight stocks have soared an average of 90% versus only 15% for the S&P 500 Index.)
While many pot stocks have done well since the election, Tom believes the best is yet to come. He makes a compelling case that the sector is at a critical inflection point and has identified a handful of stocks – mostly off the beaten path instead of popular, overvalued ones – that are poised to benefit the most.
Tom shared some of his views in guest essays for Empire Financial Daily on Monday and Tuesday: Welcome to the New Era of Cannabis and Here's What to Expect From Cannabis Stocks in 2021.
To hear Tom's latest thinking, tune into the free event he and I are hosting tomorrow night at 8 p.m. Eastern time. Just for doing so, Tom will share the name of one of his top stock picks right now.
It's free to attend, but you must register in advance – you can do so here. See you tomorrow!
Analysis Of Berkshire Hathaway
2) In Monday's e-mail, I discussed Berkshire Hathaway's (BRK-B) rapidly growing share repurchases. Then, in yesterday's e-mail, I shared highlights from CEO Warren Buffett's annual letter. Today, I'd like to share my analysis of Berkshire Hathaway's performance in 2020...
Let's start by taking a high-level look at Berkshire's pre-tax earnings, as the company breaks them down: Overall, operating income declined 7.9%, which isn't bad given how economically sensitive many of Berkshire's businesses are. The decline took place in the second and third quarters, followed by a strong fourth quarter in which operating income jumped 13.6% year over year, which bodes well for the future.
Not surprisingly, the biggest decline was in the "Manufacturing" segment, almost entirely driven by Precision Castparts, which saw pre-tax earnings decline by 64.5% to $650 million. This led Berkshire to take a $10 billion impairment charge.
Earnings at Burlington Northern Santa Fe declined 6.3%, while losses at Berkshire Reinsurance Group rose from $1.5 billion to $2.7 billion due to "estimated losses of $964 million attributable to the COVID-19 pandemic and estimated losses from significant catastrophe events of $667 million from Hurricanes Laura and Sally and U.S. wildfires."
One bright spot was auto insurer GEICO, which saw earnings soar 128% due to "lower claims frequencies from the effects of less driving by policyholders during the COVID-19 pandemic."
This chart I put together breaks down Berkshire's earnings for each of the past 17 years into three buckets – insurance, investment, and non-insurance: As you can see, Berkshire's earnings growth has been driven by the non-insurance businesses – nearly 100 wholly or majority-owned subsidiaries such as Burlington Northern Santa Fe, Precision Castparts, various utility assets, Marmon, Iscar, and Lubrizol.
At first glance, the insurance earnings may not look that impressive... but keep in mind that most insurers lose money on their underwriting, offsetting this by earning investment returns from the "float" – premiums that customers have paid, before claims are paid out (which, in some cases, can be many years later).
It's truly remarkable – and, to my knowledge, unprecedented – that Berkshire's insurance operations are consistently profitable (16 of the past 17 years), while float has grown from almost nothing to an astonishing $138 billion, as this chart from yesterday's e-mail shows: Hertz To Exit Bankruptcy
3) It would be hard to find a better example of retail investor naïveté than the fact that Hertz (HTZGQ) only fell 28% yesterday after it announced a deal that would allow it to exit from bankruptcy – but would also wipe out shareholders! Hertz to Sell to Knighthead, Certares to Exit Bankruptcy. Excerpt:
Hertz Global Holdings received a bid from Knighthead Capital Management and Certares Management to purchase the rental-car company out of bankruptcy for as much as $4.2 billion, according to court documents.

Under the plan, Knighthead and Certares would take control of Hertz when it emerges from its Chapter 11 reorganization, with the final value of the deal dependent on how much existing lenders participate in the financing...

Under the proposal, shareholders would be wiped out, which is typical in big corporate bankruptcies.
To be clear: HTZGQ is 99% likely to be worth zero – yet yesterday it closed at $1.18, giving it a $185 million market cap.
I'm certain that no sophisticated, institutional investors own this stock. Rather, it's average folks on Reddit, Robinhood, and the like – those who can least afford it – who are going to lose the remaining $185 million. What a total disgrace! The U.S. Securities and Exchange Commission ("SEC") should limit trading in bankrupt stocks to accredited investors – just as it does for other risky things like investing in hedge funds.
Berna On L Brands
4) Berna is quoted in this New York Post article about L Brands (LB), which is preparing to sell or spin off its Victoria's Secret division: Victoria's Secret has soared in value during the pandemic. Excerpt:
Berna Barshay, editor of Empire Financial Daily, a New York-based newsletter, confirms that "the more bullish buyside estimates at hedge funds are north of $4 billion" for a Victoria's Secret sale, which the company is aiming to wrap up by August. The brand was valued at $15 billion just five years ago, she noted.

"Sycamore had a steal at $1 billion and will have regrets over busting out of the deal," Barshay added. "I think Sycamore panicked and Victoria's Secret weathered the storm better than people would have expected."
Berna's Empire Financial Daily readers (you can sign up to receive it here – it's free) would have made a fortune if they'd acted on her May 22 e-mail, when the stock was at $15 (yesterday it closed at $55.82, up nearly 4 times!). After sharing a thorough analysis, she concluded:
L Brands is a buy for long-term investors who can tolerate a little volatility along the way.

L Brands closed yesterday with a market cap of $4 billion. So even after the 18% jump, you're buying the retail gem Bath & Body Works at an attractive valuation and getting a free call option on its fallen angel sister company, Victoria's Secret.
She wrote more about this story last Friday.
Best regards,
Whitney