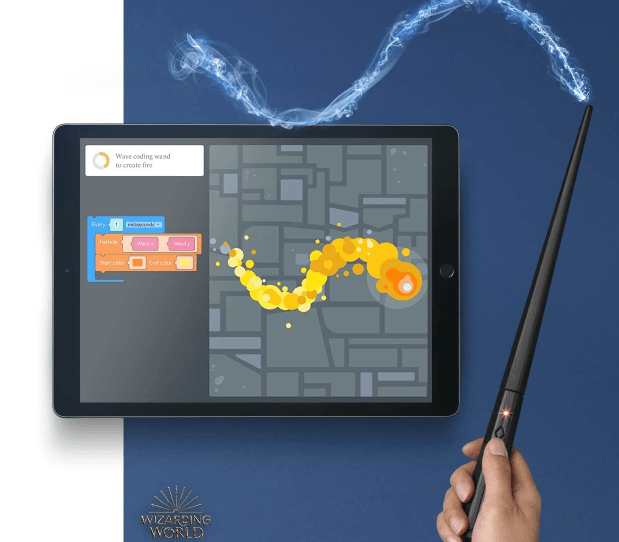 Kano has partnered with Warner Bros. to launch a new coding kit inspired by the Harry Potter series. The new Harry Potter Kano Coding Kit will come with a "built it yourself" wireless wand designed to teach kids about coding and the challenges involved in each step.
Harry Potter Kano Coding Kit – what it is?
The wand is hexagonal in shape, and appears similar to the one used in the Harry Potter series. The wand's button and LED light should be facing upward for the hardware to work. The youngsters would go through the "how to make a coding wand manual" to assemble the wand, which includes a magnetometer, gyroscope and accelerator. All these sensors would track the hand movement of the user to control the action on the screen by using the wand.
With the Harry Potter Kano Coding Kit, the user would be able to systematically unlock over seventy challenges from across Harry Potter's world through the wand, which would work in integration with the Kano app. The app has been designed to teach the youngsters about the basics of programming. However, this time the learning would be through the challenges to produce spells that can be controlled on screen with the wand. For instance, a user can stipulate that on swiping the wand down the pumpkin grows 150 percent.
Gates Capital Management Reduces Risk After Rare Down Year [Exclusive]
Gates Capital Management's ECF Value Funds have a fantastic track record. The funds (full-name Excess Cash Flow Value Funds), which invest in an event-driven equity and credit strategy, have produced a 12.6% annualised return over the past 26 years. The funds added 7.7% overall in the second half of 2022, outperforming the 3.4% return for Read More
According to the Kano founder and chief executive, Alex Klein, very few people understand what is happening inside the devices even though the numbers of gadgets in our lives today are overwhelming. He said that the startup is thrilled to partner with Warner Bros. Consumer Products to inspire people of all ages across the world to make their own code and see how easy it is to understand, play and create with it.
Potential to do much more
Programs or the challenges vary from something simple such as deploying a wand to making a virtual feather float, to complicated creations such as turning on the sound effects and an explosion depending on the gyration of the wand. Once the kids are through with the graphical coding interface, they can use the app to check out the underlying editable javascript code that powers each program.
It means that the functionality of the wand can be expanded beyond just a toy for kids. They would be able to create their own customization charms. For instance, one can build the fire-conjuring charm "incendino." By adding a few blocks and altering the values, a long flame can be added with some extra sparks changing the spell's color to a ferocious blue.
"You get this nice sense of taking something you're familiar with, from a franchise, and then actually bending it a little bit," Klein explained. Those who are already experts in Javascript can further expand the functionality of the wand to use it like an interactive remote for smart lights and appliances.
Kano – making coding easy and fun
Kano, a London-based startup, is looking to change the way kids are taught coding. Kano's first product was a child-friendly Raspberry Pi computer, which was shipped with over a dozen parts together, something similar to Lego. The wand, on the other hand, is simpler because it has fewer pieces that should be joined together and kids would have help in the form of a booklet in case they find themselves stuck at any stage.
For example, there is a page that talks about the core chipset in detail, including the Bluetooth antenna, vibration motor, microcontroller and codeable light along with various sensors. Kano's coding kit, this time, is more focused on coding than demystifying computers, which has been its underlying theme.
"The original purpose of Kano was to take these sealed devices and let people interact with them creatively and understand how they work," said Klein. "Now we're attempting to do the same with Hollywood. We're taking these sealed narratives, and these universal characters, and letting people manipulate them creatively."
Since its inception in 2013, Kano has raised more than $40 million in funding, including a $28 million round last November and an unrevealed amount from Sesame Street's venture fund in June. Kano has competition from the young companies which are also launching similar coding DIY kits for kids. For instance, London-based startup Pi-top recently raised $16 million for its modular PCs. San Francisco-based Piper also announced a $7.6 million funding round to expand its DIY computer kits for the kids.
The Harry Potter Kano Coding Kit is now available for preorder via Kano.me, but it would start shipping only from October 1.