Lithium Americas Corp (NYSE:LAC): A pre-production firm poised to be the next lithium major
Q3 2020 hedge fund letters, conferences and more
Lithium Americas - Introduction
Lithium Americas Corp (LAC) is the strongest junior lithium miner in the world today. It is poised to accelerate from a pre-production company to a mining major over the next decade. By 2024, we believe LAC will be worth $35 per share, a 250% return. Within the decade, there are multiple paths forward for that return to grow further.
Global electrification places enormous pressure on illiquid mineral markets. International automaker product roadmaps suggest a need for lithium 6x the current global supply size within a decade. Lithium Americas will lead the new entrants in delivering critical greenfield development supply to the market.
Missed in the race to grow volume is the importance of quality. Lithium is not a commodity; it is a specialty chemical. Value will accrue to the firms that own or feed mid-stream processing facilities capable of delivering the material required by Tier 1 battery manufacturers. Impurity (quality) differences in lithium sold in the third quarter of 2020 resulted in 3x price differentials.
By the middle of this decade, we expect LAC to be producing 70,000 tons of lithium carbonate equivalent (LCE) per annum (tpa). By the end of the decade, production will exceed 100,000 tpa. For perspective, that would place LAC on par with Albemarle Corp.'s (ALB) production and earnings capacity in 2019, a company that has a 15x market cap compared to LAC currently.
Key near term catalysts that drive the investment thesis include:
A final investment decision and release of the definitive feasibility study for the most advanced lithium deposit development in the United States, Thacker Pass.
Production start at LAC's Argentinean asset Caucharí-Olaroz.
The market for battery-grade lithium chemicals tightens considerably from 2022–2025.
LAC's free float increases, putting the firm in a position to receive sizeable passive investment flows.
We expand upon each point in detail throughout the report.
Business Model
LAC is an advanced stage lithium developer bringing two world-class assets to market: the Caucharí-Olaroz mine in Argentina and Thacker Pass in Nevada. Caucharí is a lithium brine operation and is the largest known lithium brine resource in development in South America.1 LAC owns 49% of the project. Ganfeng Lithium owns the remaining 51%. The firm's U.S. based project, Thacker Pass, is a sedimentary2 lithium deposit, the largest known lithium resource in the United States, and the most advanced lithium project currently under development in the United States with over ten years of development and over $100M invested to-date. LAC owns 100% of Thacker Pass. Combined, the two assets will give LAC anywhere from 5–20% of the entire mined lithium supply globally, depending on the speed at which other producers scale over the next decade.

Overview of Mine Assets
Caucharí-Olaroz (Caucharí)
Situated in northwest Argentina, Caucharí has an estimated annual production capacity of 40,000 tpa of lithium carbonate and is expected to operate for 40 years. As a brine deposit, solar evaporation concentrates lithium in the salt brine and precipitates other salts in large scale ponds. Processing facilities remove impurities and transform the concentrated lithium brine into battery-grade lithium carbonate. The Caucharí project is unique for several reasons:
First, it is a Tier 1 geological deposit. The resource is the 3rd largest lithium brine deposit globally, behind the Uyuni in Bolivia and the Atacama in Chile – representing one of the stool legs that broadly defines the "Lithium Triangle" in South America. As a brine resource sitting in a high-altitude desert, solar evaporation does much of the heavy lifting, dramatically reducing energy requirements, and thus OPEX, placing it almost immediately at the lower left of the production supply curve.
Second, their partnership with Ganfeng Lithium has provided ample liquidity, critical mid-stream processing expertise, and the security of an offtake agreement for over 90% of the mine's annual production at market prices. LAC has been fortunate with their partners to-date receiving key pond design elements from SQM leading up to the 2017 feasibility study, followed by Ganfeng's investment to secure LAC's share of project financing and guidance in designing and constructing the chemical processing plant.
Ganfeng Lithium is China's largest lithium compound producer and the number one lithium metal producer globally. It is considered a global leader in lithium compound and metal processing and is arguably the world's only vertically integrated lithium company with raw materials, lithium compounds, and lithium battery production in-house. Ganfeng has at least four long-term supply contracts with V.W., BMW, Tesla, and L.G. Chem. LAC now sits at the start of this supply chain. Ganfeng's mid-stream expertise has also proven helpful for LAC.
The final technical reports for Caucharí showed a meaningful decline in capital intensity from $17,000 tpa to $14,000 tpa driven by higher levels of concentration realized in the evaporation ponds relative to initial expectations. With increased clarity on recovery rates, Ganfeng used their brine processing experience to alter mid-stream facilities to maximize battery-grade lithium carbonate output. This change is easily audited in their operating cost expectations, which increased by about $824 per ton of LCE output for reagents. The ~43% increase in OPEX reflects process optimization designed to consistently achieve stringent, low impurity specifications from battery material customers. It is hard to understate the importance of this development. Battery grade LCE can have a $4,000 per ton premium over higher impurity LCE, easily 3x the increase in forecasted OPEX. At $3,576 per ton of LCE, the project remains well within the lowest 10% of the industry's production cost curve.
Coming into 2020, Caucharí had 12 active brine pumping wells, yielding more than 3 million cubic meters of brine into the evaporation ponds. Following a pause earlier this year due to COVID-19 protocols, construction activities at Caucharí are back underway. As of the end of Q3 2020, 81% of the $565 million budgeted capital expenditures were committed, including $347 (61%) already spent. All critical equipment remains on track to be delivered by the end of 2020, with the expectation that construction is complete by the end of 2021 and production starting in early 2022.
Thacker Pass (Thacker)
Thacker Pass is the second of the two projects that LAC is advancing towards production.
The project proposes a lithium claystone mining operation with a production capacity designed to reach 60,000 tpa of battery-grade lithium carbonate for 46 years. The project will be developed as an open-pit mining operation, allowing the operation's extraction portion to be carried out with conventional and commonly available equipment. Lithium bearing clay sits close to the surface, allowing for a relatively shallow pit with an average depth of 75 meters. The crushed ore will be processed in a leaching circuit using sulfuric acid to separate the lithium from the clay. Given the reliance on sulfuric acid, a sulfuric acid plant will be built on-site, converting molten sulfur into acid, providing the critical acid leaching ingredients and enough electricity to power the entire operation with excess energy sold back to the grid.
Thacker is 100% owned by Lithium Americas, with offtake rights currently uncommitted. Key pre-production development steps are being met in a timely manner; the final environmental impact statement was finalized on December 4th, 2020, an important milestone from the U.S. Bureau of Land Management, and all major permits are expected to be completed by the end of Q1 2020. The definitive feasibility study is currently underway, and a record of decision is expected to be released within the next quarter. In September, the Nevada Governor's Office of Economic Development unanimously approved tax abatements, which are expected to be granted for the first phase of the construction period.
Like Caucharí, Thacker Pass expects to be a relatively inexpensive mining operation. The open pit's cash costs are estimated at $4,088 per ton; cheaper than most hard rock spodumene mining but more expensive than the top tier brine resources found in South America. However, inclusive of excess electricity and sulfuric acid by-product sales, the average OPEX for the entire project is reduced to $2,570, a 37% reduction from mine operation OPEX and likely cheaper than their Caucharí asset.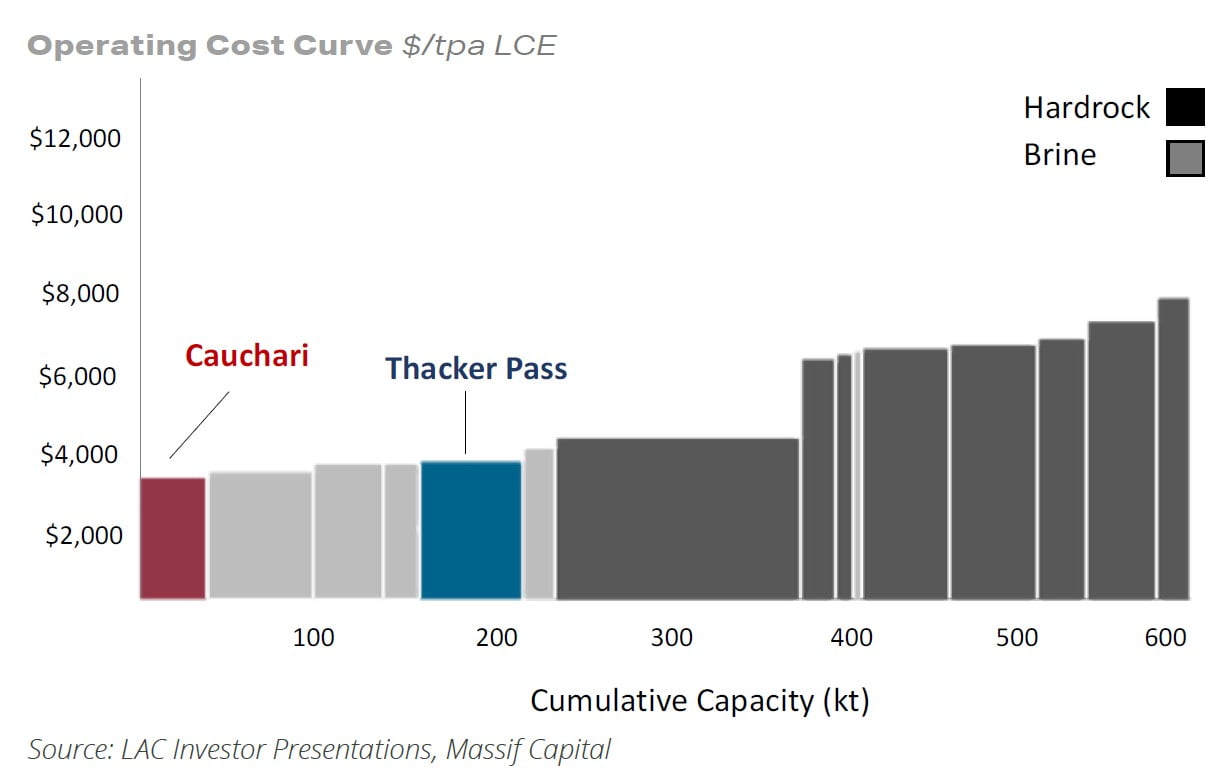 Valuation & Market Conditions
Today, Lithium Americas finds themselves in a dominant position. They have a strong balance sheet with over $145 million in cash, and the Caucharí project is fully funded from cash and available credit.3
Mechanically, LAC is a simple valuation. The company has two natural resource assets, and the value of those assets is based on two variables: the quantity of the resource and the price of the resource.
We can underwrite production volumes easily, but assumptions on market prices require some context.
Lithium Supply
Global lithium supply sits at roughly 432,000 tpa.4 That figure will need to triple by 2024 to meet forecasted demand.5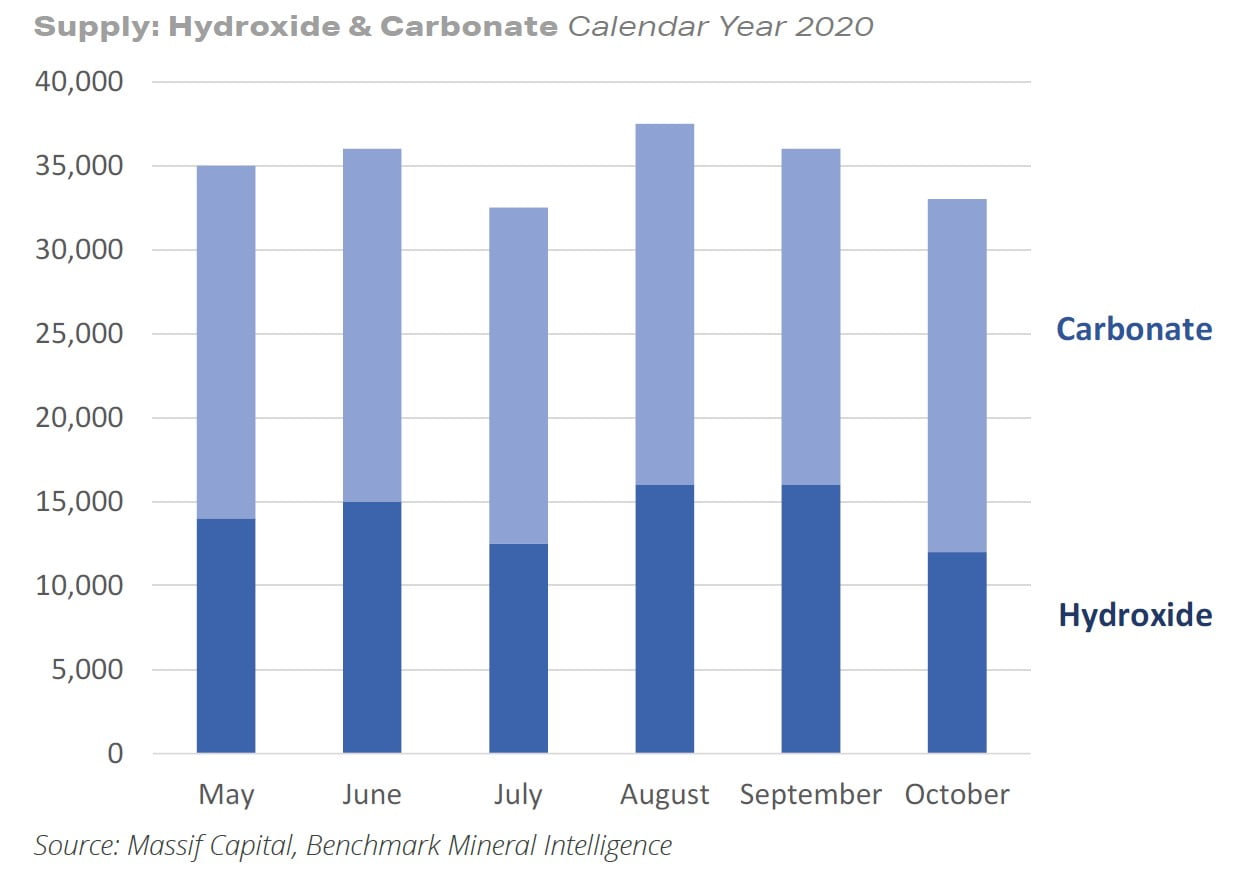 Supply will not expand to meet accelerating demand with prices at or below marginal production costs, which is where we find ourselves today. Additionally, there can be a significant time lag before new supply can hit the market once the economic conditions are in place to begin development. The last decade sheds light on this problem and should be used as a data point to calibrate forward expectations. In 2011, there were 200,000 tpa of capacity in the market. The 2016 ambition was for the market to be at 600,000 tpa with about 300,000 tpa of new capacity and 100,000 tpa of planned expansion. 2016 was just shy of 400,000 tones. Of the planned expansion and new capacity targets, the industry had a 31% success rate.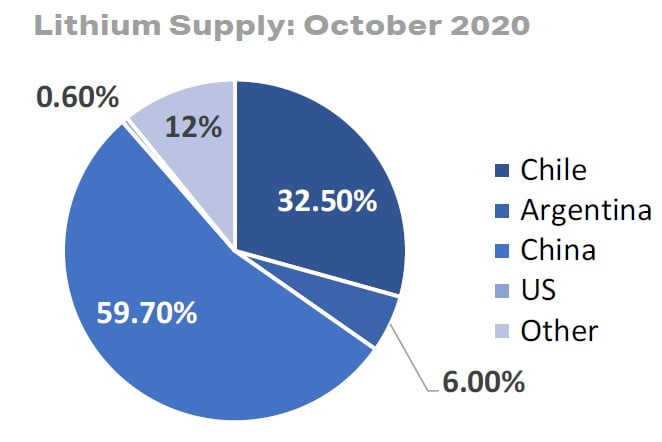 From 2015–2018, at the height of the last market price spike (thus the point of peak potential and incentive for producers), the industry only managed to grow, on average, by 11% per year. That will need to double to a 20% CAGR over the next six years to meet forecasted demand.
Price volatility is not kind to lengthy and capital-intensive development plans. As prices have fallen off a cliff since late 2018, major producers have adjusted their production expansion plans. ALB and SQM scaled backed planned production increases in the second half of 2019, with Livent following suit.
Read the full research report here by Massif Capital