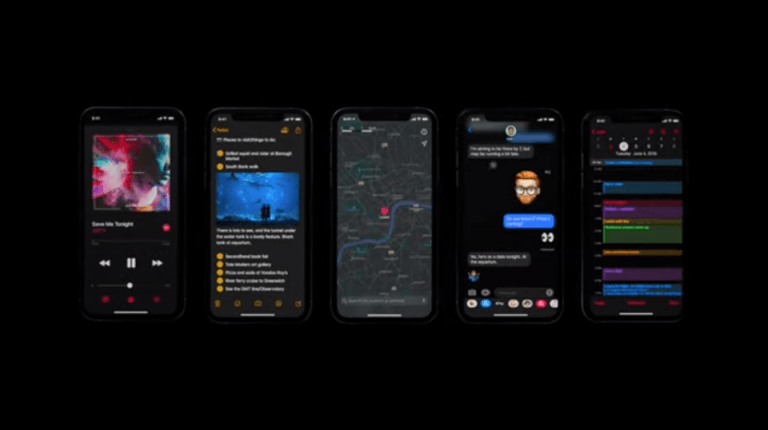 Apple officially announced the iOS 13 software for iPhones at its WWDC keynote event on June 3rd. During the unveiling, Apple CEO Tim Cook didn't forget to compare the iOS 12's high adoption rate with that of Android Pie. Cook pointed out that the iOS 12 was installed on 85% of compatible devices while Google's Android 9 Pie had reached only 10% adoption rate. Google unveiled its Android Q software at its I/O developer conference. Both the iOS 13 and Android Q are currently in beta testing, and will be vying for your attention upon public rollout. In this iOS 13 vs Android Q comparison, we take a look at how the two operating systems stack up in terms of new features.
It's worth pointing out that Android Q and iOS 13 are totally different platforms. Each of them has a number of features that you won't find on the other. So, it's challenging to compare them. But we can look at their biggest features side-by-side.
iOS 13 vs Android Q: The system-wide dark mode
A few months ago, Google added what it calls Dark Theme to its Android 9 Pie software, but it was limited to only a few aspects of the software. The search engine giant has confirmed that Android Q would offer system-wide Dark Theme. Users will be able to switch to Dark Theme from Settings. Turning on the Battery Saver Mode on Android handsets will also automatically turn on the Dark Theme.
Fund Manager Profile: Kris Sidial Of Tail Risk Fund Ambrus Group
A decade ago, no one talked about tail risk hedge funds, which were a minuscule niche of the market. However, today many large investors, including pension funds and other institutions, have mandates that require the inclusion of tail risk protection. In a recent interview with ValueWalk, Kris Sidial of tail risk fund Ambrus Group, a Read More
It allows users to switch from the bright white screen to a dark one. It helps preserve battery life and reduces strain on your eyes. Apple first added the Dark Mode to Macs last year with the release of macOS Mojave. The company is now bringing it to iOS 13. Apple showed off at the WWDC event that the Dark Mode would work everywhere from Messages to Calendar to notifications and widgets.
iOS 13 vs Android Q: User privacy
Apple CEO Tim Cook never misses a chance to talk about the iPhone maker's commitment to user privacy. The company said the iOS 13 would give users more control over location permissions to apps. The iOS 13 also brings a new 'Sign in with Apple' feature that logs users into apps and accounts without having to reveal your email address, protecting you from third-party apps that want to track your online behavior.
The 'Sign in with Apple' is the Cupertino company's response to Login with Google and Login with Facebook. Unlike Google and Facebook's login methods, Apple's version doesn't let apps track you online. You can choose whether you want to share or hide your email address. It allows you to mask your real identity. Apple also blocks third-party apps from tracking your location using Bluetooth or WiFi.
Google's business depends on targeted ads based on user data. Even though the company has been emphasizing user privacy in recent months, it doesn't go the extra mile like Apple. However, Google is giving users more control with Android Q over what data they share with apps and services. Users can limit when an Android app can access their location.
The third beta of Android Q brings a feature called Scoped Storage that lets users control how apps can access external storage such as microSD cards. It also restricts access to device identifiers such as IMEI and randomizes the MAC address when your phone is connected to different WiFi networks.
Google Assistant vs Siri
Over the last few years, Apple's Siri digital assistant has been lagging behind Google Assistant and Amazon's Alexa in almost every aspect. That's quite surprising because Siri arrived before both of them. Apple improved its smart assistant by adding Siri Shortcuts last year to iOS 12.
With the iOS 13, Apple has given it a major audio update to make it sound more natural to your ears. It will no longer speak in clipped voices with gaps and non-human sounding modulations. Apple is using AI algorithms to make it sound natural. It also brings Siri Suggestions to Safari browser. Users can also create personalized shortcuts using the Shortcuts app.
Google Assistant is far ahead of Siri. Its voice is natural, and is better at recognizing your voice. The search engine giant announced at the I/O conference that Google Assistant would get better at offering personalized services. If you have provided it the right data, you can ask Google Assistant to remind you to buy a gift for your child's birthday and it will automatically set a reminder. Google Assistant also makes better recommendations based on your search history.
iOS 13 vs Android Q: Swipable keyboard
The iOS 13 brings a new feature called QuickPath Typing that allows you to swipe instead of type on the keyboard. Some users find it faster and smoother, especially when typing with one hand. The feature has been on Android phones for years. Earlier, Android users relied on third-party apps for swiping but Google later introduced its own Gboard swipable keyboard. It supports multiple languages and allows you to quickly insert GIFs.
Foldable display support
Apple has patented a handful of foldable iPhone technologies but such an iPhone is still a few years away. So, Apple is in no rush to add foldable display support to iOS. In contrast, a number of Android vendors including Samsung and Huawei have announced foldable smartphones. The Android Q will offer native support for the foldable smartphone design.
The Android Q will allow apps to seamlessly switch between the unfolded and folded modes. It will also support the resizing of apps. The Android Q beta 2 gets a 'foldables emulator' in Android Studio 3.5.