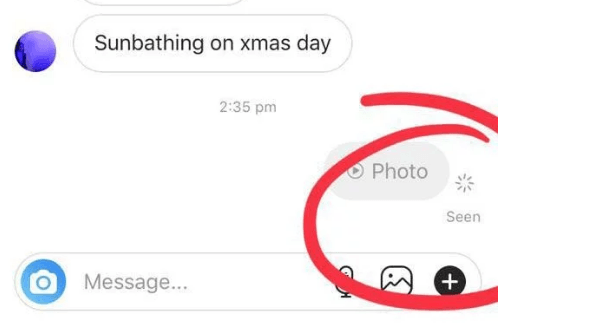 Instagram stopped notifying users when someone took screenshots of their photos long ago, but it appears the company is back to doing it. The Instagram screenshot notifications policy has apparently been updated. Users are back to receiving notifications when someone takes a screenshot of their pictures in a message.
Instagram screenshot notifications are back
Instagram screenshot notifications were first introduced in February 2018, and they enabled users to see who took screenshots of their Stories. However, the platform retired the feature in June, allowing users to take a screenshot of anything they wanted to without notifying other users. Now some users are claiming the Instagram screenshot notifications are back, and the platform is notifying users when anyone else takes a screenshot of their picture in a direct message, according to The Tab.
The latest change to the Instagram screenshot notifications may have come in the update which arrived in the last week of December. Since that update, when you send photos via direct messages and the person you sent them to takes a screenshot and saves it, you will receive a notification saying that the other person has take a screenshot of your picture.
ValueWalk's October 2022 Hedge Fund Update: Haidar Capital Surges 225%
Welcome to our latest issue of ValueWalk's hedge fund update. Below subscribers can find an excerpt in text and the full issue in PDF format. Please send us your feedback! Featuring investors exit long-short hedge funds, the oil market is now "broken", and Haidar Capital surges 225%. Q2 2022 hedge fund letters, conferences and more
Omg it's true that instagram now alerts when you screenshot photos ? pic.twitter.com/yBJIeLqeua

— Alicia Hannah Souter (@ahsouter) December 28, 2018
Additionally, when you send that screenshot to someone else, you will notice a little windmill icon beside the image you shared, suggesting the person received a notification about it.
It must be noted that the latest change does not apply to screenshots of photos posted in Stories, but Instagram could add this change to Stories as well at some point.
Instagram's horizontal feed fiasco
The update to the Instagram screenshot notifications comes amid the fallout over the new horizontal feed. The company first introduced horizontal feeds last week, and then a few hours later, quickly removed it after a massive public outcry.
Instagram's horizontal feed update introduced a sideways shift, replacing the vertically scrolling which has been the standard since the launch of the app. The company had been testing the horizontal feed since October but only in the Explore section. However, in December, it rolled out the feature to all users. Only a few minutes after the horizontal feed update went live, the old vertical feed reappeared for most users. The horizontal feed update appeared to be a bug and not an intentional change from the company.
A Facebook spokesperson confirmed this to The Verge, saying, "Due to a bug, some users saw a change to the way their feed appears today. We quickly fixed the issue and feed is back to normal. We apologize for any confusion."
However, Instagram head Adam Mosseri tweeted that the horizontal feed was "a small test" that "went broader than we anticipated." Thus, it is not exactly clear whether the horizontal feed was a bug or an intentional change that was rolled back due to backlash from users. Even if it was an accident, the fact that Instagram did push out the horizontal feed suggests the company is working on such a setup, and at some point, it may eventually roll it out to all users.
A great year for Instagram
Despite the horizontal feed fiasco, 2018 was a great year for Instagram. The platform surpassed 1 billion monthly active users on the back of the growing popularity of Instagram Stories. Even though Instagram Stories is similar to a feature first introduced by Snapchat, Instagram's version of the feature has twice as many daily users as Snapchat's.
A big reason for the success of Instagram Stories is the association of brands with it. It was the first Instagram native post format which allowed links to be embedded directly. It also gave brands the opportunity to sell products directly within the platform. This is probably why the platform has more than 2 million monthly active advertisers, and about 80% of users follow at least one brand.
About 400 million Stories are uploaded on Instagram each day, and one-third of the most-viewed ones come from brands. Due to such features, Instagram has emerged as one of Facebook's biggest assets. Moreover, the photo-sharing platform is expected to contribute 70% of Facebook's new revenue by 2020.
Instagram crossed the 1 billion mark in June 2018. In September 2017, it had 800 million monthly active users (MAUs). Globally, more than 500 million users are active on Instagram on a single day, and there are 4.2 billion Instagram likes per day. Users upload more than 100 million photos to the platform daily.