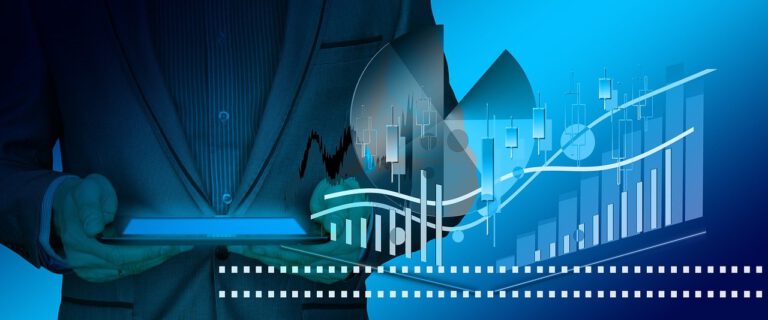 Empire Financial Daily newletter in which Herb Greenberg discusses investing in Dutch Bros Inc (NYSE:BROS).
Q3 2021 hedge fund letters, conferences and more
One of my favorite interviews – many years ago – was with Gordon Segal, founder of home décor retailer Crate & Barrel...
Greenhaven Road Capital 3Q22 Commentary
Greenhaven Road Capital commentary for the third quarter ended September 30, 2022. Q3 2022 hedge fund letters, conferences and more Dear Fellow Investors, The Fund is enduring its worst drawdown since inception. We were down again in the third quarter, bringing year -to-date returns to approximately -59%. Returns vary by . . . SORRY! This Read More
Q3 2021 hedge fund letters, conferences and more
We discussed why he never got tempted by the riches offered by investment bankers to take Crate & Barrel public. Segal hated, just hated, the thought of putting up stores for the sake of meeting Wall Street's growth forecasts.
Instead, he preferred opening new stores when he could find the right location, then staffing them with current employees.
The truth is, once a retailer or restaurant goes public, especially if it has a seemingly hot concept, the goal is fast growth. That means slapping up stores as fast as possible – and wherever possible – even if it's a terrible location.
As veteran restaurant analyst John Gordon of Pacific Management Consulting put it, "This is the trouble every cool brand gets into."
And with restaurants, especially, the eyes of management are often much bigger than their stomachs...
Buca di Beppo
A perfect example is Buca di Beppo, which had grand plans to dot the U.S. with 450 cavernous family-style Italian restaurants. As I wrote in Fortune magazine in 2001, when the company had just 68 stores in 21 states...
Good luck! Says one former brokerage industry analyst who now works as a hedge fund manager: "I would be very careful of any management team that thinks it can build a 'national brand.' It just will not happen."
And it didn't...
Buca di Beppo's stock wound up collapsing until it was acquired in 2008 by Planet Hollywood. Even today, the company's website says it has "over 100 locations worldwide." (Translation: If it does, it's not much more than that.)
The truth is that some concepts don't travel well to other geographies... or they aren't economically feasible for rapid or even broad expansion... or, if they're publicly traded, they simply can't remotely get close to the forecasted numbers they used to lure investors.
Dutch Bros
Enter the newly public coffee chain Dutch Bros Inc (NYSE:BROS)...
With 471 drive-thru locations in 11 states – almost all west of the Rockies – the company's initial public offering ("IPO") last month caused lots of chatter. Born out of a coffee cart in Oregon, Dutch Bros rapidly created a cult-like following for its coffee – almost In-N-Out-like. The company also separated itself from competitors with mostly cold, high-octane drinks. Roughly a quarter of its sales, in fact, come from an energy drink that has no caffeine. Execution has been beyond reproach.
The real sizzle in the story, though, is what the company says in its IPO filing about its future growth: That it believes it can balloon to 4,000 units.
That got Wall Street's attention.
But some big questions remain...
Just how realistic is that number? And just as important, how long will it take to get there?
After all, much like Crate & Barrel, Dutch Bros has prided itself on only opening stores staffed by existing employees. In a story, last June in Restaurant Business, Dutch Bros President Joth Ricci told the magazine's Jonathan Maze...
We make sure the culture and the way we do things [are] protected. We only promote from within related to how we expand our culture and our business.
That may be easier said than done now that Dutch Bros is a public company. As John Gordon says...
Now they've got the burden of growing responsibly what they want to do versus the natural pressures that come with being publicly traded and pressures of quarterly earnings.
But for Dutch Bros, there's something else that may give investors pause...
Unlike most restaurants – or even coffee chains – Dutch Bros is drive-thru only. While that's good from the cost of the buildout and revenue per square foot, it's terrible for finding locations... especially post-pandemic and especially in crowded, well-established markets. As Gordon says...
Demand for drive-thrus is great... After [the] pandemic, they became the golden property and will remain the golden property because for those afraid to get out of the car it became the ultimate convenience.
Therein lies what quite possibly could be a problem for Dutch Bros...
According to Gordon...
Everyone realizes your fighting the likes of Starbucks (SBUX) and Dunkin' Donuts... They're all out for exactly the same kind of site – either conversion or new unit sites that Dutch Bros is.
And it doesn't matter that the competition might not be as cool as Dutch Bros. This isn't about the coffee, the food, or even the product...
The only thing that matters is the general lack of viable drive-thru locations, both new-builds and existing ones. Gordon put it this way...
It's very difficult to get sites right now... I'm working for a huge international QSR [quick service restaurant] franchisor that has me looking for drive-thru sites. I will tell you... for one of their brands, it is beyond impossible to find drive-thrus.
Given how hard it is – and to show what Dutch Bros is up against – Gordon says he and his client think it will take more than a year to find the right spots.
As one friend in the coffee business put it to me...
There aren't many options and Starbucks is really big on going that route. Landlords don't know much about coffee, so a lot of them would take Starbucks because of the name.
Plus, Starbucks can pay more.
That also doesn't bode well for part of the growth story... that Dutch Bros has yet to fully tap Southern California, especially Los Angeles and San Diego. As Gordon says...
In certain dense states, California being one, it's going to be an immense challenge... [In other populated parts of California] city zoning makes it very hard to construct a new unit because of traffic and noise.
There's something else to consider...
Even if the company can build 4,000 units... how long will it take? In a recent report from investment bank Piper Sandler, I saw some impressive-looking stats...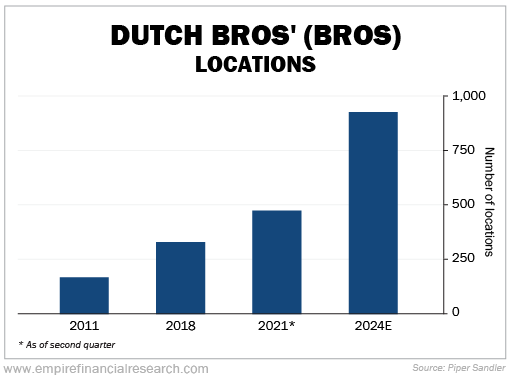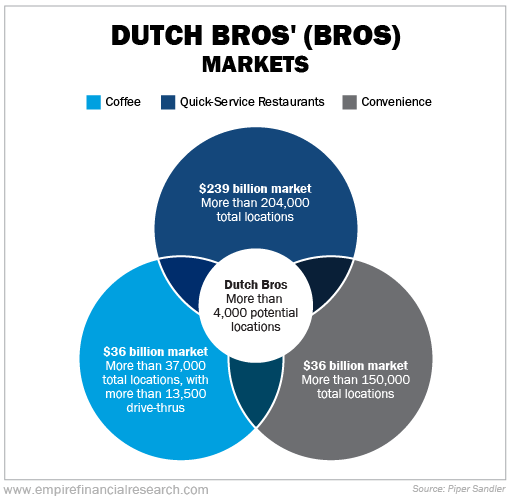 However, the length of time to hit 4,000 units is one thing (surprise, surprise!) that Dutch Bros doesn't say.
Piper Sandler tried to take a stab at it, though... Based on "theoretical" performance, analyst Nicole Regan said her best guess is that "it may take as many as 12 years for this ultimate unit count to materialize."
Twelve years?
Forecasts based that far out, in my opinion, are generally meaningless. Besides, it doesn't really matter because from here to there, the only thing that matters for Dutch Bros (or any other fast-growing retailer or restaurant) is growth relative to expectations. That goes for revenue, average unit volume, and (key in the mix) the number of units.
If Dutch Bros can't find enough good drive-thru locations, all bets are off. And while analyst after analyst in recent days has put a positive spin on Dutch Bros in their post-IPO initiation reports, it'll take a few quarters of earnings – especially guidance and management's commentary – for the real story to start emerging.
And that doesn't even get into the question of whether Dutch Bros will play east of the Rockies.
Two other points to consider...
If its stock ever craters – or even if it doesn't – if Dutch Bros shows it has legs, it could wind up a potential acquisition target for a mature chain like Starbucks or Dunkin' Donuts. That is, of course, unless it proves to be a fad.
Remember what I said earlier about how nearly a quarter of Dutch Bros' sales come from one product – a non-caffeine energy drink? What's to keep the company from striking a distribution partnership with a consumer packaged goods ("CPG") firm for a canned version – much like Starbucks does... or like California Pizza Kitchen does with its pizzas?
That's a long-winded way of saying that while Dutch Bros faces a massive hurdle in finding drive-thru locations, there are levers that could bail out investors. The short term could be rocky... but for investors with a time horizon of longer than "immediate gratification," it's definitely worth watching.
Goodrx And Traeger
In the mailbag, reader responses about Medicare, Goodrx Holdings Inc (NASDAQ:GDRX), and Traeger Inc (NYSE:COOK)...
As always, feel free to reach out via e-mail at [email protected]. And if you're on Twitter, feel free to follow me there at @herbgreenberg. My DMs are open. I look forward to hearing from you.
"When comparing the pricing of Plan D plans vs. GoodRx, don't forget to add in the amount Social Security charges you for the privilege of using a Plan D. There is also GoodRx Gold for even better pricing. I use Kroger's (KR) drug Savings plan, which is run by GoodRx. Two years ago, I quit Medicare Plan D and (was) self-insured. I can't figure out how GoodRx makes any money? Could it be that the drug store gives them a rebate for the store selling at a reduced price?" – George C.
Herb comment: George, you quit Medicare Part D? That's a bold move... but I'm glad to hear the Kroger plan is working.
Turning to the way GoodRx makes money, as my colleague Enrique Abeyta wrote in the May issue of his Empire Elite Growth newsletter...
GoodRx pays the PBMs [pharmacy benefit managers] a fee to get access to discounted drugs. That price includes the cost to manufacturers for those drugs, as well as what they pay for the drugstore to make their margin. The markup from those inputs becomes GoodRx's revenue.
(Subscribers can read the full issue here... And if you aren't a subscriber, you can click here to find out how to gain instant access.)
"Herb... Don't forget to check for other discount drug prices beyond GoodRx. They are not always the least expensive. For example, I get [a] continuous glucose monitor. In my area, GoodRx has it at around $128 for two from CVS Health Corp (NYSE:CVS) with about $117 from Giant Pharmacy or $120 from my local pharmacy. A different discount card which seems to go by pharmacychecker.com has them for $92 at CVS rather than $128 (same CVS location), but in searching around, I found another card that has them for $77 at a CVS in Target (TGT)... Still CVS, but it has to be one in Target. If you get them at a regular CVS, it is more. Makes you wonder even more how much they really cost. Medicare doesn't cover them yet, but when it no doubt does it will pay more than this. Very strange and dysfunctional medical market in the USA.
"Another thing that is also odd is the many drugs are lower priced for commercial insurance patients only. If you are on Medicare they are not discounted. I was taking one drug on a commercial insurance plan before my wife retired and it was a $5 co-pay each month. Under Medicare and Plan D, it was a $40 co-pay until the donut hole, then it was a $112 co-pay each month. GoodRx didn't help with this one as it was one of those advertised on TV.
"And then there are the dental discount plans that you pay for rather than free that discount the dental cost by 40% or 50%. Be sure to look into those if you have to pay your own dental bills. I think GoodRx is going to expand to do that as well, but for now, I use the Aetna one." – Larry M.
Herb comment: Thanks for the insightful comments, Larry.
GoodRx definitely has competition, including in-store at the likes of CVS, when at point-of-sale the clerk might steer you to an even cheaper price. You know, the one that wasn't advertised but is offered because you showed a GoodRx coupon. Still, GoodRx probably has the single-best pricing platform, which is to its advantage. I think the one thing we can agree on is that when it comes to screw-ups, drug pricing in this country is at or near the top of the list!
"So given what you've written, I assume you're no longer voting Republican right?" – Jack H.
Herb comment: Hi Jack, I see the sarcasm there! Reality: I rarely discuss politics... But, for the record, I am and have been for years a registered independent.
"Herb, your discussion regarding Traeger evoked some thoughts. We bought our first Traeger over 15 years ago when they were produced by a small company in Oregon. We have purchased seven more since then as we moved from one home to another and left ours for the lucky homebuyer. We even gave one to our parish priest for a home warming gift. We did buy one at a Costco and while the price was attractive the model was different than Traeger's own models and was 'bundled' with pellets, cover, etc., to make it seem like more of a bargain.
"Why would they do this you asked. For people like you who haven't heard of Traeger and might never know of them! Costco has millions of members who shop regularly, and many of them will be introduced to the brand during their normal visits. Once someone is 'hooked on Traeger', few will move away from them. Meanwhile, Traeger sells their top-of-the-line 'Timberline' models at premium prices available only at select retailers who won't discount them. You should check out a Traeger... they're used to cook many dishes besides barbecue for which they are well known. My wife even bakes cakes in ours as well as recipes aimed at an oven! The Traeger imparts special flavors using different wood pellets, and temperatures are electronically controlled as precisely as our kitchen oven. We love our Traeger and use it several times a week! Best," – Robert O.
Herb comment: Hi Robert, unfortunately, my overpriced Lynx is built-in, and everybody I know who uses a Traeger swears by it (though one friend who recently bought one was a little underwhelmed).
I think the bigger issue here is why Traeger was discounting its grills at Costco Wholesale Corporation (NASDAQ:COST). It's one thing to be at Costco, which sometimes is a "tell" that a company is having problems pushing a product. I understand the difference with Traeger and its Costco relationship. But discounting at Costco – with not only special sales but even deeper-discounted roadshows – is a red flag. Of course, so was Starbucks opening up stores across the street from one another, and you see how that turned out!
Regards,
Herb Greenberg